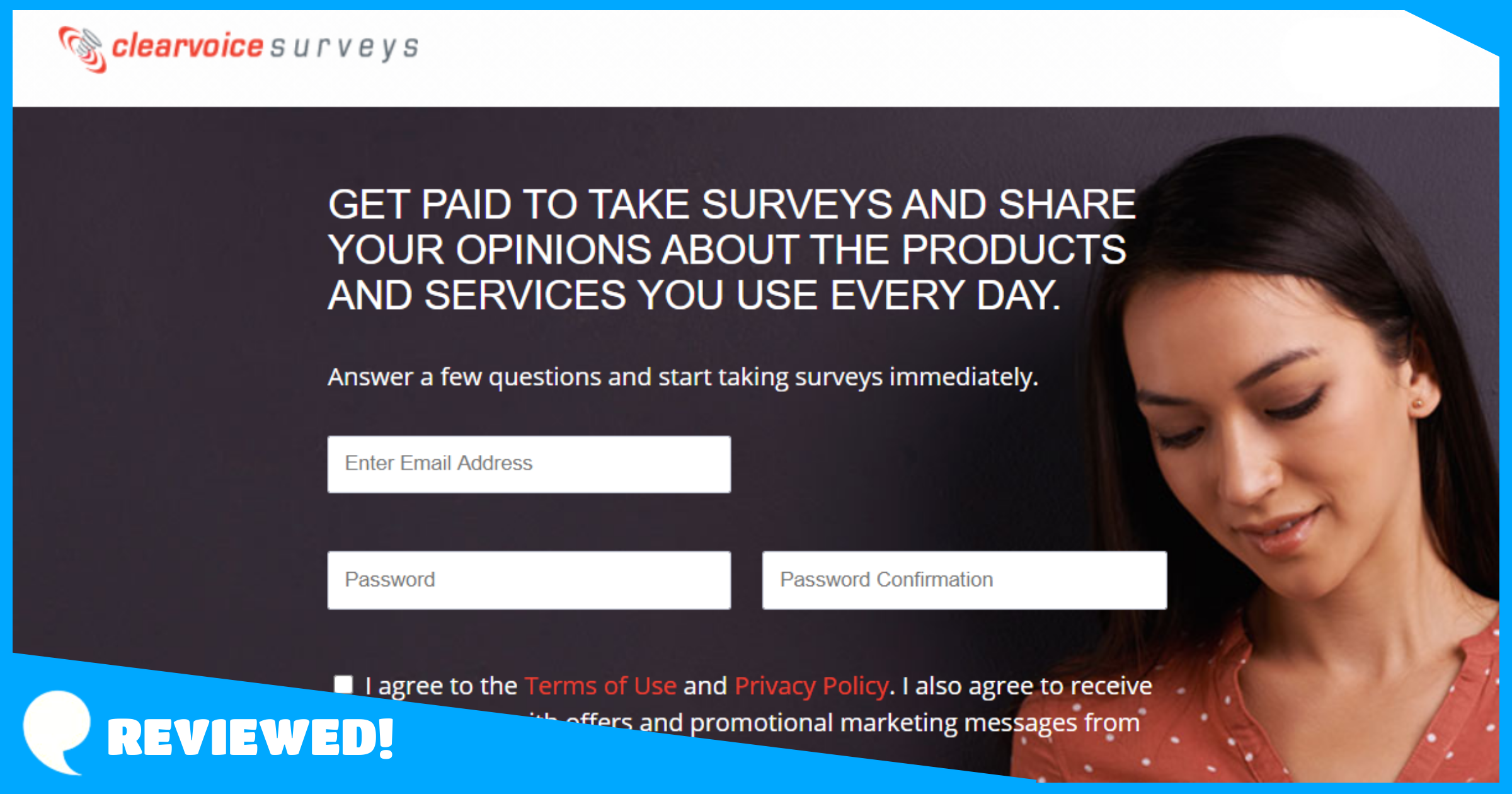 Program Name: ClearVoice Surveys
Website: www.clearvoicesurveys.com
Type of business: Online Survey
Price: Free
Owner: Unknown
Overall Rank: 2 out of 5 ⭐⭐
I came across ClearVoice Surveys while I was reading through some news online.
I decided to try it out after seeing an ad online as I've always had an interest in doing online surveys since it's how I first started out online and of course, one of the easiest ways to understand what it's all about.
I do find it intriguing especially when the company has been around in the market for many years and has gotten millions of users.
But are those users really satisfied with their platform? Is ClearVoice's quality maintaining like a rock in a river throughout these years without and degrading of service? Most importantly, how do we earn there in the first place?
If you're just as curious as me on how it all unveils, do read on my full ClearVoice Surveys review to find out more about how it works.
Pros & Cons
Pros
Established since 2006.
Low payment threshold, you can withdraw if you have a minimum of $10.
You can create your own polls although you can't earn from it.
Their website is mobile-friendly.
Cons
Their Sweepstakes is a good touch, but there's no way of knowing whether it's true or not.
Crazy amount of personal info to fill in.
They seem a bit racist when asking in detail about ethnicity.
Getting very detailed by asking if you have Latino or Hispanic descent, racist much?
No affiliate commissions, so you don't earn if you get people to join.
Limited number of payment options as you can only withdraw through Payoneer, Amazon.com gift certificates, or Dining Dough gift certificates.
A lot of users are experiencing problems when withdrawing.
They won't even tell you if they are going to block your hard-earned cash.
Tons of complaints all over the web.
Some rewards may take up to several months to get approved!
Possibility of getting spammed when you give your emails.
There's a chance your Rewards Expire before you can withdraw.
Lack of surveys to do.
Their Facebook is basically dead.
Golly, that's a lot of cons! Better check out my #1 recommended program here instead!
What is ClearVoice Surveys and How Does it Work?
Founded back in 2006, ClearVoice is a survey provider company based in Denver Colorado that aims to create income for its users using surveys.
How it works is that when inside the dashboard from the member login, there will be various survey activities we can partake in for us to get commissions.
Since these surveys are provided by different companies, they have strict qualifications so if you were to make a mistake finishing up a survey knowing that you don't even qualify, you won't get anything besides a compensation of $0.10.
The surveys are like tasks that you can check regularly where each of them is different and they pay differently too, at a range of $1 to $3 normally depending on the tasks, and they usually take an hour or two to fill up as the questions can be very extensive.
Since the surveys are created according to the demands of different clients, don't be surprised if you were to spend a good deal of time on the shopping behavior of families and the next survey a whole different genre such as gaming habits of teenagers, or even how much money do we give children a week when they're at school.
We can never expect what the questions would be like but I do find it very interesting as there's something new to look at rather than answering the same thing day after day which can be a bit of an ordeal for some people.
They also have Sweepstakes which is like a random lucky draw to get winners but it's been years and nobody seems to be sharing anything about it nor does the company reveal who the winners are so there's a probability that it might just another hoax.
For the earnings part, there is a minimum threshold of $10 in order for you to withdraw but reaching that $10 alone takes so much time and most people only earn that much after tireless working on surveys the whole entire month.
When you do surveys, your funds are saved in the form of rewards which is just another fancy name for credits for their e-Wallet.
The rewards will expire after 1 year so if you don't withdraw, all your hard-earned credits will disappear besides the ones that haven't reached 365 days yet.
It's a bit of a gamble knowing that you have to work longer to finish more surveys with the possibility of all of that getting wiped out which is why withdrawing immediately after reaching the $10 threshold is adamant.
There are three forms of payment options when you want to withdraw your funds which are through Payoneer prepaid debit MasterCard, through Amazon.com gift certificates, or through Dining Dough gift certificates whereas you might have noticed, does not seem like good options for pure cash.
After withdrawing, it'll take 2-4 weeks for you to get your cash although there is a possibility that it'll take longer than that, sometimes months so you'd have to be ready in case of delays happen.
With all that being set, doing surveys is the only way you can earn here.
Red Flags – Are the Risks Worth Taking?
Though it looks simple enough, ClearVoice Surveys do have some points which I don't really like and I figure it's better if I lay them all here to help you decide better…
Red Flag #1 – Their Technical Issues Happens a Lot.
It's okay if it rarely happens but this one is one too frequent.
Although uncertain, I noticed that their website crashes way too many times than usual websites.
Sometimes, it crashes once in two weeks, whereas sometimes, for multiple days in a week and it's getting pretty annoying considering that we have to spend hours doing a survey and it's really affecting the process and timeline I set for myself.
One time, it happened while I was in the middle of a survey and the glitch happened while I was still in the midst of it (I was almost done even!) so I had to do the survey all over again which a complete waste of time.
It reminded me of a similar Get-Paid-To website named Bubblews which also has a lot of technical glitches and it suddenly got frequent too.
Basically what I experienced there was that the technical issue was so bad that I couldn't withdraw my cash after spending so long collecting.
Red Flag #2 – They Won't Tell You If You're Not Getting Your Money.

How would you feel if you've spent hours on something only to see your efforts gone to waste?
As much as I like to just let this slip by, I can't because it's actually a norm for Survey sites and Get-Paid-To sites – it happened to me similar before while I was on another platform called Bubblews which I mentioned earlier.
What happened was pretty much what a lot of us Survey site users experience, we put all our efforts into doing menial tasks to collect funds only to see it disappear the next day without explanation.
There's no explanation for this because it happens at random, some people will be unfortunate enough to get their funds wiped out without any explanation.
It's one of the drawbacks of Survey Sites since we can't do much because we're not even paying them to join in the first place so the best thing many people would do is to just continue the next month and absorb that loss.
If you're keen on joining ClearVoice, this is one of the instances that you need to ready for in case it happens to you.
If it happens to you and you're thinking of getting support…
Red Flag #3 – Support Isn't That Great.

It comes as no surprise that they won't reply to you.
Survey sites are very popular and they have hundreds of thousands of users if not millions but one important fact that you have to always remember about them is that because these sites are free and that we don't have any property nor anything that binds us with them, they can always mistreat us.
Why would they care about one person when they have numerous more?
They don't earn anything from us besides some survey clicks and they can just give more attention to anyone else who doesn't talk much which in my opinion is very unfair.
Red Flag #4 – Shady Sweepstakes.
One cool feature they have is the sweepstakes.
They're basically like lucky draws where they'll pick any user at random and reward them according to the sweepstake type that's happening whether it's daily, weekly, or monthly.
It's actually a very clever strategy at trying to make us users stay longer and spend more time on their site so that they'll get more engagement, exposure, and earn more because who doesn't want to win money?
I was curious so I stayed for a few months with ClearVoice Surveys to maybe win once but most importantly, get to know someone who does win but to my disappointment, I couldn't find any info about it.
They don't share anything on social media, there are no postings about it and they didn't even inform who got it or when it's refreshed which makes it very shady since we don't know anything about it.
For all we know, nobody even got that sweepstake money first place.
That happens a lot of time everywhere and I wouldn't even be surprised if it happens here as well.
Speaking of which, I was doing some digging and noticed that…
Red Flag #5 – Their Facebook Page is Dead.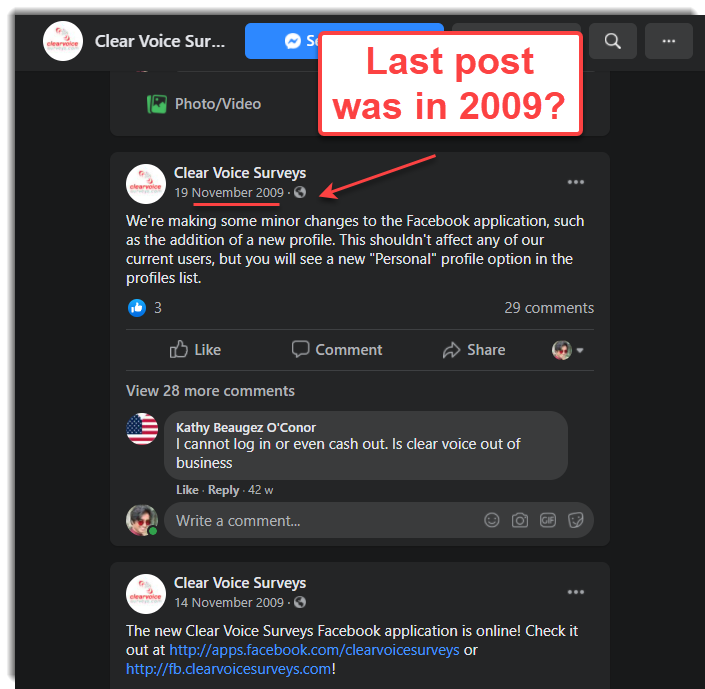 How would a page with millions of users die?
It just doesn't make sense.
ClearVoice Surveys have been around since 2006, that's more than 10 years and by now, they should have grown to scale bigger than any one of their counterparts in the industry.
Their last post was in 2009 and what's funny is that people are asking about technical issues and problems regarding their funds not being able to cash out, even on Facebook.
Survey websites are always a community-based sort of thing as it's free and everyone can join so you can understand why it's very disturbing to find out that socially, they're like a ghost town.
Red Flag #6 – Limited Payment Options.
How would you feel if you've worked hard only to be rewarded through gift certificates?
One of the reasons people join Survey websites even though the pay isn't good is because we needed a little cash to survive or to pay something when we're don't have enough as usually, payment can easily be gotten.
ClearVoice on the other hand, limits the way we cash out our funds to only three ways which are through Payoneer prepaid debit MasterCard, as Amazon.com gift certificates, or as Dining Dough gift certificates.
Both those gift certificates are practically useless since people work for money, not be paid through gifts compensations which leave us with only Payoneer.
Payoneer is a lot like PayPal but with stricter rules and a higher fee for transactions as it is usually used for business.
PayPal is more popular and a lot safer too as there are certain programs that they will not allow themselves to be affiliated with such as MLMs so it might be the case of why ClearVoice doesn't go with PayPal.
Another option is that they can just basically open up more options of earning but after figuring out for some time with the other factors adding up, I've come to a conclusion that maybe CV is just playing a sneaky game of trying to make it's users spend less real money so that they would save more for themselves.
Red Flag #7 – You'll Get Spammed When You Give Your Email.
Some programs are just built with spam.
It's not new and emailing people is quite normal as every company does that, especially ones that operate online but getting non-stop email spam to make it look cheap no to mention annoying.
When I first signed up, I received 2-3 emails a day so I quickly unsubscribed because it's quite normal for me to come across those kinds of programs.
You could say that it's like my built-in system but I guess I wasn't the only one who experienced it as there are a lot of complaints from people experiencing similar cases.
Red Flag #8 – Crazy Amount of Personal Info to Fill in.
Personal info is always a requirement but this one's way too much.
In order to start, you'd have to fill in your bio first, all account creations all over the world work that way but one thing that really tests my patience is CV Survey's biodata form.
Overall, there are 6 sections that you'd have to fill in, and each with very detailed sections of their own namely…
Personal profile
Basic Profile
Purchase profile
Employment Profile
Auto Profile
Technology Profile
Health and Wellness profile
Travel & Leisure profile
The info that you have to fill in is way more detailed than those you'd have to fill in when applying for a visa, with more than 8 pages to fill in and once you've finished all those, there are more pages of personal info that we'd have to further fill in.
In total, it took me about 2 hours to finish all those as they're very detailed, especially when you need to check your travel logs, your car details to the most minute info such as car plate number and CC, not to mention insurance and what you purchase on.
I got way too stressed filling in that I wanted to just skip but I couldn't because that info is mandatory before you even start.
And if that's not detailed enough…
Red Flag #9 – Ethnicity over Nationality.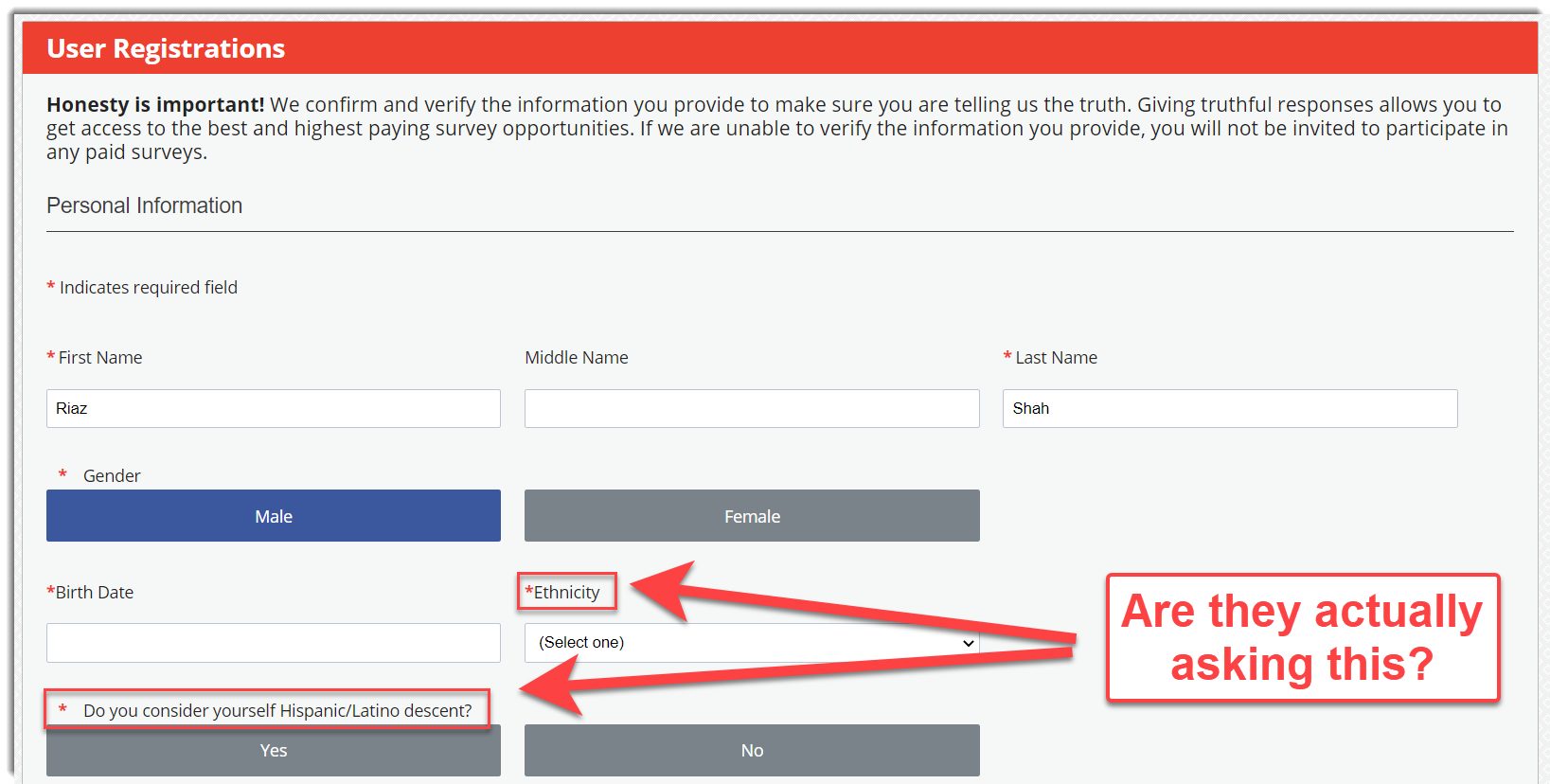 It seems a bit biased to filter us by our race.
I know personal bios are important but I can't help but feel that the reason they want us to fill in that much info on our race and ethnicity in particular, is maybe because they are biased and might want to only give priority to certain races that they do like.
And if you look at my screenshot, they even ask if I have Latino/Hispanic origins.
I can't help but ask myself, why do they need that info? Do I get more benefits or survey priorities if I'm Latino? What if I'm Asian? Does that mean I won't get any jobs?
On maybe is it the other way around that ClearVoice might not like Hispanic or Latinos that they want us to fill in order for them to filter people.
Racial discrimination at its best.
On that we won't know or even notice, just because it's online.
I wanted to tell myself that maybe it's because some surveys require racial profiles maybe they wanted to do a market study between Asians or Africans but I've been on the platform for 3 months and I haven't even seen any race-specific queries at all.
And talking about surveys…
Red Flag #10 – Lack of Surveys to Do.
There's not enough to go around.
I thought I was the only one who was experiencing this but after doing some digging online, I found out that many other people are also experiencing the same thing.
Surveys seem to be really hard to come by and it's getting worse as of late, from getting surveys daily, I'm lucky to even get one survey that whole week.
It is the reality for the survey filling industry, a user usually subscribes to multiple survey companies so that whenever trends die and one company doesn't have surveys anymore if any, we can always hop on to the next rising company.
It's sad but I can't help but feel that this company too, might soon be out of service.
Especially when…
Red Flag #11 – Their Website Seems to be Collapsing.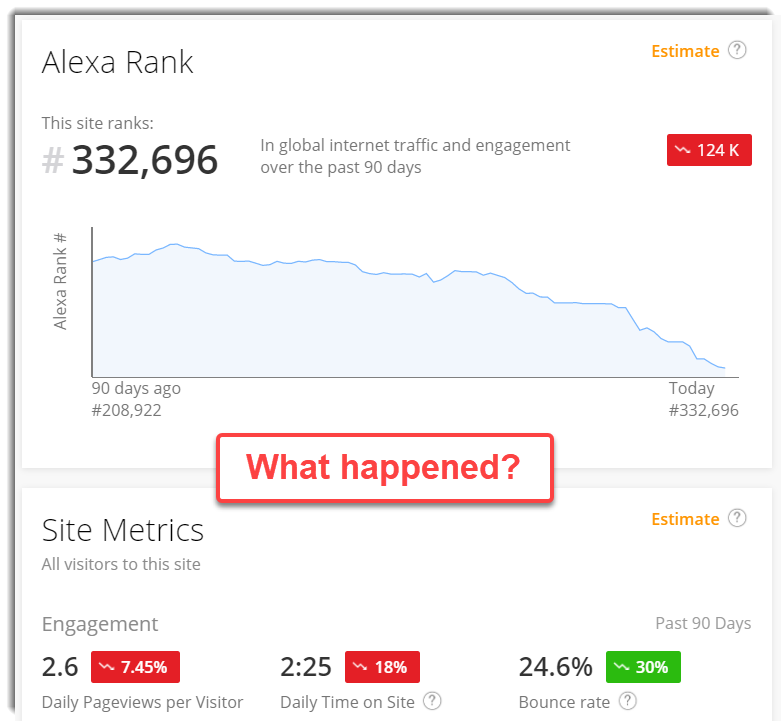 I can't help but feel like something bad is happening.
When I noticed that surveys are getting lesser and lesser for me to do, I did some digging on Alexa to find out that their site traffic dropped so much that they fell from being in the 208,922nd place, to 332,696th website globally in December 2020.
Imagine how much traffic they have lost to get there, it'll take hundreds of thousands!
And not just website traffic which I noticed has been decreasing, there are other signs too like the engagement and daily time on site is are also getting worse as it shows that people are not keen on spending time with them anymore due to obvious reasons.
If you look at Google Trend yourself, you'll notice that they have less than a hundred searches a day as compared way back when they used to have thousands per day at their peak performance which definitely is worrisome.
If a huge website like ClearVoice is losing that much traffic not to mention the signs of survey jobs are also getting a rare sight to see, that could only mean that the company isn't doing very well and might be closing anytime soon.
It may not be compulsory to check for a company's background or growth progress but I'd say it's more important now than ever especially with the pandemic affecting all businesses and we'll never know when a huge corporation can fall from grace when from an outsider's point of view, they look entirely fine.
It would be a wise decision to check whether that particular company is here to stay or if they're closing down anytime soon because seeing that we'll be focusing most of our time on that site for surveys, it's best if we put our risks to a minimum so that we won't ever have to go through the ordeal that follows when they close down like for example, trying to claim our hard-earned money.
Red Flag #12 – There's a Chance Your Rewards Expires Before You Can Withdraw.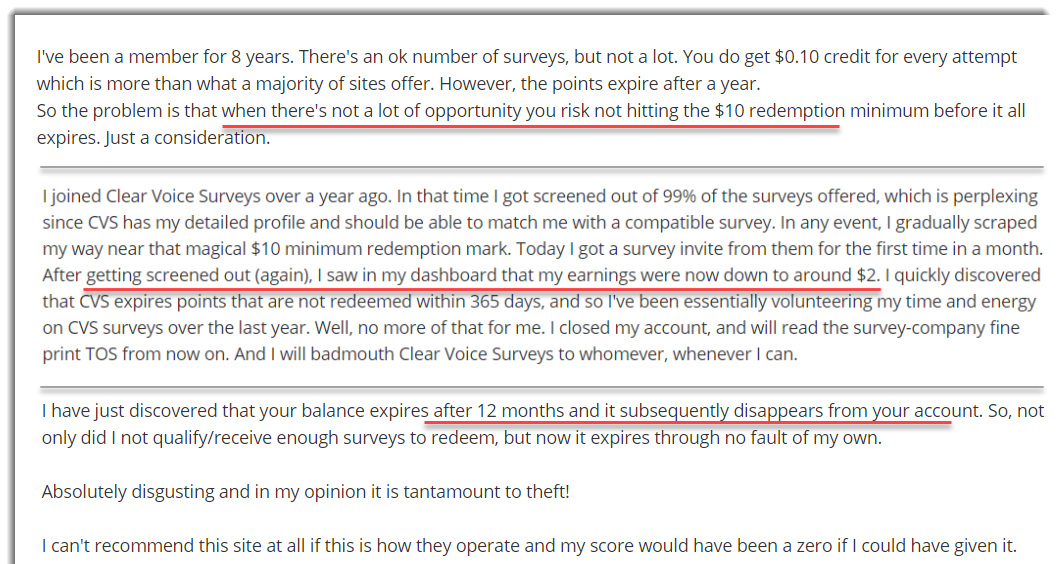 Imagine how you would feel if you wake up and see your cash deducted.
Usually, it happens when our banks are hacked.
But no, it's actually real and it's ClearVoice Survey's dirty practice.
CV Surveys have this rule that if users like me and you don't withdraw our rewards, they will stay for a period of 1 year before it disappears.
Rewards are basically the points you earn after completing surveys, it's like your digital funds which, unless you withdraw, are not actual money.
Naturally, people will withdraw as soon as they reach the $10 threshold but due to the lack of surveys, sometimes it takes up months to even reach $10 and some people prefer to wait longer to until their rewards reach a nicer-looking number to release their funds.
Red Flag #13 – Some Payments Take Months to Get Approved.

Okay, this one is totally unfair in my opinion.
Clear Voice Surveys earns by selling data from its users which are of course, people like us and by making us do their surveys, they reward us through the survey payments which we already know, is extremely low.
They get paid thousands if not 5-figure income for each project and their profit margin is definitely huge so if they want to waste other people's time and effort, they shouldn't make their users wait that long because even after waiting for several months, we'll still earn less than $10!
I have my fair share of Project Management previously before the pandemic happens as I also have an events company that adopts a similar model – I close projects which would cost somewhere between $5,000 to $15,000, and then I outsource to freelance events team to help me carry out the project.
Do you see where I am going? It is a similar business model.
From there, I pay my freelancers accordingly and earn myself a profit of which is about 70% of the total cost.
Evidently, there are instances where my clients pay me very late, sometimes I have to wait up to 6 months but do you think it's fair for me to not pay my team and make them wait that long too?
Of course not.
In fact, I usually pay them upfront and it's because at the end of the day, we only do work that we are assigned to and in this case, it is not project management.
It is doing surveys.
So why do we have to wait months to just get approval for a simple reward that would not even pay us much? And plus, it is not even mentioned anywhere that we have to wait for Clear Voice's client approval.
I know that there are many surveys inside and we can earn some rewards fast but what if we keep bumping into cases that pay us late numerous times?
If it happens once, it's definitely going to happen again.
Do I Recommend Clear Voice Surveys?
No, I don't. And for obvious reasons too.
Don't get me wrong, I don't have anything against ClearVoice Surveys as they're still a legitimate company despite the drawbacks.
Surveys are great but having such a glitchy website, the lack of surveys to do not to mention the low earning capabilities because they don't provide surveys enough for us to reach the threshold is just not something long-term enough to commit your time with ClearVoice.
Survey websites are good but the only way you'll ever make money is through the whims of the company as you're practically working like bounty hunters – constantly waiting for survey jobs and from there, fight to win.
Sometimes you get the job and earn a bit, but sometimes there's always the risk of the company itself turning its back on you and wiping out the bounty entirely wasting your time and hopes.
No longer.
If you're really serious about building a reliable income stream online, then you should definitely consider having your own Online Business.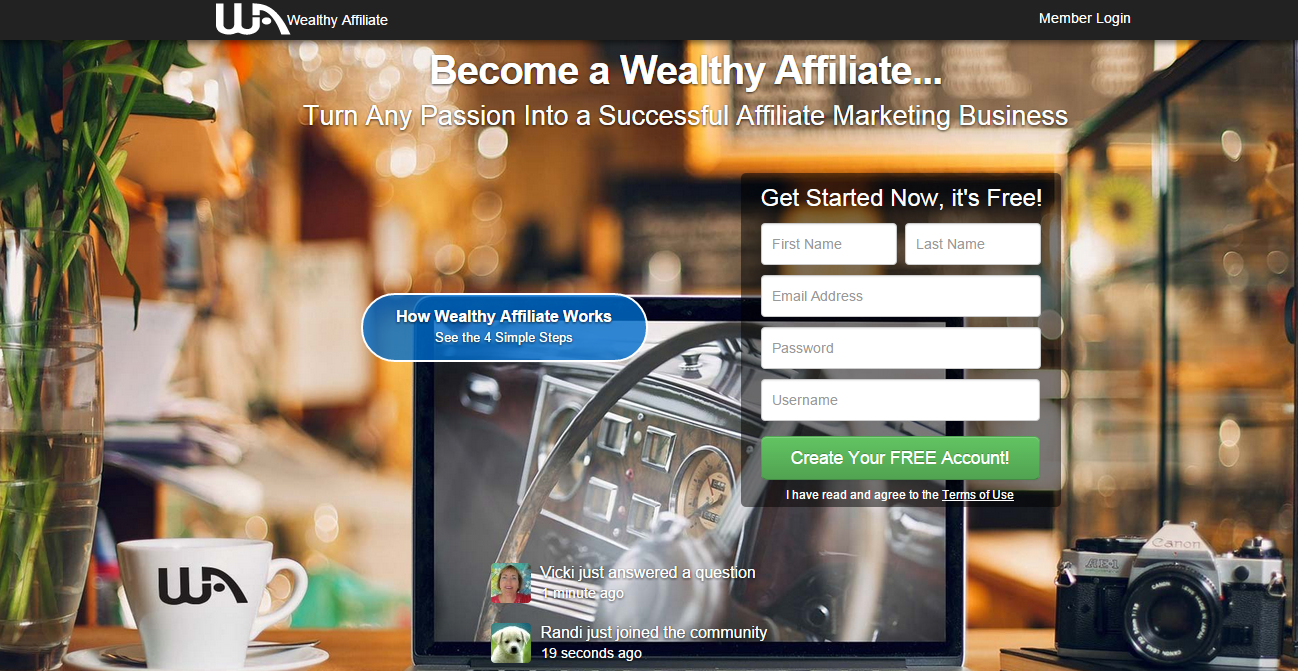 How to do that you ask?
You can start like me, through a program called Wealthy Affiliate.
It's an Online Business platform at its best as it helps you build a fully functioning website of your own for any niche you like and from there, monetize your website through Affiliate Marketing.
Their system is so robust, they provide evergreen content as well as SEO lessons for you and you can take all the time you want on their trial account until you feel confident enough to go premium anytime, without the pressure of time constraints like most programs on the internet do.
Whether it's through Amazon, through Apple, or other means, there are various monetization methods you can opt for which is why the system is great as it gives you the room and flexibility for you to grow and find your own path.
The best part? Since it's your own business, you won't be at the whims of bosses unlike survey companies and the more time you focus on your business, the more it grows until eventually you can quit your job and earn fully online.
It's how I get started too and a clear example is this very website that you're looking at.
The community there at WA is amazing, they helped me get back up when I was broke and fresh from being scammed so they guided me on making my site impactful enough until I was able to monetize by myself.
I owe it to them and now, I'm sharing it with everyone so more people can have the chance to create a new path for themselves.
I know it's a clear win if I compare an Online Business platform to a survey bounty site but just to help you see clearly what I'm talking about, here's a quick overview…
Final Words
---
Survey jobs don't pay much but people usually do them anyway for some quick cash.
Not ClearVoice.
Although they have been around for some time, they're not what they used to be anymore as many are experiencing late payments, problems with disappearing credits before cashing out, not to mention the lack of surveys to cover it all up.
It's indeed a legitimate program, but it's also far from reliable as you'll end up just wasting hours of your precious time which could have been better spent on other earning programs so I cannot really recommend ClearVoice to anyone.
Do check out my top-rated program to make money online here, it's been sustaining me and it would definitely do the same for you.
Thanks for reading, feel free to drop your comments down below and I'll be more than happy to reply.