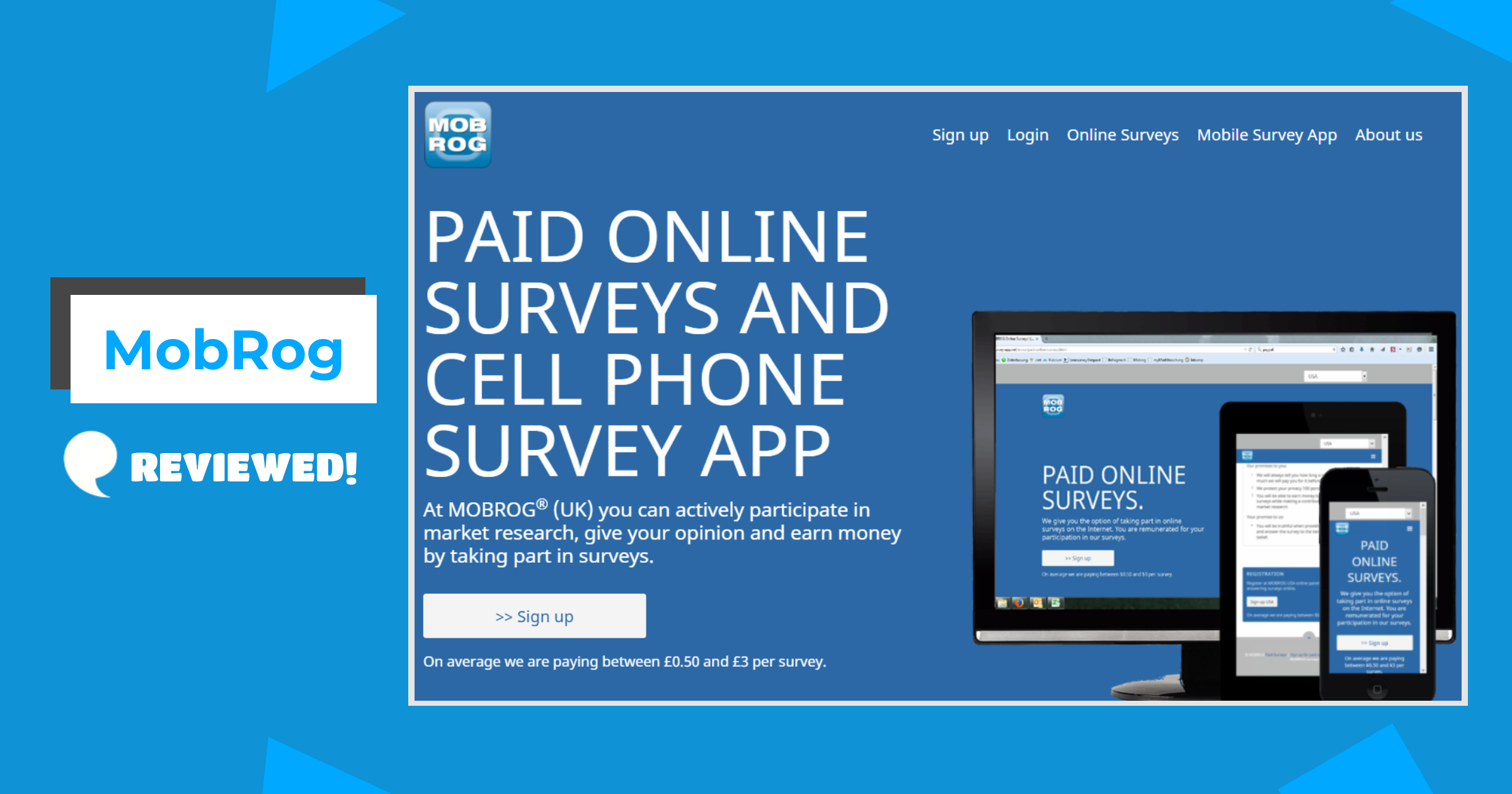 Program Name: MobRog Surveys
Website: www.mobrog.com
Type of business: Paid Survey
Price: Free
Owner: Dr. Gunnar Grieger Cie
Overall Rank: 4 Out of 5 ⭐️⭐️⭐️⭐️
I came across MobRog while I was looking for local survey sites.
There are countless of them on the web of course but one that attracted my attention the most is how MobRog tweaked their site to appear in local countries so that it appears in local Google searches which I find quite unique.
If you go ahead and try to search for it from where you're at, you'll notice that there one in your country like Singapore MobRog, MobRog South Africa, MobRog United Kingdom, and of course, MobRog Malaysia which brought me here in the first place.
I was amazed at how something could have slipped my mind and plus, doing surveys has always been one of my interests as it was how I got started in the make money online industry in the first place.
With their massive influence, have you wondered whether or not their surveys pay well?
Do they give enough surveys to around, or more importantly, is it easy to withdraw?
If you're just as excited as me to see if this program is the right one for you, read on as I unveil my full MobRog review.
Pros & Cons
Pros
Available worldwide.
They don't use points, just cold hard cash which is awesome.
You'll get emails whenever there are new surveys.
Owned by a respectable company.
Their website is mobile-friendly.
Various payment methods.
Has a referral program.
Excellent review on Trustpilot.
Cons
Lack of surveys.
Frequent disqualifications.
No remunerations for rejections.
Unnecessary preliminary surveys.
Limited payout options.
$6.25 Minimum threshold to withdraw.
No accreditations with the BBB.
Thinking twice about the whole survey idea? Worry not, you could check my #1 recommended Work From Home program here instead!
What is Mobrog Surveys? -The German Survey Company.
Founded in 2011 by Splendid Research GmbH, Mobrog Surveys is a platform that offers surveys for just about anyone to do with commissions for their time and efforts.
It's based in Hamburg, Germany and founded by Dr. Gunnar Grieger Cie.
I'm really impressed at Dr. Gunnar's background as he's been into the whole survey industry since his studies.
He majors an MBA in Business Economics and even his thesis was on Mystery Shopping which explains how he was able to build a full-fledged business empire as he was on this path even before the company was established.
Though Mobrog started in 2011, it wasn't until 2013 when it really soared and picked the pace like no other as people all over the world have started to know them.
How they work is by securing research projects for clients through Splendid Research and from there, MobRog operates by collecting data through the form of surveys to their database of over 10 million panel members which is where we come in as survey doers.
It's all in the name of research and is why they ask so many personal questions during the surveys as they want to streamline everything to make the process easier for us and at the same time, concise for their clients so that they'll get more projects hence more surveys for us, yaay!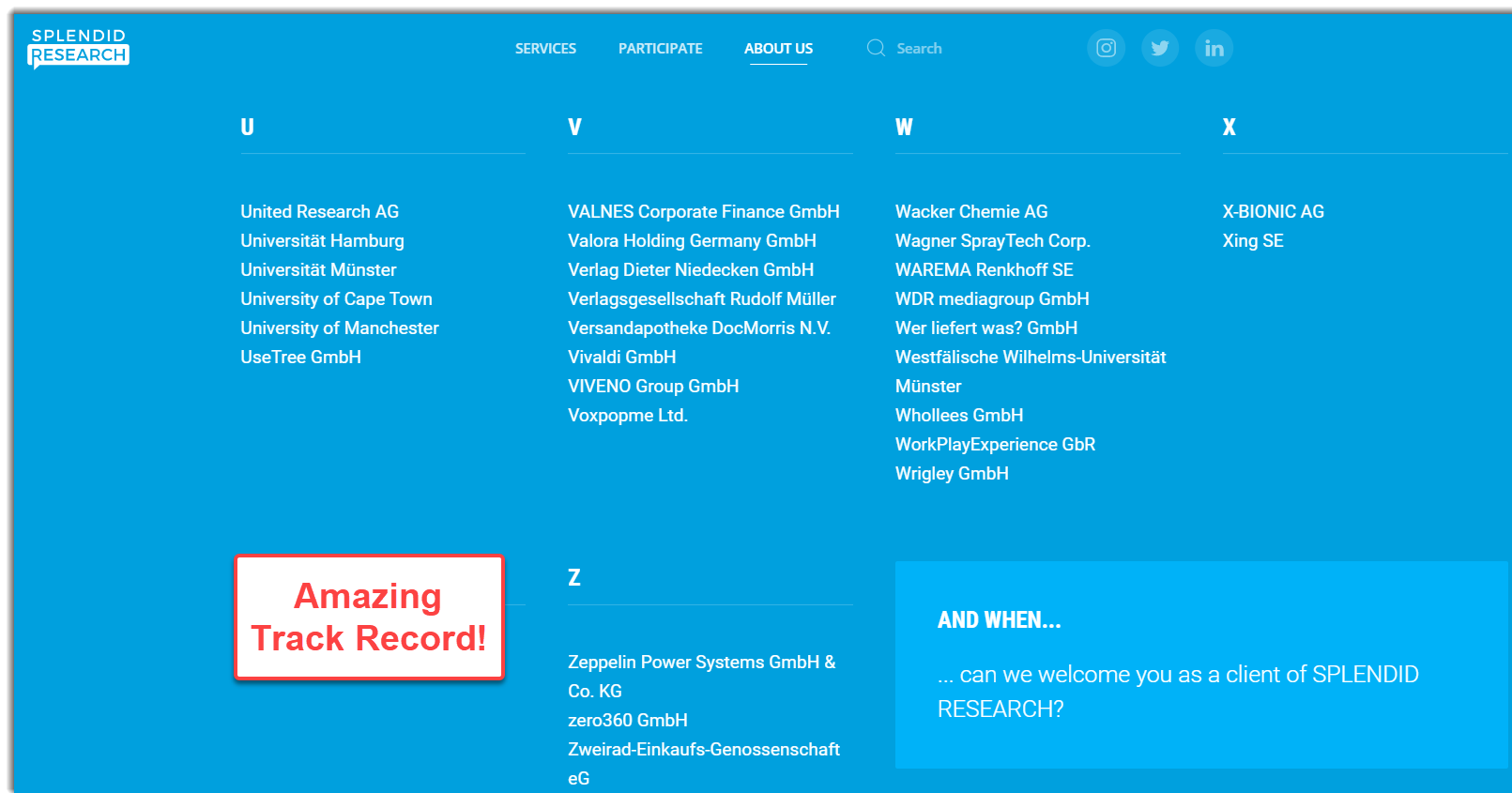 They have a good track record of client portfolio too, some popular names include…
Google Germany
Allianz Deutschland
Statista
Continental
University of Manchester
University of Cape Town
Rubbermaid
IKEA
Dyson
And many more of those which you can simply check out on their website which I find very welcoming.
It kind of makes me want to go to work there on second thought.
With big names such as those, one cannot help but feel excited to know that your opinions matter and that your voice is going to be heard by those huge companies such as Google, imagine that.
The future seems bright and now that we've got the right company picture on your mind, let's move on to the more important part which is…
How do You Earn? -MobRog Surveys Payout.
I really like their cash out system.
MobRog has a minimum payout requirement of USD6.25 before you can withdraw.
Though minimum thresholds are always troublesome, it's considerably lower than most survey sites because usually their minimum threshold for withdrawing is USD10 so I guess it's a good thing that MobRog's threshold is somewhat bearable.
Of course there are survey sites that do not have a minimum threshold but at the end of the day, I would choose a company that has a good track record as it's easier to deal with once you have trust.
There are also no point systems used in MobRog which means that whatever surveys you complete, you can get cash just like that without going through the annoying points calculation which oftentimes than not, can be a double-edged sword.
Once you've collected enough cash in your account, you can withdraw using their three payout options…
I'm sure everyone's familiar with PayPal but if you haven't heard of EcoMatcher it's actually a site for buying trees as gifts – Think of them as a premium gift card sort of thing.
Whereby instead of withdrawing your cash through other gift card platforms like Amazon or Walmart, you can withdraw to EcoMatcher where you can exchange for plants of your liking and not just any plant, trackable ones where you can detect with your app complete with blockchain.
It's a green initiative and a quite clever one too.
Skrill on the other hand, works exactly like PayPal with just a few minor additions such as more currency choices and a higher bank transfer charge but at their very core, it's a form of payment gateway.
Personally, PayPal works best for me as I've been using it for years especially in Malaysia where they're more popular compared to the other two but it's up to your own preferences as to which ones you'd like to explore.
What Tasks Can You do to Earn? -The Moolah Way.
Now that you know withdrawing is easy, I'm sure you're pumped up and ready to start grinding and earning.
Me too! There are three ways on how you could earn starting from…
Task #1 – Online Surveys.
This is the main thing that you will be doing here.
Like any other survey sites, doing surveys is the main priority which is no different here at MobRog.
The only difference is that their surveys are very direct and shorter compared to other survey sites which kind of effects the amount that you can earn because on average, you can make around $1 on for a 10-15 minute survey and on your good days, you could be lucky enough to earn up to $3 per survey.
Since each survey is different, the prices depend on those surveys so my advice is to not worry much about it but instead, keep on doing those surveys because even if those prices are different, it's not too far off from each other so it's best not to waste time gauging but instead, add more time doing.
You can do the surveys from your member login page but I very much prefer doing my surveys when I get notifications on emails as you can be one of the early birds to finish one when there's a good deal.
Task #2 – Contest Time.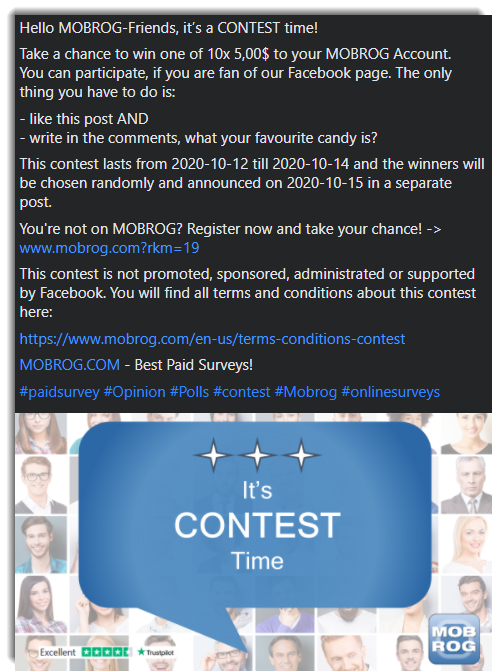 For this one, you'd need to regularly check their Facebook page.
MobRog's Facebook page has a very good follower base and with some interesting posts too but one that caught my eye the most is the contests part.
The contests are at random every now and then and they usually give out $5 to $10 for simple tasks which usually include liking their post and commenting on the answer to their question.
The questions are really easy and a no-brainer too such as what candy do you like, what color is your favorite, or even something fun that you like to do so it's a waste if you don't join in because who knows, you might be one of the lucky winners,
And as for winners, you don't have to worry about it as they are very transparent with it.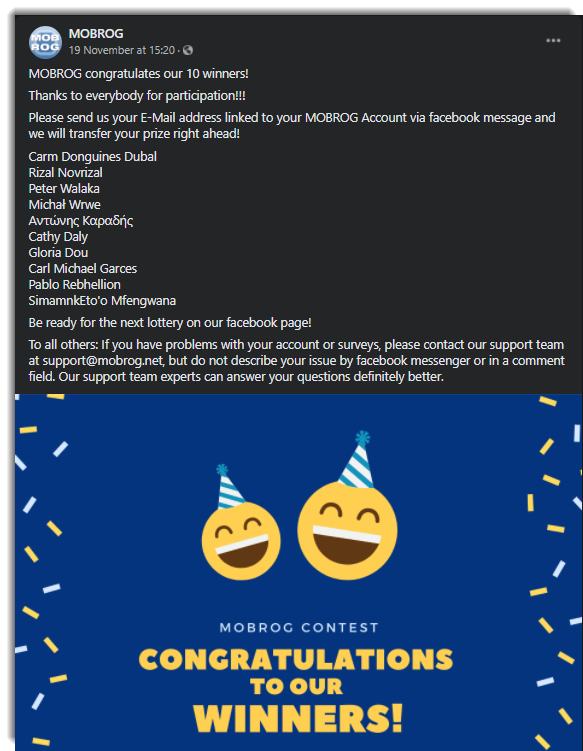 All you need to do is to regularly check Facebook because they actually announce it on their page which is one of the plus points why I really like them even with the low amount of cash.
Many survey sites tend to do contests and some even boast that they give out a thousand dollars a month like this survey site I reviewed but they never announce anywhere which made people doubt that those things are real or just for fun.
Companies like those are the ones you need to stay away from because if they can manipulate the truth from you from something like that, then they can manipulate the truth from you for other things as well.
Personally for me, I think it's best to stick with an honest company that is transparent with you and share everything about their journey because you already know you can trust them.
Task #3 – Referral Program.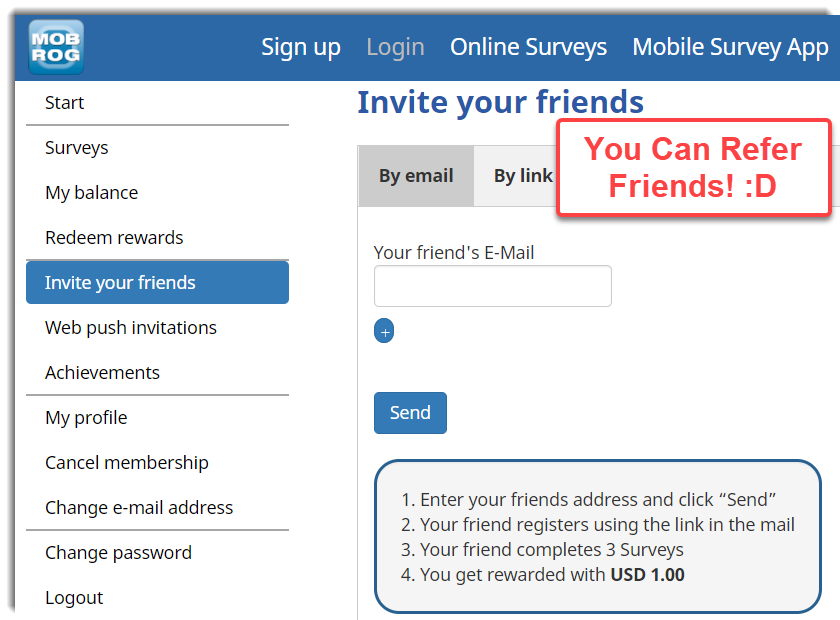 I kind of like their Referral Program.
It's very easy to do without any resistance or forms, nor any restrictions you need to follow in order to become an affiliate.
All you need to do is to head over your member login and click on "Invite Your Friends" and from there, you'll be given an option to invite your friends either by link (Which you'll get your Affiliate Link from), or by email which MobRog will send to your friend.
The commission is also good as you'll get $1 which is a pretty decent number compared to other survey sites which usually give half of that.
There is a catch to it though, as your referral will need to complete 3 surveys in order for you to get that $1 commission but it's fairly easy as MobRog is very beginner-friendly and their surveys are mostly short.
I remember coming across an old survey site that also allows referral commission but their guidelines are so strict and ridiculous that you'd need to get approval for promoting, and that they can simply hold your referral funds if they want to.
Cases like that are ones I would really advise anyone to go against but for MobRog's referral income, you won't have to worry a thing because all of your hard-earned commissions are yours alone and they'll be happy to transfer it to you as we are in fact promoting their company name for them for free.
Things I Like About Them.
By now I'm sure you're having positive vibes about MobRog.
You're not wrong, it's an awesome platform but there's more where that came from because they also have some interesting features that are going to blow you away.
Perk #1 – They Have Country-Based Surveys.
Depending on your country, you can get special surveys.
Some are normal ones in English but other times, you'll tend to get one in your national language as MobRog has influences in many countries.
For example, I live in Malaysia and I tend so sometimes get surveys in Bahasa Melayu.
Similarly if you are in a different country with your own national language, you'll tend to that those specific kinds of surveys which you can only understand if you're speaking the national language.
For example, you can get surveys in French if you live in France.
And if you look for MobRog in France, they'll even write everything in French and even on Google.
Similarly for me, mine was in Malay since I live in Malaysia.
And if you live in Spain, you might get surveys in Spanish.
This goes a long way to making you trust the survey more as it shows that MobRog does have some clients locally in that country that would need opinions from the locals of that country which I find very interesting as we'd be helping our own local businesses who need our opinions.
Imagine being one of the voices that influence how businesses want to better serve us.
Personally for me, it's not every day that I find surveys that are tailored to a specific country so It is definitely some exciting to go for.
Perk #2 – They Pay With Cash Instead of Points.
Nobody likes reward points.
They are always uncertain, they can be confusing for us to calculate the conversion rate and oftentimes, reward points are subject to technical issues whereby you wouldn't even get any points after finishing surveys which is a wonder why they even create those points to begin with.
MobRog did it right with their program by abolishing that.
This means that every time we do surveys with MobRog, we'll get rewarded with cash directly instead of with reward points which is what everyone wants.
People work because we want to earn, not just to get rewards but companies seldom want to give cash directly because with reward points, they can maneuver and manipulate those numbers as they like since it's their own algorithm not to mention those points being a bother as you'll need to remember how much the currency is to convert those points to cash, especially if you're using multiple survey sites.
If you're new to taking surveys, it's actually a pretty normal thing for surveys doers to subscribe to multiple survey sites as we always want to look out for the best surveys with higher pay so you could just imagine how troublesome it would be for us users if those surveys sites have their own reward points because each site have different currency for points – Some sites would pay you $1 for 10 points whereas some would only give you $1 if you convert 100 points or even 1,000 points so it's very confusing.
MobRog did right by not implementing points and just for the cash as they really care about the well-being of their community.
Perk #3 – They are Mobile Friendly.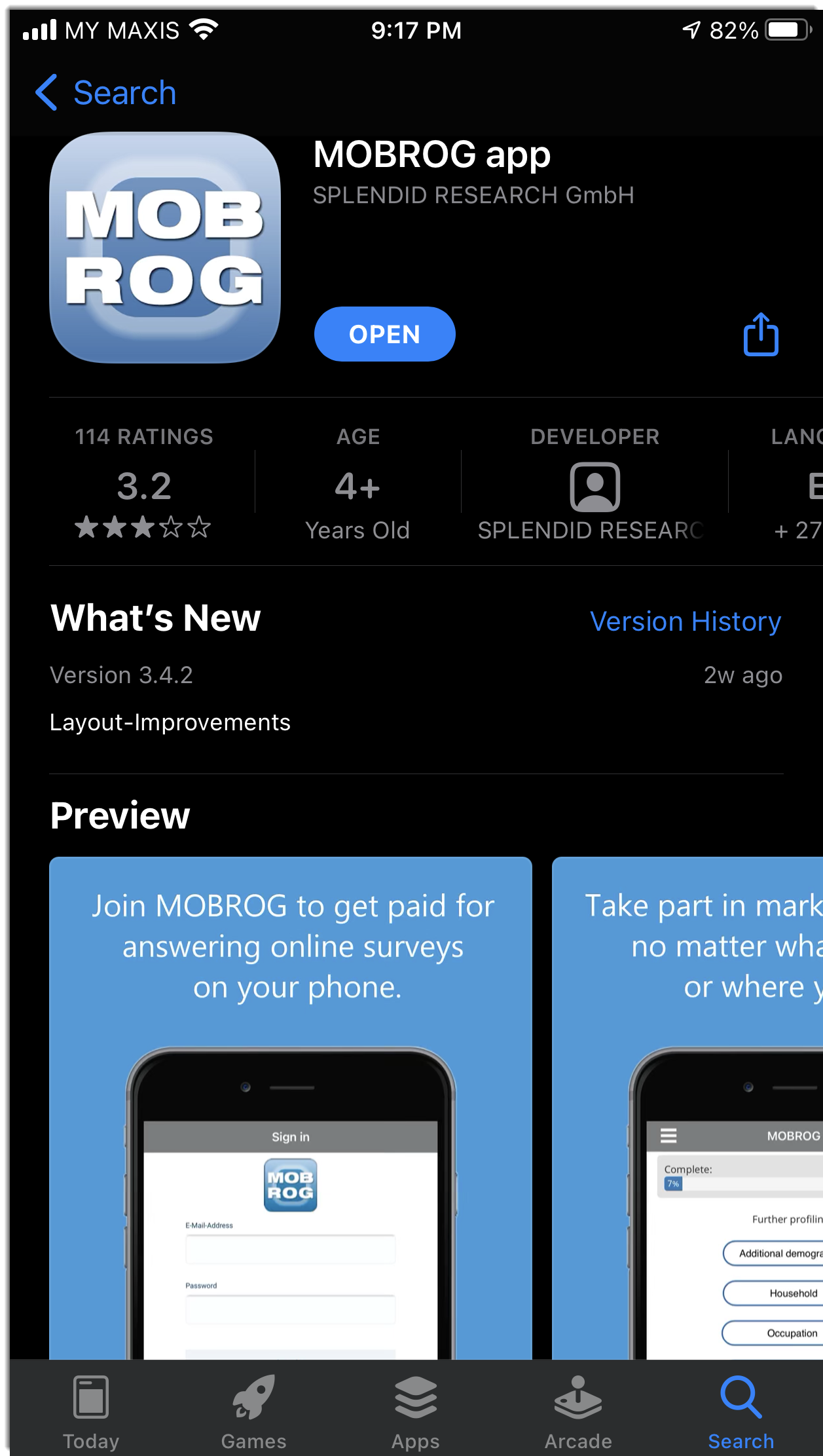 Did you know that they have an app?
Believe it or not, MobRog is so established that have their very own app which can be downloaded from both App Store and Google Play.
I tried going through the survey using the MobRog app and they're very fast and efficient, they work just as well as the computer-based not to mention using barely any internet as it doesn't need much which is pretty cool.
This is important because for regular survey doers, we can't just sit on the computer all day because some of us would have things to do and places to go which means that a lot of people would usually be on the go due to our commitments.
This helps a lot because for me, I like to do surveys in my free time when I have nothing to do such as during my commute to work or waiting for someone to pick me up, or waiting for my friends to come over which would usually take an hour's ride by train and bus.
And that's just me.
There are many others all over the world with different obligations of their own like maybe you have to pick up someone, you have a freelance job from an app to wait in line or maybe you have to go outstation for personal reasons, leaving with you with extra time which you could have used to make money.
And having the ability to do surveys on my phone would mean that I can increase the number of surveys that I do and making use of my free time to at least make some money which is really helpful as I can get more done rather than having to wait until I'm home so I can use the computer.
Don't have the app?
No problem, you can simply use the browser from your phone.
MobRog does not just prepare an app for its users, they even use a responsive theme for their website which means that even if you go to your member page on their site, the page automatically adjusts to your phone size just like that and I find this pretty useful too since it works just as well as an app would, all we need is to just login every time we use the browser.
Having a responsive theme goes a long way to ensuring a website is smooth as it affects how mobile users interact while on the page since it's a different device and it also maintains the user experience no matter where you are which makes portability very possible.
This comes in really handy if your app is having some technical problems, or if you're just lazy to install one to save space.
Perk #4 – They are Honest About Their Winners.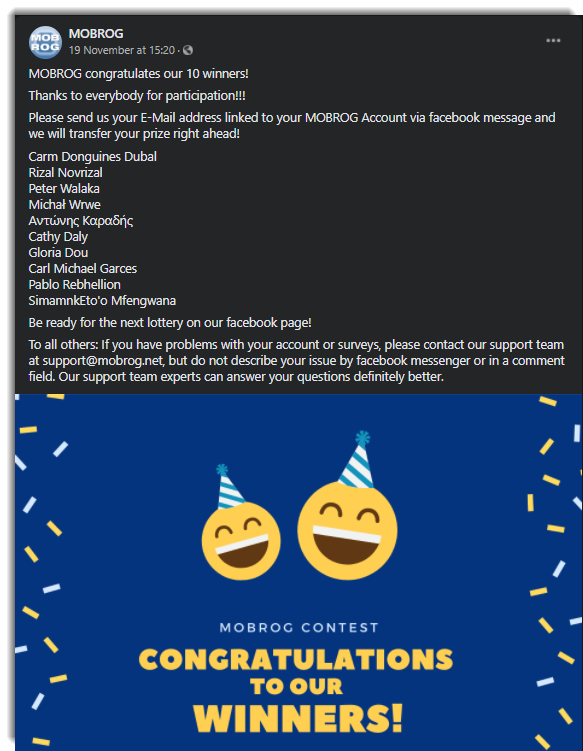 I've never been one to join contests.
Whether it's lucky draws, sweepstakes, or share and win, I never win anything and not just because I'm unlucky, but because I used to work at companies who do these offers but we never give the prizes even when there are winners.
And it's easy to get away with it.
Since there are no announcements of any winners, nobody dares to even ask these companies because they'll just get the same reply "Sorry, we've given out the prize to the winners already. Better luck next time!"
When in reality, they never even give those prizes to begin with.
It's all just a marketing ruse to get people together on their page to follow and comment so they'll get a free boost without having to invest any more rather than a nice fancy poster or video to make it all look real like it's really happening.
MobRog proves them wrong.
I was really surprised when I found out that they shared the winners' names on their Facebook page and not just once but regularly too as their contests happen monthly.
MobRog's transparency goes a long way to getting more people attracted to their page because they really care about the community and judging from the amount of time and engagement they have on social media, it's not surprising if they actually hire someone to take care of the community.
Although the prizes of the contests aren't really huge as they're usually around $5 to $10, I would rather join a company that announces the names of winners as I know that company is an honest one and cares about their community.
Perk #5 – They Have a Massive Community.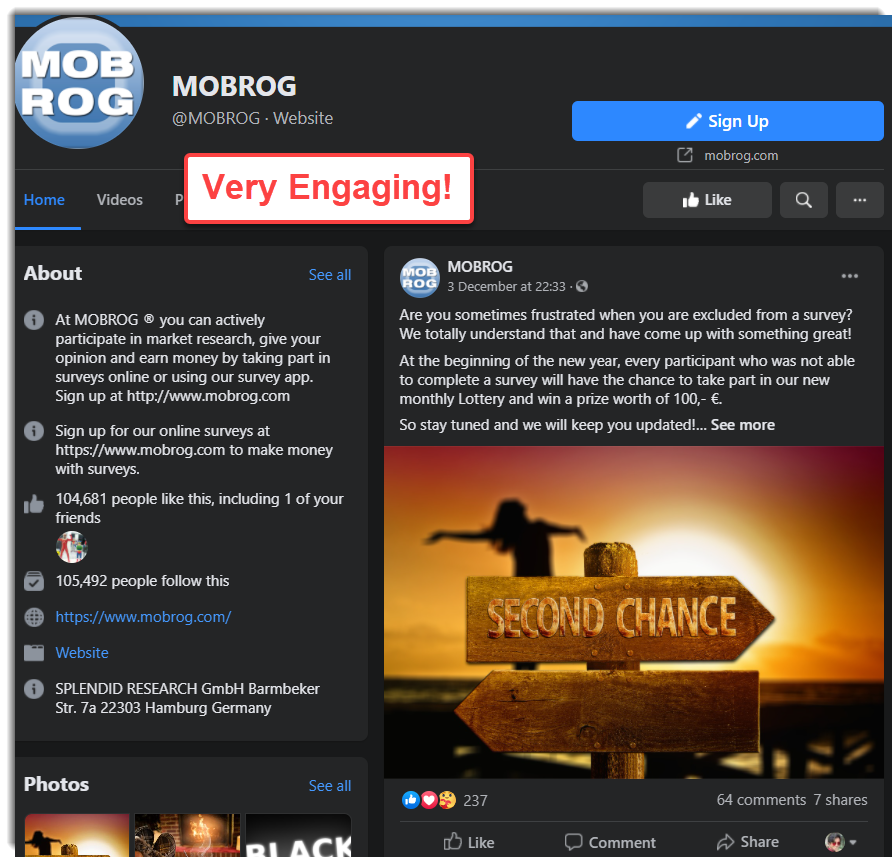 I was scrolling through their Facebook and I noticed something.
Did you know that they have over a hundred thousand likes and follows on their Facebook page?
Wow, talk about engagement!
MobRog's Facebook page has about a hundred to two hundred likes and on their best performing posts, almost six hundred with over a hundred of comments and shares.
Survey sites often have millions of users but when you check out their social media, they bare have any posts let alone like or followers despite having that many users and it really reflects back on that company because you'll start asking yourself whether it's a real business or not.
There are only a handful of good survey sites which really take care of their community and you can see from the amount of reaction and engagement they have on their social media and MobRog, is definitely one of them.
Red Flags – Are the Risks Worth Taking?
Now that you've seen all of the positive sides of Branded Surveys, nothing is perfect and it's time I let you in on the negative sides too to help you gauge better.
Red Flag #1 – Lack of Surveys to Do.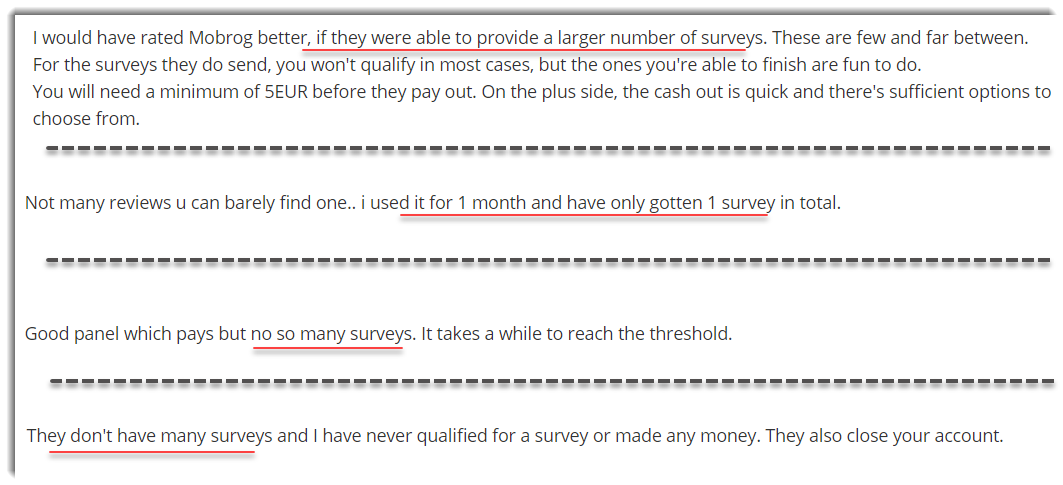 This one's a pretty common problem.
Survey sites operate by procuring research projects from their clients which is a long and arduous procedure so it's pretty common among survey sites to sometimes have an increase in projects, and on other times, barely any surveys at all.
The reason why there are many survey sites out there is because regular survey doers usually jump from one site to another so when one website is having a bad day and do not have enough surveys to go around if any, there are other survey sites to go to so you'll need to keep your options open.
I used to be a hardcore survey goer and me and my friends would usually sign up to multiple sites, we would then open different windows on the computers and dedicate our time to do surveys non-stop in a certain time period before classes so if one website doesn't have enough, we just move on to the other site.
It is troublesome as not everyone has a computer and switching between survey sites from your phone can be very strenuous so it's not for everyone.
But then again, if you have to go to another site to do surveys, its a sign that the company might not be able to cope with the rising number of members.
Red Flag #2 – Frequent Disqualifications.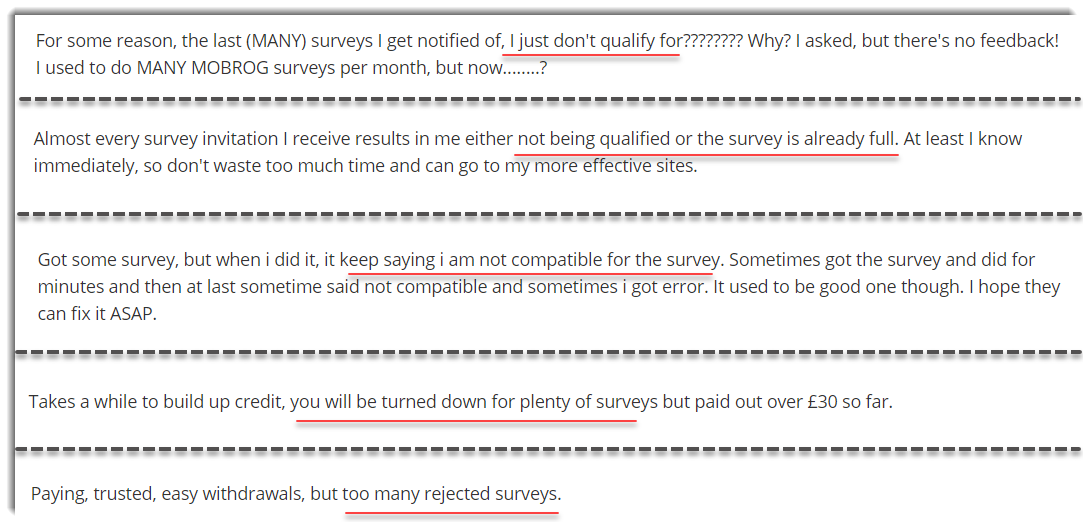 Getting rejected after spending so much time is stressful.
Especially if you've tried multiple surveys in a row and not qualifying for either one of them, it can break a person's morale and tests the user's loyalty towards a certain program.
Disqualifications do not just depend on the type of surveys but rather on MobRog's strict rules on what user criteria they want which they do not usually let you know.
All you get is just an instant disqualification without even knowing what is it you did wrong or what part about you they don't want, something like that.
So if you do not know the criteria of that survey before taking it, how are you supposed to know if you're eligible for it or not?
This is one of the unsolved mysteries that we'll never get around with.
Red Flag #3 – Preliminary Surveys are a Waste of Time.
Why do the surveys when you're not going to qualify in the first place?
One major flaw that I noticed when doing surveys is that we needed to do a preliminary survey before getting to the actual real survey that we were eyeing on.
Call it a filter if you like, one that MobRog sets to know which user passes their criteria.
But instead of wasting our time filling up the preliminary surveys only to be rejected, a much better solution that MobRog could have set it is to put a criteria list before taking that particular survey which could really help save our time.
For example, Survey A requires only panel members that owns a car.
Obviously, users without a car would automatically stay away from that survey hence saving their time without going through that preliminary test.
We can just read the criteria first and from there, decide for ourselves whether that survey is worth spending our time on or not, that would definitely be a much better approach.
At least we won't waste time going through a preliminary survey just to be rejected as we would have already known beforehand.
Speaking of rejections…
Red Flag #4 – No Remunerations for Rejections.
It's only right to at least gain something after we've put our time in it.
And I'm not just saying this just for the sake of it, it's actually a common practice that many other survey sites offer to their members who get disqualified when filling a survey by at least compensating them a bit.
Some sites compensate disqualifications by $0.10, some compensate with $0.05, at least something to let the users know that they care but no, you won't get a dime after being disqualified from MobRog's surveys.
Red Flag #5 – Low Earning Rates.
This one comes to no surprise.
Survey sites do pay cash but it's a known fact that you can never make enough money from it as payment amount is very low especially with the lack of surveys to go around coupled with the lower percentage of getting qualified, you'll be lucky to even get a dollar or two per day.
Doing surveys is only good for some side pocket money aimed to only lighten your payment load and one should never rely solely on survey site earnings as a full-time venture.
Red Flag #6 – No BBB Accreditation.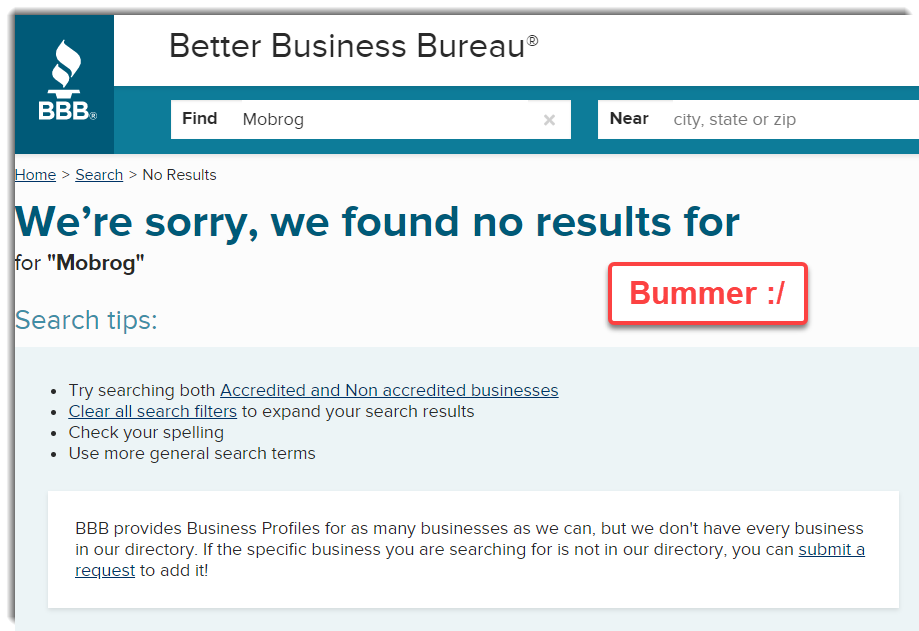 It's always wise to be cautious.
The Better Business Bureau is an organization that consumers refer to when researching a program to know whether that company is a legitimate company or not.
They partner with various bodies to uncover scams whether online or not and being non-profit, they've grown to be one of the most trusted organizations protecting consumer rights by spotting which companies to avoid and which ones are trustworthy.
I was surprised at first when a company so huge as Splendid Research which owns MobRog, does not have an accreditation but being based in Germany, they are outside the BBB's range influence reach since BBB is mostly used in the US which is why their name never pops up.
When a company does not have a BBB rating, I usually do research the traditional way to find out whether that company is doing well or not before I decide to spend my time and energy with them but I was even more surprised to know that…
Red Flag #7 – They Seem to Be Dropping in Stats.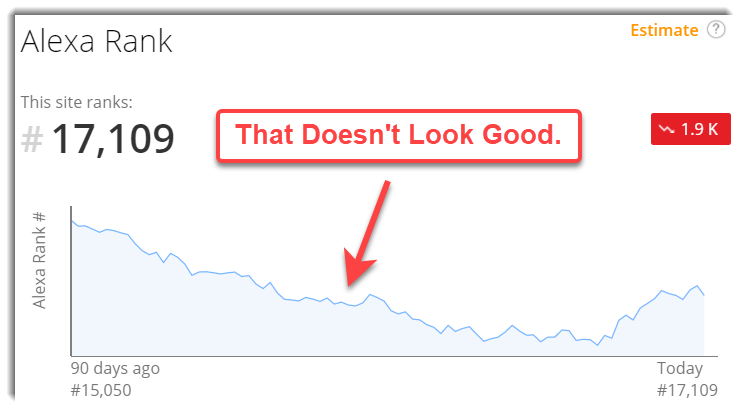 Is MobRog okay?
I was doing some digging on their stats to see if they're doing well or not but looking at their graph, I was surprised to find out how they have fallen from grace from being the top #15,050 website globally, to dropping in rank to #17,109 in just three months.
Although they do have a small site growth towards the end of the month, what's surprising is how they experienced a steep fall from having very healthy stats to almost going out of business if one might call it.
It might be due to the pandemic as it does affect all economies globally so I decided to check out Google Trend to see the amount of search they get.

I found out that they were doing great end of 2017 as you can see from the huge spike on the graph but after that, the stats go nowhere but down and it is not going back up again as how they were initially during their golden days.
I remember some users mentioning that MobRog might not be what they used to back in the olden days but I never really understood what they meant as I just started joining them this year but after seeing their graph, I began to understand why.
They had a glorious fall but at least they're slowly getting back up which explains why their surveys aren't as numerous as they were before.
Let's just hope they get better in 2021 next year when the COVID-19 vaccines are finally making a good impact on the economy.
How to Increase Your Income? -Let's Hustle.
When it comes to income, I like to keep my options open.
Sure, surveys are great but the earning potential is very limiting, especially when you have to put in so much time for very little pay.
After doing them repeatedly every day, you'll definitely feel like me – Tired and bored of doing the same tasks over and over again with no proper income potential.
So I decided to explore another source of income online which is how I found Wealthy Affiliate.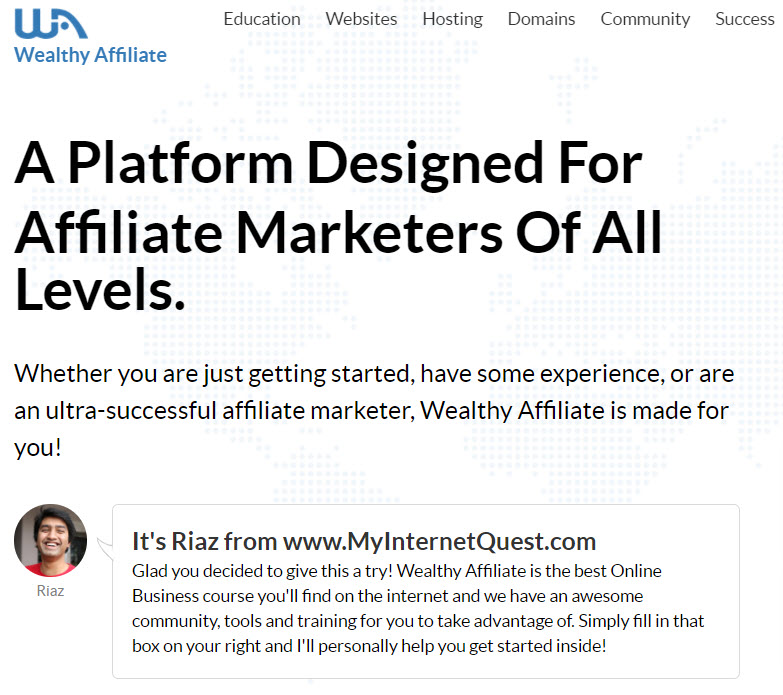 It's an Online Business platform that helps you get started in Affiliate Marketing by providing you with evergreen content lessons and cutting-edge features like the keyword research tool for one – Basically all that you need to succeed online.
How it works is that you'll learn how to build your own website and from there, learn how to monetize through the various ways being taught there.
What I love most about it is that you have the flexibility of choosing any niche that you like out of any passion or interest you want which is pretty cool as most programs I've reviewed only want them to promote their own program.
You do not need to have any inventories whatsoever, no need to even meet anyone online, basically all you need to do is to just create amazing content and worry not, there are also guidelines provided to help you so it's all smooth sailing.
And the best part which attracted me there at first is that there is the section where you can get some cash through their SiteComment feature, basically you can earn just by commenting, really helpful to know that there are so many ways on how to earn online.
I was a bit broke and fresh out of being scammed when I first joined so I had nothing, but the founder and the community are so nice and helpful, they guided me until eventually I was able to monetize my own site and now, I'm sharing it with you.
Comparing an Online Business platform to a survey program is never fair but just to give you a clear view of what I'm talking about, here's a table to help you gauge better…
Final Words
---
I like how transparent MobRog is with their surveys.
Despite their lack of surveys, MobRog is not a scam and definitely a good program to try as their surveys come with interesting features like the country-based questionnaires, not to mention the direct cash you earn without any of those reward points we keep seeing on the internet.
It's a great program for you to try and get some quick pocket money but I would never recommend anyone to do surveys as their full-time venture as you can never make enough.
If you're interested in learning more about how to make money online full time with a business that you can control, check out my top-rated program here to know more.
Phew, that's 4,500 words! It was so exciting to review this program I never knew how much I've written.
Thank you for reading and if you have any questions or want to share your experiences with the program, do share them below and I'll be more than happy to reply.