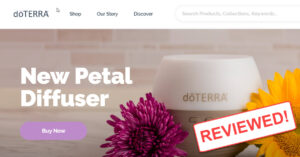 Business name: doTERRA
Website: www.doterra.com
Type of business: Essential Oil MLM
Price: $13.33 – $153 for oils, $35 for membership
Owner: David Stirling
My rating: 3 out of 5 ⭐⭐⭐
Essential oils are something worth checking out.
There are many benefits to it and personally, I've also been using their Past Tense Essential Oil blend for my migraines and clustered headaches.
Though doTERRA's products are undeniably great with their huge arsenal of different types of oil blends (Yup, they even do that in-house), I couldn't say the same for their business structure.
Do people really make money in doTERRA? Is it really as easy to get started and make sales as seen on ads? Are the controversies really worth turning a blind eye to?
If you're just as curious to know more on how it pans out, read on my full doTERRA review as I unveil the bigger picture…
Pros & Cons
Pros
Their compensation plan is quite generous.
The Certified Pure Therapeutic Grade Oil (CPTG) is trademarked only for doTERRA.
It's a Mormon company.
They have a foundation that helps Nepal called the Healing Hands.
They source their oils from around the world at the same time helping natives get by from their purchase.
Time has never been better as essential oils are on the rise.
Your commission gets higher the more people your downline recruits.
Referrals can go 7 levels deep (Most MLMs cap at 5).
Very professionally carried out, no hoo-has of Ferraris and mansions fluff.
Their meetings and speeches are also decent, no cult gatherings, no worshipping uplines, no throwing of money or that kind of stuff like how Riway, Herbalife, or Empower Network usually do.
Cons
The Certified Pure Therapeutic Grade (CPTG) Oil is actually made up.
Young Living Filed a huge lawsuit against doTERRA.
The FDA sent a warning letter to doTERRA for lying on impossible health claims (Like treating cancer with essential oils)
They had a data breach which exposed information from their customers and members (Ouch.)
Their air purifier doesn't really purify.
Their products are overpriced.
Bad past history of them stealing money from charity.
Might be a bit difficult to sell essential oils as almost every household would have had one by now.
Lower ranks earn less which might be a challenge to sustain when climbing up the ladder.
It is undoubtedly a pyramid scheme as there are barely any retail sales.
Auto-shipping of products still applies which means that you'll end up buying oils every month in order to maintain your membership.
Distributors end up buying more oils than they sell.
You have to pay for auto shipping even if you are selling those products as a distributor.
Majority of its distributors are earning less than $2k a year.
Loads of complaints everywhere. Seriously, just Google it.
Golly, I'm at a crossroad with these cons, better check out my #1 recommended program here instead!
What is doTERRA About? –The Business of Oils.
DoTERRA means "Gift of the Earth" in Latin.
It is basically an essential oil company that revolves around MLM as their main revenue provider and their objective is to promote healthy living through the use of these oils hence the company name.
doTERRA first started back in 2008 by several ex-Young Living members with the aim to create a change in the essential oil business by sharing a different way of promoting them (Through MLM of course).
If you've never heard of Young Living before, they're also an MLM company focusing on essential oils and they're also one of the earliest companies in the market so when several members left Young Living to start a new company, they had the right knowledge of the industry, and how to scale even further which is one of the few reasons they've managed to rise up the ranks fast.
Spearheaded by David Sterling, doTERRA is headquartered at Pleasant Grove, Utah and is made up of the initial team members of Emily Wright, Gregory P. Cook, Corey B. Lindley, Dr. David Hill, Rober J. Young, and Mark A. Wolfert.
The team and company came out of Young Living to create doTERRA with new hope to start again but as a result, Young Living has been haunting doTERRA since the very beginning with threats, lawsuits, and subterfuge as they claim that part of their income and clients are taken by doTERRA.
It's like a movie if you think about it but I do admire doTERRA's tenacity because even after 6 years of being chased by its rival, the company stood strong and reflect all those arrows thrown at them for hopes of a better future.
I was thinking of the same thing seeing that they are people from a
Imagine if you're the owner of Apple and a few of your trusted leaders left your company to start a similar company called Pear also in the same niche and dealing with similar products not to mention the same target market, how would you react? Surely you'd react the same way.
Now that you know about the company, let's delve more into the more crucial part…
What are doTERRA's Products? -Oils and More.
I'm sure the first thing you'd think of is the right answer.
Oils.
And you're right, except that they're more evolved than what we all initially thought.
Here's an overview of what products doTERRA covers…
Single oils – Single-flavoured oils such as basil or frankincense.
Proprietary blends – A mixture of different oils with different benefits packed per bottle to give you added trait boosts.
doTERRA on Guard products – For sanitization purposes such as toothpaste, hand wash, laundry detergent etc.
doTERRA breathe products – Respiratory drops and vapor sticks (Not those vape sticks just to be clear, but rather those vapour sticks that look like deodorant thingies).
Deep Blue products – For rubbing and massage (Cool-looking too)
DigestZen products – Detox and digestion aid purposes.
Personal Care – facial and skincare.
Supplements – Vitamins, that sort of thing.
Kits & Collections – Packages for metabolism enhancement.
Literature – Some reading to help you get by.
Accessories – Pouch and oil package boxes for you to neatly arrange your numerous bottles.
Diffusers – They turn oils into a mist for some aromatic breathing.
For me to list down each and every one of doTERRA's products and prices would be never-ending because they have a ton of it so if you'd like to know more about those oils, you can simply head over to their website to know more.
The cheapest essential oils in doTERRA are priced at $13.33 for Lemongrass and Wild Orange and $153.00 for Melissa.
Wait, what? $153 for a bottle of oil?
Why is Melissa Oil so expensive you ask?
2 reasons – Because it's rare, and because doTERRA.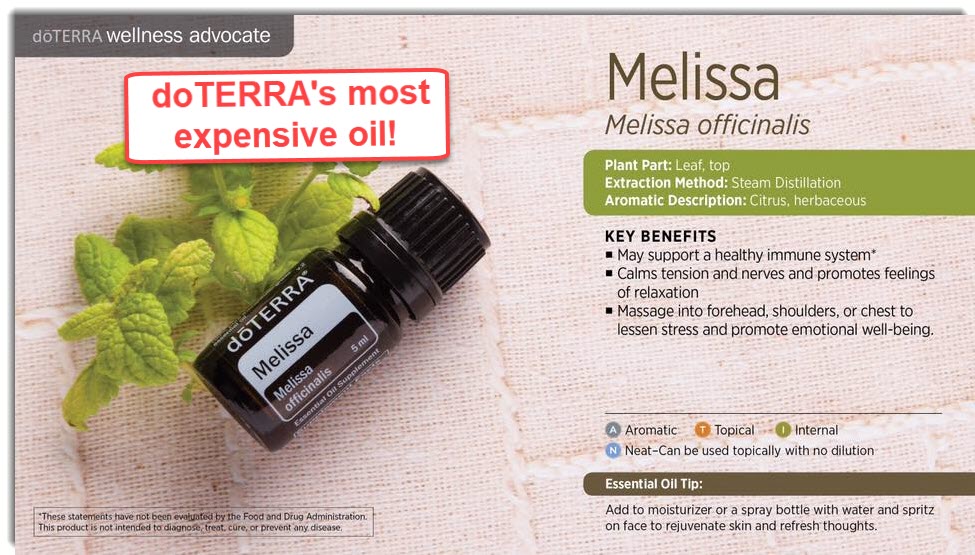 Melissa oil comes from the Melissa Officinalis plant otherwise known as the lemon balm tree.
It's considered rare because not many people grow it as its main use is for medicinal purposes but it's still easily acquired as it's level of rarity cannot be matched to that of the truffle's (Truffles are the number one edible material on earth which makes it the hardest culinary ingredient to find in the world).
And don't get me started on white truffles, they cost about $2,000 per pound (If you're curious, I used to be a chef).
I'm surprised that doTERRA never actually sold truffle oils.
If they do though, you can bet that Melissa won't be their most expensive oil just yet.
Which brings us to the other reason for its exorbitant pricing – doTERRA's standards because everyone knows how expensive their products are.
So are DoTERRA oils safe to consume?
Being Essential Oils, they definitely are safe but as they contain concentrated substances, moderation is key because too much of a good thing is never good.
Still, one huge advantage doTERRA has over its counterpart YL is that their oils are fully organic which means that these oils can be used for many instances including cooking and drinking, with a few drops of course.
Bear in mind that known herb oils such as basil is totally fine but as for the other potent oils such as sage oil, you might want to avoid consuming that altogether as it can be dangerous.
As for the commission structure, there are 3 types of how you can earn at doTERRA…
Retail orders give you 25% commissions.
Retail customers who sign up for a monthly autoship give you 9% commission (Also known as preferred customer orders)
MLM commissions (Different earnings at different ranks)
Bear in mind though that in order to qualify for these commission earnings, you'd have to be a member which costs about $35 membership fee and $25 to renew annually.
As for the MLM commissions part, I'm sure you're wondering about that too so worry not, because your world is about to be shaken when you check out…
The doTERRA Compensation Plan – How Much Can I Earn?
If you're new to MLMs, get ready because this part's lengthy.
Compensation plans are a must in any MLM company, that's why they create MLMs in the first place as it's easy money for whoever's controlling it – However, it can still be a good plan if you're good at recruiting people.
Yes, you've read it right – recruitment.
Like every other MLM companies out there, doTERRA makes a bulk of its income by recruiting people as distributors.
And for these distributors, you can earn more income when the people you've referred, recruit more and for doTERRA, you can earn from your downlines 7 levels deep which are quite generous as compared to most MLM companies I've come across and reviewed.
Just so you know, most companies tend to cap you at level 5.
It is called residual income and it is quite common in every Multilevel Marketing schemes everywhere because it can earn you a lot if you're good in it.

It's great and all but in a unilevel system such as this, your upline will always earn more than you because for all of your hard work in recruiting new joiners, they will always have a percentage of that since each person can earn down to 7 levels.
That's just your upline, don't forget he also has an upline above him who earns from both him and you so whenever the both you of recruit, the guy on top will always be the one earning a patch of all your hard work.
It's a fun loop of complications and emotions.
DoTERRA focuses more on convincing its fellow members to recruit hard-working freshies who will carry on the recruitment process for them because the higher you are up the food chain (Pyramid chain *cough*), the higher the percentage of commissions you will get from the downline levels.
Here's what I mean…
That's the Unilevel commission table I got based on doTERRA's compensation plan.
Wellness Advocate being is the lowest rank in their MLM structure (You'll be that rank if you just joined) whereas the highest would be there the Presidential Diamond.
Okay read slowly as I explain how those percentages are calculated so that you won't be drowned in all the knowledge bomb I'm about to drop.
If you look at the Unilevel commission table above, you'll notice that there are percentages according to levels…
Level 1 – 2% commission
Level 2 – 3% commission
Level 3 – 5% commission
Level 4 – also a 5% Commission
Level 5 – 6% Commission
Level 6 – Same, also 6% commission
Level 7 – 7% Commission
There are in total 7 levels of downlines which you could earn from as I mentioned earlier.
What does this mean, you ask?
It means that the more downlines that your downline recruits for you, the more commissions you get out of them without doing anything – It's all passive income for you… Supposing your team does achieve that.
Think of it like your family tree – You have 3 children which will be your first level and from there, you can earn 2% monthly from them as long as they remain under you (Which means that they remain a member of doTERRA).
When your children have their own children (They recruit more under them), you too can earn from their hard labor as your grandchildren is considered your level 2 (you'll get 3% commission).
And as for your great-grandchildren (Your 3rd level down lines), you can earn 5% from them and so on, all the way until your 7th generation of your team.
That's what I meant by a unilevel commission; it may be a bit hard for you to picture but you get the idea.
Sweet, isn't it?
That's how MLM gets to you, they entice you based on the earnings potential as it looks simple but simple doesn't mean easy and in all my life all MLM back in the days, very rarely do I see people even getting pass level 2 let alone 3.
Next I'll breakdown for the 12 ranks within the doTERRA MLM ranking structure…
Rank #1 – Wellness Advocate
As mentioned, this is what you'll be when you first sign up as a doTERRA affiliate.
It's the most basic level there and as a Wellness Advocate, you're entitled to 2% commission from your sales.
You don't need downlines to maintain but you do need to generate at least 50 PV (Personal Volume) a month which can be gotten by buying doTERRA's essential oils yourself.
Just so you know, Personal Volume (PV) is like a point system which is very common in all network marketing companies and each company has its own requirements, which make us their whole system.
50 PV does not equate to $50 – In fact, you'll need to spend up to $100 in order to reach that amount so that's one thing you'll need to consider.
Rank #2 – Manager
Once you've recruited enough down lines, you'll go up another level which is the Manager rank.
Managers can earn from two levels of downlines – Which means you'll get 2% from your level one recruits, and 3% from your recruits' down lines.
However if you want to maintain your rank, you'll need to generate at least 100 PV a month and have a total downline volume of at least 500 GV a month.
GV stands for Group Volume which is the accumulation of all the PV (Personal Volume) points from all you're your down lines combined.
Rank #3 – Director
Next in line for promotion is the Director rank.
You'll achieve this when your 2 levels of downlines are full and as a member of the Director rank, you can now recruit and earn up to three levels deep.
Remember, in doTERRA, you can earn seven levels down so we're not quite there yet.
As a Director, you'll earn 2% from your first level down lines (Which you would have known by now), 3% from your second level down lines, and 5% from the third level which you would have now unlocked.
In order to maintain this rank, you'll need to have at least 100 PV a month and have a total downline volume of at least 1000 GV a month.
Rank #4 – Executive
It'll get tougher to rank from here onwards.
The fourth rank within the doTERRA network marketing ladder is called the Executive rank and to achieve this, you'll need to have four levels on down lines which also comes with some better commissions.
Just like before, you'll earn 2% from your first level, 3% from your second level, 5% from your third level, and the new addition for this rank – 5% from your fourth level.
This level is when you'll face difficulty in maintaining your huge family tree if MLM-ers but if you manage to keep them up together, it can be very lucrative.
And just like before, you'll still need only a hundred PV of your own to maintain but as for your new huge group, they'll need an accumulation on 2,000 GV a month.
Talk about whoa.
Rank #5 – Elite
This is when you decide if you want to continue or not.
When you've reached the 5th down line in your MLM hierarchy of people you've recruited, you'll reach the Elite rank which lets you earn from your sixth level of down lines.
The earnings are the same for the levels before, but for the sixth level, you can earn a bit higher up to 6% which is the one thing that makes doTERRA different than other MLMs.
Most MLMs give you lower percentage commissions the higher your levels go but at doTERRA, you can actually earn more so everyone would be more motivated to recruit more strong-willed people who can recruit more downlines for you.
Whether this is good or bad, that is for you to decide but personally for me, I think it's not fair to get that much commission from your teammate's hard work and not yours.
That being said, you'll need 100PV to maintain your rank, and your total GV requirement is 3,000 a month.
Rank #6 – Premier
This is the sixth rank out of twelve.
And, the rank that most people give up on because the pressure can be quite daunting.
For the Premier rank, the commissions based on levels one to five are the same – Except that you'll unlock the ability to earn at the sixth level.
But no surprise here though, because the commissions for the sixth level is the same as the fifth one, which is still 6%.
Maintaining this rank would cost you 100PV a month, and a whopping 5,000 GV as well.
Rank #7 – Silver
This is the rank where you'll unlock the maximum earnings level.
In doTERRA, recruiters can earn up to 7 levels deep off their down lines and which is why at the Silver rank, you are capped.
You can earn 7% from your seventh level of down line and the other commissions being the same as I've mentioned before for all the other levels.
And since this is the highest level of commission earnings, you can't earn more than 7% and you can't earn more on the other down line levels eight, nine or above within your tree that your recruiters might have.
Not that you'll even achieve those as most people do not even get this far.
Getting back to maintenance, you'll require the usual 100PV and here's when it gets tough – you'll need to also recruit three Elite rank members.
Rank #8 – Gold
It only gets more difficult from here onwards.
Just in case you forgot, I'm going to lay out the commission you'll earn from down line recruitments so it's easier…
Level 1 – you'll earn 2% commission from sales
Level 2 – you'll earn 3% commission from sales
Levels 3 and 4 – you'll earn 5% commission from sales
Levels 5 and 6 – you'll earn 6% commission from sales
Level 7 – you'll earn 7% commission from sales
With that in mind, that's basically the only thing you'll need to remember as you grind yourself to achieve your goal of expansion.
Maintaining your rank will be a tough one as you'll need to not only have a hundred PV monthly, but also referring three Premier ranked recruits a month.
Rank #9 – Platinum
There's not much for me to explain from this rank onwards though.
The commissions are the same from level one to level seven of down lines so from this stage onwards, all you need to do is focus on volume which means recruit, recruit, and recruit.
Except that you'll also need to maintain your godly Platinum rank which costs you 100 PV and three Silver ranked member recruits.
Rank #10 – Diamond
Its basically the same as rank #9, only that instead of three Silver recruits needed monthly, you'll now need four.
Rank #11 – Blue Diamond
This one's nearly impossible.
Which is why it's second highest level in the game.
To get here, you'll need to keep doing what you do by recruiting non-stop as if your life depends on it, and of course, you'll also need to convert at least five Gold ranked members into your team.
Recruiting four silvers is hard enough but five Gold? Good luck with that.
Rank #12 – Presidential Diamond
Ahh, the highest level of doTERRA.
Reaching this level would mean the ultimate commitment for the company and if I were the owner of doTERRA, I would give a Rolls Royce to each and everyone of the members because the amount of commitment you'll need to get here is phenomenal.
Maintaining this ultimate rank would be an achievement of life because every month, you'll also need to recruit six Platinum members.
And there you have it, the top 12 ranks within doTERRA explained.
Besides the commission you get from the usual member ladder recruitment, doTERRA also has 2 bonuses for its members which are…
Additional Bonus #1 – Fast Start Bonus.
Did you know that you can earn extra if you're new?
It's true, but only within the 60 days of joining.
This bonus is meant for action-takers on the first level (Wellness Advocate) who are serious in recruitment and those who can get referrals as easy as drinking water.
In order to qualify for the doTERRA Fast Stack and live the almost-high life with extra commissions, there is a requirement which you'll need to surpass which is a minimum of 100 PV.
For level 1 recruitments, you'll get 20% extra out of each referral you recruit, 10% for level 2 recruits, and 5% for level 3 recruits.
If you're a super MLM-er and are able to get to the high ranks within 2 months, this bonus would be a dream bonus for you but if you can't you'll be missing out a lot.
Additional Bonus #2 – Power of 3 Bonus.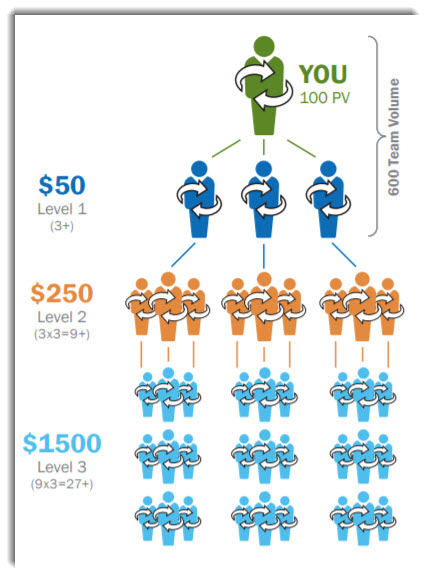 Think of triplets.
Or not, that didn't come out right.
For the Power of Three, you'll get an extra $50 every time you refer three downlines for level 1, $250 if those three downlines have another 3 under them each, and $1,500 for the next multiplier on the 3rd generation – Just so you know, that 3rd level would need to have 9 triplets.
You guessed it, it works for members recruiting 3 which continues down the line and so on.
And there you have it, the complete compensation for doTERRA, explained!
It's a lot to soak in but just to brief it you in one word, you'll make more money down the line when you have a lot of recruits compared to the first level of downlines which, compared to other Multi-Level Marketing companies, would give the highest commission.
Red Flags – Is it Really Worth the Risks?
Now that you've learned about the earning benefits, let's get to know a bit about the dark side of doTERRA.
Beneath all those shines, no company is perfect and you'll need to consider these risks before deciding on whether or not the program is suitable for you, starting with…
Red Flag #1 – DoTERRA Had a Lawsuit with Young Living
Since the very beginning, we've all expected the doTERRA lawsuit.
I mean with doTERRA's founders themselves coming from Young Living, it would be pretty obvious for Young Living to take revenge and assume the worst.
They actually did.
In 2013 just years after doTERRA's starting, they experienced their very first lawsuit and it's a big one at that.
The lawsuit was filed from Young Living for theft of trade secrets and that doTERRA is doing their production of oils illegally.
Of course there are many claims that Young Living had imposed such as doTERRA being succubus's persuading Young Living members with riches beyond imagination but at the very bottom, they just don't like the fact that their own strongest members (David Stirling was their CEO) left and started a similar company to oppose them and their twisted ideologies.
The court case ended in 2008 with the result of the court ruling that Young Living acted in bad faith and so the judge ordered Young Living to cover doTERRA's attorney costs as compensation.
Even though it has ended, having a serious lawsuit such as this is really something one should consider before joining and committing one's self on a company.
But before you've made your decision, you should also know that…
Red Flag #2 – They received a warning from the FDA
Claims on brain injury? For real?
For those of you who's never heard of the FDA, they are the Food and Drug Administration, which is under the United States Federal Executive Department.
For a company to be getting a warning from the FDA is a serious thing as it means that whatever that particular company is doing, may be dangerous for our health.
And for good reasons too, if you check and see the report, you'll see that there are so many bogus claims mentioned by doTERRA such as Ebola prevention, autism, brain injury and could you believe it – Brain injury.
Modern medicines couldn't treat that and even for cancer we'd have to go through extensive sessions not to mention surgery and curing all of those by just sniffing oil?
You tell me if that sounded normal.
Red Flag #3 – They Had a Data Breach
How would you feel if your information got shared everywhere?
Well, it happened at doTERRA once and it got everyone scared.
DoTERRA found out about it from their web hosting company and from there, David Stirling (The CEO) sent a letter to California's Attorney General after being under fire from the public.
If you're wondering, the data being stolen from the hacker includes identification numbers, usernames, passwords, all of that important personal information stored and not forgetting the biggest thing of all, the payment card information.
Imagine opening your bank account only to see your money being transferred to someone else's account, that would be everyone's nightmare.
Not only that, the news spread fast like wildfire and it's on many news websites too including the Daily Herald, Deseret News Utah, Seattle Times, Fox 13 Now, SC Magazine, Gephardt Daily, Providence Journal, and it even came out on the International Association of Privacy Professionals.
It's apparent how big of a screw up that is and although they have gotten through that, it doesn't bring back the sense of security we once had for doTERRA.
Would you feel comfortable giving your card details and personal info if you know that the company has had a breach previously?
Share them below, I'd like to know.
Red Flag #4 – False Claims on Fire Smoke Protection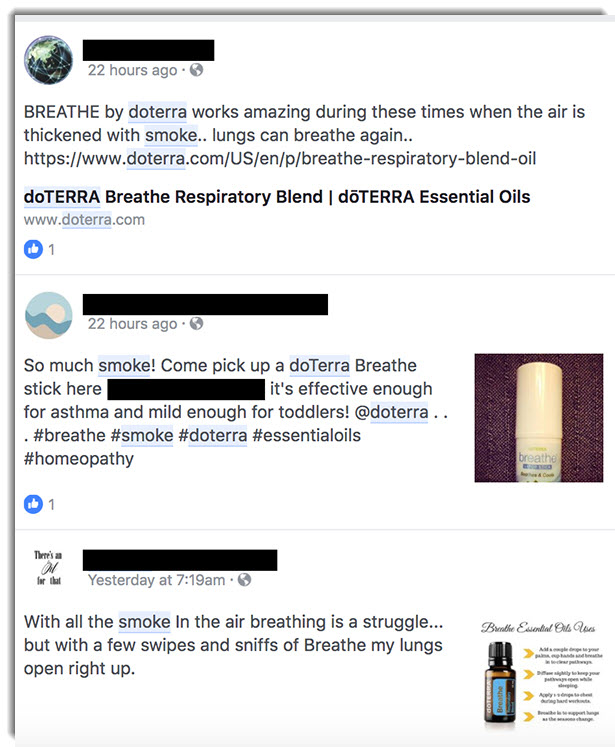 Back in 2017, California had a forest fire so doTERRA came in.
A lot of their reps flooded social media claiming that using essential oils can combat the detrimental effects of fire smokes.
It's the perfect opportunity as people were distraught and were looking for solutions for their health problems like asthma and lung problems.
One problem though.
Because according to Air Pollutions Specialist Jeff Williams, using essentials oils is not only ineffective to combat forest fire smoke effects, but it also poses a dangerous threat as these oils introduce volatile organic compounds during the process.
Simply said, essential oils are useless if not dangerous as it can cause you more respiratory problems when its mixed with air pollution particles so whenever someone uses it and feels good, it's only the aroma doing that, nothing more.
And the forest fire smoke combat capabilities part? That's just placebo.
Red Flag #5 – Auto-Shipping Every month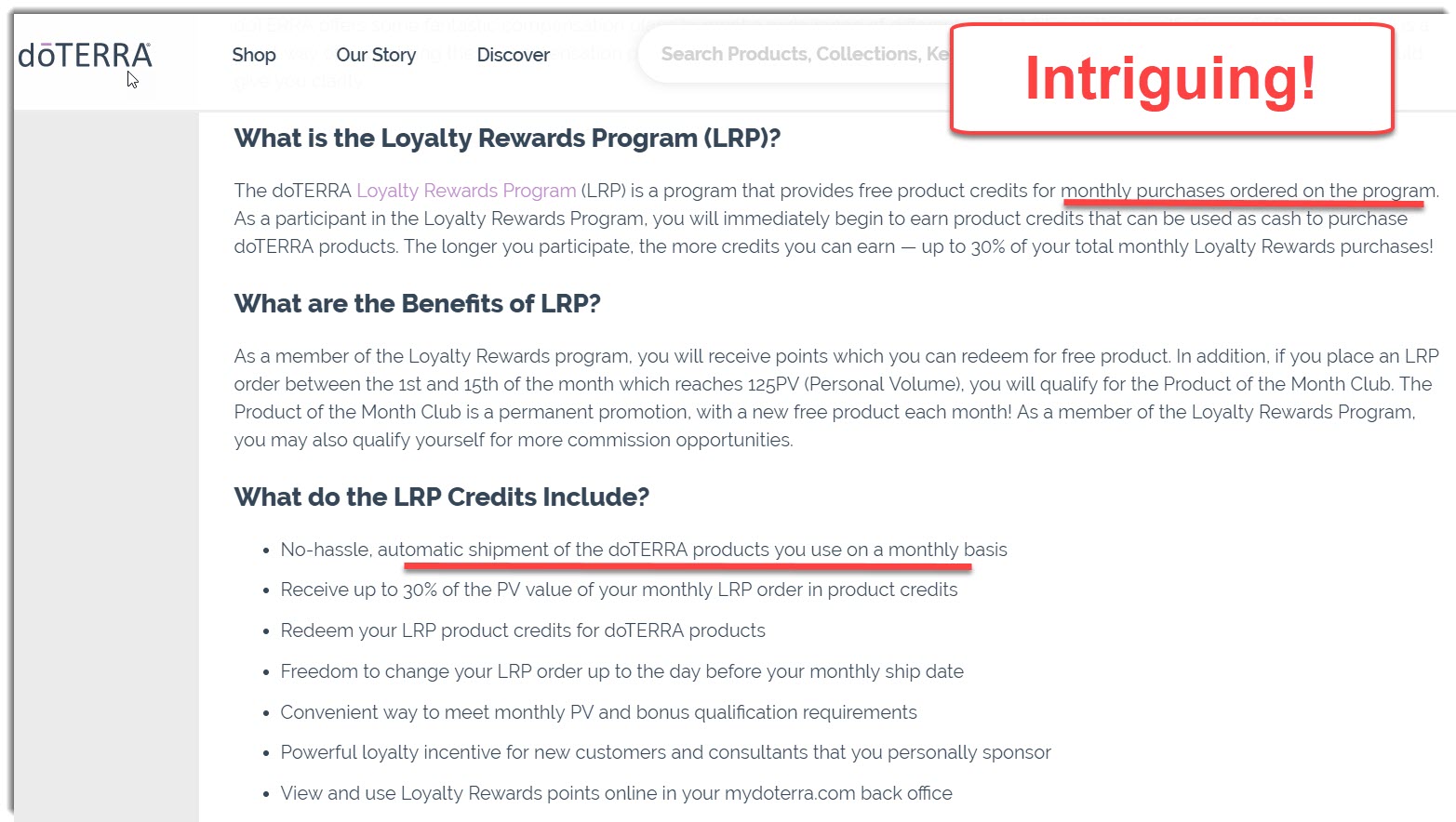 Total waste of money.
Auto-shipping is a very popular form of membership retention method within MLM companies and doTERRA is one of them.
The idea behind it is to make more sales from its members so what better way for making regular sales than to make your members buy more of your stuff in order to keep being a member, right?
Plus, you'll keep getting more points (Also known as LRP) with every purchase so you'll end up buying more and more without even noticing.
I've reviewed multiple MLM programs including Mary Kay, Melaleuca, and Thirty-One Gifts to know that auto-shipping will be the death of you.
You'll end up buying more oils than you need and it keeps on coming every month too until you'll have no place to stock up only to realize that your family members are the ones who care enough to try and snap you out of that auto-shipping trance you're in.
Red Flag #6 – You Have to Buy Products in Order to Sell
If you're a salesman working at a normal average shop, do you buy those items to sell?
Obviously not.
But, that doesn't seem to be the case for doTERRA.
In order for you to make any sort of commissions off doTERRA's products, you'll need to buy their essential oils first before you can sell it which I think is ridiculous.
Another reason why most of doTERRA's members are going on auto-shipping.
It might work for some people but if you're just starting up and you definitely don't have enough cash, you'd face trouble trying to find money to buy and from there, to sell.
You'll be doing the company a service by selling their items for them and you should not be charged for it.
Take Affiliate Marketing for example, you promote other people's products and you'll get a commission for each and item you sell and you won't even need to buy their items first.
However, things are a bit different for an MLM company.
Even if they have products to sell, they do things differently for a specific reason of course.
The reason MLM companies sell their products at exorbitantly high prices is because their focus is not on retail at all, but rather to deter their customers into 'saving more' by joining as a member instead hence the recruitment part because that's where the real money is.
When you're a member, you'll end up paying monthly to maintain your membership and that's one of the main sources of income for doTERRA as membership programs are very lucrative.
Red Flag #7 – Superbly Complicated Compensation Plan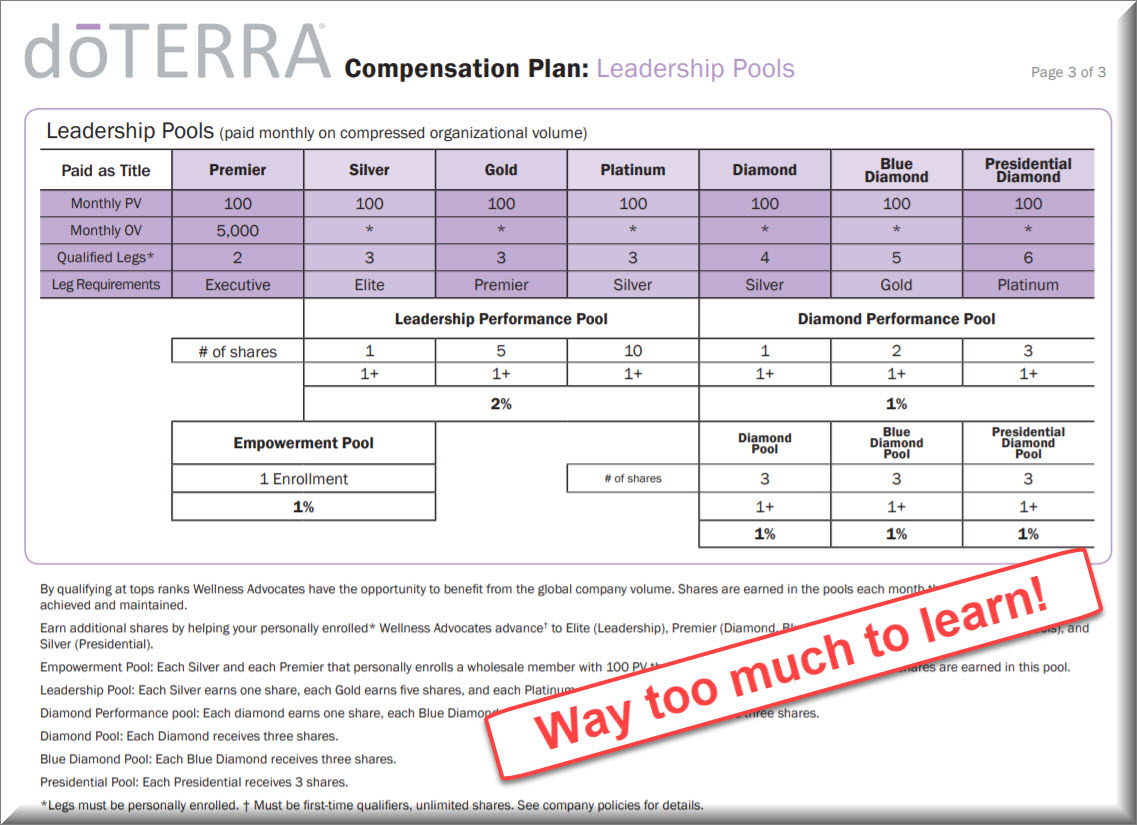 When people join businesses, they want to get started fast.
But what if you have to sit down and spend hours just understanding and memorizing how much to earn and what strings are they tied to?
I mean just look at my compensation plan explanation of doTERRA that I mentioned above, it took me 2 whole days just to understand and write it all down and that's coming from a person with prior MLM background myself!
Imagine how much time it will take for a newbie who is fresh to all of these MLM mumbo jumbos?
It'll take a week of getting used to or even more!
And with much time wasted, that person would have fared better at other easier opportunities to make money.
Red Flag #8 – There is even a scam app on App Store!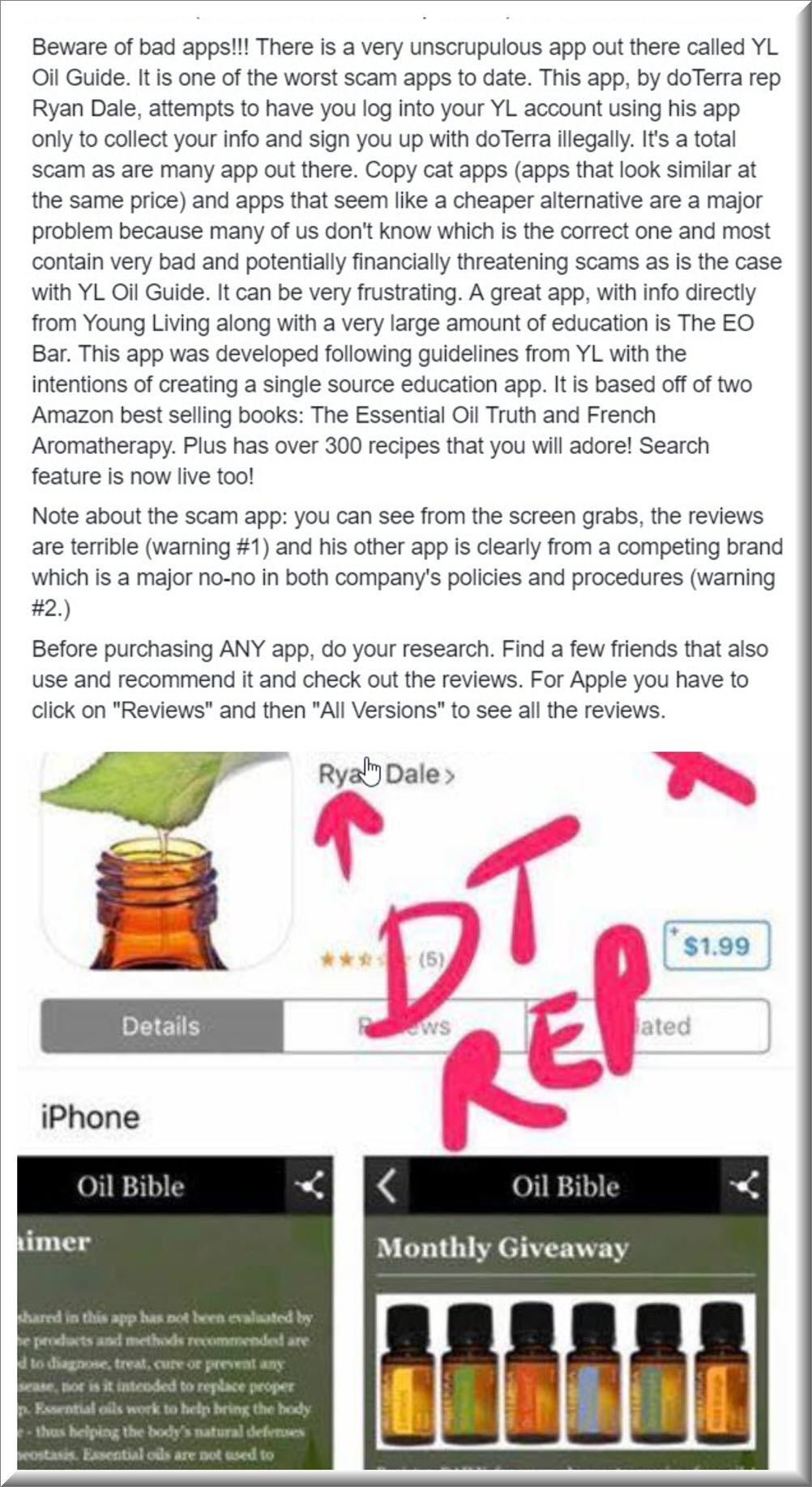 This part worries me.
It's enough that we have so many people trying to take advantage of us online but through Apps?
That's certainly something new.
Because a lot of people are using social media or home parties to try and trick people into joining their pyramid schemes, this pushes some of them to go beyond those common methods and try to take advantage of people by other methods.
For example, taking advantage of the App Store for this reason.
If you are on the App Store, do avoid Ryan Dale's app as he is not to be trusted.
There are reports of other reps doing similar scam apps by promoting cheaper priced doTERRA oils than the price they're supposed to sell so you'll need to be on the lookout for any of those tricksters.
Although it is something we should be warry about, I'm actually pretty impressed that someone would actually go this far to create a whole app just to get more referrals.
Red Flag #9 – Distributors are Earning Less Than $2k Annually.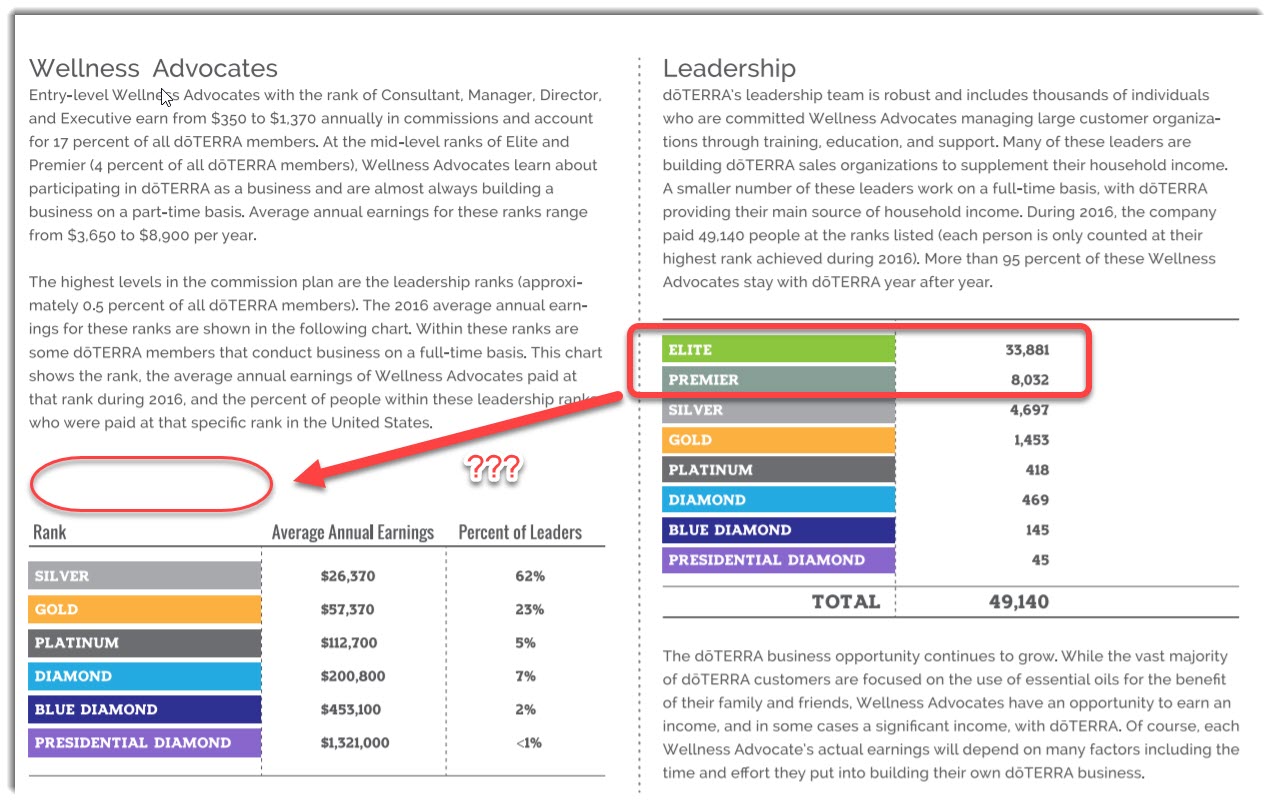 Selling is hard.
But it's even harder when the company you're trying to help make money, is leaching from you.
In MLM, your upline will always earn more than whatever you're earning because a percentage of that, will go to them but at doTERRA especially – Because the higher the upline's rank, the more they earn (You can refer from their compensation plan which I've explained previously).
You can refer to doTERRA's Earnings Disclosure which you'll find that they mentioned that basic members earn as low as $375 annually and that makes up about 17% of the entire member population.
Talk about whoa!
I love the fact that doTERRA is trying to be transparent with us consumers and share their numbers, it tells a lot about the company and seeing how much you can earn in the long run if you're of a higher rank is very rewarding.
It's a good opportunity to go into if you can imagine yourself doing it full-time but first, you'd need to brace the earnings of those lower ranks until you can finally bring yourself to the upper levels.
Red Flag #10 – Bad Reputation on News Sites
Vital for the wrong reasons, of course.
You'd think that the FDA's warning would be a personal thing but I guess it got out pretty quick as for a time, it was viral on CNN and it causes a lot of confusion among its members and distributors.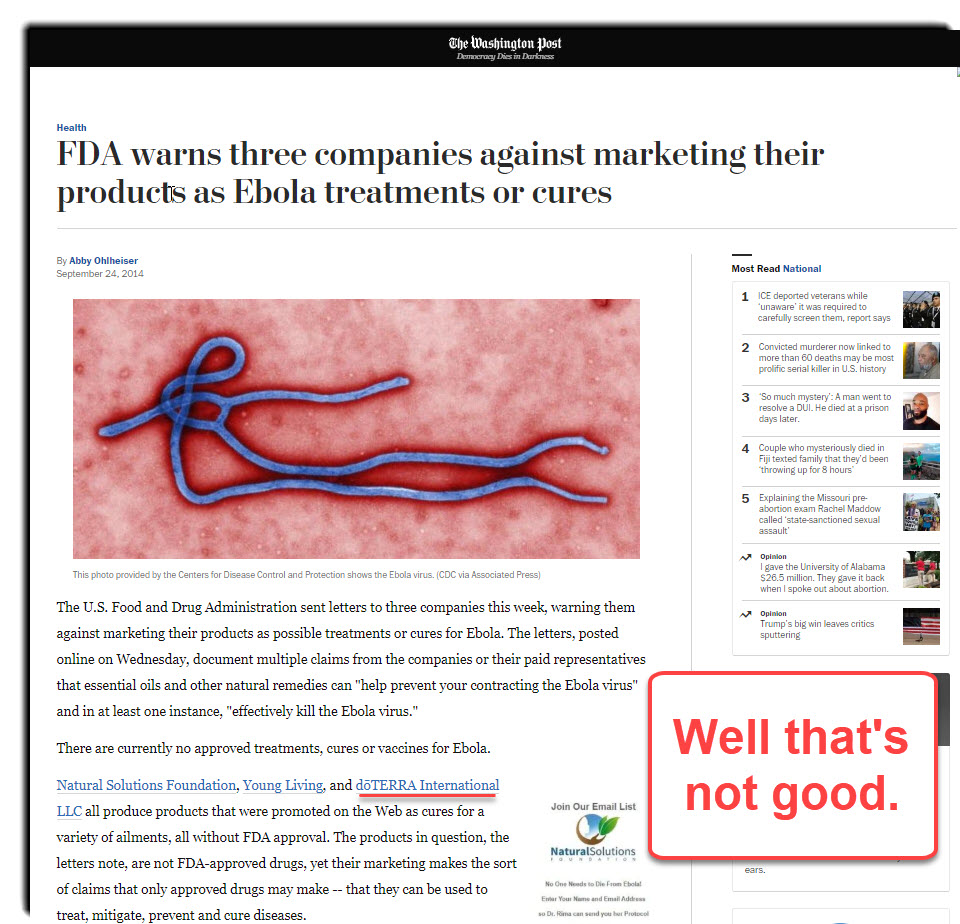 As if that's not enough, the post went viral on the Washington Post as well.
This looks pretty bad and I can imagine how what luck doTERRA's wellness advocates might face when explaining this to their clients.
Daily Universe also featured doTERRA and it gave them an even more unsettling feeling.
If I were a member, I too would feel uneasy if so many medias exposed the company's truth.
If you're halfway on closing a downline or a retail customer and this popped making your prospects angry, how would you solve this messiness?
Your chances would be next to zero.
Red Flag #11 – Many criticized Them on BBB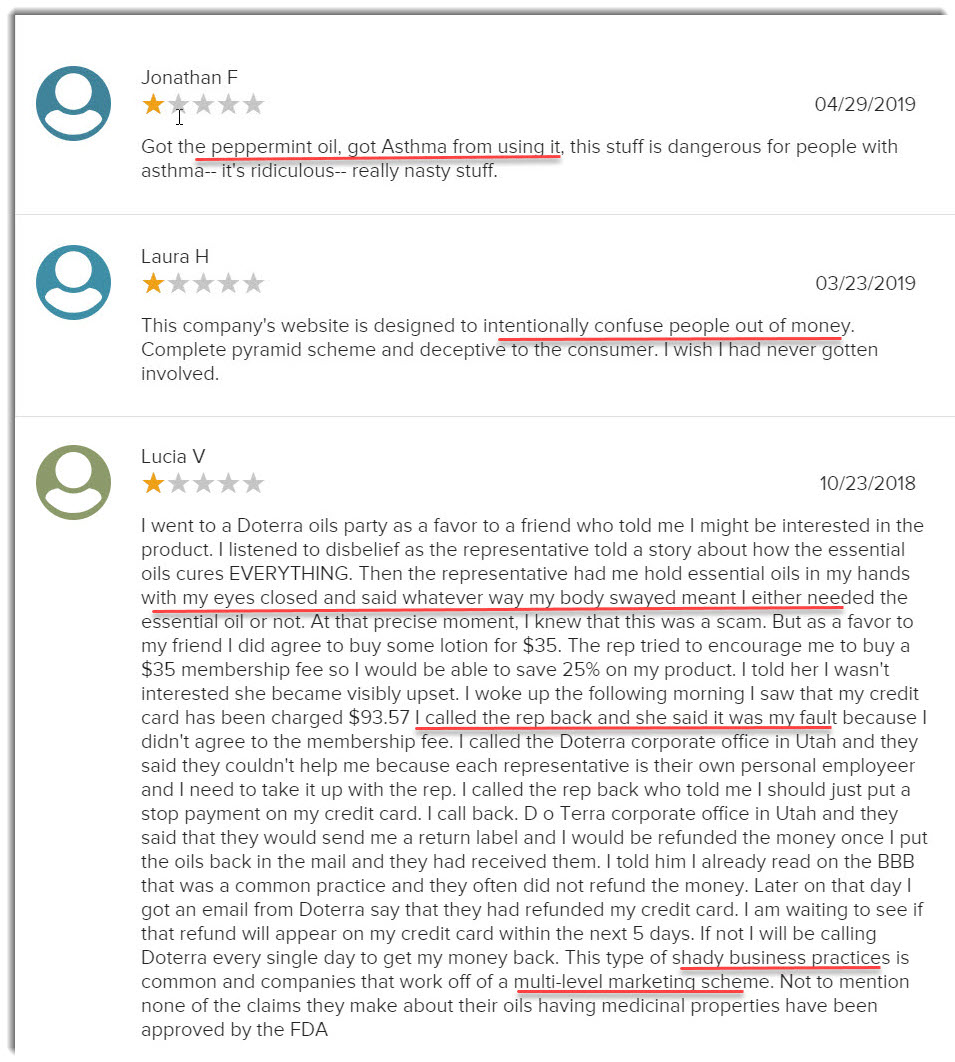 Did you know that 79% of consumers check up on BBB to find out about a company's legitimacy?
For those of you who are new to BBB, it stands for Better Business Bureau and it's one of if not the biggest consumer protection association that detects what company is good and which ones are not.
If you look up doTERRA on the BBB, you'll notice there are a ton of complaints there which is very troubling.
What is weirder than that, is that even with that huge amounts of criticism and low star rating, doTERRA still gets an A+, could you believe that?
I've seen good companies with less than 5 complaints on BBB, but their ratings go down to B or C immediately which doesn't make sense.
I have a feeling there might be a foul play somewhere that we consumers do not know of but one thing for sure, those huge number of complaints against doTERRA is definitely something to worry about.
Red Flag #12 – Even Their Own Staffs are Unhappy.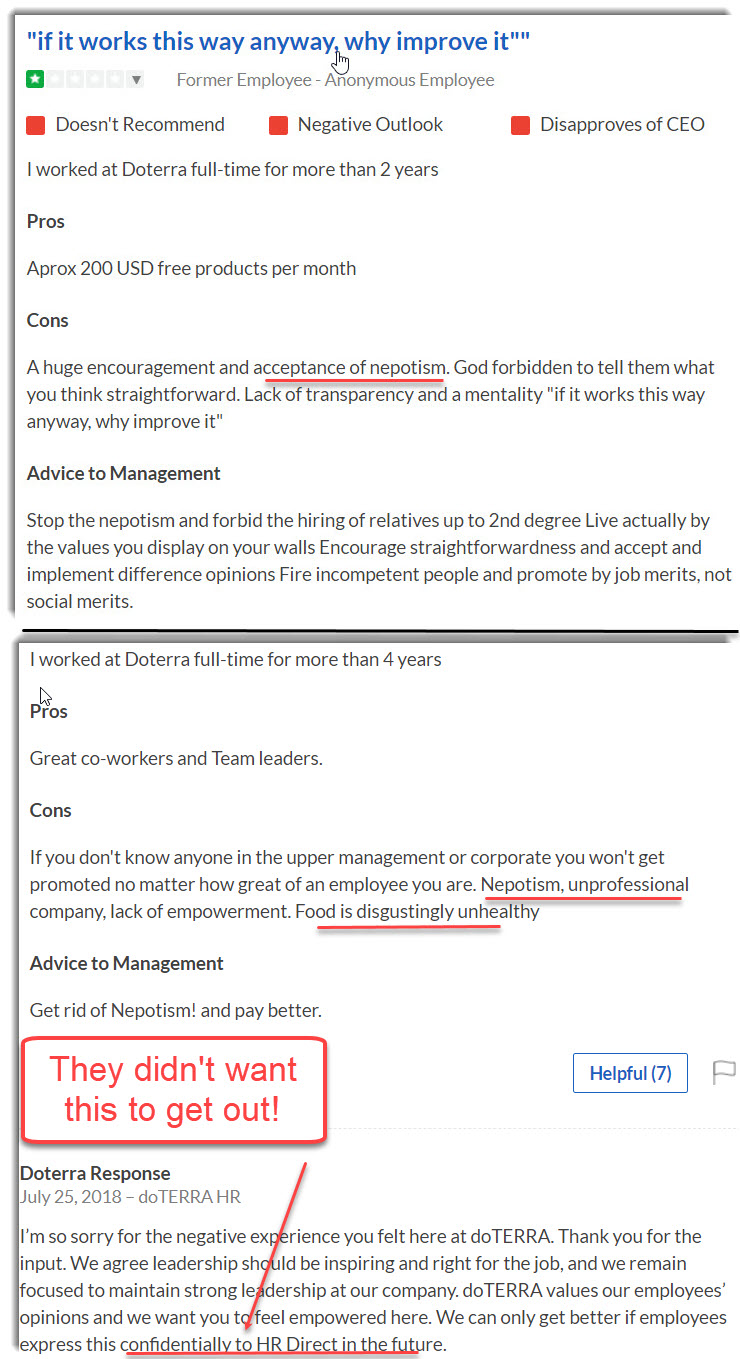 A lively company doesn't mean that they have lively staff.
We've covered doTERRA from the consumer's point of view and the recruiter's point of view so I figured I did a little digging on what their staff has to say.
Needless to say, I was surprised to find out how many bad reviews doTERRA received from their own staff so headed over to GlassDoor only to find more negativity.
If you're new to GlassDoor, it's basically a website for employees to rate the company they're working to help more employees and if you're confused as to what difference it has with the BBB, well basically BBB is meant solely for consumers.
So to make things easy for you…
BBB – for consumers.
GlassDoor – for employees.
Reading both of them would help you gain some sense when deciding because you'll see if a company is strong or not amidst the hoo-ha.
If you check out doTERRA's GlassDoor reviews, there are too many and too long for me to list down but most of them revolve around employees being treated unfairly and that nepotism is in play whereby you need to know someone and you'll need to lick the managers' boots in order to get treated fairly.
Red Flag #13 – They Took Advantage of Natural Disasters.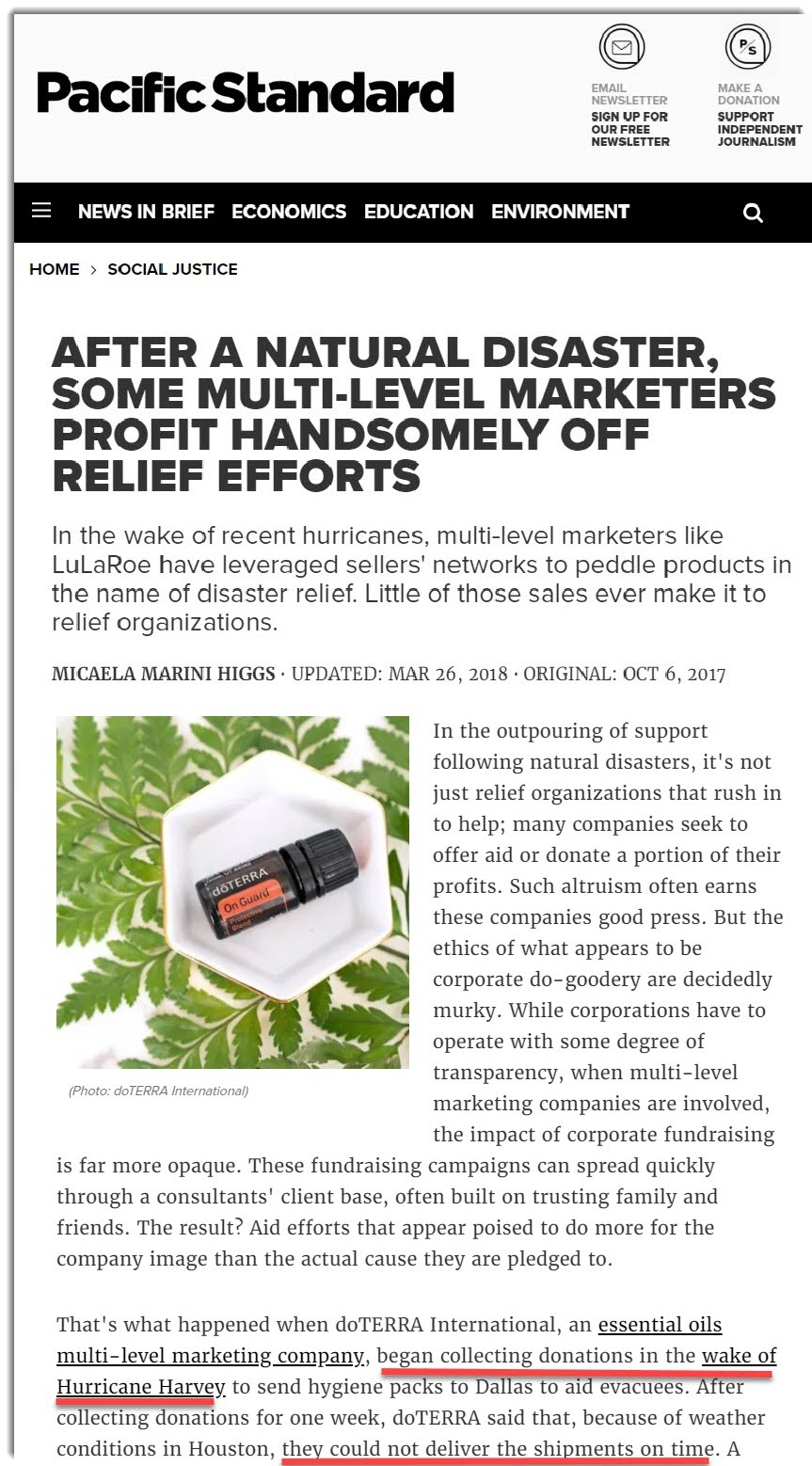 Amidst the drama, doTERRA also has their own foundation for people in need.
It's called the doTERRA Healing Hands Foundation whereby they partner up with Choice Humanitarian which is a non-profit organization.
During the reign of Hurricane Harvey which decimated a lot of people's lives and properties, doTERRA collected funds from everyone to help these victims.
After one week of collecting, doTERRA decided to actually send out the shipments to the victim due to weather conditions.
There was so much uproar and it even came out in the Pacific Standard which then labeled doTERRA as a modern example of malfeasance masquerading as altruism which in other words, means a scam.
Red Flag #14 – Consuming Essential Oils Might Be Dangerous for Health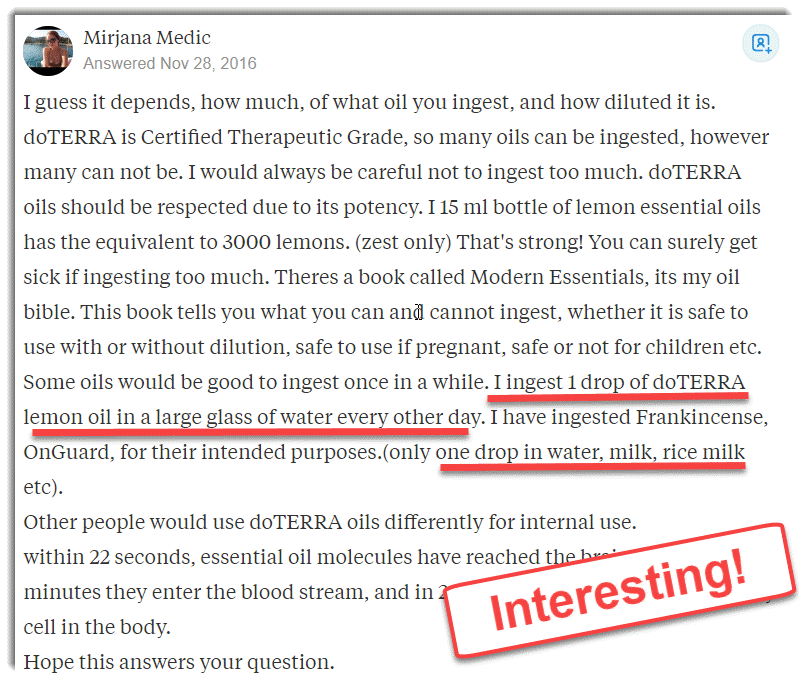 You may have heard this before and frankly, I've thought of doing it too.
After all, who wouldn't be swayed when hearing tales of miracle healings that oils can give us, right?
With those promising words, I can't help but feel like something might be off so I did a little digging.
It is not a secret that many of doTERRA's representatives would advise their members to add essential oil drops to drinks which beg the question, is it safe to ingest doTERRA essential oils?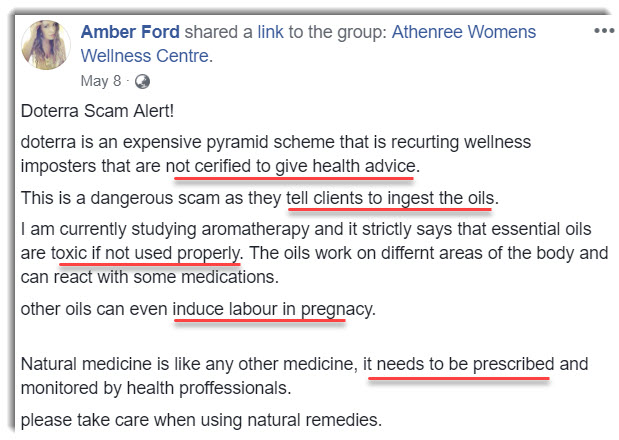 I was surprised that there are a number of people who agree that ingesting isn't right and I was even more convinced to stay away from it when I found out that Marge Clark, the Founder of Nature's Gift herself, advised everyone to not consume it…
If you're new and haven't heard of them, Nature's Gift is also one of the oldest and trusted Essential Oil brands in the world and for them, they too could earn a lot by selling essential oils and swaying their customers to ingest them but out of ethical reasons, they won't which is why I love them.
Curious about what dangers essential oils might pose, I did a little digging which made me made up my mind about everything.
Take a look at what the National Capital Poison Center said regarding that…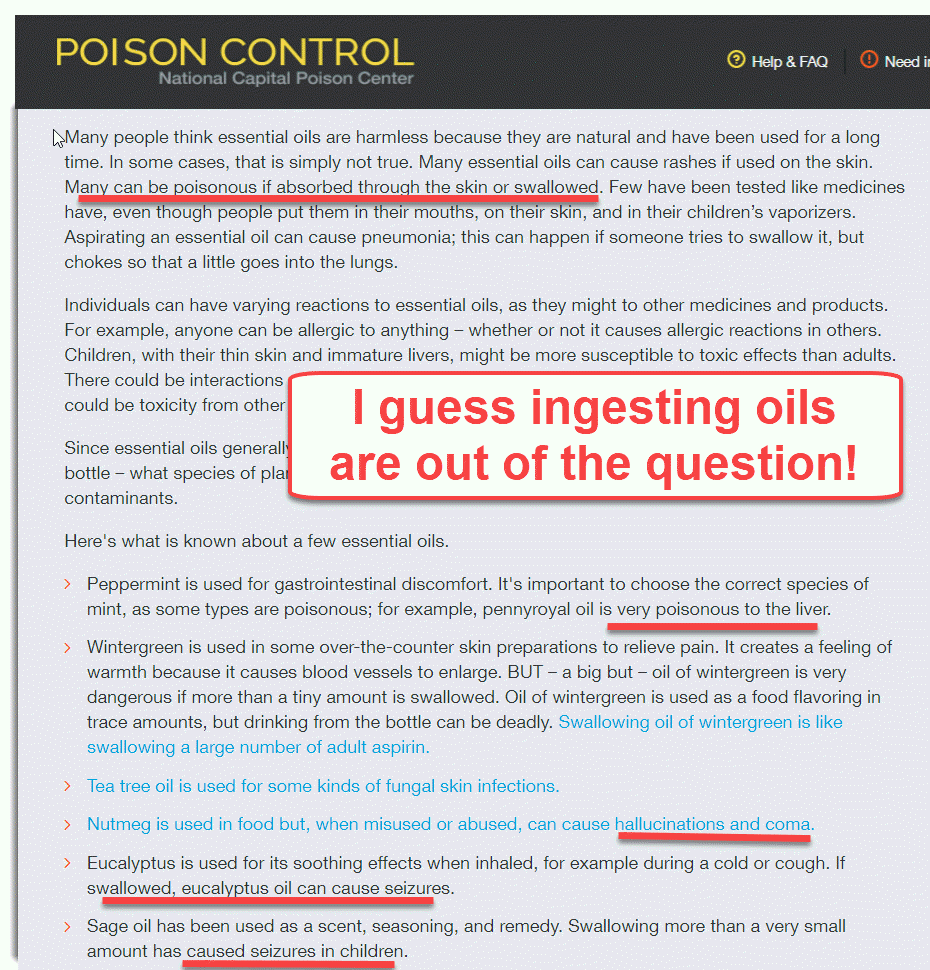 It really isn't safe to ingest and what's worse is that some oils like eucalyptus and sage oils are so strong that they may cause seizures which is very worrisome especially for children.
Though some representatives will counter that saying that it's not true, I personally am having trouble trying to trust anything they said especially after the whole sniffing oils can cause cancer case.
Red Flag #15 – There's No Such Thing as "Certified Pure Therapeutic Grade (CPTG)" Oil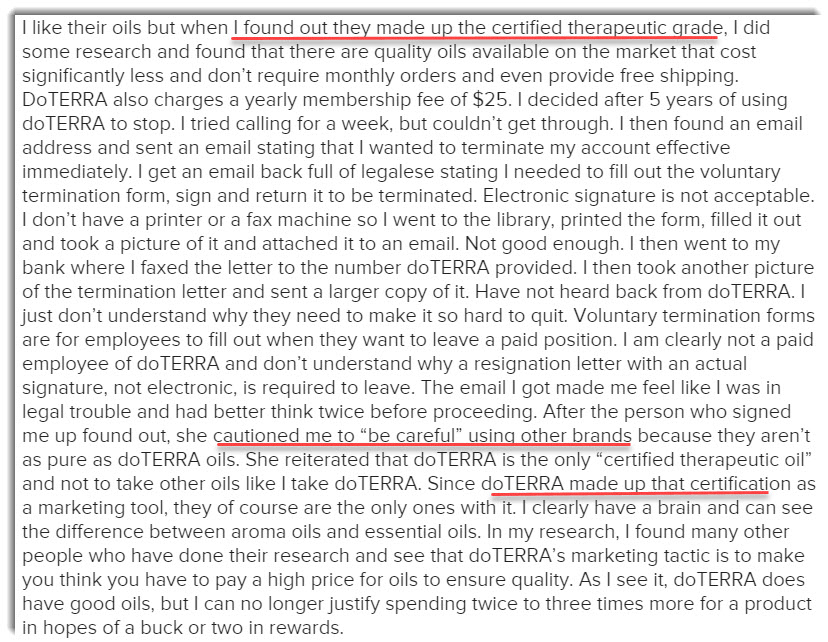 They actually made this up.
With so many essential oil companies popping up like mushrooms as of late not to mention doTERRA coming out from Young Living like a phoenix rising through the flames and they happen to be selling the same type of product, they needed something concrete to make them stand out.
Hence, the term Certified Pure Therapeutic Grade (CPTG) Essential Oil.
You might want to ask, certified by whom? Believe it or not, they certify it themselves.
Better yet, it's not actually a certification but rather a trademark name with the certification word owned by DoTERRA themselves which is meant to give consumers the impression that they have the best oils in the world.
Because of this, only doTERRA has the right to use that name and is probably why you don't see other companies using CPTG name.
Imagine you are selling lightsabers and you trademarked the word "Certified Pure Lightsaber Beam" when it's not actually certified by anyone but rather a ruse to get people into buying yours and not other normal or cheaper lightsaber sellers.
It's dirty clever but rather an inappropriate form of marketing.
I do have to applaud on DoTERRA's distillation process as they are worthy for their term "Pure" in that CPTG trademark of theirs because they actually go through the trouble of distilling their oils multiple times to filter it from germs.
But whether or not that accounts for their sly marketing tactic and expensive pricing, you tell me.
If you don't fancy paying so much for some fancy name, good news…
Red Flag #16 – You Can Get Cheaper Oils Elsewhere.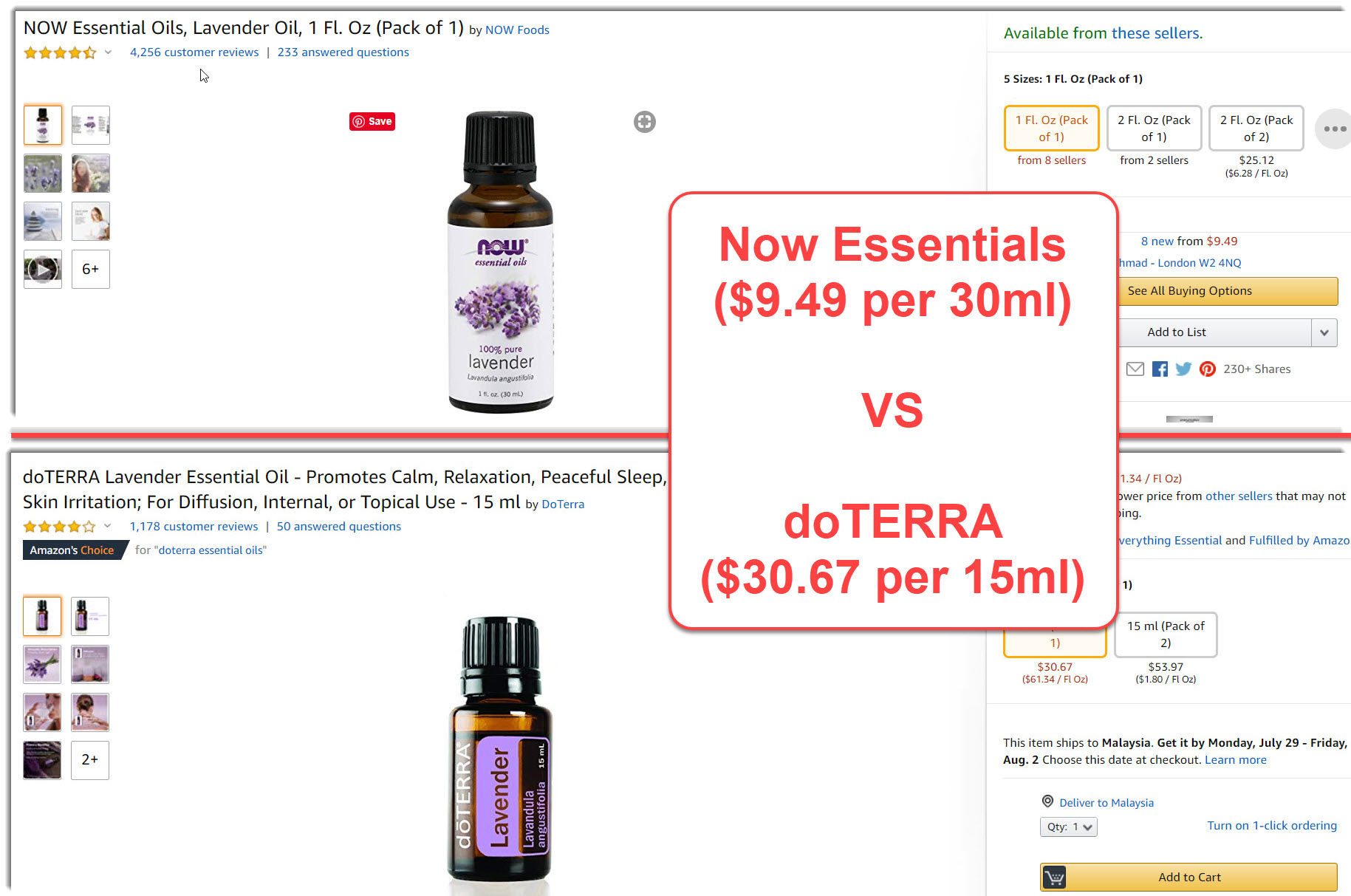 We all know how expensive doTERRA's oils are.
But did you know just how expensive it is compared to other brands?
There are many essential oils out there who are just as good if not better, here are some list to help you out…
doTERRA – $30.67 per 15ml
NOW Essential Oils – $9.49 per 30ml
Naturenics – $25.99 per 30ml
Majestic Pure – $21.50 per 118ml
Best Naturals – $19.99 per 120 ml
Essential Oil Labs – $14.95 per 120 ml
I could go on all day but there are just too many essential oil products out there on retail and most of them have been in the industry way before doTERRA even exist so they're quite established, they contain more volume, and they cost way lower too.
Most of them have even more reviews than that of doTERRA's because the essential oils market is really hot right now so if you're on a budget, you need to only look up online and find great products which are better and way more affordable than you can imagine.
There's a Better Way of Earning.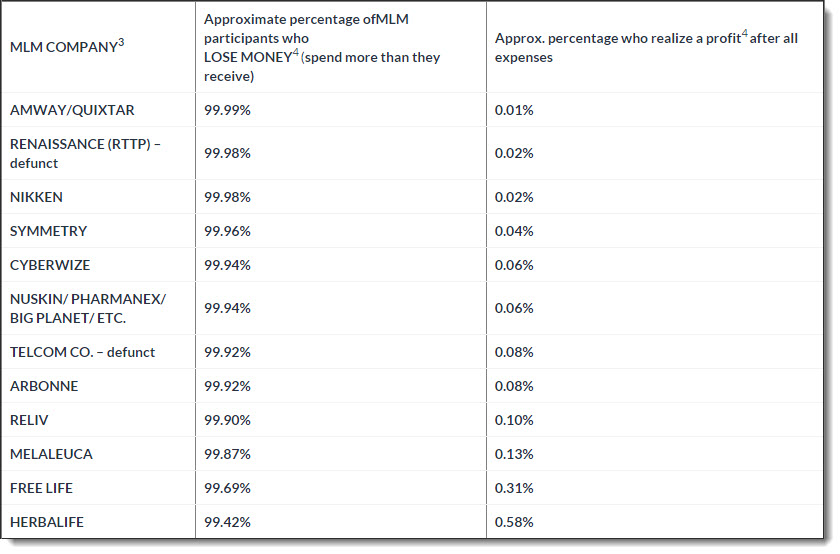 Now that I've laid out all the facts, you might be thinking – is MLM for me?
Some might be down with the idea but not everyone is into all the salesy stuff, especially with the fact that only 1% of people actually succeed in MLM.
Despite all the promises of a posh life, not everyone can succeed in a multi-level marketing business, it is a known fact and reality starts hitting way faster than you think.
It is possible yes, but if you do not have the energy to keep looking for prospects, to spend your time on transportation fees for your pitching, and to look at other people's faces only to be rejected 90% of the time, then it might not be for you.
Instead, I'd suggest you check out Wealthy Affiliate.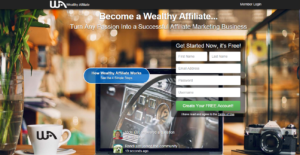 WA is an Online Business platform that has all the features you need to succeed online – whether to start an online business from scratch, or boost an existing one through online marketing.
It has the best training I've ever seen as they're regularly updating them, it also has the best features too compared to other platforms such as a domain provider and a keyword research tool but most importantly, the community they have there is amazing and very welcoming.
Having access to senior members who have been in the industry since the beginning is key to success as they can give more tips that you won't find anywhere as it's from their own personal experiences.
Most of the people there are from different backgrounds and industries and they have their own blogs too, and you'll have access to senior bloggers who are earning tens of thousands a month who are willing to help you out as we all started from scratch, even me.
If you're still keen on growing your doTERRA business, you can do that too as you'll learn everything you need to know to grow you exposure and business monetization, or if you'd like to start again from scratch on a different niche, that would be even better.
Comparing an MLM business to that of an Online Business platform, here's a breakdown to help you get a clearer view…
Final Word
---
As a consumer, I love doTERRA's products and personally, I've been using it religiously to treat my headache and sinus.
However with their insanely overpriced oils, their huge MLM attachment clouding the minds of their distributors not to mention their fake CPTG oil being nothing more than just a trademark, I can only give it a rating of 3 out of 5.
Worry not as they're certainly a legitimate company and if you have that iron will all die-hard salesmen have, you could probably succeed at it but if that is not something you'd rather do in the long run, I'd recommend you to check out my top rated program here instead.
MLM is not for the faint-hearted and it required immense dedication in order to succeed so if that's the path you'd want to take, you should be really prepared and sleep on that decision before committing your life into.
Just a little advice from an ex network marketer 😉
Phew, 7,500 words! Thanks for taking the time to read, I really appreciate it.