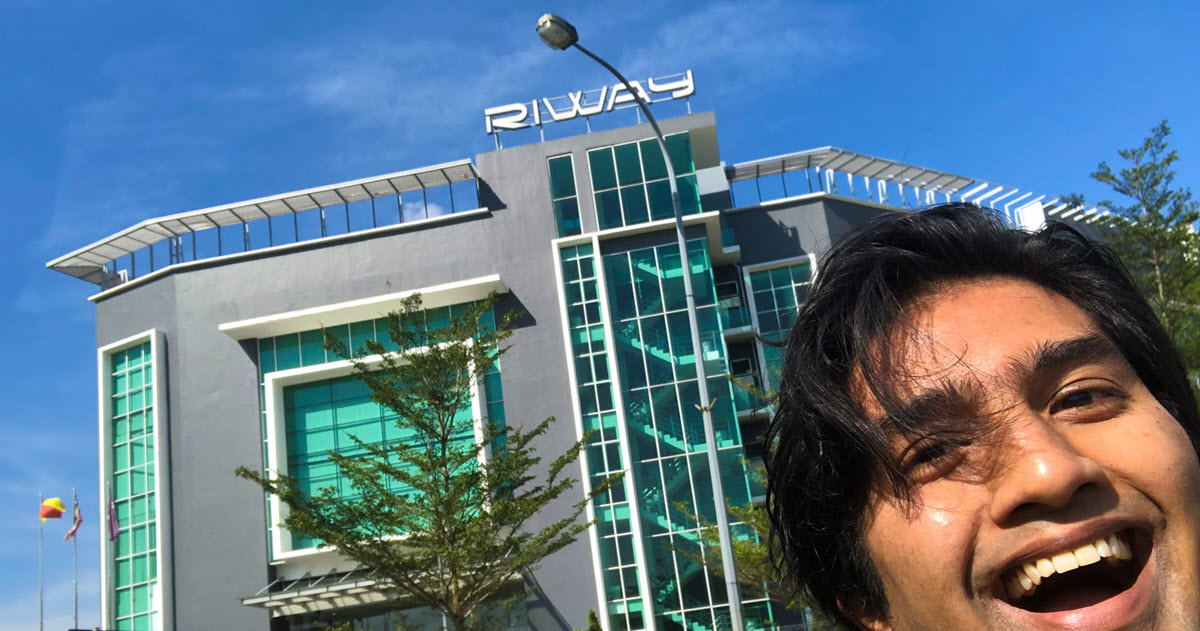 Business name: Riway International
Website: web.riway.com
Type of business: Purtier Placenta supplement MLM
Price: $415 (Silver account) – $2,692 (Diamond account)
Owner: Dr Lim Boon Hong (CEO & Founder)
My rating: 1 out of 5 (Overpriced)
There's a commotion happening just near where I live so I figured I check it out.
It's called Riway and a lot of people went there during their opening in Malaysia and believe it or not, their office is just 10 minutes away from my house – How lucky can I get!
Riway is an interesting MLM company dealing with Purtier Placenta which is a difficult product to market without having the proper approval and certifications.
Yet, they somehow claim to have gotten approval on their supplements by a hospital in Singapore but turns out there were major doubts on that and plus, other medical organizations also do not approve of this particular product of theirs.
With that huge controversy, one could not help but to wonder, is Riway legal?
Are their products really trustworthy? or are they operating a scam?
If you're just as curious as me on what it's all about, read on my full Riway review to find out what kind of practice are they really implementing…
Pros and Cons
Pros
It is a supplement, not a medication so prescriptions are not needed.
The Purtier Placenta is real and the company is importing them all the way from New Zealand.
No animals are killed in the process, only their placenta is used.
Their supplements are also deemed as "miracle cures" for other untreatable conditions.
Cons
Research by Northwestern University Illinois proves that consuming placenta actually has no benefits whatsoever.
Health Science Authority (HAS) Singapore never actually gave their approval.
The Health Science Authority even stated that the pills would not be effective as stem cells are sensitive and would actually be destroyed if they are processed, especially when turned into pills.
They received a bad review from Mirror.co.uk
Before Riway, the owner was involved with various MLMs including Nu Skin and Enyouth.
There are no dosage guidelines on consuming.
A lot of warning on health risks by different organisations.
Dubai Bans it.
They received a warning from the Philippines.
Unethical promotions by using Richard Branson's & Warren buffet's name and face without them even knowing.
Corporate video has nothing to do with products but more on cars and cruises.
Hardly any info on their Purtier Placenta product anywhere, even their website has only one short paragraph of it.
Complaints flooding the internet.
Too many pictures of their team and MLM Call-to-actions compared to their own products.
A lot of hate towards the CEO all over forums.
Despite overwhelming complaints, Riway still would not admit that they are an MLM.
Jeepers, that's a lot of cons! Better check out my #1 recommended program instead!
What is Riway All About? -Get to Know Their Story.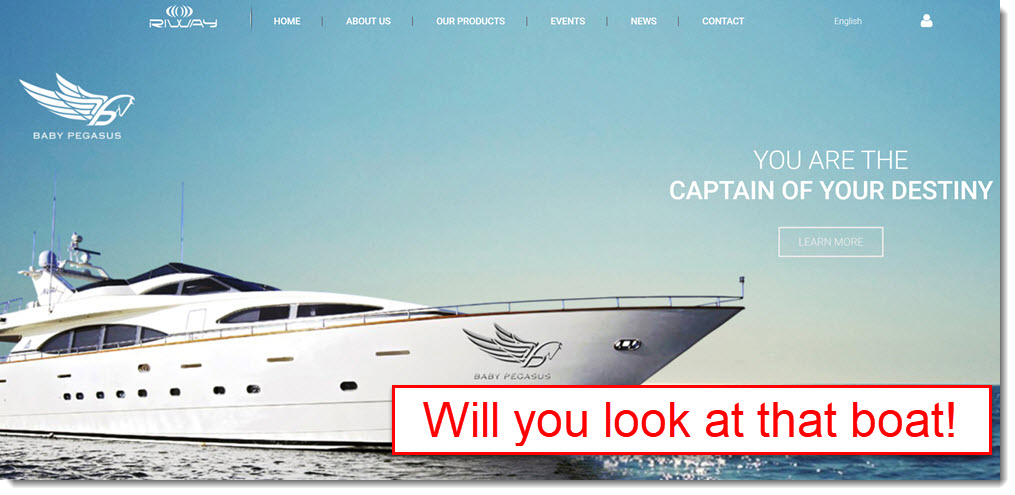 Basically, they're a placenta supplement sort of MLM company .
Founded in 2008 by a Dr Lim Boon Hong, Riway International started in Singapore and from there, they spreaded their wings throughout South East Asia in a matter of months.
Some of the countries they are currently in include…
Malaysia
Indonesia
Thailand
Myanmar
The Philippines
Taiwan
Japan
I have some doubts myself about what kind of doctor is he though as instead of focusing on the product supplement itself, you see a lot of him doing photo shoots of expensive cars and houses instead which to me, shouts materialistic more than holistic.
Coming back to the main point, Riway has one main product which is their Purtier Placenta but recently, they've just launched another product called the Conscientious which I'll explain later on.
They manufacture their products at Alpha Labs in New Zealand as the deer placenta can only be found there.
What are Their Products?
It's not easy getting information on their products.
To date, Riway has 2 products which are the Purtier Placenta and the Conscientious.
Let's have a look at both of them, starting from…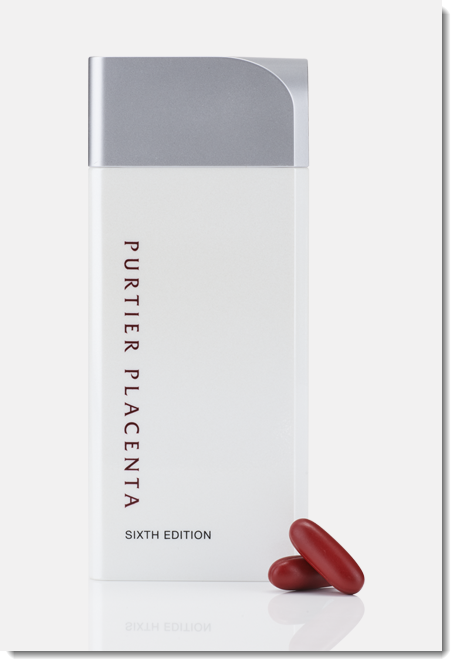 Product# 1 – Purtier Placenta
The Purtier Placenta is a dry deer placenta supplement in the form of tablets.
They claim that it is a miracle supplement that can cure anything as the nutrients come from a placenta.
In total, there are 9 ingredients used which include are Deer placenta, Aloe vera, Xanthones, Squalene, Borage oil, Marine collagen, Evening Primrose Oil, Avocado Oil and Lycopene from tomatoes.
For the benefits of it, Riway claims that it is a miracle product which can act as an anti-ageing live-cell therapy.
As for the pricing, it is different in every country.
I won't touch much on that because you can simply check Lazada for that if you're in South East Asia, or if you're from other parts of the world, Amazon has it too.
The prices are of course different since their HQ is based in Singapore and for western countries, they cost slightly higher due to shipping.
Product #2 – Conscientious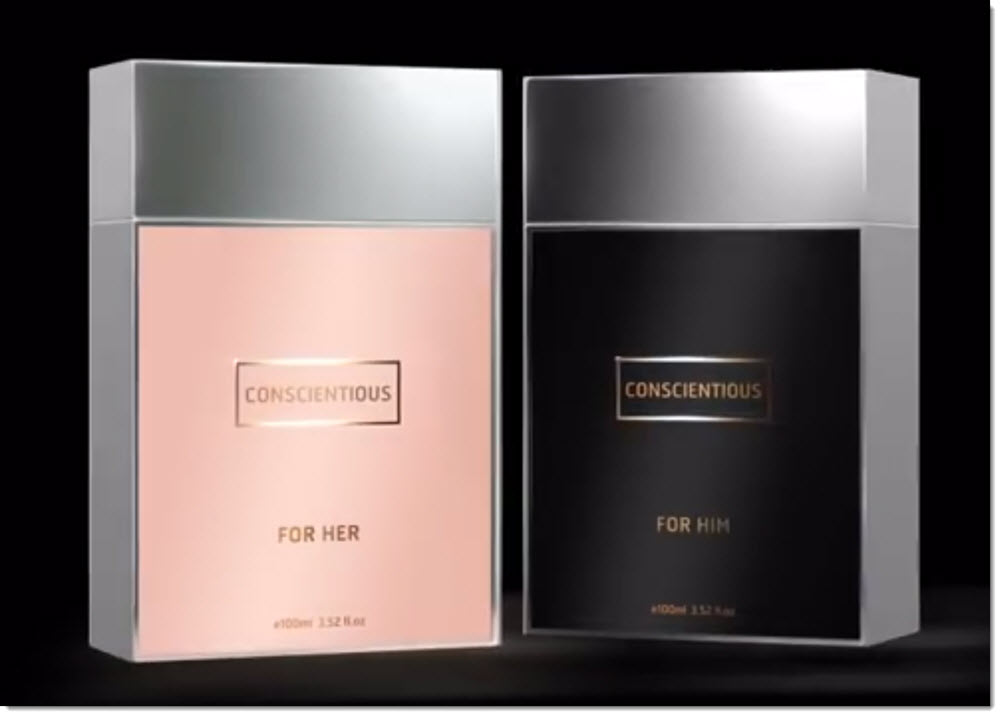 Riway survived with only one product but just recently, they've launched a second.
Conscientious is a Paraben-Free and Silicone-Free on-the-go essence spray for the skin to make it look healthier and stronger by increasing skin elasticity and firmness while smoothing out rough skin texture.
They use 27 ingredients to create this with a moderately 60% content however there's not much info on what those ingredients are.
Still, I'd say the essence spray is for those rich teens who could afford them because the number one hot item over here, still remains the purtier.
Is Riway a Pyramid Scheme? -Let's Check Their Plan.
Every MLM company has a compensation plan, Riway included.
Normal programs reward people one-off by giving them commissions no strings attached.
They can join for free, they get commissions whenever they promote, and there is no sales target pressure for that.
That's Affiliate Marketing.
Riway, on the other hand, is the exact opposite.

They are doing a typical MLM business (Which they try so hard to deny) and in an MLM business, you are always at the top earning more than your referrals because whatever your referrals earn, you earn a piece from that too.
This is an unfair advantage for your uplines because you can never beat them as whatever sales you get, you will need to deduct a percentage from that for your uplines.
"Wait, uplines as in plural?" Yes, you've read it right.
In Riway's MLM, you can earn up to 4 levels down depending on the type of account you're taking…
Silver (US$415 / S$569) – 8% Commission rate + 1 Bottle
Gold (US$830 / S$1,136) – 9% Commission rate + 2 Bottles
Platinum (US$1,570 / S$2,150) – 10% Commission rate + 4 Bottles
Diamond (US$2,692 / S$3,688) – 10% Commission rate across 3 levels + 7 Bottles
Red Flags – Is Joining Riway Worth the Risk?
Joining as a purtier placenta distributor may sound nice but there are a few hurtful facts that you would have to weigh in before making that final decision…
Red Flag #1 – Eating Placenta Actually Does Nothing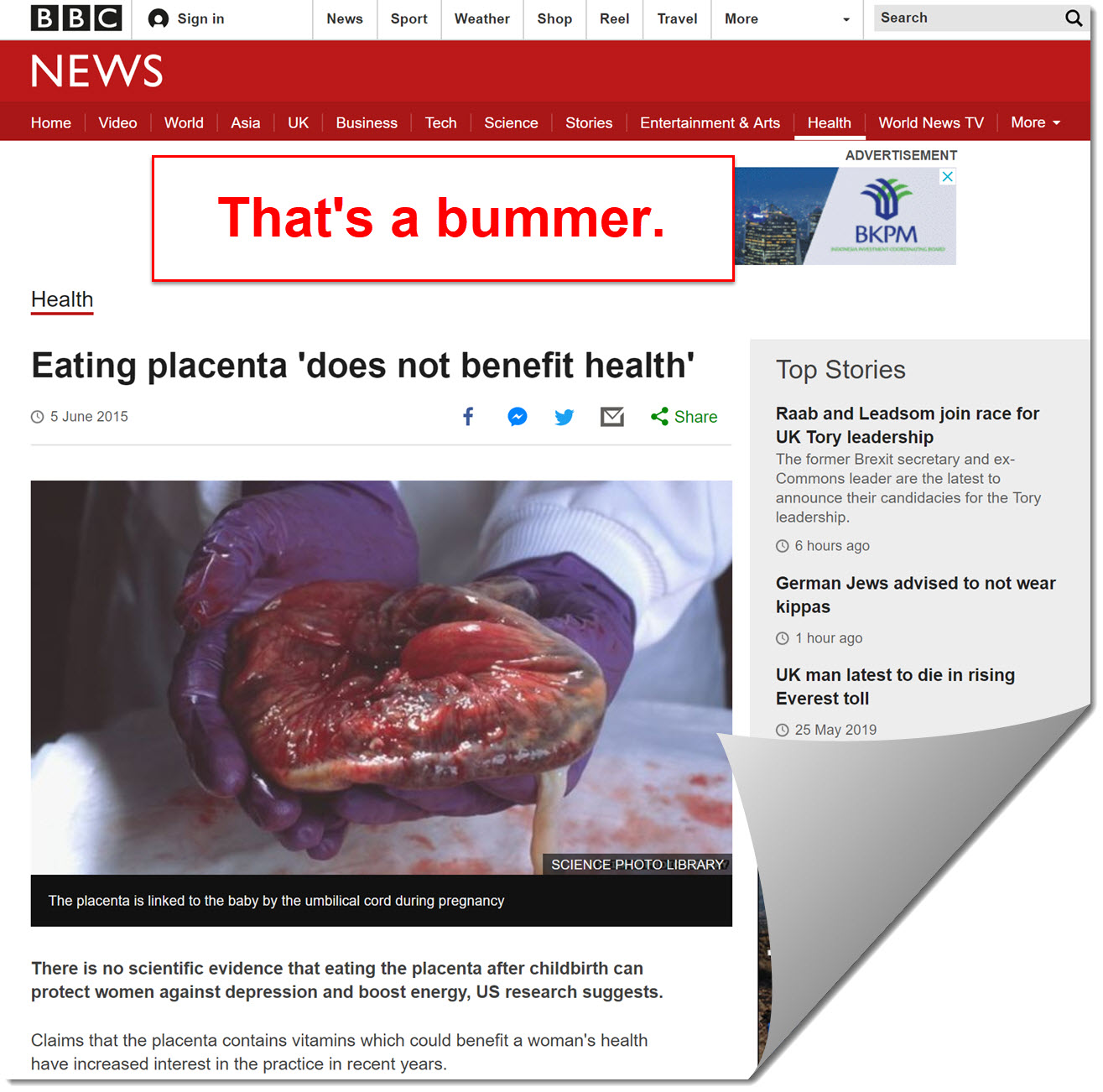 Yes, you've read it right.
And honestly, I'm as shocked as you because I too just found out about this one just a while ago as I was scrolling through to read on benefits of placenta.
According to research made by Northwestern University, they have no proven benefits and that people are actually consuming placenta based on social media influences like Kim Kardashian.
Red Flag #2 – Getting Wrong Stem Cells Can Actually be Fatal
Remember the rising trend of people consuming placenta for supposed health?
A lot of people are in fact scammed because there are a lot of different companies who are taking advantage of this trend to start their own products which are not regulated.
There was an investigation on CBS News here…
Long story short, you may never know that you are scammed because although you've received the product (Like the Purtier Placenta) in good shape physically, what we do not know is whether the cells are actually there or not.
We cannot see with our human eyes because in order to check if the cells are there, we need a microscope since they are all cells.
And since they're live stem cells that we're actually counting on, 99% of the products that we get do not actually have the live stem cells to begin with.
We often get dead one instead.
Imagine getting the same Purtier Placenta but with no stem cells inside, that would be like, the perfect crime since we do not even know that because there are no proper regulations on it.
Oh, and speaking of regulations…
Red Flag #3 – Dubai Bans It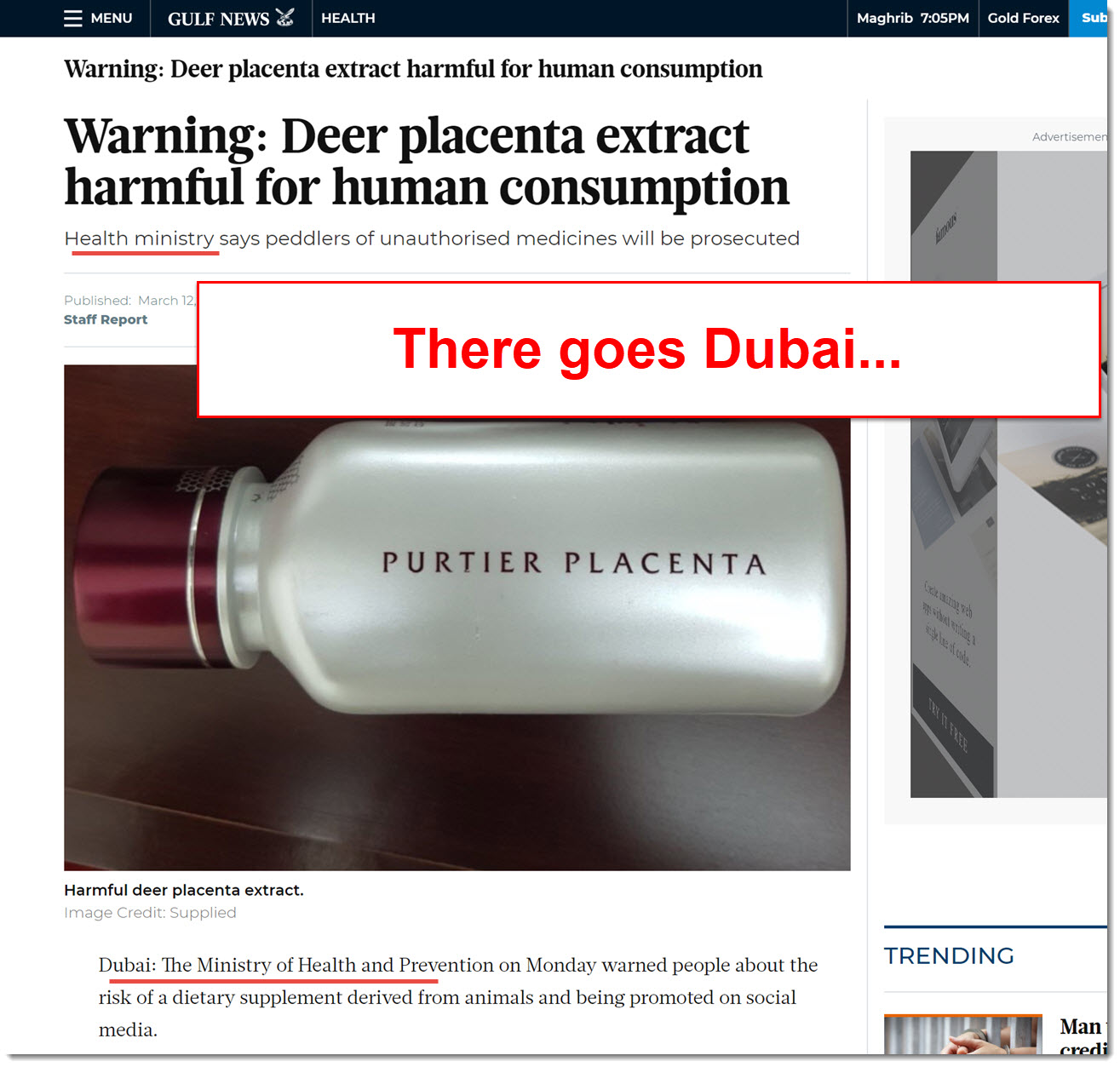 The Dubai Health Minister saw through Riway's fake approval and made a statement that they do not support it.
They also made it clear that anyone found dealing with the Purtier Placenta, will be dealt with legal actions.
Dubai isn't the only country though, because…
Red Flag #4 – The Philippines Bans it Too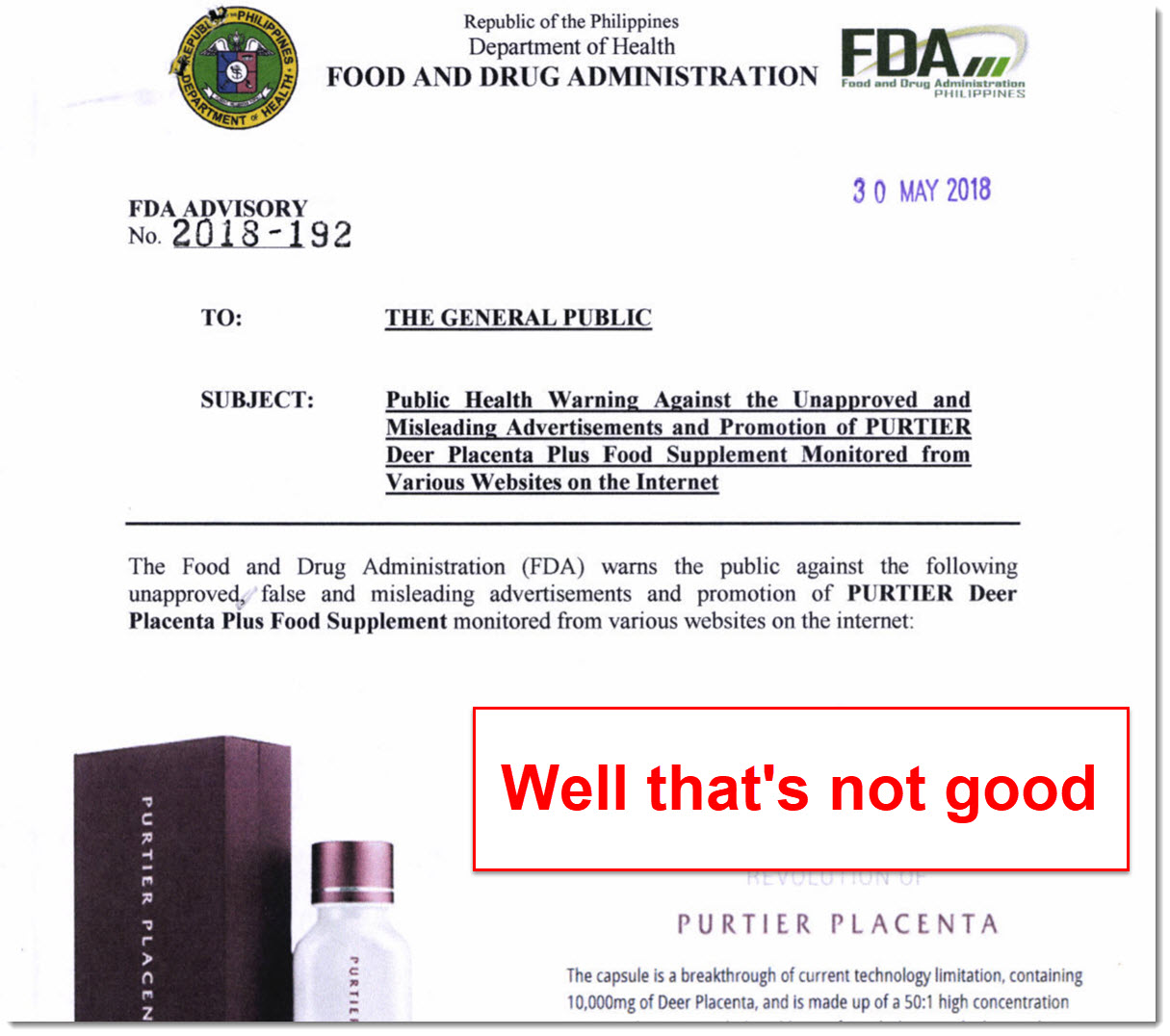 The Food and Drug Administration (FDA) of the Philippines declared a warning on Riway's unapproved and misleading promotion of the Purtier Placenta.
The FDA also labeled the Purtier Placenta as a high-risk product and with no approved therapeutic claims.
Not much of a surprise, it is after all by now a scam as you might have noticed.
Red Flag #5 – Health Science Authority (HAS) Singapore Never Gave Permission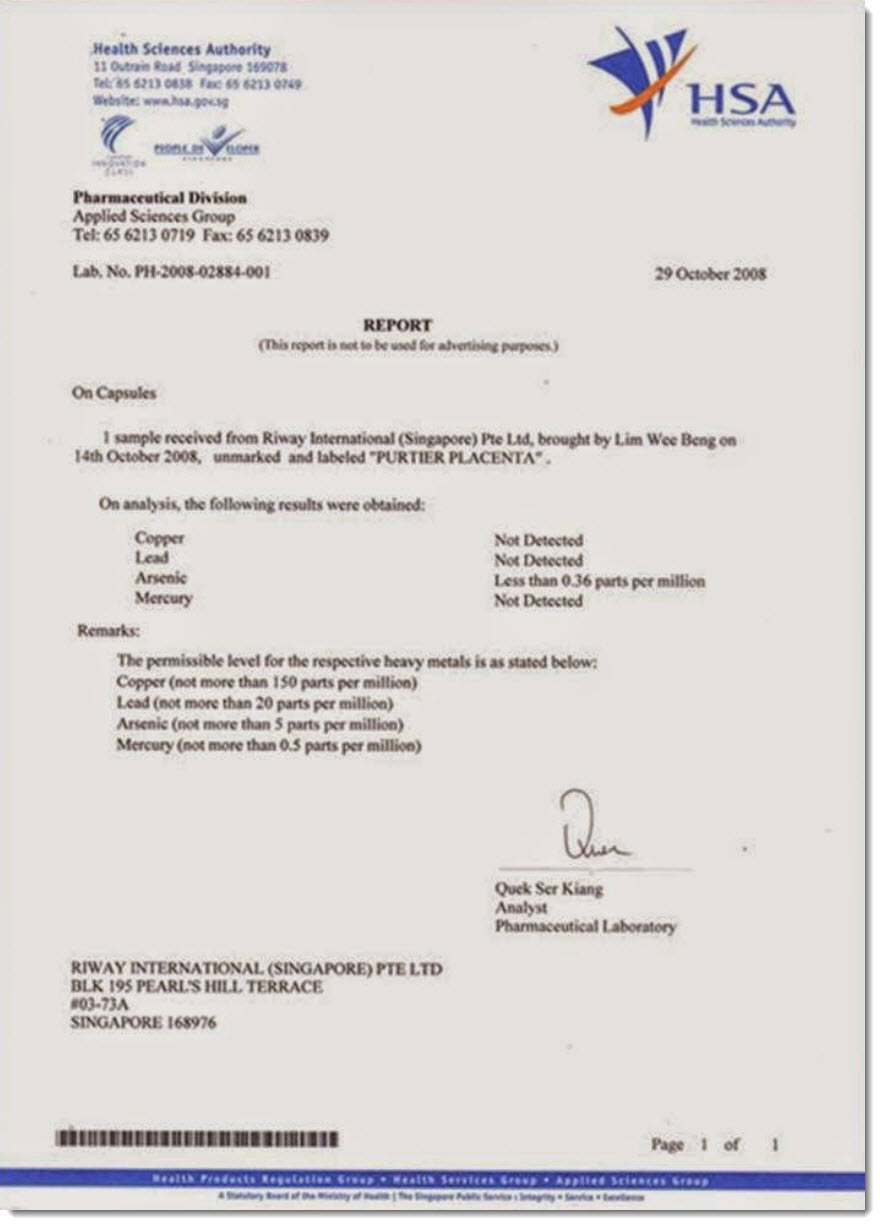 After finding out about Dubai's and Philippines' respective health associations results, I began to doubt more on Riway's trustworthiness.
That lead me to looking back at Singapore instead, the place where it all started.
Singapore is, of course, the headquarters of Riway and the huge claim that they boasted, came from Singapore Hospital and Health Association.
Or at least I thought it was.
You'd be surprised that actually, The Health Science Authority of Singapore never gave any formal letter of approval because all they got was a medical check in the Purtier Placenta bottle.
What? No way! Yes, way.
In fact, did you know that the HAS and Singapore Hospital never supported it?
They made it clear on their website that the stem cells are not known to prevent diseases or used as a treatment of medical conditions, to begin with.
They even gave an explanation that the stem cells would be destroyed by our digestive enzymes if we consumed it orally which means through our mouth by swallowing.
Stem cells are extremely delicate hence they would be destroyed when processed into other forms like through the form of pills, liquid or solid products.
Red Flag #6 – They Made a Pretty Bad Impression in the UK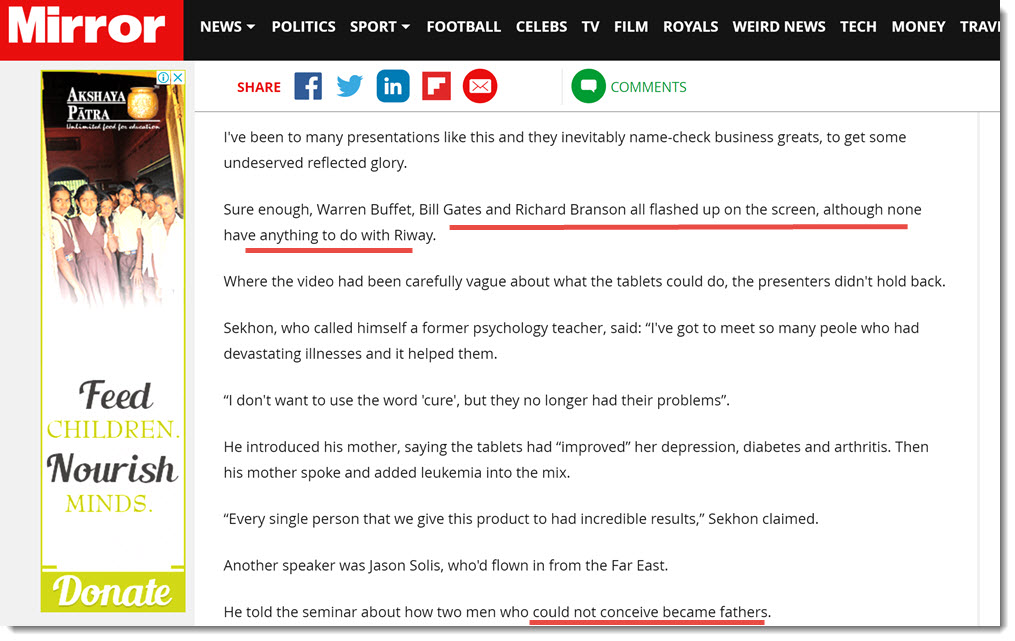 As Riway expands, they try to breach into the western world.
Only this time, they weren't so lucky.
In Asia, we might be a little less strict as we have lesser regulations as compared to developed countries like the UK, Europe, and the US.
Riway made a pretty bad impression of themselves on their opening presentation while in the UK by using false promises and worse, they used pictures of famous people like Warren Buffet, Bill Gates, and Richard Branson to show how big they are… Without proper approval of course.
And plus, those people have not even tried Riway nor are affiliated with them to begin with.
Because of that, people started doubting Riway even more which then made more people dig into the company further, only to realize that Riway has no proper accreditations and that they are actually a pyramid scheme which instead of focusing on the products, they focus more on recruitment instead.
Mirror.co.uk is one of the popular news sites so having them made a bad review on Riway isn't good for convincing people.
Speaking of which, that's actually another red flag! The part where…
Red Flag #7 – They Focus More on Recruitment Than Products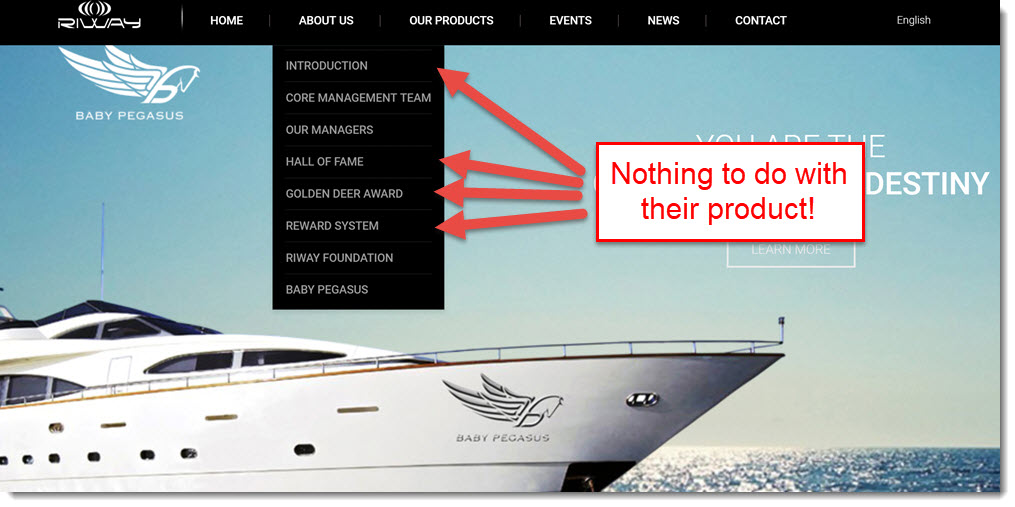 If you visit Riway's official site, you can see how obvious it is.
They talk more on vacations, cruises, cars, and recruitment that it took up most of the space on their site.
I wanted to check more on what they do but instead, all the talk about was how they want to help you achieve freedom by joining as a distributor.
There are no mentions of how they want to use the Purtier Placenta to help people, or why their company is named after that, or what advancements they envision in the future for the betterment of their products.
Instead, they focus more on their own faces.
That being said, even their products have very little explanation.
There is no pricing information or exact ingredients list to know what's inside, except a vague description that looks like they paid a schoolboy to write for them.
Clearly they're not focusing on the products but instead, the MLM.
But no surprise there though because they do have some…
Red Flag #8 – Affiliation with Several MLMs before
Why would a doctor do MLM?
I was half convinced that he might be a proper one with good intentions but after finding out that Dr Lee Boon Hong has been involved with many MLMs before, I started to despise him.
He's using his title to impress people and get a better conversion for his MLM projects.
Before Riway, Dr Lee Boon Hong has been involved with Nu Skin, Enyouth, Enyouth DW, and Asayo.
He uses his Dr title to delve into medical products so that others would not question him.
He's a master at lying and manipulation and has been doing so for the past 20 years now which is how he accumulated all those cash to open a massive Riway empire that we all know today.
There are countless of complaints from all of his previous programs that I feel sad thinking about how easily people can get tricked by him.
Take a look at his bio…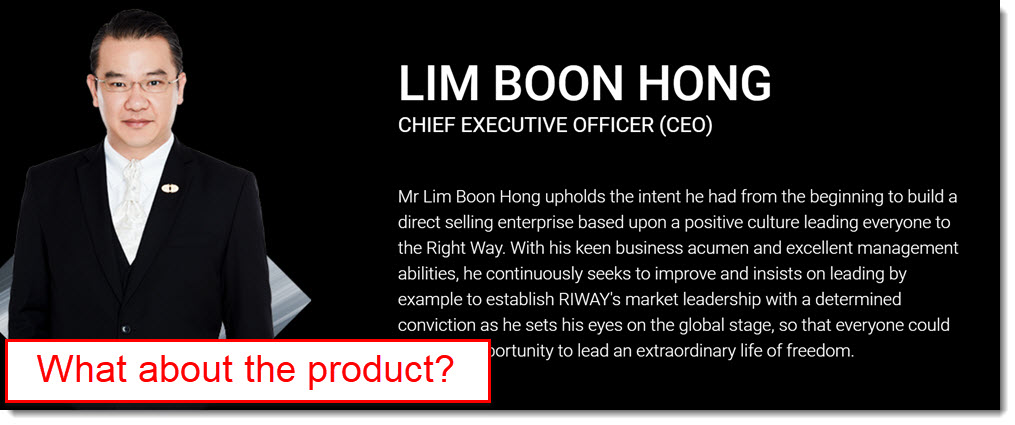 Heck, even his bio sounds generic, he wrote about "Excellent Management abilities, leading by example, set eyes on global stage…" It sounded more like boasting about himself rather than talking about why he wants people to experience his products.
He doesn't put an effort to show people how genuinely he wants to help.
Red Flag #9 – Corporate Video Has Nothing to do with Product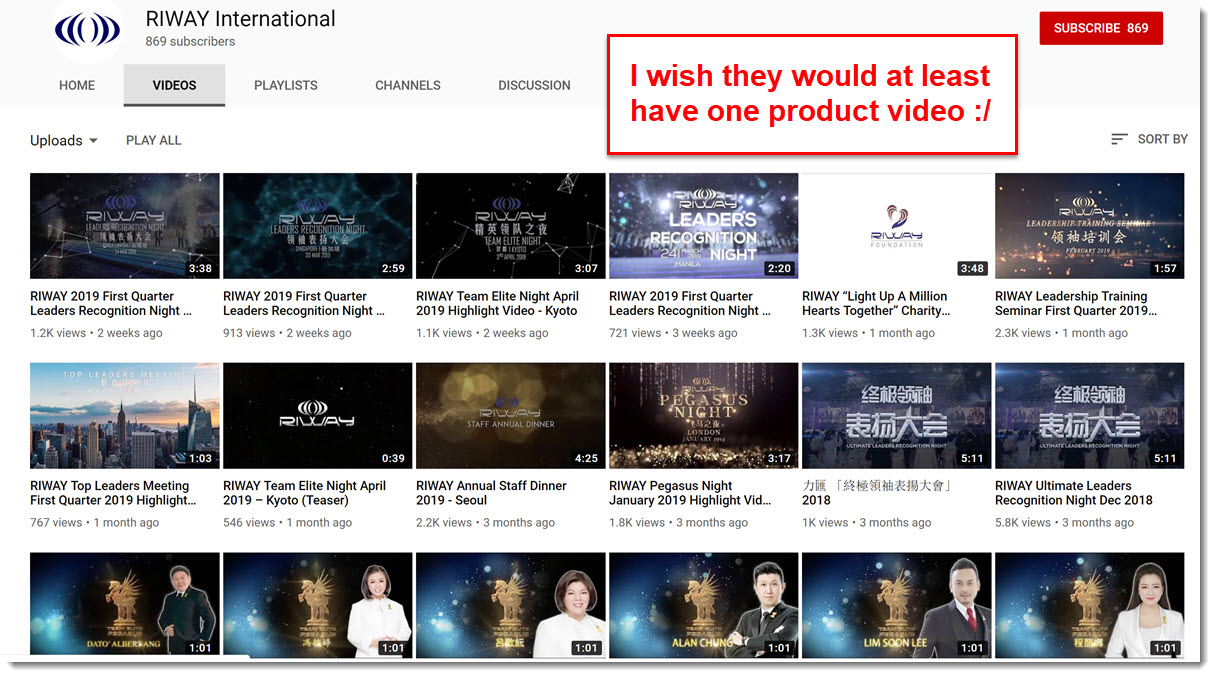 I think this one's fairly obvious.
Even if I don't point this out, YouTube is the number one platform people go to if they cannot find information on either Google or Facebook and if you've searched there, you might wonder why there are barely any product videos there at all.
If you type in Riway, all you'll get are motivational talks for MLMs, team Pegasus, and all those seminars with faces of themselves.
I checked their own Riway YouTube channel and still, no products there so from there, I think we can plainly see that they emphasize more on recruitment rather than the product development.
Red Flag #10 – Overpriced Purtier Placenta
If you're still into buying placenta, I won't stop you.
But I will of course, help you from being cheated of your money.
If you join Riway, the price is $415 to be a member and get one bottle from them but if you do not want to be a member, you can simply find those bottles on Amazon for USD$250 or RM600 on Lazada.
However, what if I tell you that you can get those at a way cheaper price?
What Riaz? No way!
Yes way, my fellow readers, I'm serious!
It was hard to find them online as supplements are usually not very famous nor are they highly searched for as people tend to simply buy from over the counter but if you're looking for the best deer placenta alternative supplement, I would advise you to check out NZ Green Health.
Green Health (10,000mg x 60 capsules) – NZ$49.95 (US$33)
It's Halal, it's cheaper, and it has way more concentrations of deer placenta as compared to Riway's greedy 100mg.
Do I recommend Riway?
It comes to no surprise that I don't.
Don't get me wrong, it's not because I hate it or anything but with the cons outweighing the pros by a long-shot, I wouldn't advise anyone to go for it unless you absolutely believe in the product and have got a story to tell.
If not, it would be hard to promote such a product if you have not tried it yet.
Majority of the website, the people, and YouTube videos are also mostly in Chinese not to mention all of those motivational talks so if you have zero Mandarin knowledge, you might be left out on a lot of info.
If you feel bad because you're thinking of letting go, take a look at these facts…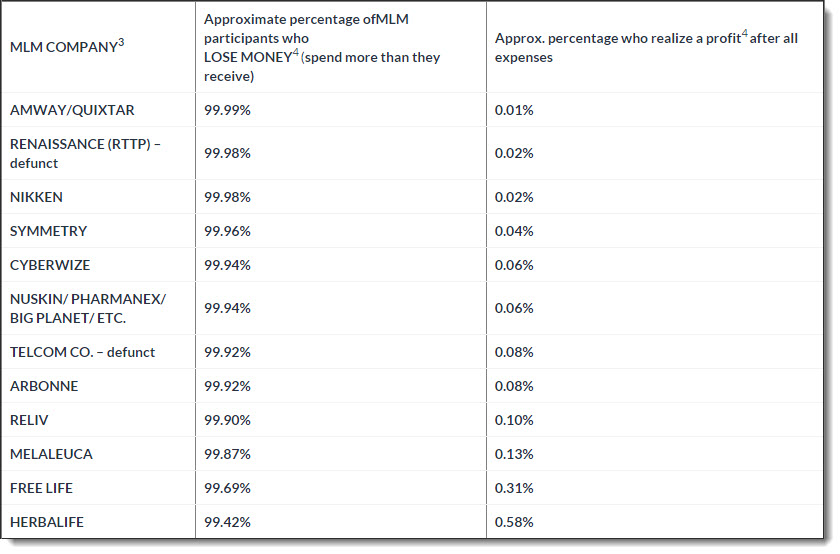 Believe it or not, very rarely do people succeed in MLM.
In fact, less than 1% actually do and you know why? It's because of the whole system.
MLM is flawed in a way that only the people on top are making money while the little people like are not.
I've been in enough MLM companies to experience this hard truth.
Which is why I would recommend a better alternative.
If MLM is not for you, have a go at building your own Online Business.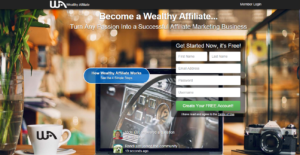 Wealthy Affiliate is a platform that gives you that very opportunity – It is an Online Business platform that teaches us how to create a website on just about any niche that we love, and from there, learn to monetize it.
It's what I'm doing with my blog right now too.
Do you love gaming? Now you can have a website about it and earn.
Are you into fitness? Wouldn't it be cool to use your knowledge and monetize!
Heck, even if you would like to boost your MLM business like say Riway, you can too, using Wealthy Affiliate's platform.
What you'll learn inside is not just an online course, there's way more.
There are features there that could help boost any business you are in like a keyword competitor tool, a super-fast web host, a website builder, and even a huge and warm community of people all over the world who are from different backgrounds.
In short, here's what you'll get…
Final Word
---
If you have huge sums of money that you don't mind burning, Riway might be the thing for you.
But if you're just an average earner like most of us who have just enough to get by, I wouldn't recommend you to go for Riway at all, especially with that overpriced deer supplement of theirs as you can easily find a much cheaper alternative.
Normally I wouldn't rate so low but with the overwhelming amount of complaints everywhere, the false certifications that they use, as well as their unethical methods of tricking people into joining, I would have to give it a low rating of 1 out of 5.
If you're interested in earning from your own Online Business instead, check out my top-ranked program here.
Hope I didn't get too carried away with the review, do share with me any experience you might have with the program, and thank you for your time.