Program Name: A1 Revenue
Website: a1revenue.com
Type of business: CPA Course
Price: $2,000
Owner: Mr. Opulent
Overall Rank: 3 Out of 5 ⭐⭐⭐
As I was digging around for a good CPA course, I stumbled upon A1 Revenue.
What's interesting about it is that although it's an online course, you can get information with ease and the owner is also very reachable not to mention the fact that he's the one creating the videos all by himself.
I've always found CPA a great opportunity to scale an online business further but part of me can't help but ask, is A1 Revenue worth it seeing that it costs a premium to join?
Is their private affiliate network on par with the other big players out there, and more importantly, is it possible to burn all our money on ads without even making any conversion with this program?
If you're just as curious as me about how it all unveils, do read on as I share everything there is to know on my full A1 Revenue course review as we go.
Pros & Cons
Pros
He has his own private affiliate network.
You can check out the A1 CPA network for free.
CPA offers within their network are regularly updated.
Good company background.
Wide array of motivational videos.
You can follow him on social media.
Good CPA payout offers for eCommerce and Male Enhancement niches.
Cons
Limited CPA niche variety.
You'll need $2,000 to join.
Not for beginners.
You will need extra cash as you'll be spending on paid traffic.
A lot of talks on mindset rather than the actual way on how.
There are several complaints about the program.
Gosh, that's a lot of cons! Better check out my #1 recommended program here instead.
What is A1 Revenue About? -The CPA Course.
Founded in 2012 in London, A1 Revenue is a marketing course owned by Mr. Opulent focusing on paid traffic and CPA strategies.
Mr. Opulent is just his alias though which stands for luxurious, his real name is Sanu Ogunkaya, born in 1993 and hailing from London where he runs numerous businesses, including A1 REVENUE LTD.
He's quite young but what I find quite remarkable is his tenacity to hustle despite his struggles and that he invested in CPA until he managed to become a millionaire by the age of 23.
If you're new to CPA, it stands for Cost Per Action and it's one of the many ways of making money online as you'll get paid whenever you promote your preferred CPA program and you get people to do something that would make you money on that offer.
It differs from what CPA offers you're using but usually, you get money whenever a person signs up a form or clicks on something which is why they call it Cost Per Action as they will pay you whenever someone does that.
It is one of the various ways on how a website makes money as it's easy and all you need to do is add that CPA into your site while you can just focus on growth and if you do not wish to have a website, it's also doable as you can just focus solely on paid traffic which is part of the lessons covered within the A1 Academy Training Program.
How Does it Work? -Taking a Closer Look.

If you're looking to polish your CPA skills, then you're at the right place.
But first, you'll need to head over to their website and signup for the A1 Academy Training Program.
The whole course is focused on CPA so don't be afraid to share your Skype details and your phone number when registering as you will be contacted by their team for them to further ask you some questions to make sure that you're eligible or not.
That's right, even after you've registered, there's a possibility that you might not be accepted into the program as you might not be ready for it yet.
It works just like when you're registering for a CPA client where they will also call you to check up on some things like your stat and website potential.
Since A1 Revenue has their own private affiliate network, you can either join in as an affiliate which is the main point of their program, or as an advertiser if you're a company wanting to get your CPA offer within the private network.
Once you've successfully joined as a student within the A1 Academy Training Program, you will be able to access these products to start your CPA education…
Inside Scoop
Junior Academy
Native Ads Academy.
X-Rated Media Buyers Academy.
Mobile Mastery X.
A1 Advanced Training Academy.
The lessons will provide you with the adequate knowledge you need to kickstart your CPA business by pinpointing the hot offers and focusing on scaling your income through paid ads.
The A1 Revenue course also teaches you in detail how to set up your Facebook Ads, and track with the recommended metrics to ensure that you get the best out of your campaigns for improving conversions.
It used to be an individual product but Mr. Opulent decided to compile it as a package hence the A1 Academy Training Program which is easier as more value can be gotten with one price.
Of course there are a few other features that are not included within the package such as the…
A1 VIP Programme.
Google Adsense Annihilation.
Done For You Campaigns.
These three features are upsells which are not covered within the package as you'll need to procure it separately but they aren't necessary as you can still run your CPA business as smooth without them.
What I Like About the Program.
I find CPA really interesting and A1 Revenue certainly has some plus points that I figure I'd share to help you with your decision making, starting from…
Perk #1 – Private Affiliate Network.
You just know it's good when someone has their own network.
Not just because it takes guts to create something huge to go up against a market that already has some well-known CPA affiliate networks such as Max Bounty and Clickbooth, but also it's easy to deal with them as you already know the people.
As part of the A1 Revenue student, we can utilize the network without having to worry if the advertisers are fake or not, as the A1 team makes sure that we are getting the best deal since we're already paying a premium to join Mr. Opulent's CPA course.
It would also be a lot easier to deal with the account manager for any dispute or any requests that we have regarding a particular CPA offer that we're interested in since their team not only owns the course, but also the network which saves us a lot of time.
Perk #2 – Active CPA Offer.

One thing I noticed is that there are not as many offers as I thought.
At first, it was a letdown but after several days of checking, I realized that A1's network is actually active and regularly updated which I find pretty amazing.
I've tried multiple CPA networks before and after hours of scrolling just to find my chosen CPA offer, that offers turned out to be expired which let me back where I started.
Huge CPA networks are good but they're not fully regulated maybe due to the huge amounts of offers that companies put up there but A1 Revenue's team managed to do otherwise and filtered only offers that are updated and are still running which can save us a lot of time searching.
Having lesser choices but updated offers are always better than having plenty of offers but saturated with outdated ones that no longer work.
Perk #3 – Anyone Can Access their CPA Network For Free.
I'm always against something I'm not familiar with.
Especially when I have to pay just to get into a program and see the community and features for myself but one thing A1 did right, is that we can actually try out their private CPA network for free which anyone can access from their website.
I find this pretty important because there are a lot of private affiliate networks out there and we'd have to pay to get in as many of them do charge a premium subscription in order to get in but without knowing how updated their network is and how good their product payout for their offers are, it would be a risk to pay as it might not be as expected once we've gotten access.
But since the A1 network is accessible to all and I can see for myself the quality of leads they have, it gives me all the more confidence to try out their other features too, like their popular course on offer.
Perk #4 – Good Company Background.
Being cautious about a company is always good.
There are a lot of businesses out there claiming that they're the best and charging a premium for anyone interested to join but the moment we've made payment to them and got in, they turn out to be a mess and a scam like this program I came across.
It's good to look for a company's background to know that they're the real deal and further confirm your instinct on whether to join that particular program or not because if they're as good as they claim, surely their company details are in order and that they've nothing to hide.
It's so relieving to know that Mr. Opulent is very transparent with his business, we can even see his A1 Revenue Ltd company details online with his name as the director not mention his equity amount.
What's even more interesting is that he also has three other companies which means he's true to his word when he mentioned that he's running multiple businesses.
Knowing that, I reckon anyone would be a bit more confident in putting their trust in the program.
Perk #5 – Active Social Media.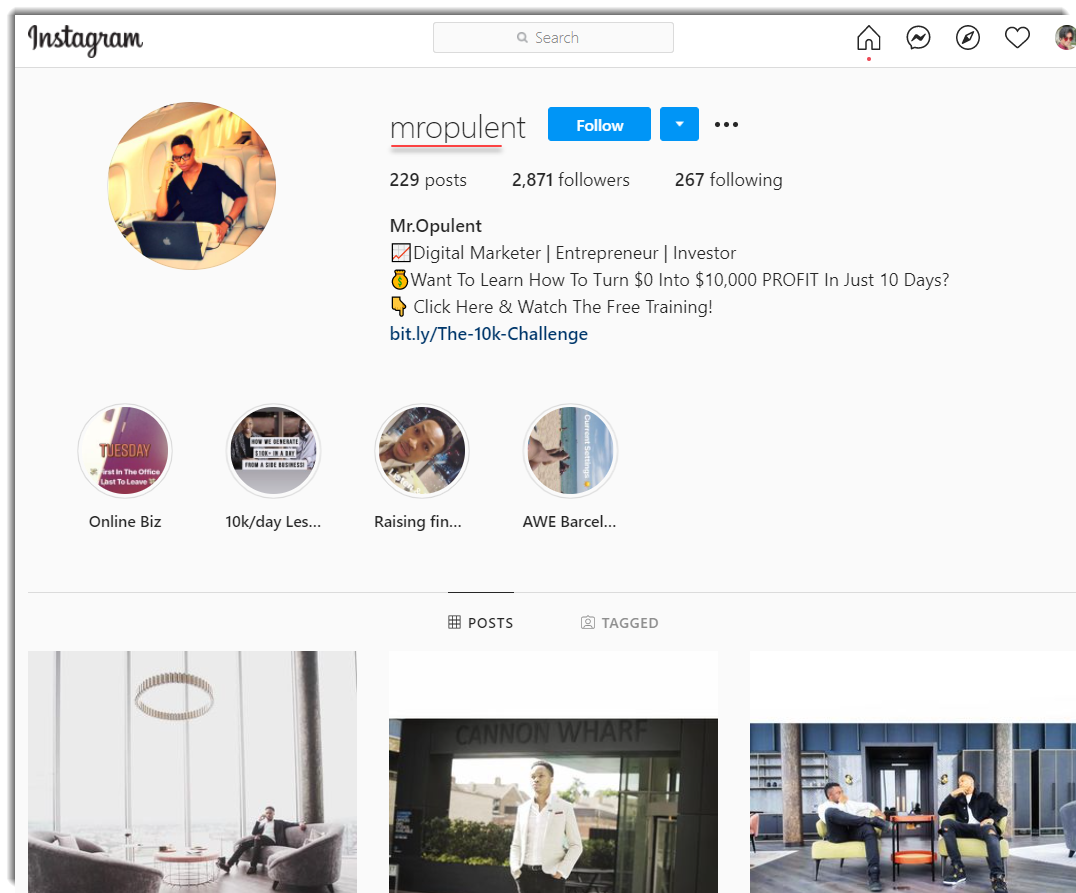 The internet can be a scary place.
There are countless programs promising you lots of money to be earned but the truth to that is that there are more scams on the internet than that of legitimate programs.
Because of this, people find it hard to trust anyone on the internet and especially more so if that person hides behind a computer screen and uses a fake alias because they don't want to be exposed when their scam goes down.
Mr. Oppulent did right as he's a real person and he's serious about his business.
He's very transparent about what he does and you can even check out his social media account where you can DM him personally which puts even more faith for us to follow his program without worrying much.
It's not necessary to share your social media account of course but in the online world where people can get scammed without even knowing by who, it's a sense of relief to know that that particular person is just an ordinary person like the rest of us without anything to hide.
Perk #6 – Bits and Pieces of Training on YouTube.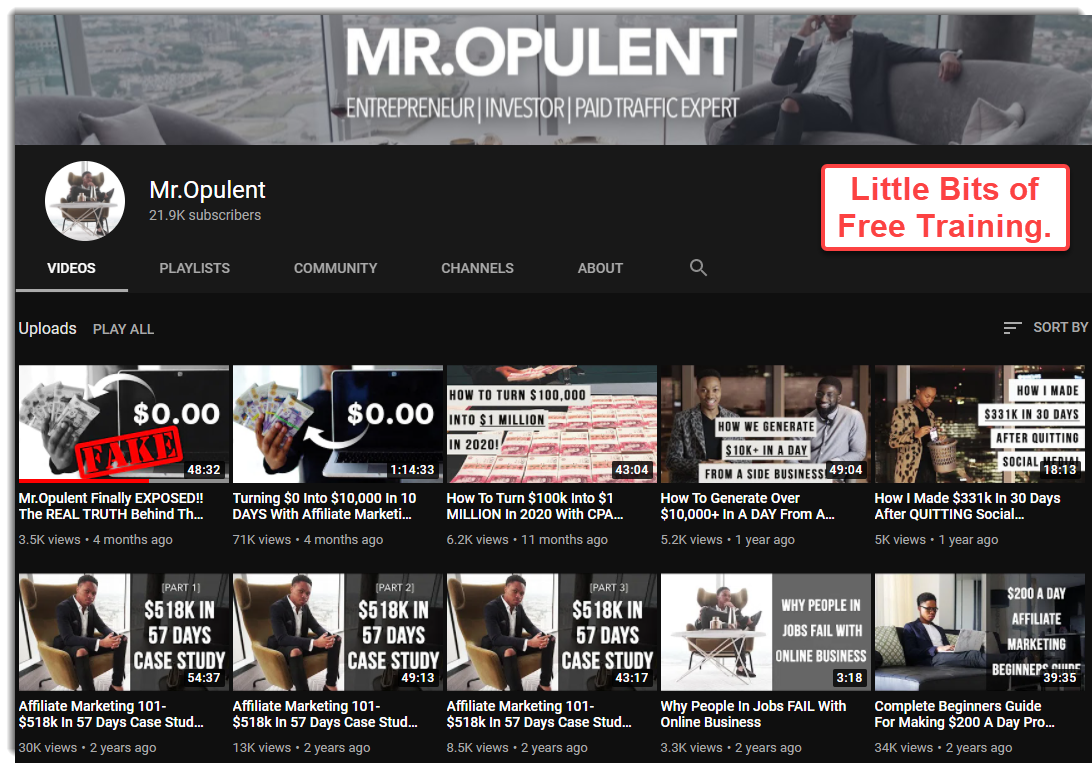 You can never go wrong with free training.
And in Mr. Oppulent's case, there's plenty of where that came from because you can learn a lot from him on his YouTube page as he tends to share content from time to time.
Some videos are mostly motivational videos but sometimes he does give you an insider's look at how he launches his CPA ads, how he looks for a suitable offer, and how much he earns from his platform which is really insightful to help us understand a little better.
You can also ask him questions regarding the program if you have doubts about whether it's right for you or not.
Perk #7 – They're Here to Stay.
Sometimes it's good to know where a company is heading.
This is because we never know if a company will be gone the next day especially now as the pandemic is hugely affecting the economy of all businesses globally.
I'm sure you've seen it with your eyes – Shops closing down, people selling off their stuff to just get by, even movies are delaying their release on cinemas.
Throughout my time reviewing companies, you'd be surprised how many programs I've seen that suddenly close their doors this year, even those that deal business online like survey sites as they can't get clients to pay for their market research service hence the lack of surveys hence the closure of their business.
Worrying if A1 would be sharing a similar fate, I did a quick check on Alexa to find out whether or not they've been on the decline these past few months and to my surprise, they've proved me otherwise.
They did undergo a steep decline recently but from October to December this year, they're getting back the momentum and quickly crushing it on their business which I find really amazing.
Of course it's not much to compare their growth within three months as opposed to a whole year's data which is much clearer to see from, it's enough to know that they're not going down anytime soon.
Red Flags – Is it Worth the Risk?
Now that we've gone through the good part of the program, there are a few flaws that I figure I'd share as no program is perfect you should brace yourself before making your decision.
Red Flag #1 – Limited CPA Niches.
You might need to check if it suits your niche.
Although A1 Revenue's Private network is good, there doesn't seem to be much variety on it as most of the offers tend to revolve around the male enhancement niche, eCommerce, and lead generation.
These are of course good niches with lots of potentials to get huge conversions on but not everyone has the knowledge nor passion to go with them.
But if these happen to be your go-to niches, then you're good to go.
Red Flag #2 – CPA Payouts are Lesser.

Some offers tend to have a lower payout.
If the gap is not too far, I wouldn't mind much but the CPA offers on A1 Revenue's network if you've noticed, offer significantly lower than most other CPA networks out there.
For instance, the sweepstakes pay us $1 which is kind of low compared to Odigger or Clickbooth which can go around $2 to $2.60.
Of course you can always talk to the client and discuss if they're able to crank it up a notch if you happen to find a better deal elsewhere but when the gap is huge, I doubt the increase would cover much.
Having lower pay wouldn't be much of a problem if you're using free traffic sources like SEO from your website but if you don't have a website and you're solely using paid ads to drive traffic to your offer, I would definitely worry about the amount of profit I get.
Red Flag #3 – You'll Need $2,000 to Start.
Not everyone has that kind of cash.
Although the startup cost is meant for beginners to have a go at paid ads where we'll be able to learn the how's through the program, it is still a significantly large amount of money especially for those just starting out.
It'll be much better if A1 has a significantly smaller package that costs lesser for those wanting to try out a good CPA course.
But then again paid ads are always a risky game and paying only a bit would not get us a good conversion which is why a huge capital is necessary.
Red Flag #4 – You'll Need to be Ready to Burn Some Cash.
When dealing with paid ads, you better have extra.
Although Mr. Oppulent did mention that the $2k is enough for us to start the ads, you'd definitely regret not saving more once that cash has run out.
Maybe the CPA offer we chose doesn't convert well, maybe our landing page needs some improvement, or maybe we might have accidentally clicked on something when launching the ads which results in a poor conversion.
In other words, not all ads will run as planned as we'll always need to be ready for unforeseen circumstances and having more cash on hand is necessary to run more ads until we find the sweet spot that works for us.
Red Flag #5 – You Might Not Get Your Refund Back.

This is the risky part.
They'll tell you as easy on the phone that you'll get your refund on the spot, but I've always had a bad feeling due to my previous experience being scammed by a program that went back on their word and denied the refund like this program.
In fact, I've come across multiple programs that did not honor their refund policy at all and didn't even bother to reply because they just wanted to use the money-back guarantee as clickbait to lure you into buying their program.
True enough, there are a few complaints about it as people just can't seem to get their refunds back.
If you look at their website, even their refund policy seems very shady as you'll only be able to get back your refund within 24 hours if you have not logged in to your A1 member's area.
It's unfair to say the least because everyone in the right mind would definitely log into their membership because why wouldn't we after we've paid $2,000, right? Nobody would read the refund first.
And if you logged in for a few minutes and decided that it's too complicated for you and wanted to just get your refund back and go? Is there no option for that?
If you've noticed, it even wrote there that the refunds are only eligible for a few of his products when instead, it should be for the whole entire program.
Mr. Opulent knows this and is just trying to bend the situation to his will, he could have easily stated there that refunds are not entertained which of course, he doesn't want to as putting a money-back guarantee offer is always a good clickbait to hook people into spending.
To make matters worse, if you were to decide to read the refund policy after 24 hours, you won't even be eligible anymore and the stakes would change entirely where the refund is solely action-based.
You'd have to show that you've tracked your campaigns with a working pixel and tracking URL, and that you've spent at least $100 and not getting a conversion.
Even after doing that, there's always a risk of you not getting any of your money back so if you're set on going for A1's course, it's better to just forget that there's a refund existing and just focus on the program.
Red Flag #6 – People are Doubting the Program.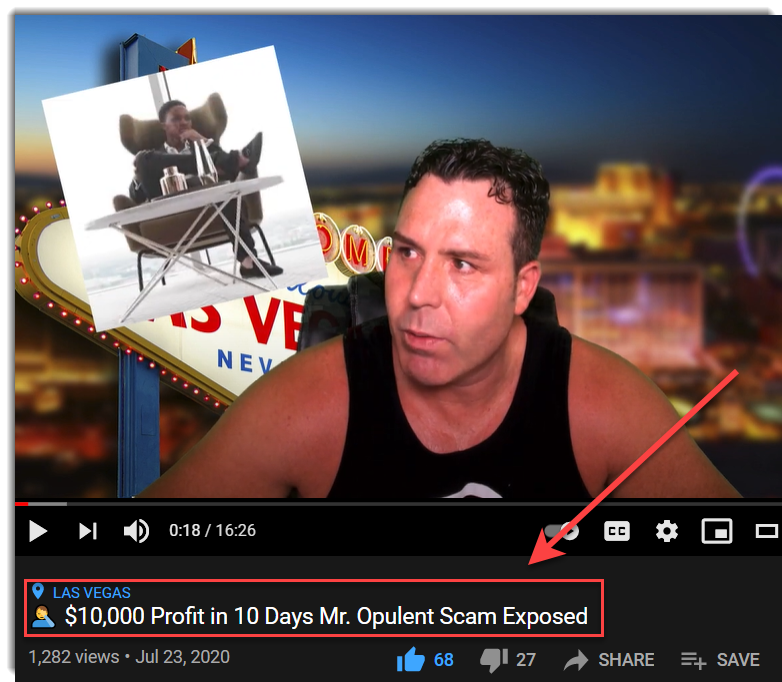 There's a lot of hate going around.
But out of all of them, there's this one video made by a user on YouTube pinpointing every detail of Mr. Opulent's program as a scam which really got a lot of feedback.
In fact, it got so much attention that Mr. Opulent himself made a reply video mentioning that guy.
I'm not going to go into detail about what the video is about as it's quite long and you can check it out for yourself but it's important to note that some points to make sense and there's more where that came from like on other forums online which you should consider checking when weighing your decisions.
Some complaints are mostly banter but some can be quite constructive and give you well-balanced info to inform you of things that we might not expect from the program.
I normally don't look at comments much as I much prefer to just go ahead and experience a program first hand before making my own decisions but it's important to note what others are saying too as there might be some points that we might not have noticed but visible to others.
Do I Recommend A1 Revenue?
If you have extra cash to spend, then definitely, it will work for you.
A1 Revenue is not a scam and I've seen multiple people doing similar things with paid traffic that earns them thousands in a day and it's definitely possible.
However since paid traffic is involved, bear in mind that you will need to have a few thousand dollars more than the amount you need to start with as backup especially when doing split testing to experiment which campaign gives you the best conversion.
I love paid traffic but the reality is that not all will give you good conversion especially in the first few attempts, we'll need a few tries in order to get the best results to go with.
The beauty of the program is that Mr. Opulent's CPA marketing course can be adapted into all of our businesses that we're currently in right now which I find really useful and great as it doesn't limit us to one thing but rather gives us the opportunity to grow ourselves and our entrepreneurial ventures.
What If I Don't Have Excess Cash to Burn?
You can always go for Affiliate Marketing first.
It's similar to CPA but it doesn't require you to have backup money to spend for paid traffic and once you've made your passive income, you can use it to fuel all your paid traffic efforts because no matter the business you're in, paid traffic is going to be the easiest way to scale your income.
However, how does one start without any cash to begin with, right?
Well, the answer to that, is by building your passive income stream.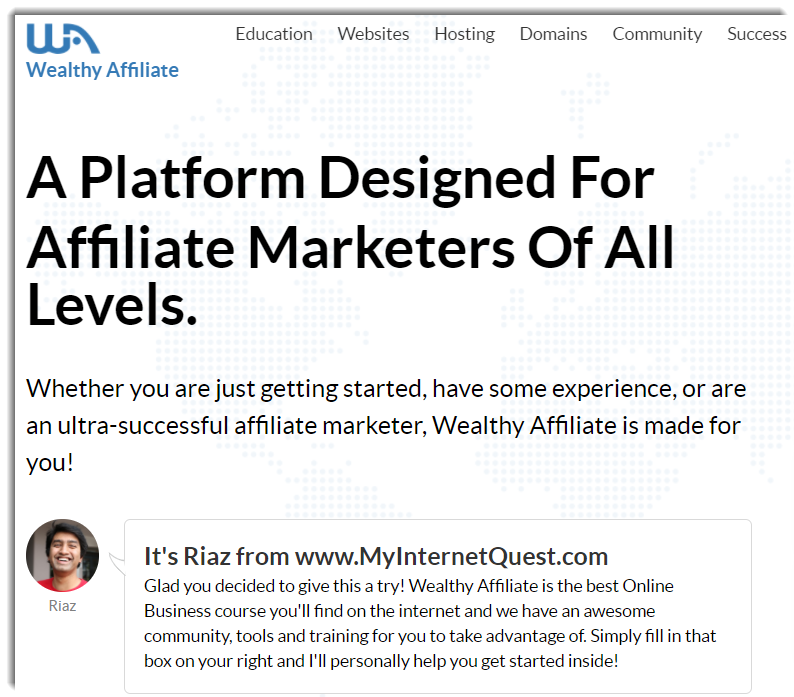 Introducing Wealthy Affiliate.
It's an Online Business platform that helps you setup your Affiliate Marketing business with great courses on how and top features to make sure your site is an authority site where you can monetize.
It's how I started out too and what I love about it is that everything has been laid out for us to make the best out of any niche we would want to focus on.
Just like CPA where there are sites we can go to find good deals that pay well to promote and earn, Affiliate Marketing works the same in terms of looking for programs and you don't have to worry much about finding those as all are provided within the Wealthy Affiliate platform.
Literally all we needed to do, is to focus our energy on growing the site and creating content to get better results as all technicalities are taken care of.
You can of course go for paid ads to boost your income faster but it's not necessary yet and you can start earning even without that unnecessary spending.
Affiliate Marketing is also on the rise now more than ever if you look at the graph trend, the number of people looking up for it looks very healthy indeed.
Though part of it might be due to the pandemic forcing people to focus on online sources of income, it's also because it's fairly easy to start not to mention being highly sustainable as just about everyone can succeed.
It can either be your stepping stone to growing even bigger, or if you're comfortable with what you can achieve with your progress, it can also be your full-time thing where you can just stay and grow what you have built.
It's a different genre to compare a full-fledged Affiliate Marketing-based online platform to that of a CPA platform but to help give you an idea of what I'm talking about, here's an overview…
Final Word
---
Despite the price, I find the program quite practical.
With some crucial pointers to note such as limited CPA niches within their network, the lesser CPA payouts, and the huge budget needed to start the ads, A1 Revenue is actually a pretty decent program to go for as they're definitely a legitimate program and far from being a pyramid scheme as some might claim.
Still, it's wise to note that being an ad-focused course, you'll definitely need extra cash to burn in order to continue your ads if this is the path that you wish to choose.
If not, you can always go for an alternative way of making passive income through my #1 recommended program here instead.
Thanks for reading, do share your feedback below as I'll be more than happy to reply.