Product Name:  Shophelper by Zern Tan
Website: heroist.co
Business Type: Online Webinar & Coaching for E-Commerce Platforms.
Price: $1,997 monthly – $49,997 yearly.
Owner: Zern Tan
Overall Rank: 1 out of 5
If you live in Malaysia, I'm sure you've seen his ads everywhere.
Whether on YouTube, Facebook, on blogs when you read online, or on your phone – Zern Tan's face is all over the place.
Or "was" as I assume, he must have stopped after I've published this review.
It is quite normal for brands to pop-up promoting their products and I usually do not mind.
In fact, it is a common strategy to make your product follow a user online to convince them to stop considering and start buying.
And it works too.
I too am guilty of buying products online from ads… that is, until you started seeing people talking bad about that certain product.
I started to do some digging to find out more and what I discovered, changed my views completely.
Is he as good as they say? Doe he actually appear in all his live webinars as he promised? Will Zern Tan's eCommerce programme really help you make money, or is it another hoax?
Read on as I unveil the full review on Zern Tan's Shophelper and Heroist…
Pros & Cons
Pros
Nicely designed Website, easy to navigate
Local online Banking Payment for Malaysians
Heroist is a real company registered under the Companies Commission of Malaysia.
Cons
Zern claimed that 12 months is free, but you actually have to pay.
No real people online, Only Bots to respond to.
Zern answers to "ghosts" in an empty chatroom during Q&A Session instead of you.
Zern Tan's YouTube Ad backfired with people bashing him all over.
A lot of complaints all Facebook and Reddit.
Shophelper is too young to be trusted.
No free trials.
Not clear with objectives
Pricing is also not transparent and support does not reply when asked for details.
The last hour of his seminar is all about how to pay Zern Tan instead of actual steps.
Coaching consists of advises that you can Google instead of spending so much for.
Golly, That's a lot of cons! Better check out my #1 recommended program here instead.
What is Shophelper About? -The Answer Seems Obvious.
Shophelper is a niche mentoring program aimed at helping Malaysians in particular, earn by helping Americans.
How consumers will learn is by selling items through Shopify which Zern Tan, the Founder, claims to guide you himself through earning.
If you're curious on what's the difference between these two names, Shophelper is the business under the company name Heroist with good legal papers as they've registered with the Suruhanjaya Syarikat Malaysia (SSM) which is the Companies Commission of Malaysia.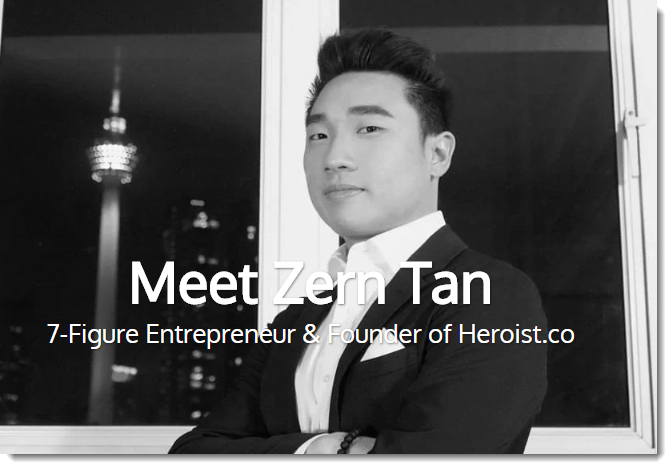 Zern, 27 years as of this year 2020, is not alone on his crusade though.
He's actually aided by his partner Bo Ken Tsern (28 years old) who is also the founding member of Heroist Sdn Bhd. as they're running the company together.
It is unsure whether or not if Bo is an investor while Zern is the only one running the company, but together, they run the Shophelper business which aims at guiding Malaysians to build an income stream solely only through website building.
Here's a screenshot of the director details…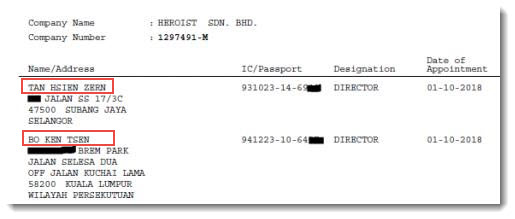 And this is the formal registration certificate with the Companies Commission of Malaysia otherwise known as Suruhanjaya Syarikat Malaysia (SSM)…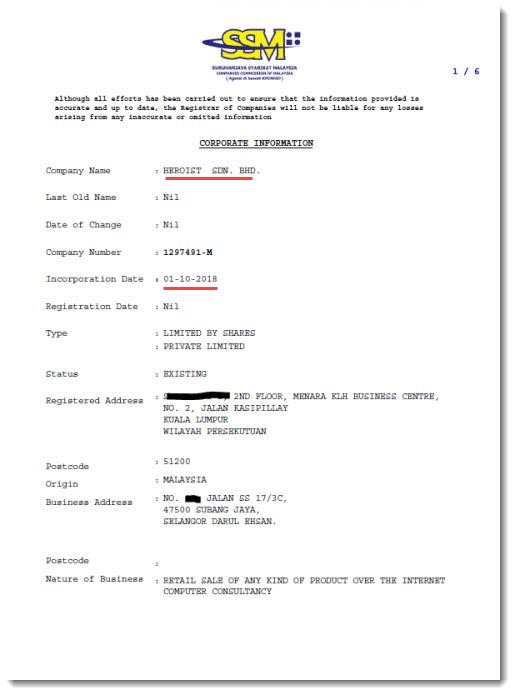 For non-Malaysians, Sdn bhd means Sendirian Berhad which is equivalent to an incorporated entity in the US.
It's the same thing, just different names.
On the official papers above, the company has been around since October of 2018.
An incredibly young company paired with a successful young entrepreneur.
Product Details – Is it Worth the Cost?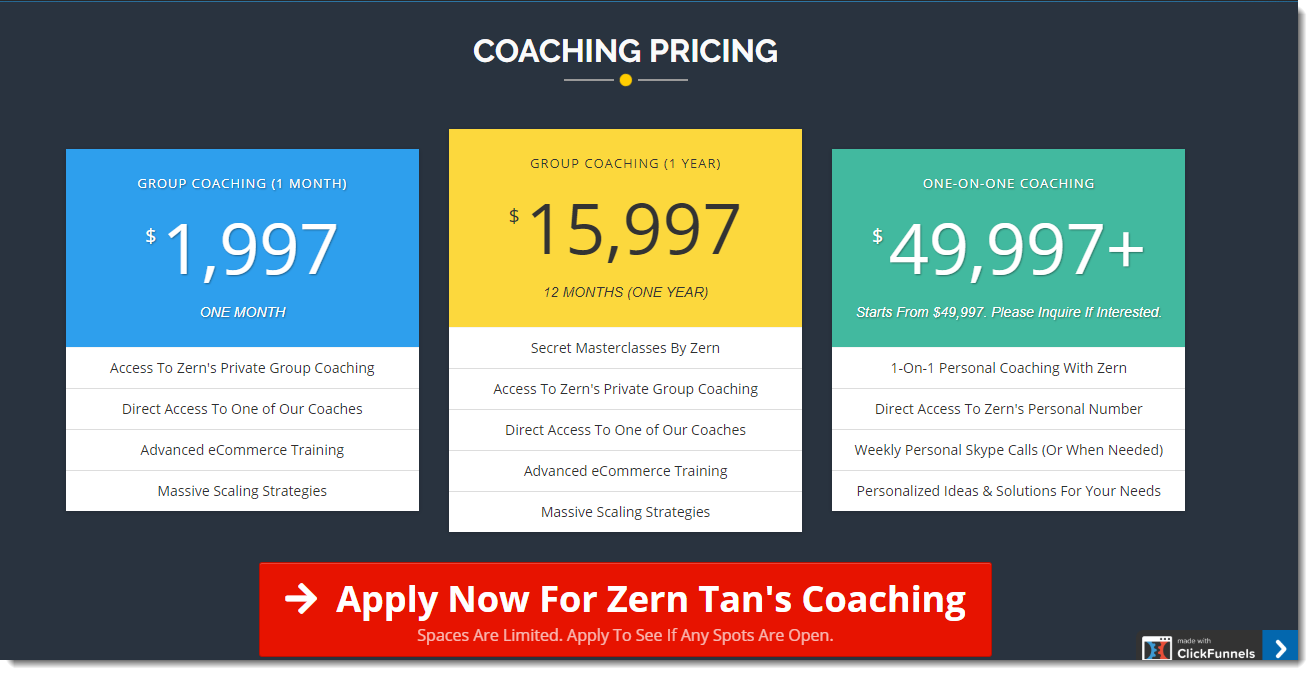 Wowee look at that price tag!
Knowledge is dubbed to be priceless, especially those that promise huge investment returns.
The same applies to every site, program, class, or seminar that is available currently hence a common question that everyone asks whenever faced with any new investment opportunity is, how much will it cost to the future investor?
Let's have a look-see…
1 Month Group Coaching ($1,997)
Access to Zern Tan's Private Group Coaching.
Direct Access to One of Zern Tan's coaches.
Advanced eCommerce Training.
12 Months Group Coaching ($15,997)
Secret masterclasses by Zern.
Access to Zern Tan's Private Group Coaching.
Direct Access to One of Zern Tan's coaches.
Advanced eCommerce Training.
Massive scaling strategies.
One-on-one Coaching ($49,997+)
1-on-1 Personal Coaching with Zern Tan.
Direct Access to Zern's Personal Trainer.
Weekly Personal Skype Calls (Or When Needed)
Personalized Ideas & Solutions For Your Needs.
That's with a plus, mind you, which means that it should be costing more!
Also a reminder, the prices are in USD which should cost four times more in Malaysian currency.
For a program that is aimed at helping Malaysians, it seems like the price alone is enough to create a huge dent in our pockets before we even start.
I don't blame you if you've had a thought or two of joining an Online Business class elsewhere on other platforms such as Masterclass or Udemy because truth be told, most of the information on starting an eCommerce store can be found there, if not better.
So what does Zern Tan actually teach in his program you ask? Glad you asked!
When joining Shophelper's Zern Tan coaching, you will be able to sell products procured in either Malaysia or China to US Citizens at our local price.
Due to the huge difference in currency exchange rates, our US-based customers will supposedly be able to get to enjoy shopping at an exceptionally low price point, much cheaper than purchasing in the US itself.
All of those while helping you rake in huge sales profits up to 200% or 5 to 10 times the cost of each item sold.
In short, you will join thousands of retailers as a third-party reseller on their recommended platform Shopify via Shophelper owned by Heroist which is guided by Mr. Zern Tan.
Zern Tan mentioned that his program is for anyone who wishes to make a few thousand USDs per week starting in your first 24 hours in joining him hence it is suitable for all types of people ranging from housewives or new graduates to even the recently retired and jobless.
Cliché words that we've all heard before, but are there any truth to it? Let's dive on further to…
Red Flags – Is Joining Shophelper worth the Risks?
Now that we've seen the details of Zern Tan's program which I know is indeed exciting, there are a few red flags that I think you should know and weigh before making your final decision.
Red Flag #1 – His LIVE webinar isn't even LIVE!
On his video, you will immediately be shown a timer screen prompting you to join their "about to start" live online training which would be rather conveniently beginning in around 6 to 15 minutes from the moment you are diverted to this page.
As it seemed like a real countdown, there was certainly no time to waste and I began to focus my attention more hoping that I won't lose much info.
From here the first hairline cracks begin to appear, the presence of a timer was already raising a few questions, and it does not take long for one to notice something else that seems peculiar.
The website had been built to reset the timer when the time elapses, and the Live online training schedule is always set 15 minutes from the current system time which raises doubts if their classes were really LIVE to begin with.

Intrigued, I decided to play along and just join their Masterclass to find out more.
Upon signing up, the system will not bother to verify any details such whether your postal code matches your district or even if your street exists or not.
Easy enough though it doesn't seem proper.
You could even put your address to be the moon or even the planet Venus and the website would approve of it, definitely a red flag of a hastily made website.
But let's not get sidetracked.
Not wasting any precious time fearing the repercussions of an elapsed timer, I then forged ahead with the registration process and by grace, managed to land a good spot in the "limited" seating webinar.
The excitement was real.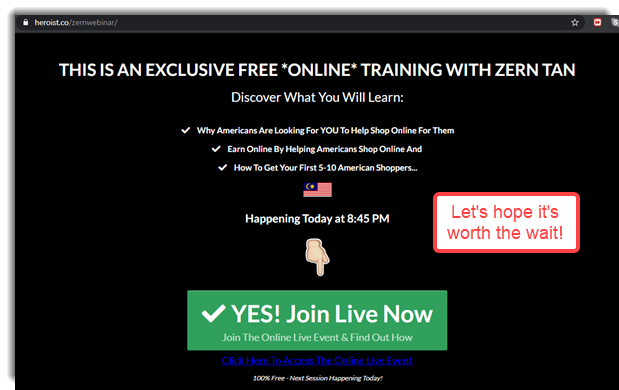 I was placed in a virtual livestreaming room hosted on Webinar Jam and had to wait and watch a few opening videos while waiting for Zern Tan to make his appearance and upon entry, it became clear that the whole live webinar is most certainly NOT a Live session nor is it a limited seating Webinar as everything here is bot-automated and pre-recorded.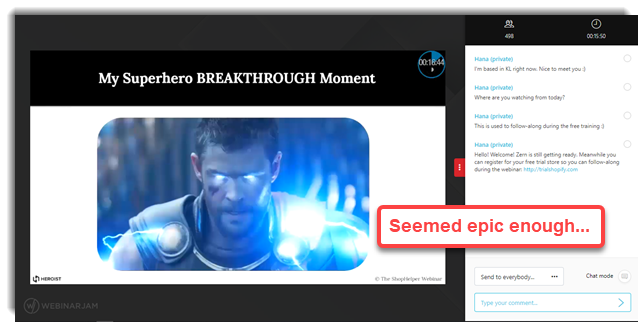 Even the responses you would get from your personal in-house bot Ms. Hana was pre-determined , It seems that Zern never appears live in the webinar even once.
I did however notice that the attendance kept rising but after a while, I noticed that there seemed to be a peculiar pattern.
Using an "Advanced" Mathematics and understanding of "Complex" Time Theorem , I calculated that the number of participants in attendance increases by 1 person every 23 seconds and the number will decrease by 1 person every 23 seconds once it reaches 500 pax, the process repeats in reverse when the number reaches 450 Pax , this happens without fail throughout the webinar.
Attempting to converse with anyone among the so-called 400 in the webinar chat box is futile as not a single soul responded, I was the only living thing there.
As for the webinar content? What does he tell you in this session?
It was a basic brick and mortar motivation speech that goes on for two hours straight, Zern will share with you his inspirational quotes and success stories from around the globe with a certain obsession with Kylie Jenner and her line of makeup products.
And yes, you read it right – it really was Kylie Jenner.
Instead of getting straight to the point with the tools you would need to begin making money, I feel as if I was bombarded with a mental conditioning regime, every naysayer was a failure so to speak.
Red Flag #2 – His Free Coaching Actually Costs $15,997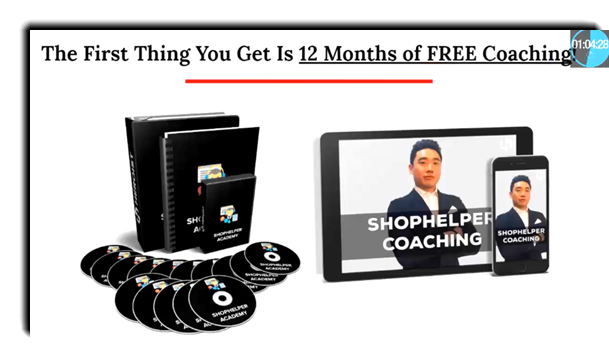 Yup, this one's hard to believe too.
And for good reasons, because it's not free, you actually have to pay once you get inside.
Zern lies about the 12 months of free coaching, it's actually a trap to entice you enough to focus on your attention until eventually, you'll end up paying for it either way.
As mentioned earlier, it actually costs $1,997 for a one-month coaching, imagine how much it would cost for 12 months.
Psst, it's actually a whopping $15,997!
Red Flag #3 – A Millionaire with No Asset Records!
For a millionaire, he seems to have no assets on record with the Companies Commission aside from the paper only that tells us that it is registered.
Some of you might think that it's okay and not big a of a deal but if you have a company and an office, that office should have assets registered to it at the very least.
An example of a good Malaysian Internet Marketer I know of is Peng Joon.
He runs multiple Online Business programs and he's also registered a company where he has a team working for him at Smobbles Sdn Bhd which is located in Petaling Jaya.
I'm not saying that you should open a company to do an Online Business but if you can charge members up to fifty grand and you have an office from which you run your company from, why isn't it listed?
If his office is his house, what does that tell you about his credibility?
As if charging you exorbitantly high prices is not enough…
Red Flag #4 – People are bashing him on YouTube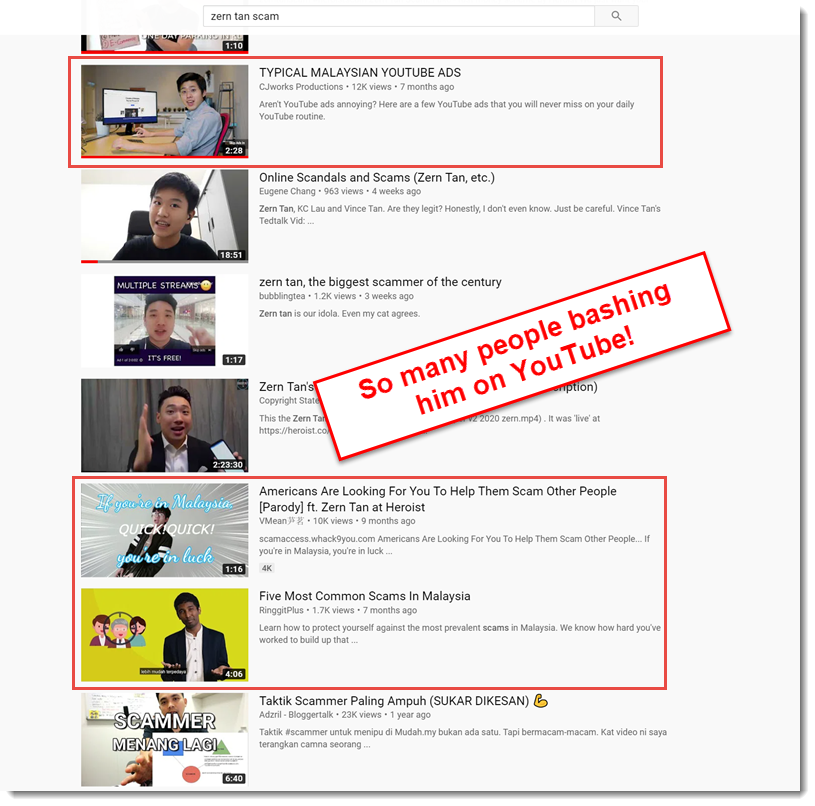 If you're in Malaysia, chances are you've seen his face. A LOT.
His ads are everywhere but interestingly enough, people are actually commenting on his advertisement.
But instead of good comments, everyone's bashing him and saying things like calling the police, or hoping him get arrested.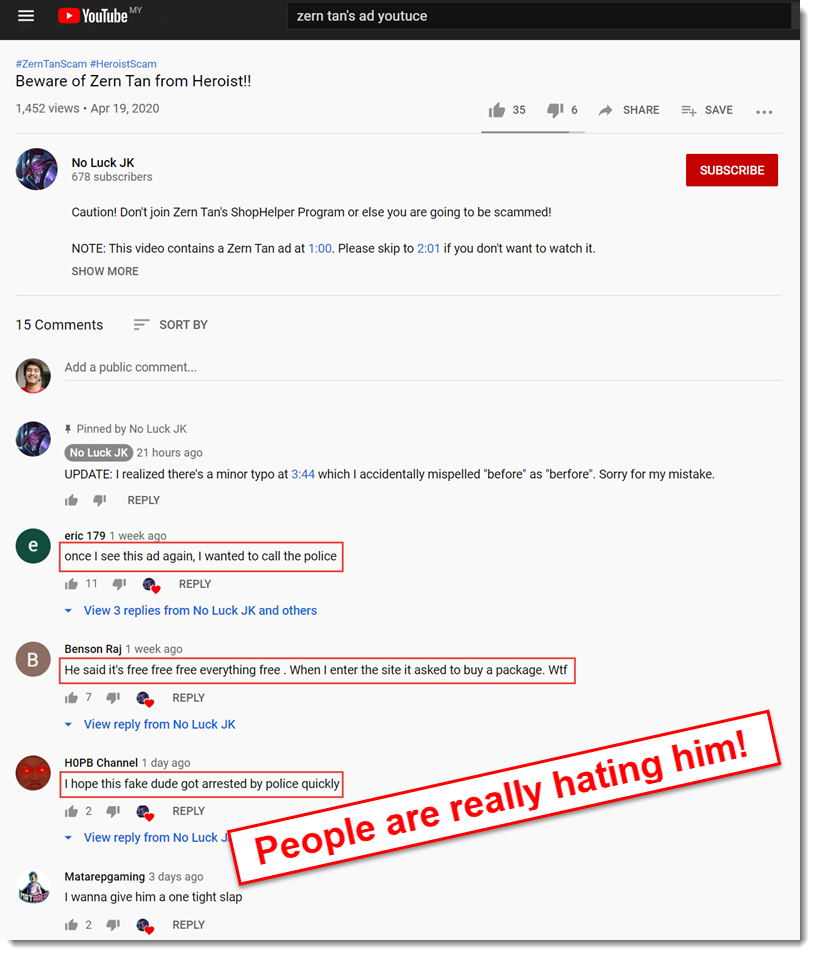 And that's on his own YouTube channel mind you.
Others are making reviews about him and there's a parody video also on YouTube aimed at sarcastically impersonating Zern's ads.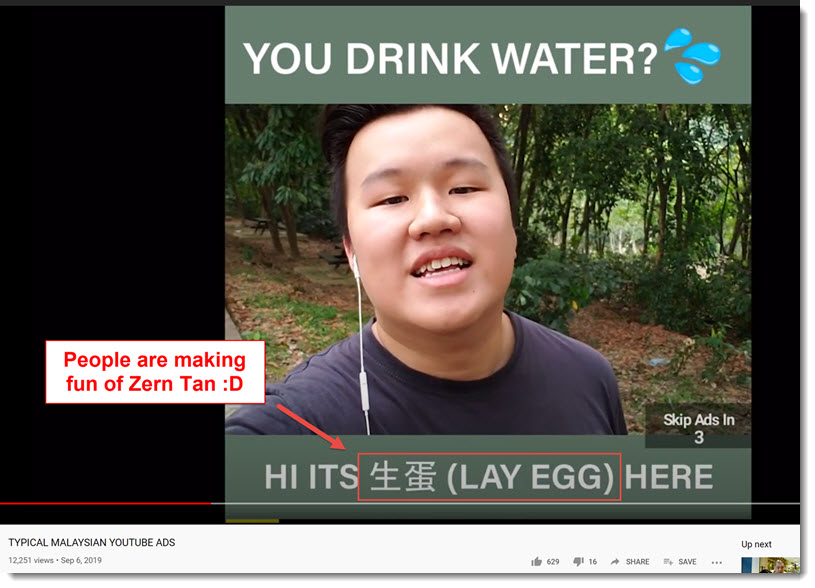 Having to go through the trouble and time just to oust someone is a whole different level of hatred.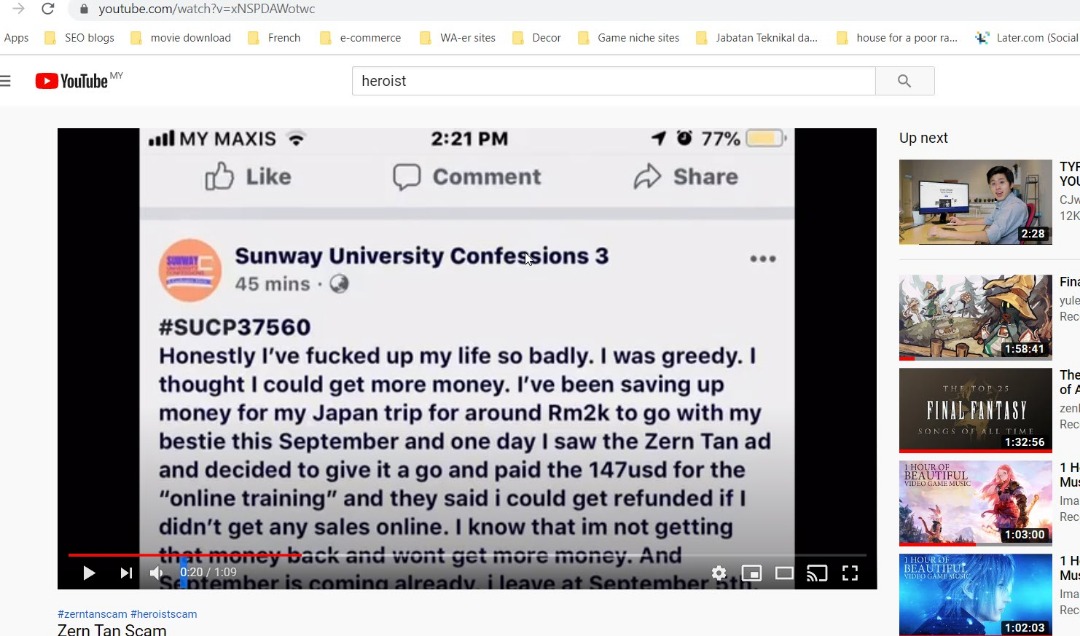 There are a lot of people sharing their discontent about the Heroist program but one thing that saddens me the most is when young innocent people share their stories on how they saved up to join Zern's program in order to learn how to make money but ended up being scammed instead.
And if that's not enough…
Red Flag #5 – Reddit Isn't a Safe Place for Him
People aren't really happy about him, are they?
Even on Malaysia's Reddit channel, we cannot escape that name as there are also people there displeased with Zern's scam programme.
For younger generations who are new to it, Reddit is a type if a thread, or forum-ish sort of haven where like-minded people share on their things.
It's not very popular amongst Malaysian nowadays as more and more people are slowly going into Twitter but there are still people there who hate Zern which I find interesting.
If Reddit isn't a safe haven for Zern…
Red Flag #6 – People Ganging Up on Him on Facebook
This guy just couldn't get a break.
Even on Facebook, people are bashing him non-stop, threads and posts are made about him and his program and the funny part? Some of those people are influencers and friends of mine.
It really is something when everyone's making new friends through a mutual bashing spree.
That's not all, check this out…
Red Flag #7 – Their Social Media Isn't Even Active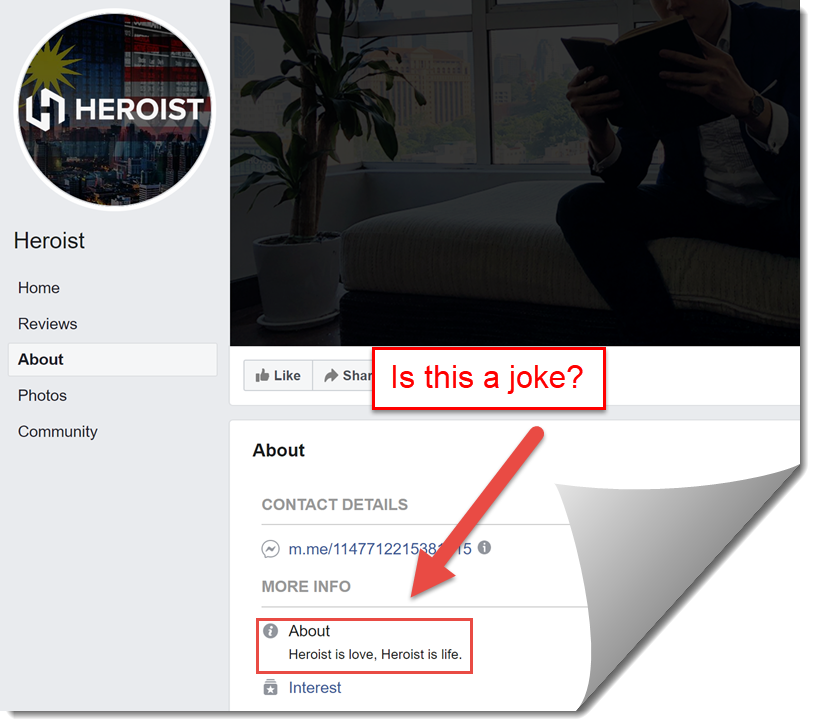 Hypocrite much?
As a program that teaches you Online Business, eCommerce, SEO, Social Media, how would you react if they themselves don't even implement those methods?
All that preach about getting business online and crushing it when he doesn't even have that many followers not to mention content.
And if you were to check their About Page on Facebook, you can see how Zern jokes around writing unimportant things that do not relate to the business – You would think that he have the decency to at least put an email there, a number, or even an address but no, you'll find none of that.
Red Flag #8 – He Couldn't Even Spell Entrepreneur!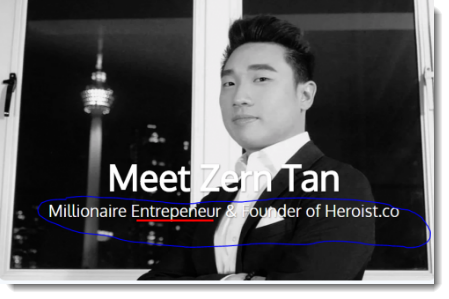 Was his program made overnight?
If you look on his website, he doesn't even spell entrepreneur properly, what?
I don't know about you but it seemed like the whole entire Shophelper thing is rushed with barely any proper info or background if you think about it – It's that or just maybe he's just testing and flexing to show off to Malaysians that he's now a Millionaire Entrepreneur.
I doubt even entrepreneurs would title themselves as millionaire entrepreneurs.
If you're charging a whopping $50,000, at least put some effort into double-checking your website image before making people pay that much.
Red Flag #9 – Shopify is Much Cheaper!
Oh, boy will you look at that.
Did you know that spending one month of spending a Zern Tan's coaching can cover a whole year on Shopify membership? Well now you do.
The Shophelper program teaches you how to build an Online Business using the Shopify platform.
The lessons are mediocre as they are quite basic, nothing special enough that you can find on Google.
In fact, Shopify has got even better tutorials and tips since they are the ones who actually build that platform.
The price if you go in with Shopify is way cheaper too, it costs a basic of $29 per month, to an advanced package if you like which costs $299 monthly – So much cheaper than Zern Tan's $1,997!
Red Flag #10 – He Raided Someone's Class!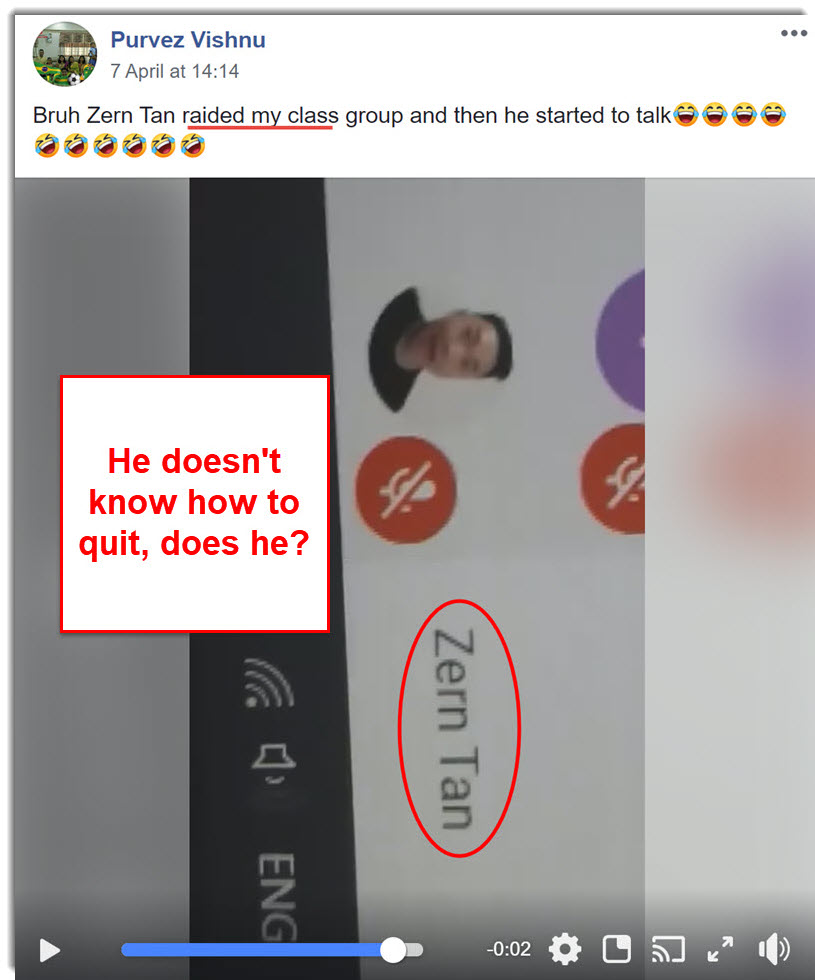 There is a thin line between hustling and desperate.
As an entrepreneur, it is a known fact that you should never lose face and you should always drop your ego in order to get more sales for your business.
I've seen people stay up only to catch up with work, sleeping about 3-4 hours in a week to fully follow their scheduled goals, but there are lines we do not cross.
We have to show professionalism.
SEO, sales page, cold calls, Cold Emails, Proposal sends, elevator pitches – These are all normal and effective ways of getting your brand around and getting some sales.
Intruding into someone else's class, is not.
Have you noticed that some shops put up the sign "No Salesman allowed" at their entrance doors? Yup, it's exactly like that.
Red Flag #11 – He Blocks People

Do you face criticism? Or do you run away.
Blocking people isn't a good step for a brand because it shows how insecure you are that words can break you.
And believe me, when a business has grown, you'll get a lot more when that came from.
Creating a business is something very huge and particularly for Zern, if he's trying to groom future millionaires, he shouldn't be blocking people just because he doesn't agree – That is bad PR because the customer is always right not to mention making yourself look very emotional to go and block people here and there.
If you have the courage to intrude on other people's class, you should at least have the courage to face unhappy clients instead of just running away.
I can't believe I'm actually giving advice to this guy.
Red Flag #12 – The Vain Scammer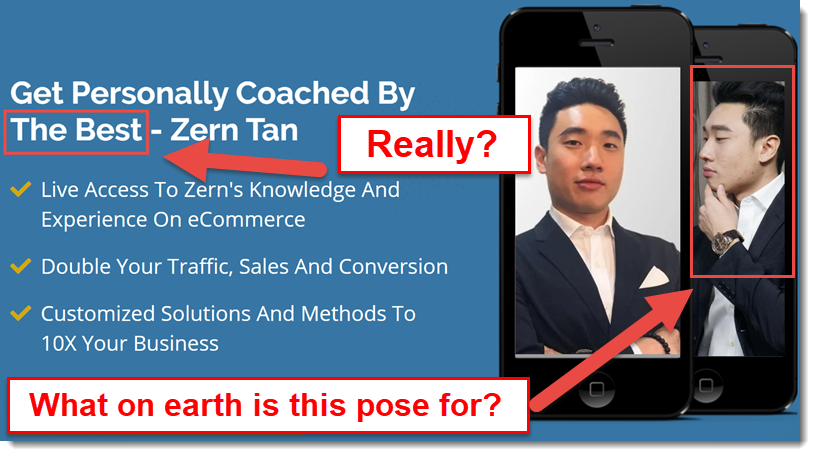 As I was about to close the window, I noticed something.
Have you noticed how vain he is?
Not just the part where he claims to be the best which is a dangerous statement as there are way more people more successful and have been shaping the Online Business world even before Zern Tan was even born, but his pictures?
As if titling himself as a millionaire entrepreneur wasn't enough, he just had to call himself the best to make us feel privileged to be coached by him, and then take photos of himself posing aimlessly?
I'll leave that to you 😉
Do I recommend Heroist?
Of course not, I mean would you?
I normally try to give second chances but seeing how south this program can go very fast for anyone, I'd be lying to you that it's a good program.
There are many Online Business platforms out there on the web way better than what Heroist is offering, with more features and support, and definitely more affordable.
Ecommerce is going really big right especially this year as we all have noticed the rising demand throughout the pandemic.
The spike will continue to go up even after the whole lockdown mess has settled as people will begin to adapt to buying online.
However, creating an eCommerce site isn't enough.
You'll need to market it and get people to your site first which is the number one reason why many people fail at this.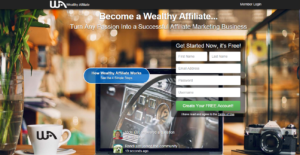 A good platform I can recommend you, is Wealthy Affiliate.
I do a lot of reviews and there's a reason why it's currently my top-ranked program.
Not only does it have the best Online Business course for you to build a website and monetize from any niche imaginable, the features there will help you create content and rank your website easily within Bing and Google search engines, the right way.
The community there is from people all over the world from different backgrounds and they all can help you out and debunk the mystery of Online Business.
WA is an Online Business platform unlike no other – Whether it's for you to start building your own Online Business, or simply grow your existing business, heck even Heroist's Shophelper too if this the path you wish to take, it's best to check it out for yourself.
Speaking of which, here's an overview to help you decide…
Final Word
---
Shophelper has a good initiative for an Online Business.
However with the owner's devious background, the ridiculously high price for the most basic courses, as well as their fake free claims tactic only to find out that we have to pay for it once inside, I would have to give it a low rating of 1 out of 5.
It pains me to see so many people getting tricked, getting blocked, and not responded to even after paying that much for this program, I do hope word gets around and that more people stay away from this program unless losing that much money isn't really an issue.
If you're interested in building your own Online Business the right way, check out my top-ranked program here.
Thanks for reading! Do share your experiences below so more people can know.