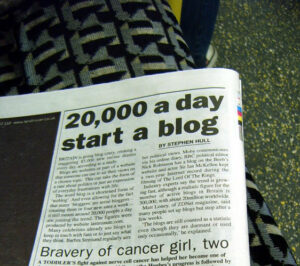 As difficult as it may sound, starting a blog is actually very easy.
According to the picture above, 20,000 Britains start a blog each day.
4 Years ago I was having trouble handling even 1 website but now, I'm handling more than 30 websites for various companies.
And NO, You don't have to be a programmer and understand coding because that's a job a designer.
Your responsibility as a blogger, is to just simply creating nice contents to share with people.
So how do you start about creating your blog?
1)  Get a name of course!
Perhaps the most important part of your blog that differentiates yourself between other blogs is the name.
People can create similar contents and stories but names are how people remember you.
Just imagine yourself without a name, wouldn't life be hard?
After creating a name, you will feel a sense of accomplishment even though you haven't written anything on your blog yet but hey, at least you can tell people you have a blog!
2)  Which blogging platform would you like?
All blogs are websites but to manage them, you need a platform.
There are many blogging platforms out there and this is where the controversy starts.
Do you want a Free platform or a paid one?
Of course you'd like it free, right?
But there is a HUGE difference which I would recommend you to understand first before deciding.
I even made a blog page about here.
If you're confused, WordPress is one of the best blogging platforms in the word and has been used by over 72 million users all over the world!
And if you've probably guessed it, this website is also WordPress-based!
Pretty cool huh?
But there's always other platforms that you could choose from such as Blogger.com and Tumblr.
3)  Start writing!
After having a name and acquiring a platform, it's time you start writing.
From here onwards, it'll be a breeze because there's just SO many topics to choose from!
Whatever topic you choose from, add in a personal touch by telling stories of your life.
You'd be amazed at how much trust you would get by sharing with other people about yourself!
After all, wouldn't you feel better reading websites with pictures of the author instead of just a plain page of writings?
As difficult as it may sound, starting the part is actually the easiest. The hardest part is yet to come, which is maintaining your blog.
I see a lot of bloggers come each month so if you want to succeed in blogging, one rule of thumb is to stay in the game and never give up. Trust me, it'll pay off 😉
For more information on monetizing your blog, check out my review on Wealthy Affiliate here.
Riaz Shah