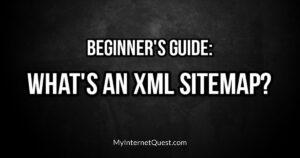 If you're a blogger or a website owner, you've probably heard of XML Sitemaps.
They are the essence behind your website's success because without it, you'll be facing major issues on ranking your pages well within search engines.
You may have good content but somehow it just doesn't appear on Google. Sounds familiar?
I've been there too.
Google Sitemaps or any other sitemaps plugins out there play a huge role in every website as we use them to let Google know that "Hey, I have a website and a new post!"
It may a bit complicated to understand but don't worry, it's easier than it sounds. I'll bring you up to speed to understanding it, starting from…
What is an XML Sitemap About? –Asking Google to Come to You.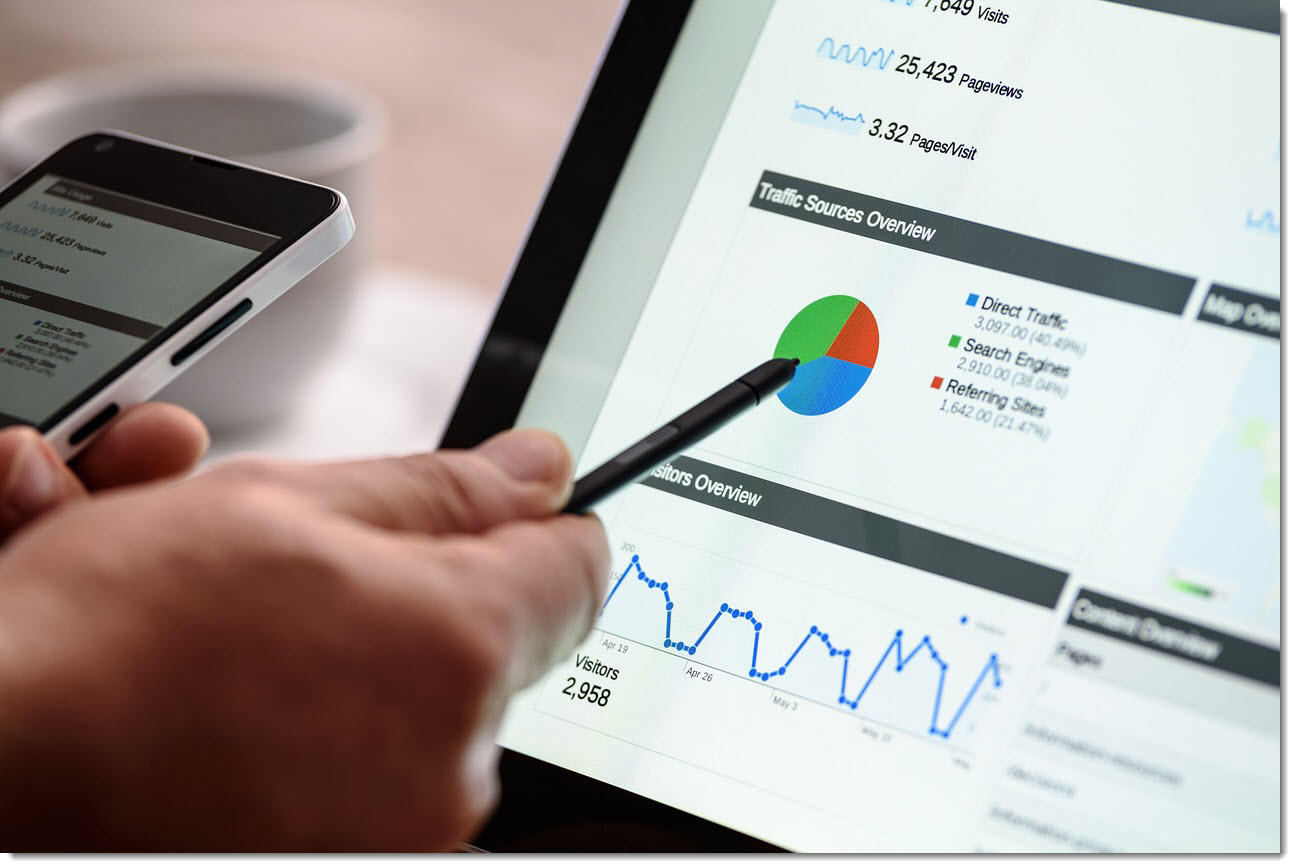 Ever thought of how websites appear in search engines? It's by submitting sitemaps to Google.
A sitemap is basically a list of all your website contents and link.
And the reason you want Google to know that is that you want them to index your pages so if you're submitting your sitemap, you're basically telling Google "Hey, I have some new pages here! Just to let you know, they are definitely awesome"
When Google is informed, they will then send spiders to your website to crawl and index.
Don't worry, they are not real spiders, they're basically robot runners that helps Google automate and retrieve info as there are millions of websites all over the world.
Have you watched Marvel's Agents of Shield? Imagine Google as the SHIELD HQ – That means the spiders are the Shield agents sent on a mission.
Or better yet, imagine Google as a beehive – the bees are there to collect resources back to the base.
Long story short, the reason your website cannot rank even if it looks amazing, is because it never appeared on search engines.
You have a website, yes. But if you were to type it over on Google, you wouldn't be able to find it even if you've searched it up to page 100. This is because Google doesn't know that your website exists. They weren't informed of it.
So in order to get them to notice you, we need to submit our sitemap to let Google know. Hence to answer the question of what is Google Sitemap, it's basically a list of all your website content and links which is needed for submission to Google itself.
Now that we've covered the bigger picture, let's move on to the technical part where I'll show you how to submit a sitemap to Google.
5 Simple Steps to Setting up Your XML Sitemap.
It's actually pretty straightforward.
A basic summary of what you'll be doing is to get your sitemap from your site, and simply adding that to Google Webmasters. The first part of how to submit an XML Sitemap to Google starts with…
Step 1# – Installing the Google XML Sitemaps plugin
I'm using WordPress for this but you can actually do it with any type of sites.
Simply go to your plugins installer and search for "Goole XML Sitemaps" – It's the one with the 1 million+ active installations.
There are many other plugins of course and you can choose anyone you fancy but for the sake of this guide, I'll use the most common one and personally, it's the one I trust I've been using it for more than 4 years.
If you have an SEO plugin like Yoast or All-in-One SEO, you can also do you sitemaps from there but some website themes might restrict this (Like this blog) so because I am unable to access those features, I install a separate plugin instead.
And plus, it's much easier and more detail.
Step 2# – Getting Your Sitemap Link.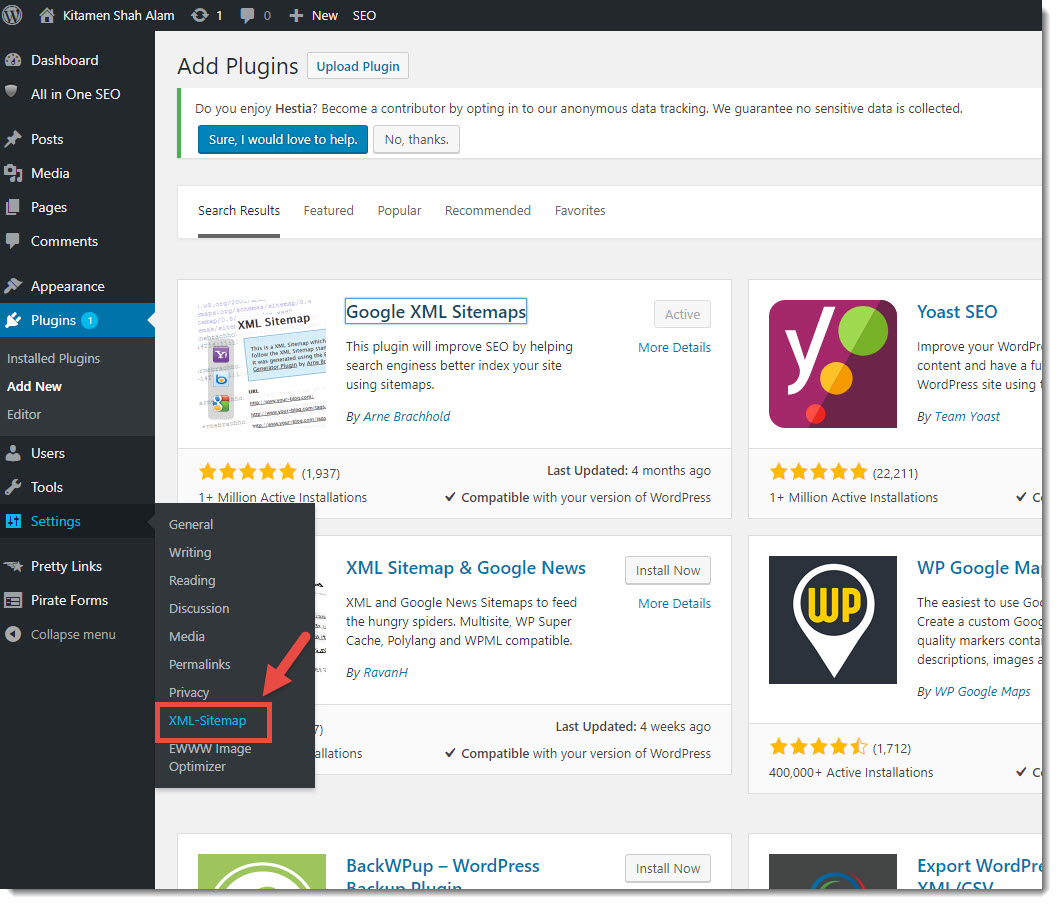 Once you've installed an activated it, it's time for setup.
From your WordPress dashboard, go to "Settings" and click on "XML-Sitemap"
Next, we go to the tweaking part.
Step #3 – Configuring your Sitemap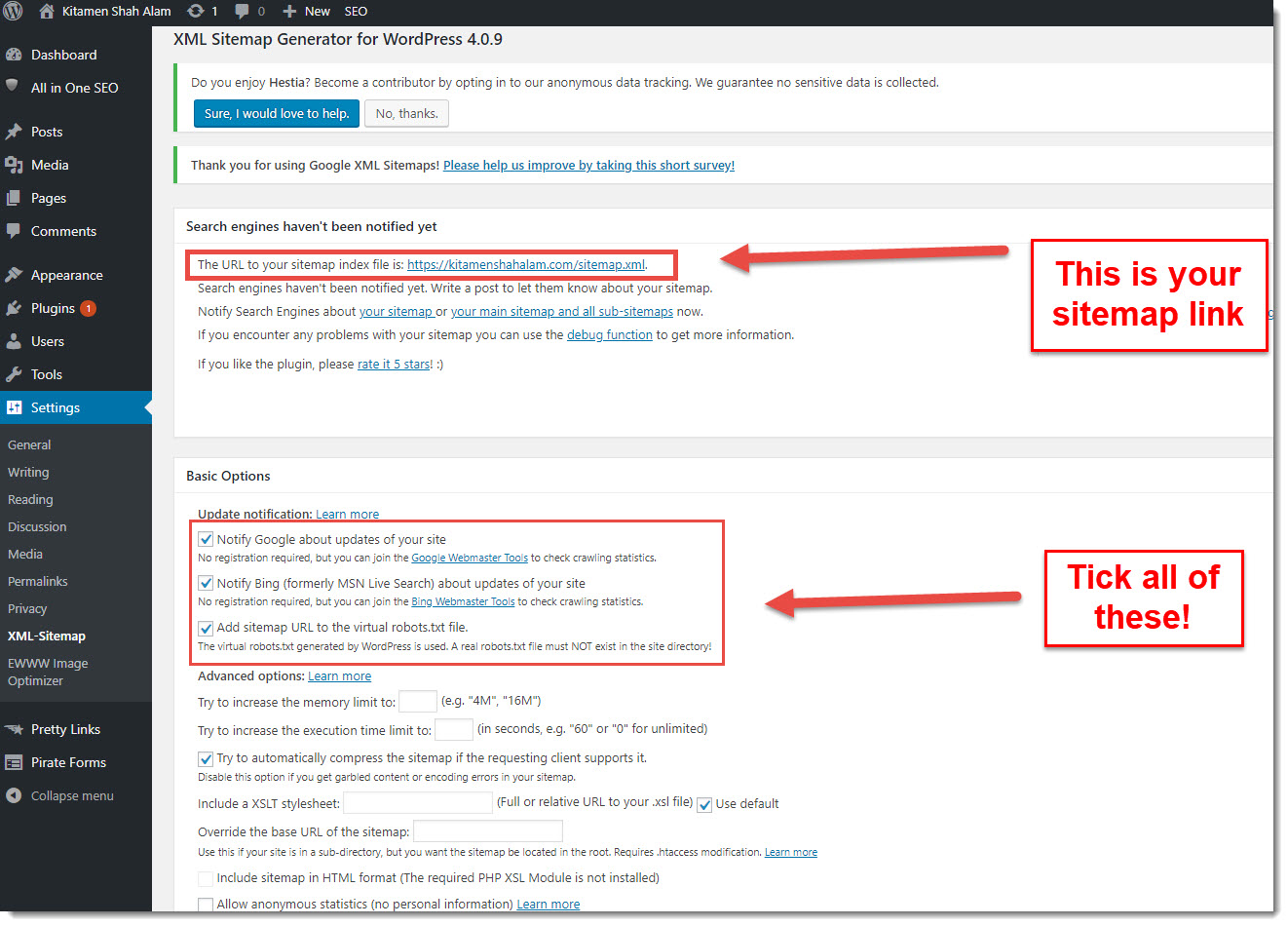 Once you're here, you can see your Google XML URL already at the top.
You'll need that to submit to Google but first thing's first – we need to do some configuring.
Under "Basic Options", you'll need to tick all three boxes which should be the ones with "Notify Google", "Notify Bing", and "Add Sitemap URL to the virtual robots file"
This is so that once you sent your link, not only Google received it but rather the other search engines like Bing.
It'll help you save time rather than doing for all three search engines.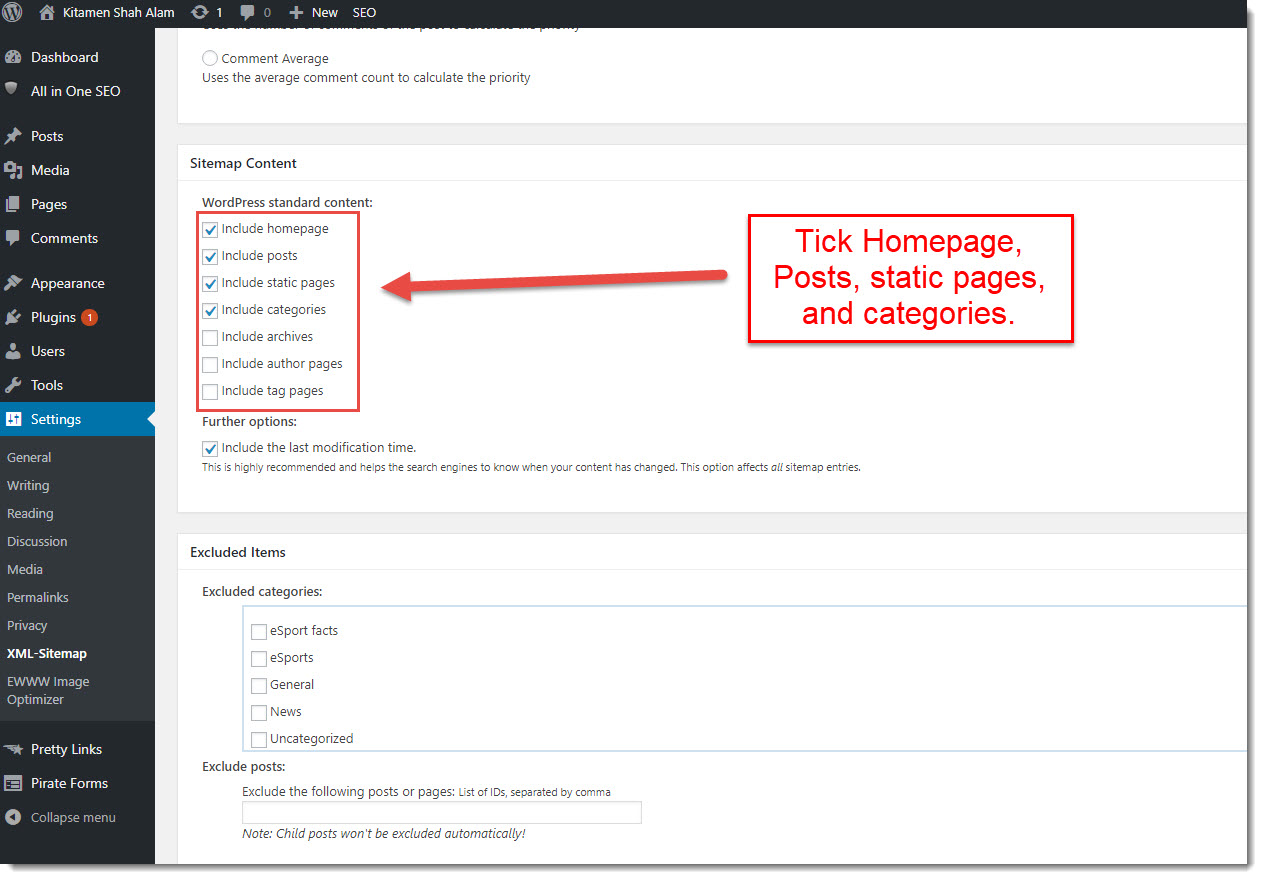 Under "Sitemap Content", tick Homepage, Posts, Static Pages, Categories.
You may leave Archives, Author pages, and Tag Pages blank because those aren't really important.
If your website focuses on good content, it's better to leave as it is because you wouldn't want those tags to rank more than your actual page or posts.
The "Excluded items" part should definitely be blank.
Some website owners have hidden pages that they do not want to be ranked because those are usually made for special offers like promotions or eBooks so for that they usually use special links.
Moving on further, you'll see the last two sections – "Change Frequencies" and "Priorities"
If you write blog posts every day, you might want to change the "Posts" from Weekly to Daily but other than that, you can simply leave the rest to default.
Once everything is complete, click on "Update Options" and you're good to go.
Step #4 – Linking Your Website to Google Search Console
You can skip this step if you already have linked your site to the Webmaster Tools.
Oh and just so you know, Google Search Console was also known as Webmaster Tools previously, for many years.
They wanted a fresh look on things as they have bigger plans coming for us website owners and bloggers but personally, I think they should just maintain the old name because it causes confusion to many, wouldn't you agree?
First, head over to Google Search Console.
From there, click on "Add Property" where you'll need to key in your website name and afterwards, click on verify.
Once you've clicked on verify, you'll be shown a page whereby you can choose different methods of verification.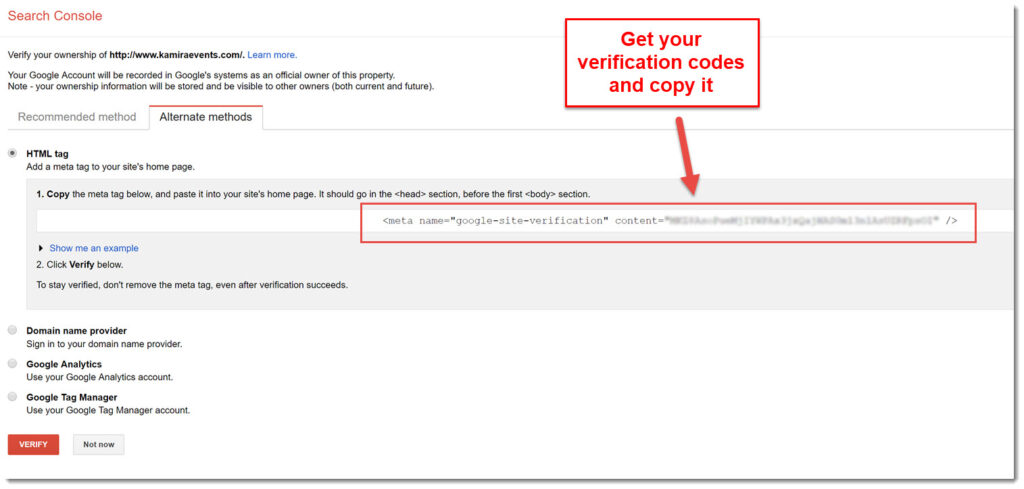 Although there are various methods of verification, don't worry because the Google verifications codes remain the same – All you need to do is to paste that into your site so that Google knows that you are the owner.
One of the simplest ways of verifying is to simply get the HTML code and paste it under the Header part of your WordPress Editor.
However, this is also a risky move because you'll be tampering with your website's CSS so unless you're confident in what you're doing, I wouldn't advise you to even touch the Editor part.
If you want a different method of verification without all the technical mumbo-jumbo, you can do so using another plugin – Namely Yoast or All-In-One SEO plugin (The one I'm using).
Most websites have at least one of those SEO plugins so if you have installed it already, head over to the All-in-One SEO General Settings and from there, scroll down until you see the Webmaster Verification section.
Okay here's the trick.
Remember the verification codes that we got from Google Webmasters earlier? You need only to copy the code in between the apostrophes to add into the All-in-One SEO.
For example, this would be what you see on your Webmasters…
<meta name="google-site-verification" content="XAXAXAXAXAX" />
Instead of copying the whole entire thing back to the Aii-in-One SEO plugin, only copy the XAXA part because that's the actual code.
Once you've gotten that down, click on save and head back to the Webmaster Tools page to verify and you're done!
If you're still a bit blurry on the verification part, here's a short video to show you how.

Your website should now be linked to Google Webmaster Tools (Or Google Search Console whichever name suits you) so we can proceed to the final step…
Step 5# – Time to Submit!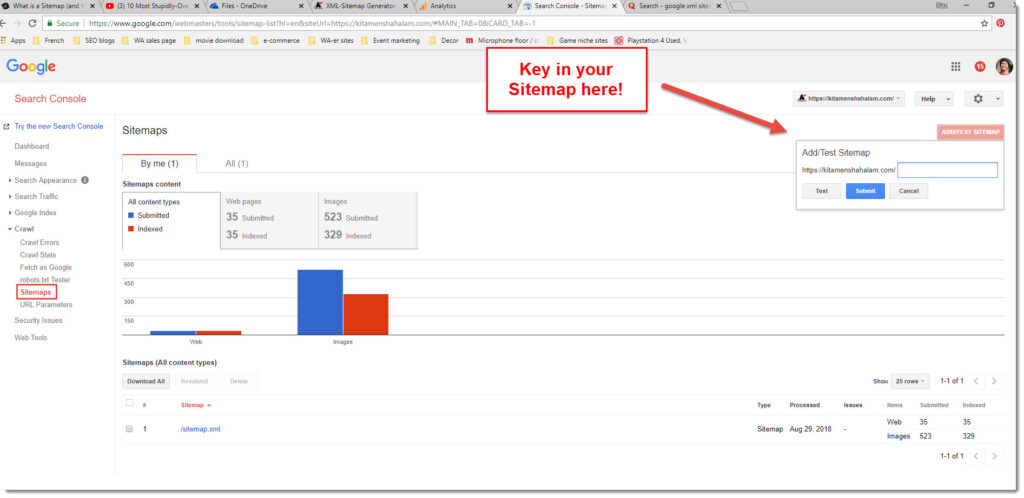 One last step to go and this one's simple.
All you need to do is to get your XML Sitemap link, and pasting it back onto Google Webmaster Tools.
On the Google Webmaster Tools dashboard, click on "Crawl" and from there, click on "Sitemap" where you'll be brought to the submitting page.
As you submit the URL, be sure to type in "sitemap.xml." and you're good to go!
If you're still a bit blurry on the whole process, worry not! Here's a complete video I made to walk you through the whole entire process from step one…
Be sure to test it out first to make sure your link works so there you have it, your sitemap is safely submitted and now you can breathe easy and relax!
One easy traffic hack I'd like to share is to make sure you do this once in 2-3 months for so that Google will crawl your site and pages again.
It would help rank your pages even faster if you were to update your other posts and pages before submitting it again too because Google can also detect that.
If you update your old posts, believe it or not, Google will give you a plus on SEO as they see that you care about your content enough to update it and not leaving it dead.
What if I Don't Want to Install Any Plugins?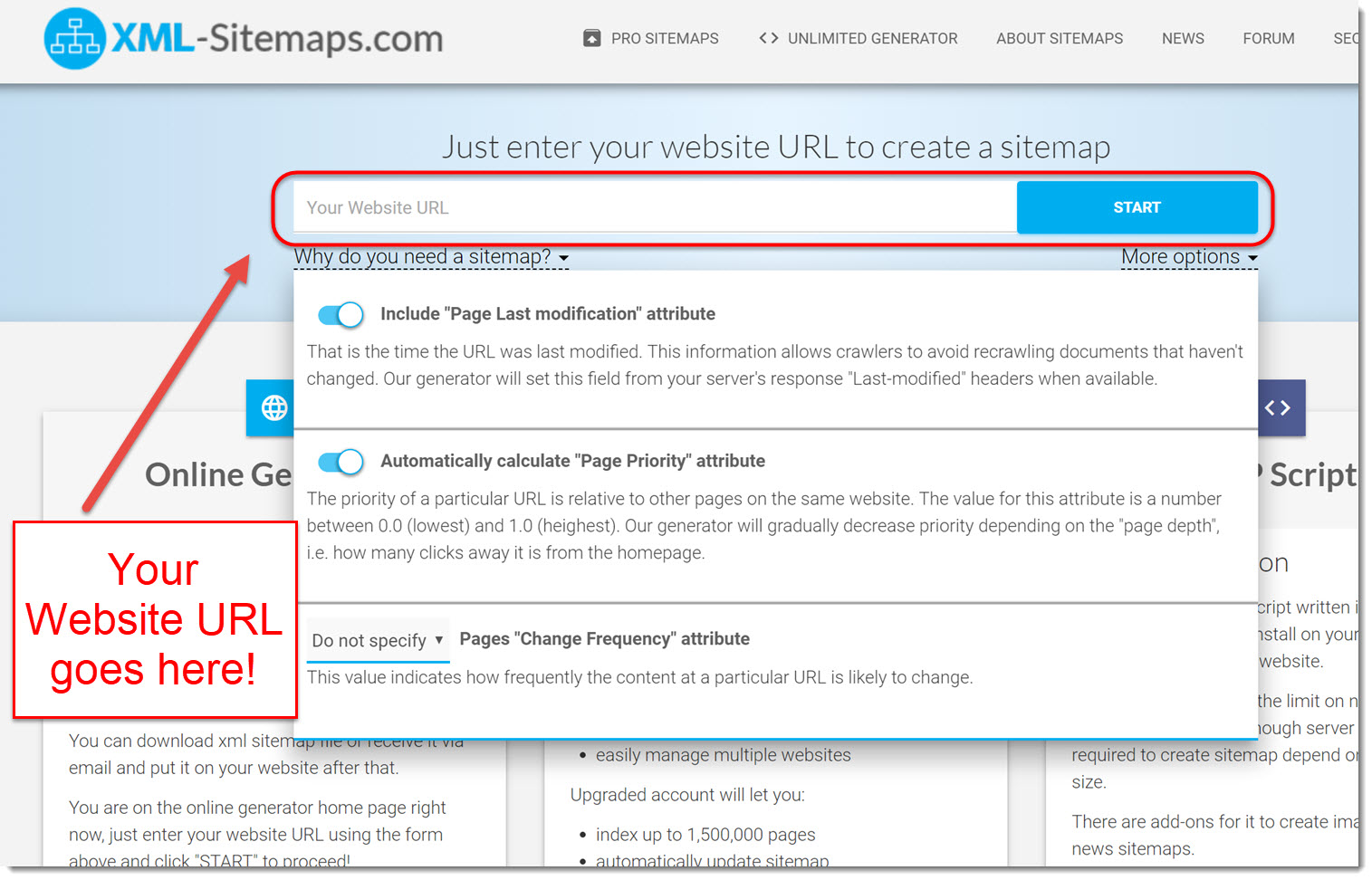 Maybe you got turned off looking at how complicated plugins may be.
I don't blame you.
Although it may seem easy, submitting a sitemap can be very annoying if you're stuck at one point and when you do, it can be very frustrating that at one point, one can ask if he should be giving up or not. I've been there.
Google XML Sitemap is an important part of web pages even until now and it is such a huge thing for your website's success that it's hard for us to ignore.
If you do not want to install any plugins or if you're not using WordPress at all, another alternative would be by submitting it through a website called XML-Sitemaps.com.
There are a few packages there ranging paid to free, but the free version should be more than enough as it is because it can cover up to 500 pages.
The paid versions are for veteran Internet Marketers or SEO firms who handle multiple websites every day as part of their service or those that have more than 500 pages on their site to index.
All you need to do is to key in your website URL there, click on "Start" and voilà! Instant sitemap for you.
Common Problems You Might Come Across When Submitting Your Sitemap
Some websites may be a bit strict when it comes to sitemap submission.
I've personally come across several problems when I tried to submit my website which can be really annoying because you have to waste more time trying to solve that issue.
Problem #1 – Your Theme Restrictions
Some themes can be quite strict and a tad annoying (Like mine).
Try to change themes temporarily and see if it works, or create a dummy website if you do not want to go through the trouble of re-arranging content after switching themes.
Problem #2 – The "Your Sitemap Does Not Contain Any URLs" Problem
Sounds familiar? I got this at first too.
Believe it or not, there are no huge problems that need fixing on this one because the problem source is exactly as the notification tells you – It's from the URL.
How to solve this is simple, all you need to do is to copy exactly the URL from your XML Sitemap plugin because you might forget the "Dot" at the end.
If you are using the Google XML Sitemaps plugin like I am, you might notice that there is a dot at the end of the URL.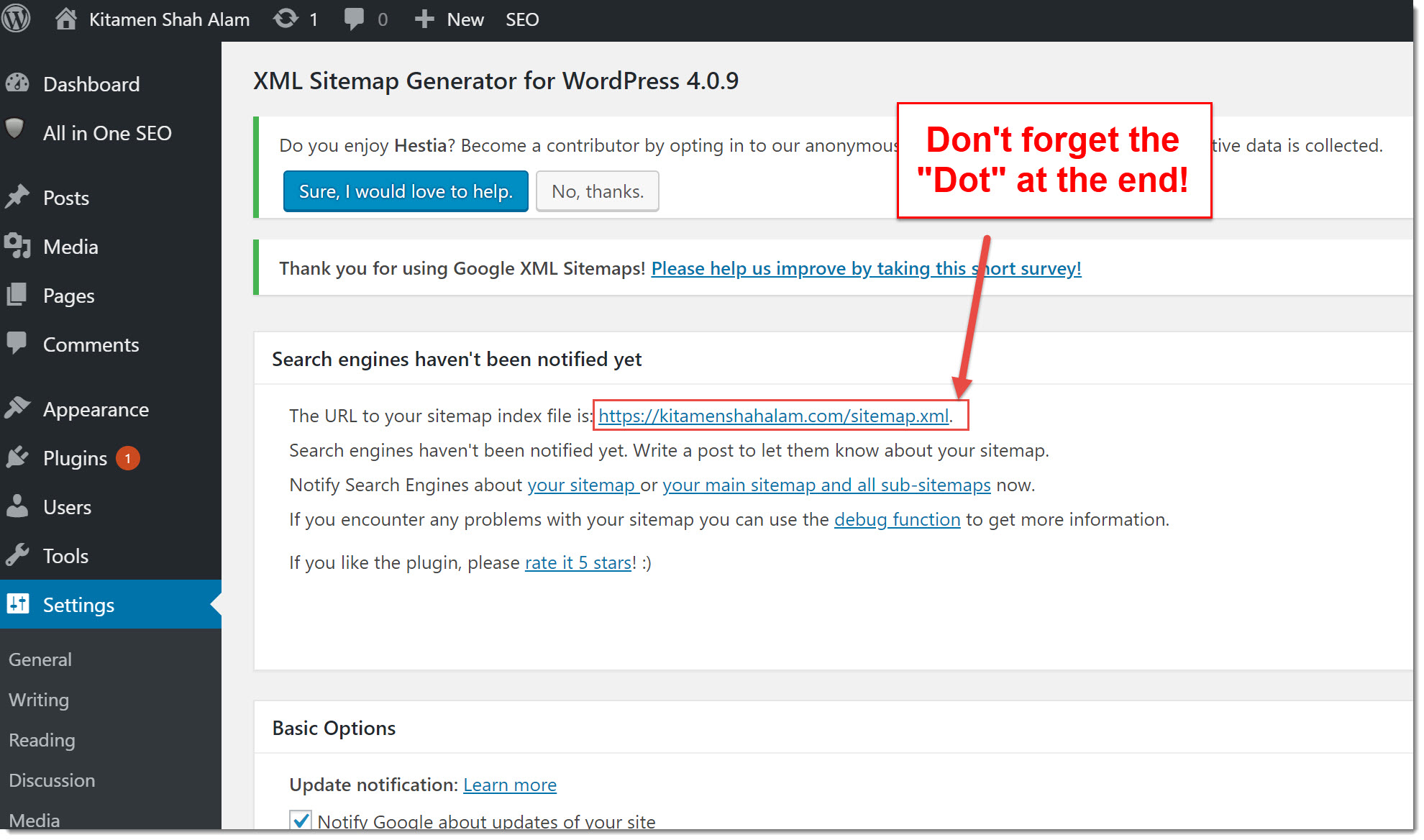 Many people actually mistook that as a full stop sign so we ended up copying everything except for the dot at the end but really, that dot is the last piece of the puzzle.
However, bear in mind that different plugins will create different URLs for your sitemap so be sure to copy the full link generated.
Here's a video to show you what I mean…
Problem #3 – Yoast Uses a Different Sitemap URL
Bear in mind that Yoast's sitemap URL is "sitemap_index.xml" which is a bit different than that of the Google XML Sitemap plugin which is "sitemap.xml."
Problem #4 – Conflict Between Plugins
Some plugins might alter another plugin's effect as how I've experienced with my Contact Form plugin.
If you have a lot of plugins running, try and deactivate one of them and see if it works.
Another case of plugin conflict would be between the All-in-One SEO plugin, and the Google XML Sitemaps plugin whereby one works, while the other doesn't.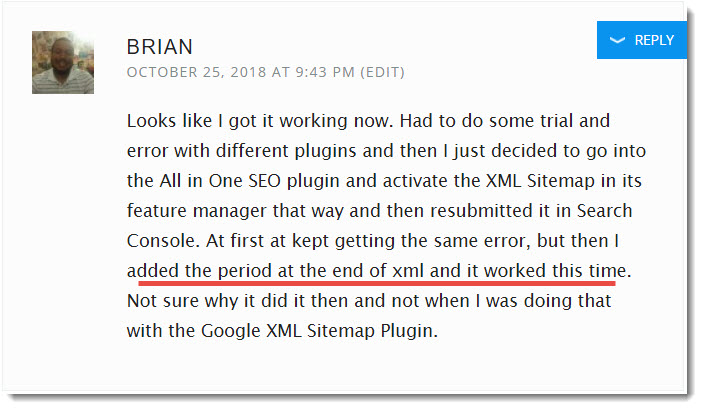 A friend of mine Brian had the very same problem so he fixed it by using the All-in-One SEO plugin first and when that doesn't work, he then switched to Google XML Sitemaps instead.
He tested out the URL again from sitemaps along with the full stop symbol at the end (Many forget this part) and he solved it already.
There are a few reasons as to why this happens and the first is because of the conflict of plugins if you were to install both All-in-One SEO and XML Sitemaps and use Sitemaps from both to submit which would result in a conflict.
Normally, we can already get through with the sitemaps thing through All-in-One SEO but certain themes may sometimes interfere with a plugin's ability (Like how I experienced with my contact form plugin which blocks me from editing content and images, annoying!)
Another reason would be that the sitemaps took a while to load, sometimes a few hours and in certain cases, a few days so if you're patient, you can wait a while before testing the plugin again.
Be sure to test the link first to see if anything loads up and if there's an error, that means it's probably not working yet and you shouldn't waste your time submitting it to Google just yet.
Complicated, I know but once we've taken care of the problem, we won't have to ever think of it again.
Problem #5 – Google accesses your sitemaps while they are still being generated
New websites won't have this problem because they are fresh and have no contents.
But if your website is an old one with hundreds of links going on, the sitemap might take some time to generate.
You should give it around 10-15 mins or so before you submit the sitemap again.
Want to Bring Your Site to Greater Heights? -Learn More SEO Hacks!
Getting your site indexed is one thing, getting it to the first page of Google is another.
When I first started blogging, I had no idea on how SEO works nor did I even know how to do it. I joined many blogging programs but most of them were scams and that's not the worst part.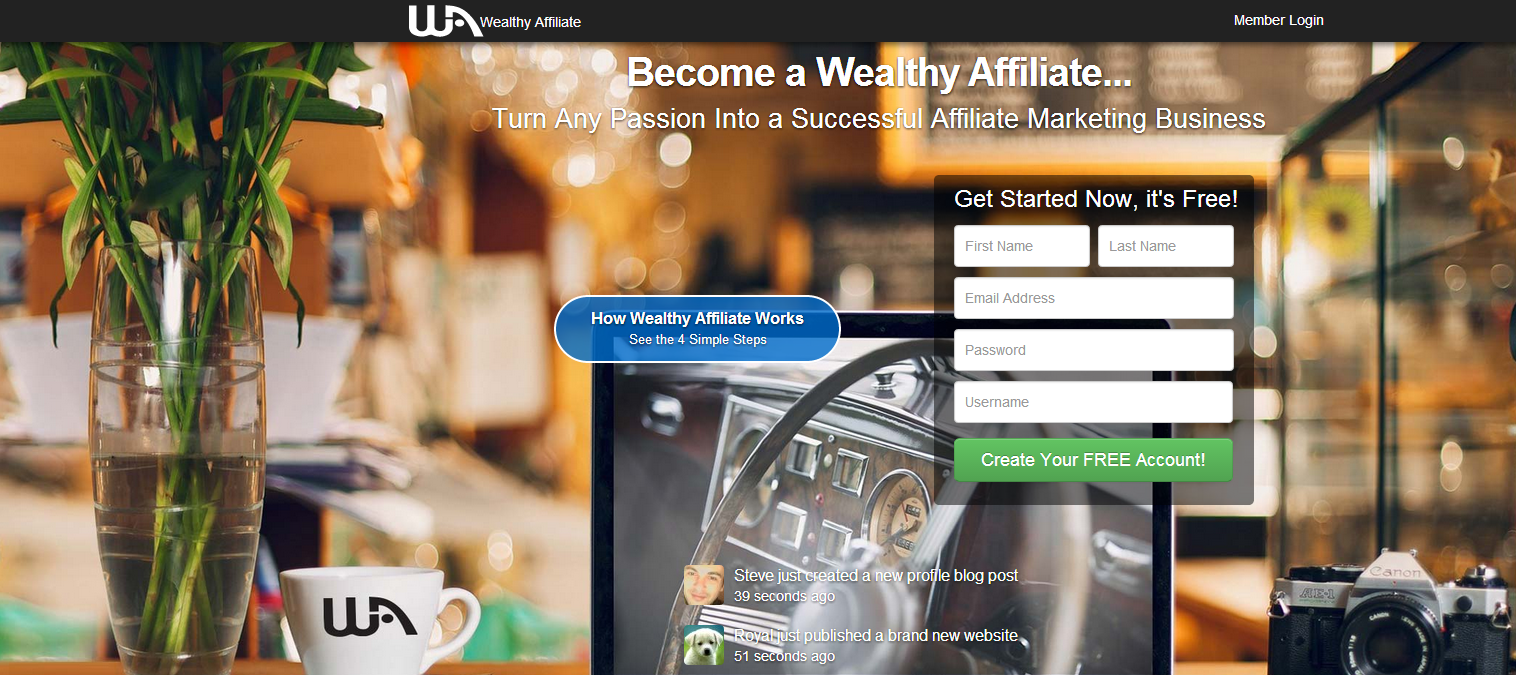 If you were to do SEO the wrong way using black hat techniques, you can end up hurting your site rankings even more and Google can be very unforgiving.
That is, until I came across Wealthy Affiliate.
WA is an Online Business platform which not only provides you with basic to advanced SEO courses, it also helps you to boost your rankings even further with their fantastic keyword tools and website speed accelerator.
Back then, none of my pages ranked well even though they are already indexed by Google but after implementing their lessons, most of my pages are now on the first page.
They have everything you'll ever need to help get your website that winning traction but personally for me, the most powerful feature is not those high-tech website tools – It's actually the community itself.
There are plenty of warm friendly bloggers ranging from newbies who just started, all the way to senior members who have been a part of WA for over 10 years and having the opportunity to interact with them is like having your own golden goose.
They share plenty of SEO secrets that they come across throughout their time blogging and you get access to all of those anytime you want.
SEO is a living breathing creature – It is constantly evolving so no same strategies will work after a few years. That's why you should never be alone in the Online Business world.
Having a community of like-minded people will definitely help you grow faster and plus, it gets fun too when you can compete with other site owners on your website progress 😉
Final Word
---
Setting up an XML Sitemap may be a daunting task but it's actually pretty simple.
All you need to do is to get your link first, edit it so it can start automating the process itself and from there, submit it to Google Search Console so that they can do the rest.
It's only complicated if you have some minor errors here and there which may be a tad annoying but I've laid out some fixes to those problems which should suffice.
If you'd like to learn more awesome SEO strategies to propel your website even further, check out where I learned mine from my top recommended program here.
Thanks for reading guys, let me know if you have any further questions down below. Toodles!