Product name: Ranking Miracle 2.0
Website: www.rankingmiracle.com
Type of business: Website building and SEO
Price: $17 membership, $37 upsell and $297 Skype call.
Owner: Dan Cheong
Overall Rank: 1 out of 5
[Update] After many complaints and backlash, Ranking Miracle 2.0 has finally been shut down so you won't be able to access their page anymore.
When Ranking Miracle came out, I was really hyped up because I'm always interested in learning how to further improve my website.
And when I find out how the program can bring any website on the first page of Google, I quickly bought the program without much thought.
However after a while, I started to lose hope because what was promised on the sales video, wasn't up to my expectations.
So here's my full review on Ranking Miracle 2.0 if you're interested to know what this program is about and why I am not so keen of it.
Pros and Cons
Pros
Visuals are pretty nice.
Easily refundable as it affiliated with ClickBank
Lessons are useful for beginners.
Cons
Dan only targets beginners so that he can entice them with expensive upsells.
Low-quality videos that make your eyes hurt. I can't even go full screen because the resolution is just too low!
The videos are not made by Dan himself. He outsourced random people to do the videos for him.
Lessons are too basic in which you can get for free elsewhere.
Some lessons focus on black hat methods such as link-building and PLR which I would totally advise against due to moral reasons.
Most of the lessons are pretty boring whereby there will only be one PowerPoint slide with the spokesperson talking non-stop on just that one slide.
Overly expensive one-on-one Skype call which Dan claimed to have been "reduced" to $297 especially for members. But in reality, other SEO companies will cost on average $76-$200 an hour.
You will need extra cash in hand because there is a point where you will need to outsource as part of the lessons.
Difficult to get to the member's area. Unlike many programs where you can just go to the website and log-in, getting to the members' area for Ranking Miracle is a bit annoying as you have to remember the members' link. The main page is only a sales video.
Jeepers, that's a lot of cons! Better check out my #1 recommended program here instead!
What is Ranking Miracle 2.0 All About?
Created by Dan Cheong, Ranking Miracle is an SEO education course that teaches beginners how to make a website and get rankings on the first page of Google.
It focuses on methods to monetize your website not only by offering a product on your site and selling it, but also by selling your services offline such as offering your service to build a website for people or even offering your impeccable website design skills.
I find the lessons to be pretty bland because in many of the video presentations, the video will only showone PowerPoint slide and spend the rest of the video period talking about that slide.
And if you want your website to be evaluated you can opt for a one-on-one Skype call with the Ranking Miracle staff for advice but of course that will cost you a certain fee.
However so, the lessons are pretty easy to understand as they are meant for beginners.
Ranking Miracle Members Area.
The member's area is easy to navigate and I particularly find the graphics fun.
Here's how it looks like inside…
It's a bit difficult to get to the member's area because the main page is only a sales page.
When you buy the program, you will be given a link that will lead you to the member's area so you will have to save that link which is a bit troublesome because we may never know when we'll lose it (I actually lost the link and had to email the staff for it).
Nevertheless, the member's area is quite easy to navigate and it has attractive visuals too.
Tools and Training.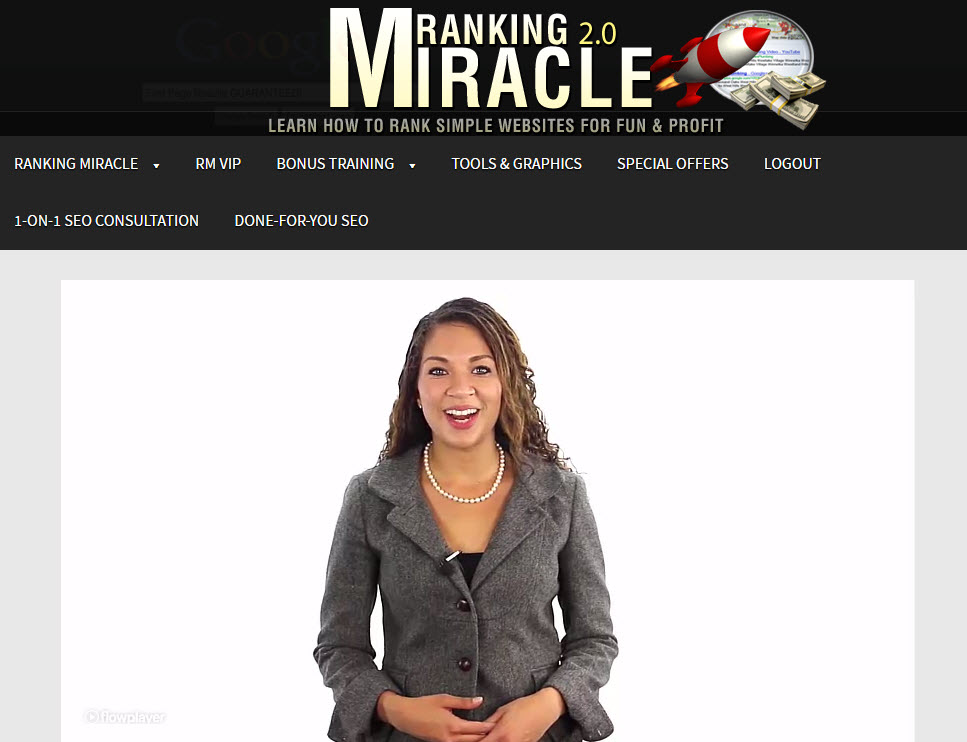 Although it's written in the program as tools, I find it to be more to templates though.
Here are some of those "tools":
Bad Ass Headlines – Cool headlines you can use in your promos
Banner Ninja – Banner templates
Juicy WSO Graphics – visuals for your Warrior Special Offer
Squeeze Page Madness – Opt-in page visuals
Headers Explosion – yet another file of header templates to choose from.
Ultimate Ministe templates – Template for sales pages
Sales Graphics Rush – More sales letter visuals
As for the training, there are 5 modules altogether:
Module 1
Why Is It Important To Learn About SEO?
How Do Search Engines Think, And How Can We Take Advantage?
Guarantee Your Income BEFORE You Start
Getting Hosting & Setting Up Your Website
Themes and Plugins For Your Website
The Critical Settings For Optimized SEO
Module 2
How Often Should You Publish Content
4 "Innocent" Things Google Will Flag You For
7 Essential Pages To Put On Your Website
What Goes Into High-Quality Content?
What Most People Ignore About Optimizing Your On-Page SEO
Module 3
Simple Web Analytics: Which Pages Bring In The Traffic?
How To Create Rapid, Expert Content
Why Great Content Is Never "Finished"
Analyzing The Competition For Links and Opportunities
Module 4
Setup & Backlinking Through Social Media
Creating External Sites Via Web 2.0
Anchor Text Strategy
Day by Day Backlinking Blueprint
Module 5
How SEO Creates Great Sales Funnels
Create A Squeeze Page Based On Popular Content
Automation and Outsourcing Tools for SEO: Which Ones Work?
Looking To Hire An SEO Consultant? Smart Questions To Ask
What I Don't Like About the Platform.
Maybe it's just my own perspective but these are some of the things within Ranking Miracle 2.0 that are just testing my nerves…
Red Flag #1- Inconsistent Video Quality.
A number of videos within this program are high quality which is good but most of the videos are just really unbearable.
The video resolution is so terrible that you can't even go full screen to watch the tutorial.
Here's how the high-quality videos would look like: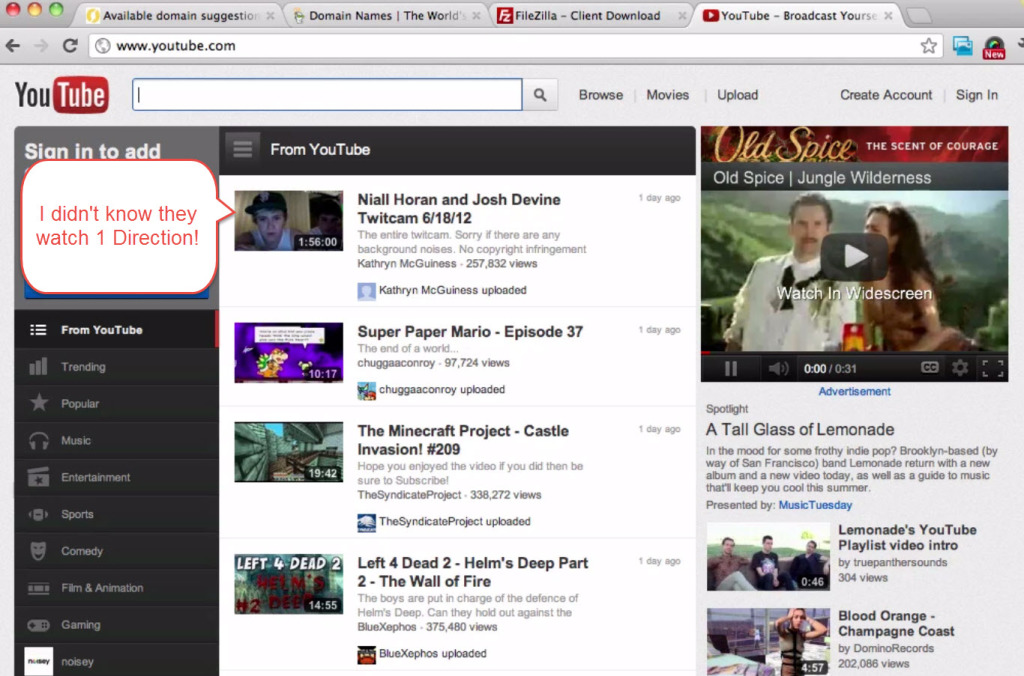 And here's how the low-quality videos would look like which is giving me a hard time to see:
The video resolution changes according to the person who is recording it because bear in mind that the modules are made by multiple freelancers instead of Dan.
I don't have much problem with that but dude, you gotta maintain consistency!
You might think that I'm picky but when it comes to tutorial videos where we are supposed to focus clearly in order to follow, this is totally unacceptable.
It is really different compared to when you're watching a casual video because you won't have to focus on details but when it comes to computer-related stuff especially when tons of words are involved, it can get really annoying when you can't even see what you are supposed to learn.
Most of the video qualities are really low that you can't even go full-screen so because of that, I would have to force myself to see using a smaller view so that the resolution won't blur out and I can see the words.
Forcing yourself to watch low-resolution videos for a long period of time will damage your eyes not to mention giving you headaches so don't force yourself to watch if you really can't bear it.
I know that feeling when we care most about the things that we spend our money on, but remember that there is a 60-day money-back guarantee which you can always claim if you are not satisfied.
If you want to provide high-quality lessons, don't you think it's better if you match that with high-quality videos?
Red Flag #2 – You Pay a Lot Just to Talk to His Staff and Not Dan.
Apart from his videos, Dan Cheong offers another service for Ranking Miracle 2.0 whereby he can have a 1-on-1 Skype call with you to give you advice on SEO.
Except that the consultation won't be made by him, his staff will take over instead.
Why would we pay that much just to talk with his staff?
It's understandable if it's regarding customer service but when it comes to a one-on-one consultation whereby we will be paying that much money, it only shows responsibility if the owner or manager would consult with us instead.
If you are simply outsourcing someone to provide a service, shouldn't you lower the price to match the quality?
He also stated that his initial price is actually $497 which he further discounted to $297.
If you are new to the world of Internet Marketing, then you should know that this price is a ridiculous sum.
Take a look at this…
According to a study made by an SEO company called MOZ, the average hourly rate for SEO consultants is around $76-$200.
Dan on the other hand, claims that he is "reducing" the price to "only" $297.
Now if you want to reduce the price to help your own members, shouldn't it be lower?
This is exactly why Ranking Miracle can never match up to my top ranked product where you can have SEO experts audit your website for free.
Red Flag #3 – They Teach You Black Hat SEO Methods.
Some of the SEO methods taught within Ranking Miracle are Black hat techniques that go beyond my morals such as the use of Private Label Rights (PLR), the use of  Backlinks, and stealing other author's content.
If you don't know what back-linking is, it is just basically buying loads of links from a certain someone to connect to your website so that you will look very established and promising when in truth, your site is just a week old.
In their videos, Ranking Miracle will tell you that using links will get your website ranked fast.
So does it really?
Yes, but not in the future.
After Google's' recent system update, they decided that websites are using links to cheat their way to success whereas other websites that have way better content and are more established are not getting ranked.
Do you see how unfair that is?
So to make sure that the internet is clean from the misuse of backlinks, the Google team is slowly reducing the effectiveness of backlinks which means that if you want your site to get better rankings, you should focus on good old quality content.
Here's a video by Matt Cutts, the head of the Google webspam team on the use of backlinks…
Many websites that misuse links are now losing their rankings in Google because they are being penalized, so now they have to work hard to get their site back on top.
PLR on the other hand, are eBooks that are made by someone else but they allow you to replace their names with yours for a certain fee.
What I don't like about this is that you are portraying someone's eBook as your own and although they have no problem with that, I wouldn't want my success to being based on lies.
Red Flag #4 – Recommending You to Hire Other SEO Consultants Instead.
Ranking Miracle is supposed to show you how to be good at SEO so why on earth are they asking you to look for other SEO consultants instead?
Hiring an SEO consultant is very pricey and it usually costs a few hundred dollars which I would not recommend because why buy Ranking Miracle if in the end you are going to hire an SEO consultant instead right?
What is even weirder is that Dan Cheong has his own SEO Company where his staff will be entertaining your done-for-you-SEO requests or your one-on-one Skype call which is already included within the Ranking Miracle member's area.
If you are running an SEO company yourself, why would you promote your members to try out your competitors' services?
Honestly, sometimes I have no idea what they are trying to do.
Is There an Active Community? -Don't Think So.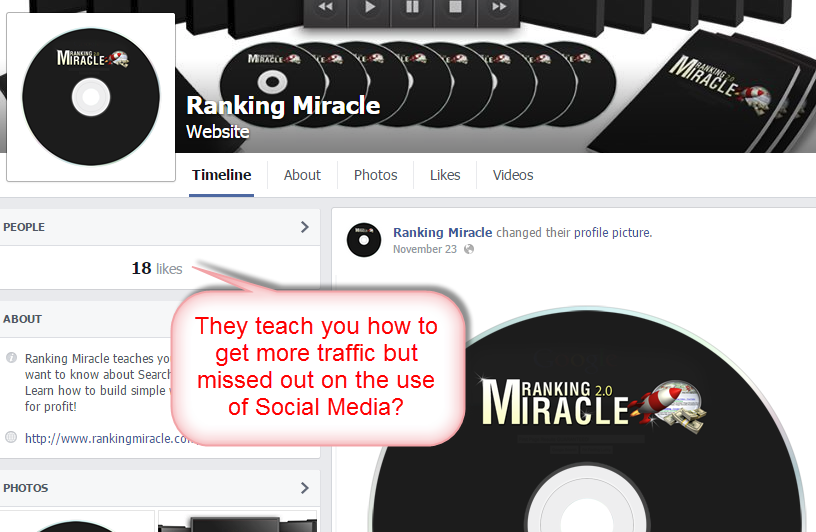 No, there is not.
Not even on their barren Facebook, or on any other platforms.
When I first joined Ranking Miracle, I wanted to see how the community is doing so I did some digging and couldn't find any members out there which is weird.
Sure, building a website is doable but you may never know when you are stuck or when you need a boost of motivation and inspiration which is why I can't stress enough on joining a community.
Especially when it comes to website building, you need to see how other members are doing theirs because from there, you can learn what they add to their site in order to make it successful, and why some other members are failing.
Pricing Strategy.
Don't you just hate upsells?
I particularly hate it when on the sales page, the seller tells you that the price is $17 but after you buy into the program, there are more hidden costs that you didn't know of.
Here's a breakdown of how much you will be spending on Ranking Miracle 2.0:
Original membership cost – $17
Free Traffic Playbook upsell – $37 (If you try to click away, it will reduce to $27)
1-on1 Skype call – $297
Other outsourcing costs – $20-$100+
Now bear in mind that all the other choices are optional meaning you can either choose to buy or not.
But Dan Cheong cleverly made those upsells compliment the program so much that you would just need to buy them.
For example, the $37 Free Traffic Playbook upsell will show you ways on how to drive immense traffic to your site for free which you will be needing in order to make money from your website.
And the $297 Skype consultation is also necessary at least once a month so that you can check on your website progress and whether or not your SEO is working well.
And of course, there are other upsells to consider.
In my opinion, this is really an unethical way of pricing because since the customers will eventually buy into those upsells, why not just sum up the price and charge it beforehand so that we know our budget?
Many newbies fail to make any money at all because they didn't know that they needed to prepare more money after joining so due to insufficient funds, they are left stuck without progress.
A legitimate online business program would not have upsells because that way, users can learn and grow their skills to their full extent without having anything holding them back except for themselves.
Do I Recommend This Program?
No, I don't.
Not only are the lessons quite broad and not specific at all, you can also find those lessons up on Google if you wish to know more and there are plenty of blog posts and tutorials that are more detailed and specific complete with proper information on how to execute on a way that is on par with Google's requirements.
There is a mixture of legit SEO methods and black hat SEO methods which I particularly am not fond of.
Sure using black hat methods can rank your website fast but not only is it immoral, but you will also be on the fence because Google can notice your website actions anytime and when they do, you can risk being penalized which is a terrible consequence to your website as you won't able to find on search engines anymore.
If you wish to learn SEO the proper way, one program I can recommend you is Wealthy Affiliate.
It is an Online Business platform that helps you build a website and monetize it by driving traffic through SEO which you can learn from their immersive courses and live training sessions.
In fact, it's how I managed to rank my website and a good example would be this very review that you're reading.
If you've come across this page, chances are you might have stumbled upon it online while on Google and that's for a very good reason.
It's because the content is good enough and the SEO methods I used are on par with Google's algorithms to allow them to rank me properly for several years now since I first wrote this article which shows that the lessons I learned works which is why I urge you to check it out if ranking your page is your main concern.
As you may have know, only by ranking your site on the first page of Google will you truly get endless passive traffic because not only is it free, most people would usually click on the first few sites that are on the first page of Google rather than having to waste their time flipping through the next pages.
Having one page to rank is good enough as it will keep on bringing you traffic for that particular page for as long as your website exists which you can potentially monetize from but if you are a blogger, it is our bread and butter to get most if not all of our blog posts on the first page and that's our number one goal as ranking is very important.
There's a lot that I can talk about but just to give you a quick overview, here's a quick comparison between Wealthy Affiliate and Ranking Miracle…
Conclusion
---
I have to admit, Ranking Miracle 2.0 can in fact make you some money.
However due to the sly black hat SEO methods being taught to cheat your way to success, due to the unnecessary expensive cost which you can get free elsewhere and of course, due to the fact that most of the information can be gotten free on the internet, I wouldn't recommend anyone to invest their time on money on something that can not only waste your money, but also get you penalized as Google's algorithm today is stricter than ever when it comes to proper SEO implementation.
If you're really interested in building a website for free and getting it on the first page of Google without using black hat techniques, check out my #1 recommended program here instead.
Thanks for reading, do share your feedback below as I'll be more than happy to reply 🙂