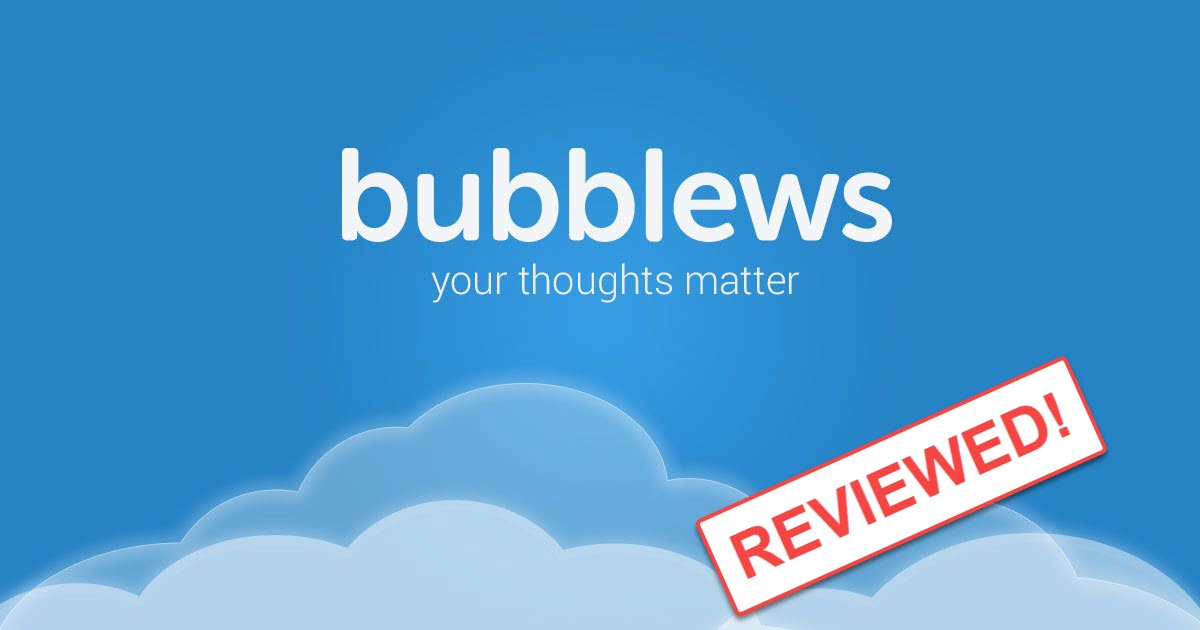 Product Name: Bubblews
Website: www.Bubblews.com
Type of business: Blogging platform
Price: Free
Owner: Arvind Dixit
Overall rank: 1 out of 5 ⭐
Bubblews was the first-ever platform online that actually helped me make money online.
I tried Bubblews from January 2014 until May 2014 because I was desperate to make some side income and also due to the fact that my English teacher was recommending it to me.
Although it wasn't much, I managed to make about $10 a day which I guess is good enough for a student because if I keep a regular schedule and blog every day, I can earn about $300 a month.
And since the currency is in USD, that means I can earn more when I change it to my country's currency which is in the Malaysian Ringgit (MYR).
However after my third month, Bubblews started applying some changes which resulted in many of its members not being able to cash out their hard-earned money that has been accumulating in their account, including me.
After 1 month of emailing and trying to contact support, in the end Bubblews deleted my account without giving me back my extra $435.
All that time and effort of waking up very early in the morning before my class to get to work in Bubblews went straight down the drain.
You know now that my review is not going to be a good one so do bear with me and continue reading the rest of my review as I share with you my story on Bubblews.
What is Bubblews all about?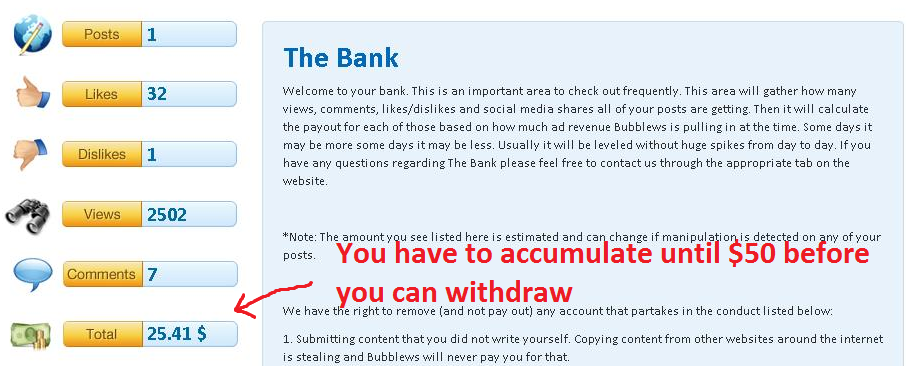 Bubblews is a sort of a blogging platform but with a twist of money to be earned.
How it can earn you money is through your views and likes that you will be getting from your Bubblews blog post which you'll need to write daily and in order to earn more from those posts, you'd also have to engage and chat with the other users within the network so that they too will go to your Bubblews article post and give you more likes and views to help you earn.
It works like a Give and Take sort of thing whereby if you don't interact with the other users' Bubblews Post articles that they published, it will unlikely that they will reciprocate that back to your posts so you see, there is a community inside and you are of course not the only one who will be blogging all day long as everyone is also doing the same thing as you and are writing articles daily.
You can only post a maximum of 10 blog posts a day and that being said, each of your blog contents needs to have at least 400 words.
400 may seem like a lot but after a while, trust me you can write that much in less than 10 minutes!
After writing your contents and getting your cash accumulated within your bank account, you can withdraw through Paypal after you've collected a minimum of $50 and this process is called Redemption.
Pros and Cons
Pros
It is free to start.
You can write about anything you want and nobody knows who you really are.
Doesn't matter if your English sucks because nobody really reads them besides skimming just for the sake of getting some credits.
Attractive website and easy to understand.
People are friendly and do not condemn you compared to those who are in MLM programs.
Cons
All your blog content belongs to Bubblews and not you!
If you delete your Bubblews blog post, your bank account will be negative as a sign that you are owing Bubblews money (Really, what kind of mentality is that?).
Takes up too much of your time (Some people spend time on Bubblews up to 10 hours a day)
Bubblews will not give you redemption every time you click on it, resulting in the loss of your money.
Very unregulated content management which Google doesn't like. (Noticed how there are very few Bubblews blog posts coming out in Google search compared to Hub Pages?)
The website is extremely unstable and keeps crashing.
Loads of server error.
Lots of bad reviews all over the internet.
Bubblews will attempt to delete your account of what you are starting to earn at a fast pace.
You will never know if you've broken a rule or not. And Bubblews will never inform you because that way they can always use it as an excuse to take your hard-earned money for themselves.
Gosh, that's a lot of Cons! Better check my #1 recommendation here instead!
Red Flags – Is Bubblews Worth Putting Your Time In?
Before you decide to try Bubblews out, you should learn these few dangerous signs regarding this particular platform…
Red Flag #1 – Bubblews will NOT Give You Your Money Back Willingly.
What is even more frustrating than not being able to withdraw your own hard-earned money until a point that it is lost?
You see, every time you want to withdraw your accumulated cash within Bubblews, the bank will clear it back to zero.
But supposing Bubblews does not give you your redemption, all of that hard-earned money will disappear (Disappear for you, but appear in Bubblews pocket).
Bubblews is famous for not replying and everyone tries to understand that there is insufficient staff within that company but really, why not just hire more staff when they are already making so much money?
When starting Bubblews, you earn at a very slow pace of about $1 a day but after a month of blogging there, you will earn your Bubblews money at a very fast pace ($10-$20 a day) and that is a threat to them because they will have to pay you more and more.
So when that happens, Bubblews will start making your redemption process more hectic to a point that they just won't give you back your money.
So what happens when you don't get your redemptions?
Of course as unsatisfied users, we would contact support endlessly and demand our money back but when this happens, Bubblews will try to protect its reputation the easy way out – by kicking you out.
Red Flag #2 – Takes Up Too Much Time and Energy for Very Little Return.
In Bubblews, you need to write at least 400 words worth of content for it to qualify as a blog post.
I know, I know, 400 is piece of cake.
But remember, the way you earn most of your money is only through the likes, views and comments which means you have to work hard to build your relationship else the community won't want to come to your blog.
Because of this, many veteran users spend about 4 to 10 hours a day just to mingle around the Bubblews community to like and comment in hopes that you can attract more people to visit your blog and return the favor.
And don't get me started on the number of posts you have to do because usually for me, I write ten posts a day so you could just imagine how much effort that takes plus all of the interaction you have to do with your network because if you do not make friends and interact on other people's pages, they will not interact with yours.
And when they don't interact with yours, you get fewer views and comments hence lower earnings.
I remember I was juggling my time between studies and doing Bubblews every day, it was very hectic for me and I was under a lot of pressure and stress, especially when exams are near.
I would wake up very early in the morning to start doing my Bublews work and from there, go to university very early at 7 so that I can use their library to continue before class as I really wanted to earn so that I can get food on my table.
I had no choice but to go through with Bubblews because I needed the extra cash to help support myself as I don't have time to work with my busy schedule.
In the end, I don't have the freedom for myself at all because I spent all my free time on Bubblews until midnight for very little earning so you can imagine my devastation when Bubblews deleted my account along with my remaining redemption.
After that I decided to start my own online business so that I can have more time for myself to spend with my family because my website is making more money without me having to spend half days on it.
Red Flag #3 – Very Low Site Trust Rating.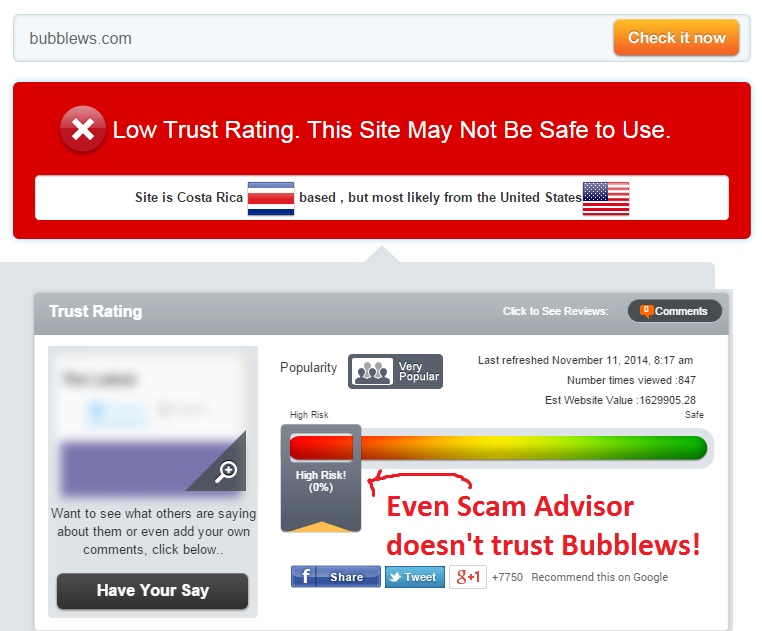 Besides my own perception and a low rating for Bubblews, there are other people giving bad reviews as well, including ScamAdvisor.com.
Scam Advisor is a website that evaluates the trust and safety of all the websites on the World Wide Web and according to them, Bubblews has zero trust rating.
How weird is that?
If one of the World's most reliable website safety detection system doesn't trust Bubblews, I wouldn't even begin to advise you to join.
Red Flag #4 – Very Unstable Website.
One of the most annoying part of Bubblews that really ticks me off is the fact that the server is extremely slow!
It is so unstable that it keeps on crashing so very often like nobody's business.
According to IsItDownRightNow.com which is a website server-checking service, Bubblews seems to be rated as fine.
There is something definitely wrong about this because I have friends within Bubblews who were also having the same issues as me.
So I decided to take up the initiative and dig in further and from there, I noticed that other members are also saying the same thing about Bubblews.
Some websites become unstable from time to time but Bubblews's rate of website instability is at least 2 or 3 times a week which can get really annoying because that will further extend the amount of time you will be spending in Bubblews because you want to make up for your loss!
Is Bubblews Reliable? -Definitely Not!
If you've been reading until this part, you know just how unreliable Bubblews's support team really is.
They have a terrible support system that doesn't even reply to you when it's regarding your redemption as all they think about is money and in order for them to make more for themselves, their team will do the unspeakable act of simply ignoring you and prohibiting you from redeeming you own hard-earned cash that you've poured your heart and soul into.
Every day a lot of members got cheated out of their redemption because whenever they try to withdraw, Bubblews won't reply to them hence the money being lost…to the pocket of Bubblews!
However, their team plays safe as they still give redemptions to some members to protect their image in return they get some sort of positive reviews and most of them time, those members are new members which are why some users would go beyond by deleting their account and creating a new one which isn't really a nice image for the company.
There's a Better Choice.
If you like to write, there's another way of how you could earn.
After being cheated in Bubblews, I roam from program to program until I finally settle to the best one so far – Wealthy Affiliate.
It's basically an Online Business platform that helps you make money online by writing articles and to date, it's still my top-rated program because it has a great community and updated lessons to help you build your own viable business online which compared to Bubblews, has way more benefits as well as earnings.
Practically, you build your own Online Business by building your own website, writing content, publishing it, and ranking it well with Google the right way.
Ever wondered how you came across this very review?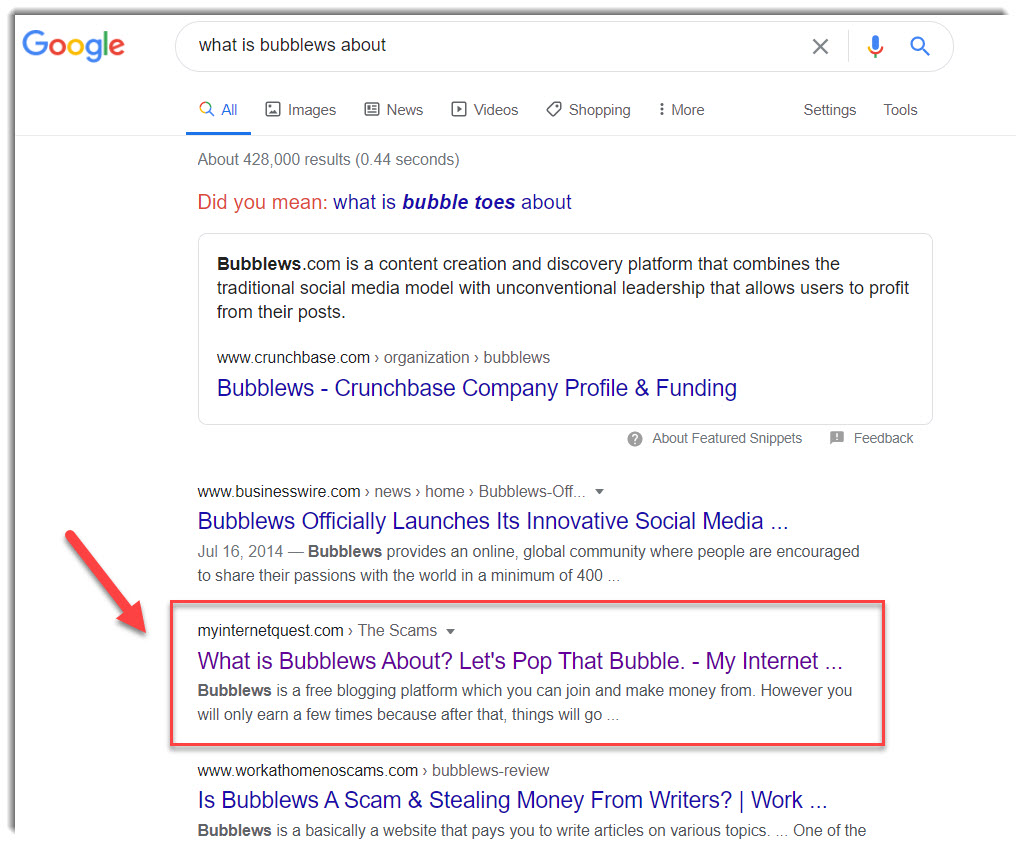 It's because I wrote it.
On my own website, and on my own terms.
Because it's following good SEO, Google and Bing both ranked me well which is how I got it to rank on the first page of search engines.
It's completely legitimate because if not, Google will not rank me so I practically have nothing to worry about, unlike Bubblews which I found out, isn't doing well by Google as their methods are against SEO factors.
The more I focus on my blog, the more visitors I get which of course, affects the amount I earn which is why it is such a great model as you can focus all of your energy on doing anything that you like.
Wealthy Affiliate is currently my top-rated program so if you're from Bubblews and are scammed as how I was scammed, I would recommend you venture into Affiliate Marketing instead.
Here's an overview of the two platforms to help you decide better…
Final Word
---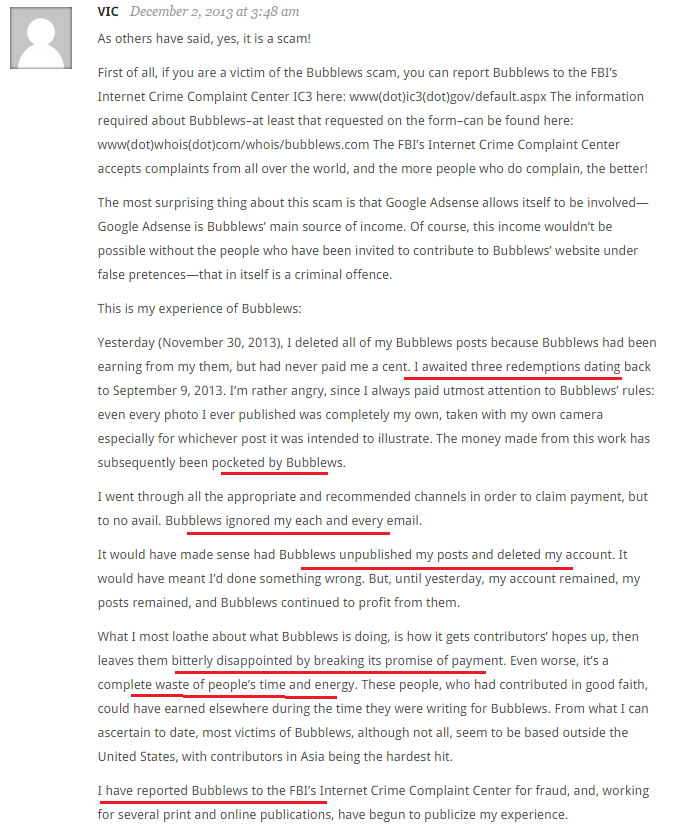 Don't get me wrong, Bubblews can still make you some extra cash as I used to make about $10 a day.
However due to the ridiculous amount of time you have to invest in order to accumulate your points, the extremely little money that you earn in comparison to the hard labor you'll be doing, as well as the uncertainty of Bubblews to give back your money no matter how many times you tried clicking for support, it is definitely a scam and receives a rating of only 1 out of 5.
If you're interested in making money online, I would really recommend you start your own business by checking out my #1 recommended program here instead as you can earn more and grow it according to your own pace not to mention being a lot safer.
Also, do feel free to share your experiences on Bubblews below as every bit of information helps us decide better.