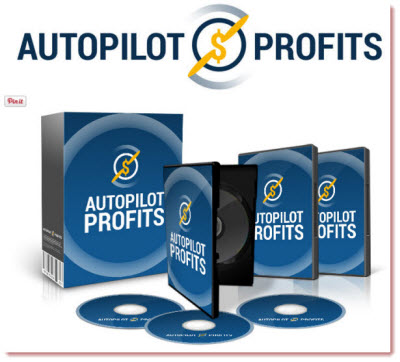 Product name: Autopilot Profits
Website: www.autopilotprofits.com
Type of business: Online business course/ Affiliate marketing
Price: $37 + 14 more outrageous upsells!
Owner: Ewen Chia
My rating: 0 out of 5 (SCAM)
[Update] If you check out their site, they've been banned already. Finally!
Being in the Internet Marketing world for a few years, I can spot a scam from afar.
I've always known Autopilot Profits to be a scam but due to the fact that its owner (Ewen Chia) is Singaporean, I find it intriguing to see how an Asian online business course looks like an so I decided to dive in and take a closer look to understand what the program is all about.
It is rather inspiring to see Ewen Chia's videos as he is in fact a motivational speaker but what he promised on his sales page does not even come close to what we expected.
As I go through the program, a thousand and one questions run through my mind like is Autopilot Profits a scam for real, is it more honest than it looks? We all know how not to judge a book by its cover.
More importantly, is the price really worth it for the lessons provided? Some might even think Autopilot Profits is a pyramid scheme as it has that sort of bad vibes just by the look at it, but is it really? I know, you're curious, right.
There are a lot of points that I could talk about so do continue reading my full Autopilot Profits review to find out the full story of how I got cheated and so could you if you're planning to commit to this particular program.
Pros and Cons
Pros
Money-back guarantee – It's under ClickBank which means your money can be refunded as they have their own code of honor to uphold to.
Motivation – You will feel hyped up with Ewen Chia's sales speech which could help you get going if you're down.
Cons
ANYONE can access the member's area! – Why charge you when the website link isn't even secured enough for members? At the very least, having a login account would suffice but nooooo.
Upsells galore – You will have TOO MANY upsells (14 of them in fact) bombarded to you that you can't even read something without promotions popping out every now and then. Now that you mention it…
Upsells are TOO annoying! – You can't even read the member's page without getting promotions popping up every 2 seconds! Not only is it annoying, it is also very distracting as you can't even read the articles without having promotions stuffed in your face.
Unrealistic expectations – Ewen Chia boasts about buying Ferraris to motivate you into buying.
Blackhat lessons – The training included are of unethical methods to earn money by cheating other people of value as to how Mr. Chia tricked you (And me).
Classic evil upsells – Remember the times when resolutions were bad and upsells were made to pop-up annoyingly which looks like an obvious scam compared to the modern-day ones? Well that's what Ewen Chia's upsells look like.
Fake Promotions – Putting a countdown for promotions is good but putting a FAKE countdown just to get people attracted enough to buy is a very dirty trick that further shows the mark of a master scammer.
Unfair pricing – If you try to click away from the main page, a pop-up will appear which further discounts the price in order to appeal to more people. However, won't you feel offended by the price change if you have already bought the program?
Lack of direction – There are SO many promotions being bombarded to you that the value of the program reduces in quality. There are only 3 lessons and the rest are all upsells.
You pay JUST to qualify to BUY! – I feel like vomiting at the amount of upsells you will be put through to watch. Since there are only 3 lessons in the entire program, guess what the rest of the links are for? Upsells.
Time-consuming sales process – There are too many upsells after you made your payment that it will take you around an hour if you read all of those promotions and watch the videos before you finally reach the member's area. Have I mentioned the super annoying upsells? Whoops.
Jeepers, that sure is a lot of cons! Better check out my #1 recommended program here instead!
What is Autopilot Profits and How Does it Work?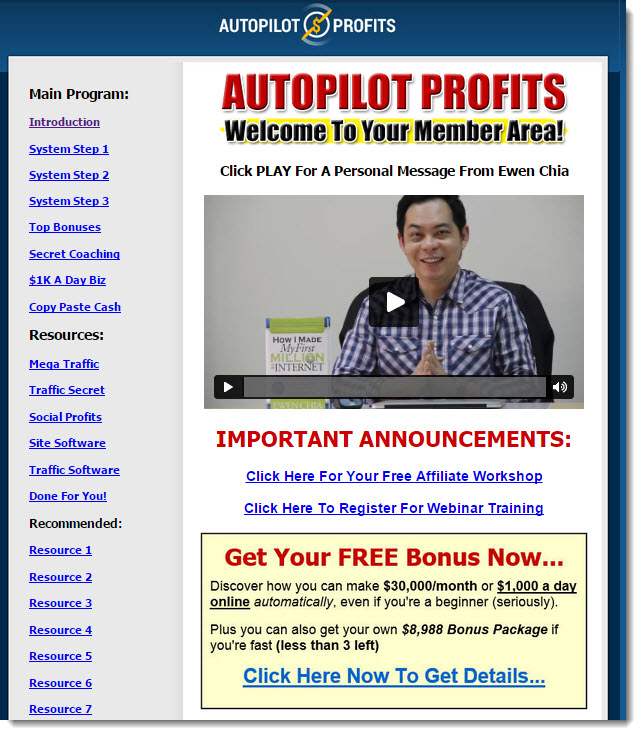 Autopilot Profits is an Internet Marketing course that focuses on teaching you how to make money on the internet.
It has a wide array of lessons and tricks which you could take advantage of to help you understand better how the Internet Marketing world works, specifically within the Make Money Online niche.
However compared to other proper Internet Marketing courses, Autopilot Profits seems to care a lot more about draining money out of the customer's pockets instead of really giving you valuable education which I've seen better.
Basically, how Autopilot Profits teach you to make money is by spending more of them on marketing such as through solo ads and by buying other MLM products to sell which is very risky considering you won't know if you will ever get back those few thousand dollars you've just invested and it is also something to consider on if you are okay with promoting or utilizing that knowledge as it's on the grey area of Internet Marketing where it's not right nor is it wrong to do.
You will be taught how to find products to promote in order to get commissions through Affiliate Marketing, how to create your own squeeze page which is like your sales page to get people attracted, and how to drive traffic to your offer so that a percentage of those people would want to buy.
Ewen Chia will also emphasize you on building websites in order to lead people into buying your offers and increase conversions which is actually fine but in my opinion, also something to really think hard on if the website does not have any valuable content besides pure links as it might not be as effective today due to Google's algorithms for anti-spamming.
Tools and Training – Are Any Useful?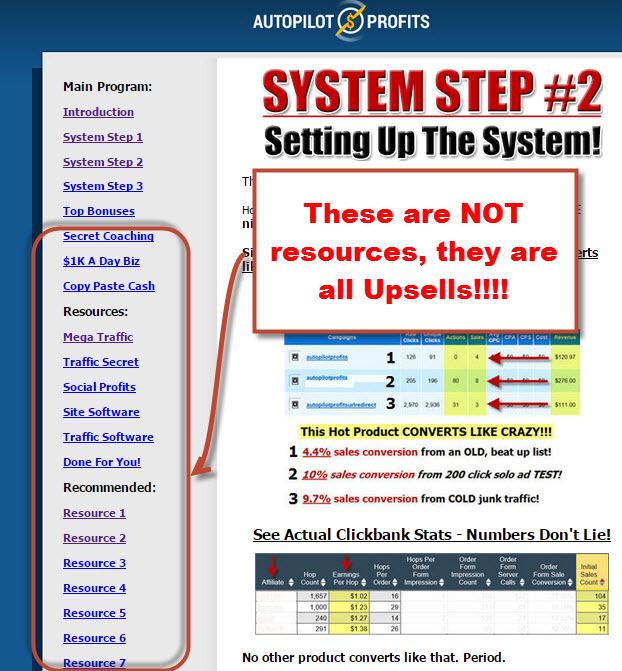 I regret to say that there are NO real lessons in Autopilot Profits at all.
90% of the entire program consists of upsells so you can bet that the lessons are so few in numbers.
There are resources which a real online business course would provide to help you learn and succeed but unfortunately, there are NONE of those whatsoever in Autopilot Profits.
It is as though you're brought to an open space to be spammed by countless of offers which Ewen hopes on getting at least one sale from you.
Still, here's a breakdown of the lessons for Autopilot Profits…
Training #1 – Learning the system (Basically you just get a brief overview of how the internet works and how to create a squeeze page)
Training #2 – Setting up the system (Lessons on traffic through solo ads and how to get affiliate links to promote)
Training #3 – Profit with the system (More traffic lessons)
What I Don't Like About Autopilot Profits
I am really annoyed at Ewen Chia right now for wasting my money and time so please, do allow me to share with you some of the things which really upsets me the most (And so should anyone who has already bought this program)…
Red Flag #1- Too Many Promotions Which is a Waste of Time.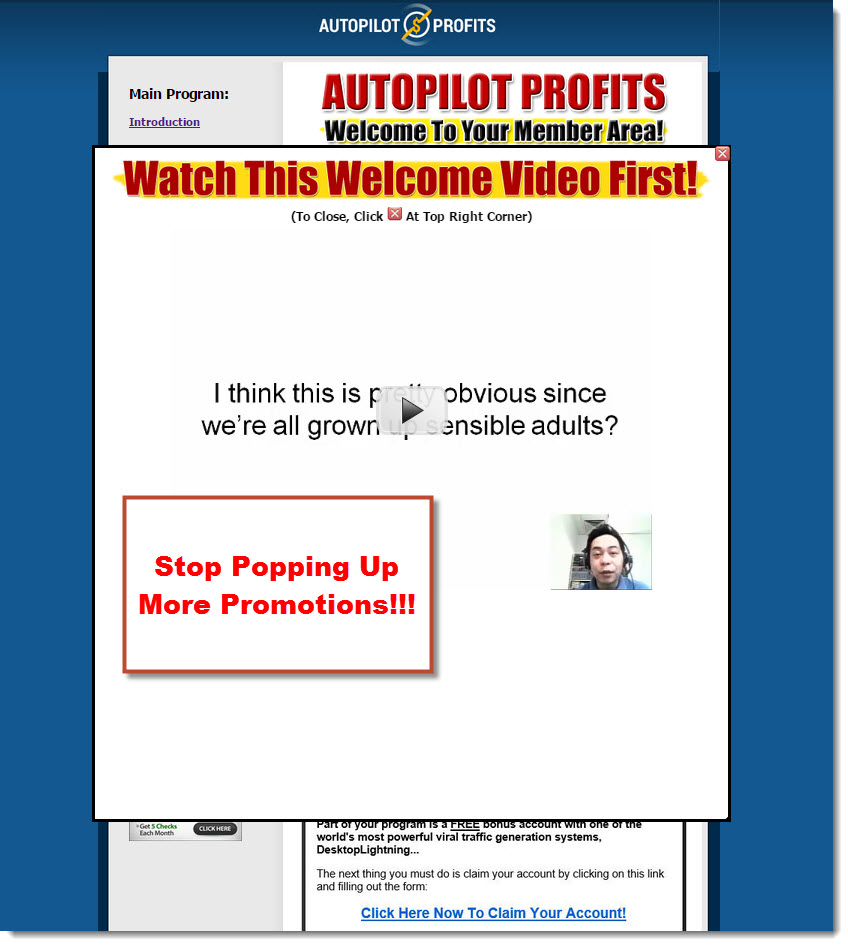 Overall, there are around 14 slimy upsells (There's a list of them down below) being promoted to you right after you've paid that $37 initial price.
The promotions are so tedious, boring and time-wasting because you have to read through the sales page and watch the videos which seem like forever.
In fact, the promotions even pop-up when you're already in the member's area!
A proper Internet Marketing course would only have one upsell or two whereas scams would have a few upsells but never have I met any program which has 14 upsells!
After some time of clicking to close those upcoming upsells, you will start to wonder if this program really is a legit program because it seems like forever to reach the member's area, if there even is a bloody member's area!
You will waste a huge amount of your time already before you even reach the member's area and I bet many users would have given up hope with this rubbish.
As if the promotions are not enough, you would be surprised if I say that…
Red Flag #2 – Ewen Chia Wants You to Join MLM!
Take a look at this…
Would you believe that that "Bonus" Ewen was talking about is actually a trap to get you here…
Some might like Multi-Level Marketing (MLM) but it is not meant for everyone, especially newbies because you need a very strong will to get into that industry.
How MLM works is by rewarding you with money if you manage to close some sales and put your customers as your very own down lines to lead.
It may look easy but with the highly overpriced entrance fee coupled with the lack of product value as well as the current perception that people have today, it still amazes me as to how people can still refer others to join.
Ewen Chia makes use of this by promoting Pure Leverage and MTTB from MOBE which is 2 of the biggest MLMs on the internet to date, which he simply synchronizes in one of his many upsells so that people would not know.
This is a very dirty tactic which I really despise Ewen doing and is exactly why you should avoid Autopilot Profits at all costs.
Red Flag #3 – Unfair Pricing Tactic.
I really hate it when someone lies just to get the better of you.
Ewen Chia has a trick he uses to get a higher conversion out of his visitors.
Naturally, not everyone will be tempted to buy an offer however nice the salesman pitches.
There are many ethical ways on how to tackle this issue but Ewen Chia took the sly path out by lying to the people who try to click away with a discount.
When someone tries to click away, an irritating pop-up will appear which blocks you from clicking away or closing the page.
And what's even more irritating is that there are just so many exit blocks for his offers that it gets annoying after a while that I had to opt of an ad blocker which is pretty frustrating since I knew at the point that I had just spent money to purchase one of those old school scams.
Seeing that the offer has a discounted rate, Ewen tries to get the reader to act quickly by putting a countdown and saying that it is only a one-time offer.
The problem?
It is not a one-time-offer (OTO) and that countdown is nothing but fluff to trick people into buying.
Sure it may be a blessing in disguise for some but for most of us who have already bought Autopilot Profits with the $37 price will feel cheated because others can buy at a cheaper price while we have to pay in full.
Unfair pricing may be a bad and unwise move but nothing will prepare you for what comes next…
Red Flag #4 – Did You Know That ANYONE Can Access the Not-so-Secret Private Member's Area?
You actually can access the member's area by typing in www.autopilotprofits.com/apma.
[Update] – Since Autopilot Profits has been banned, their website does not exist anymore nor is their member's page extension.
I am really speechless at how easy it is for anyone to access the member's area.
If it is so easy, why would anyone want to pay for it?
Not only does this show how unprotected the Autopilot Profits member's area is, it is also unfair for the other members who have already purchased the program!
Imagine you spending full price for something only to know that the guy after you got it at a much cheaper rate and that you could even get that much, let me tell you it's not a pleasant feeling.
Ewen doesn't think of how his users would feel nor does he even care which is why I really hate his methods which further shows how low quality this program really is.
A legitimate Internet Marketing course would have added security to the member's area, even for a free trial account which many programs are now offering to get people to trust them.
Ewen could have implemented that but I guess he already knows that we would just leave knowing how terrible his system is.
Red Flag #5 – Ewen Chia Spams Emails Like Nobody's Business!
When you come across a website that you absolutely love, you will surely opt-in for the email newsletter, will you not?
The act of giving an email is something sacred and for the business end of things, this shows that you have the reader's attention and liking which means that you have the opportunity to convert a freebie-seeker into a buyer.
Ewen however, sees that as an opportunity to spam you 5 emails a day in order to just sell you more!
I opened his email and this is what I get instead…
There is no real value in Ewen Chia's emails and they are all meant to sell his products which I find really annoying.
If Autopilot Profits Has Been Around For Many Years, Why is the Community Dead?
Communities show how powerful a program or course really is because why else would people still linger and communicate and joke around if they know that they are scammed?
And if the community do things like warning new joiners to turn back and get their refunds back, it can show risky that course is which is why Autopilot Profits doesn't have one because Ewen Chia knows how low value his program is.
It's like going to a restaurant – If you see 2 similar restaurants but one of them has got a very long queue, you just know that those 100 people must have been standing out there because they know how great the restaurant is.
Autopilot Profits on the other hand, is the exact opposite because it is so focused on upselling people more and more products, there's practically zero community interactions whatsoever!
You can't even find people of similar minds or just about any other Autopilot Profits members to ask around which is very disturbing.
If Ewen Chia is one of the top millionaire Internet Marketers out there, why is nobody following him?
I wanted to see if there is a community of people for me to ask questions about this program and since there are no community areas whatsoever within the Autopilot Profits members area (Major flaw of this program), I decided to find it in another possible place people tend to group up in – Facebook.
To my disappointment, there are only a few Autopilot Profits Facebook pages and none of them community-based.
Instead, I only found sales pages where people post promotions or more hype to get in more people to click on that link which is of no help at all.
A proper online business course should have a community because trust me, having a mentor to teach you, seniors to share their experiences as well as others who are just as motivated as you will go a long way to helping you succeed online which is why Autopilot Profits will never come close to my top-ranked program.
Pricing Strategy – Is it Worth the Cost?
The pricing strategy is also one of the biggest flaws of this program and I've always wondered how Ewen Chia still manages to trick people into buying his evil program.
Here's a breakdown of the prices and upsells of Autopilot Profits to help blow you away…
Autopilot Profits – $37 but will become $27 if you try to click away.
Mega Traffic Package – $67
Autopilot Social Profits – $147
Instant Websites – $197
Ultimate Free Traffic Software – $297
Traffic Millionaire – $19.97/ month
Shortcut to $10k – $9.97
Super Affiliate Millionaire Online Workshop training – $297
Cash Biz – $29.97
Traffic Avalanche – $37
Copy Paste Income – $37
Complete Business Setup – $297
MTTB – $49 + 19/month + $1997
Pure Leverage – $24.95/month + $19.95/ month
Total expenditure if you were to buy everything – $3,804.75!
Egad!!!
And I haven't even included the monthly fees for some of those programs yet so you know now that the original advertised price of $37 was nothing but hype.
You practically pay just to be sold more which is utterly ridiculous.
Most of those offers are upsells of Ewen Chia's own products but if you look closely at my price and products breakdown above, there are 2 programs that are not even related to Autopilot Profits!
Pure Leverage is an MLM program made by Joel Therien whereby MTTB is part of a huge MLM scheme called MOBE which is also a huge reason for you to avoid as I have known these 2 programs very well and have had a very bad experience with them.
Do I Recommend Autopilot Profits?
No, of course not.
Autopilot profits have no value for money as the program itself is nothing more than a platform for Ewen Chia to sell you more of his products.
Even though there are still some lessons which we can access in Autopilot Profits, I highly advise against it as the methods you will be learning are all blackhat and unethical.
If you are looking for a more ethical way of building an online business, Wealthy Affiliate is the best program for that and it is also my #1 recommendation to date.
In Wealthy Affiliate, you will learn how to build a beautiful and impactful website that you'll be proud to call your own and out of any passion you have, you can learn how to create a blooming business from it.
When you have a proper website, everyone will love to drop by which makes Google even more attracted to it hence giving you this…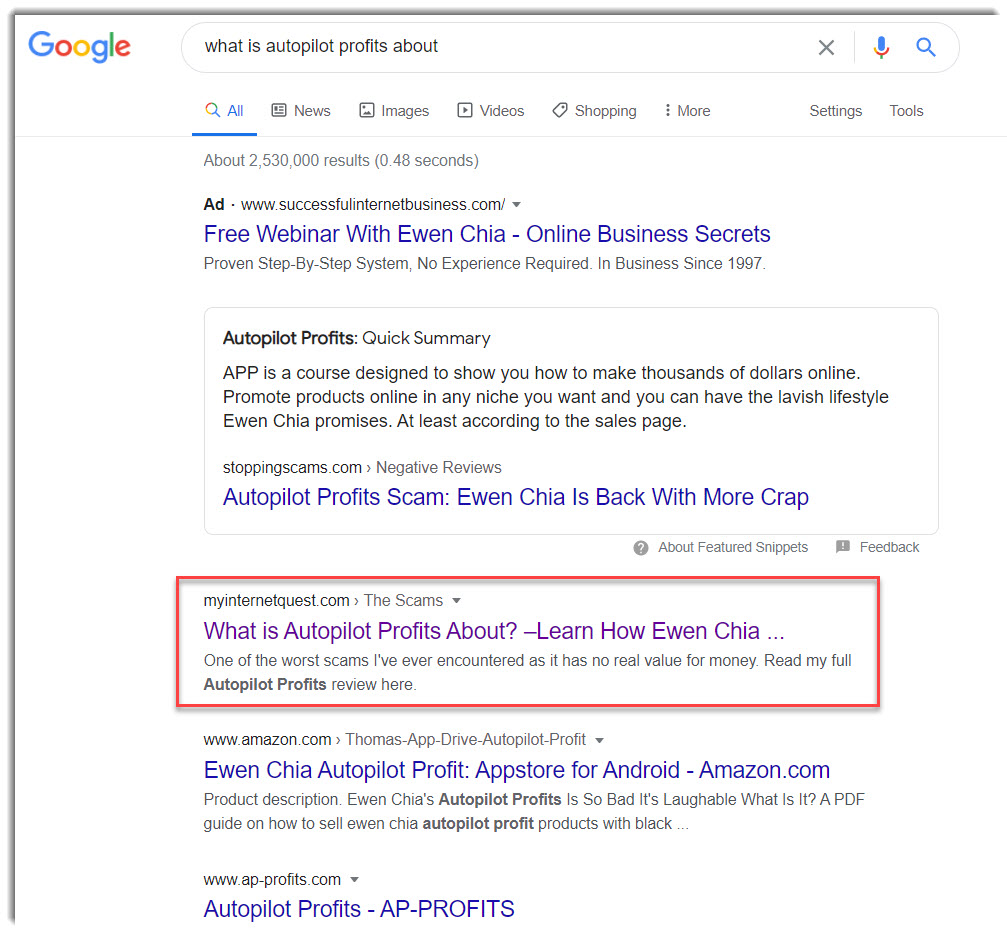 A good ranking on Google search!
When your website is on the first page of Google, you are on par with the big websites and blogs which means that your business will grow gracefully without the use of any money on marketing and that is when you truly earn passive income.
This is far better than Ewen Chia's methods of making you create cheap websites with no real value and using unethical methods to trick people into spending money, here's a breakdown between these two programs to help give you an overview…
My Final Word
---
I can't deny that Ewen Chia's Autopilot Profits can in fact make you some money.
But due to the extremely high cost to start, the unbelievable amount of 14 upsells you will be bombarded with as well as the use of blackhat methods to teach users how to make money by cheating other people as to how Ewen Chia cheated you, Autopilot Profits is no doubt a SCAM and receives my rating of only 0 out of 5.
If you're interested in a more ethical way of starting your own viable business stream online for free, check out my #1 recommended program here instead.
Thanks so much for reading, do drop any questions you may have down below and I'll be more than happy to reply.