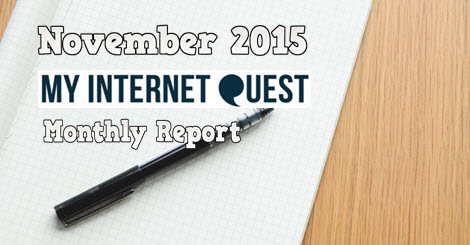 November is when I finally started to pick up my keyboard and start writing again after the 3 months hiatus previously.
However, that happened only at the end of the month as my event finally ended around the 3rd week of November – more on that later.
I was too exhausted after the event that I literally slept for 3 days – Of course I did wake up on intervals to eat and refresh but just so that I could continue sleeping.
I had time only at the end of the month so how does that fare for my blog? Let's have look at…
My November 2015 Stats
This definitely looked healthier than the previous months!
Before I took a 3 months leave, my website visitor rate had already begun dropping every month starting from August. Imagine how many months it took me to bring it back up!
I had 3,337 visitors in August but now in November, I managed to bring it back up 3,236.
It's still not high enough as I haven't surpassed my initial momentum but I'm slowly getting there, I just need to work harder.
I only had some free time at the end of November so I only managed to write one post:
As for social media, it's not looking pretty good either since I haven't posted much. Here's a brief look…
Facebook – 129 likes (13 followers left me!)
Blog Twitter account – 82 followers (+2 followers)
Personal Twitter account – 677 followers (+36 followers)
Google+ – 26 followers (Same as before!)
Instagram – 255 followers
In terms of social media, there wasn't any much improvement which was understandable as I still didn't have any new posts to talk about until the end of the month.
Social media stats aside, I'm sure you're very curious on how much earnings I made on this particular month…
How did my Sales Fare in November 2015?
Bringing back up my momentum after months of falling really costed me not only my traffic but also sales because it keeps dropping and dropping…
As you can see, I only earned $124.00 for November which really made me regret leaving my blog for that long because by this month if I were to keep my momentum, it would have reached a lot higher, perhaps to a thousand dollars.
Here's a brief look on how my blog keeps dropping…
September 2015 – $165.50
October 2015 – $136.50
November 2015 – $124.00
Knowing that, I quickly took action and made time for me to work on my blog every day to bring it back to the momentum it used to have.
I did a lot of content promotion on LinkedIn and Google+ as well as Twitter and managed to rank my other pages on the first page of Google through Jaaxy.
The result?
That's a sneak peek on what I will be expecting on December!
Although November has ended, I aim to put in all of my energy and time to write and promote my blog so that I can bring back my blog on the fast growth path that it initially had.
What kept me from Working this Month?
Last month I mentioned about the event I was working on for an organization called Simply Cookies which is a social enterprise committed to helping single mothers around Malaysia by selling cookies.
The Christmas Fund Bake event was aimed at raising funds for single mothers and it was held at Taylor's University in Malaysia on the 18th of November.
We had no manpower and very little time so I was extremely occupied till the end of the month which explains why I only had time to create one post.
The event was a success and we even have a video to show it here…
We plan to make this event a yearly thing so it will definitely be happening again next Christmas and I suspect that I'll be even more busier by then too.
Conclusion
---
There wasn't much that I can update on for November but it did make me learn that you should never leave your blog alone even for one month because if you do, you are going to spend more time trying to recover your lost momentum than to continue growing it.
My sales were also gradually dropping but December seems bright as I have already made more sales than I did the previous months.
Things might be looking well, I just need to keep that momentum and hopefully I can regain my lost momentum as well as boost my traffic from where I left off before the hiatus.
Thanks for reading guys, I hope you learned a thing or two if you ever decide to go for blogging and like always, I'll see you next month!