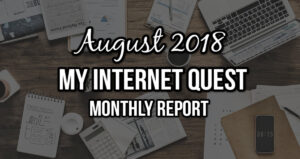 As I'm writing this month's blog report, I can't help but feel excited.
As some of you might have known, I write monthly blog reports to share with everyone what I went through in the world of blogging just so that I could debunk the whole earning online myth.
I wanted to show that anyone can do this, so I put myself in a difficult situation – Trying to earn from a blog with zero blogging knowledge and seeing how it goes.
From my first blog post (Which was terrible by the way), I managed to improve and sustain to a point where I can not only write and publish articles with ease, I had also been invited to various sites a guest blogger not to mention appearing in interviews.
In August 2018, I can see that I'm almost reaching there and I'm quite thrilled for September.
Want to know how my blog fared? Let's start with…
Website Analytics! -Time for Some Numbers.
I got a total of 2,232 web visitors last month.
Compared to the previous month's 2,286 web visitors, my stats didn't actually deviate far as I only lost about 54 traffic.
I actually had more content published last month too compared to the previous month but the reason my stats went a little down ways was that of a slight problem with my sitemap not to mention my loading speed which affects me negatively.
I was able to finally increase back my speed and re-submitted my sitemap which explains the sudden spike in the end.
The good news is that my website sustained despite the technical problems and I can't wait to bring it back up and see how far it can go in one month.
Now for the Main Part, My Earnings!
I'm happy to say that I earned $1,389 in August 2018.
How I earned this was actually from several sources and not at all from a single source.
Let's start with this website…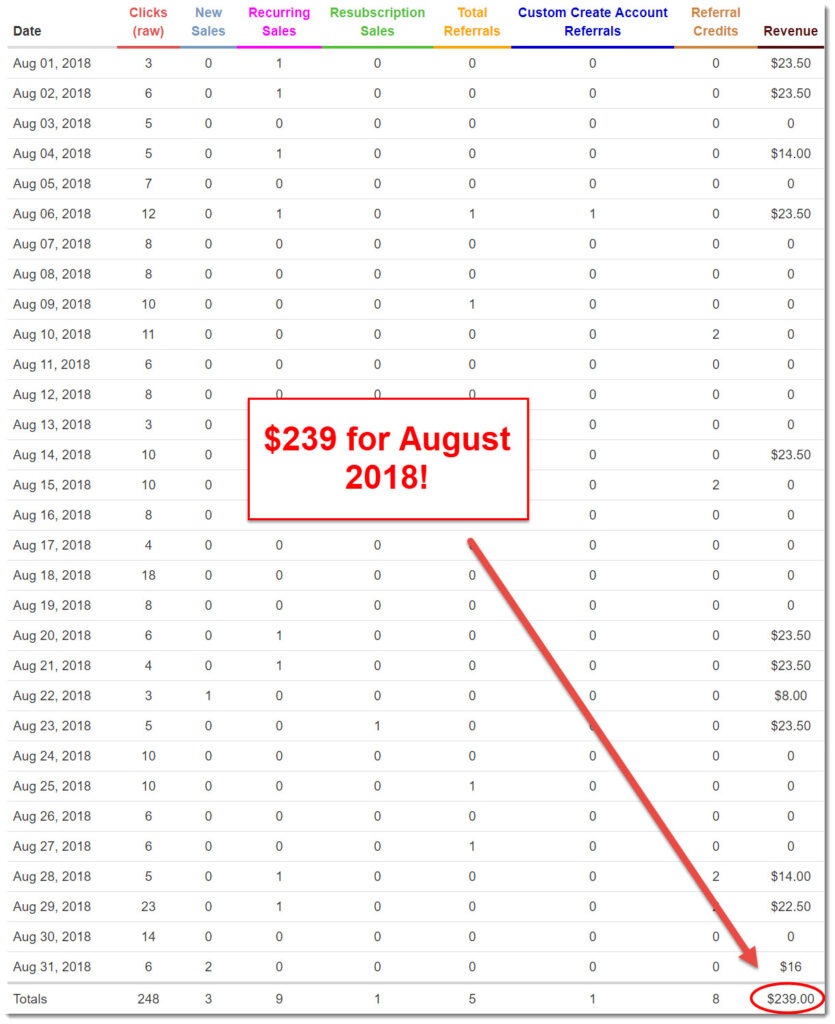 From WA's affiliate earnings alone, I earned $239 which is a few bucks more than what I earned last month (A small improvement at least!)
If you've never heard of Wealthy Affiliate before, it is actually an Online Business platform for anyone interested in learning how to earn online through Affiliate Marketing.
It has all you need to succeed online – Evergreen lessons, high-speed Web hosting (Yes, you can host all your sites there at top speed!), state-of-the-art keywords research tool, Website health checker, and an amazing community of people who are just as committed as you are!
I actually earned a lot more last year but I stopped halfway because I was focusing on a few other local businesses here in Malaysia because I wanted to see how far the SEO training I've learned from WA could bring me.
Here's a breakdown of my other mediums of income…
Total for August = $1,389
Compared to last month's $858.88, I earned about 400 bucks more in just a few blog posts. Not too shabby!
The other businesses I talked about earlier are the two niches I mentioned above – The gaming niche and the event management niche.
Having a brick and mortar business is even more difficult than what people say.
Building and maintaining it alone takes up a huge toll on you – You have to fork out money just to renovate, to buy new equipment, and to pay staff wages.
Last month I closed RM20,000 worth of rental and decoration projects but I didn't disclose that because it's for the company to roll in, not for me to keep.
The ones I keep though, are my commissions based on how many projects I bring in.
Although my gaming and events company are both still small and does not have as many contents as this very blog post that you're reading, their websites work surprisingly well locally.
I realized that many Malaysian companies do not even have a website and they rely solely on traditional marketing methods like cold calling and cold emailing so for a small startup like mine to have a website is like building the only farm in a city.
There are only a few competitors and you get a lot of calls on project deals.
Here's what I mean…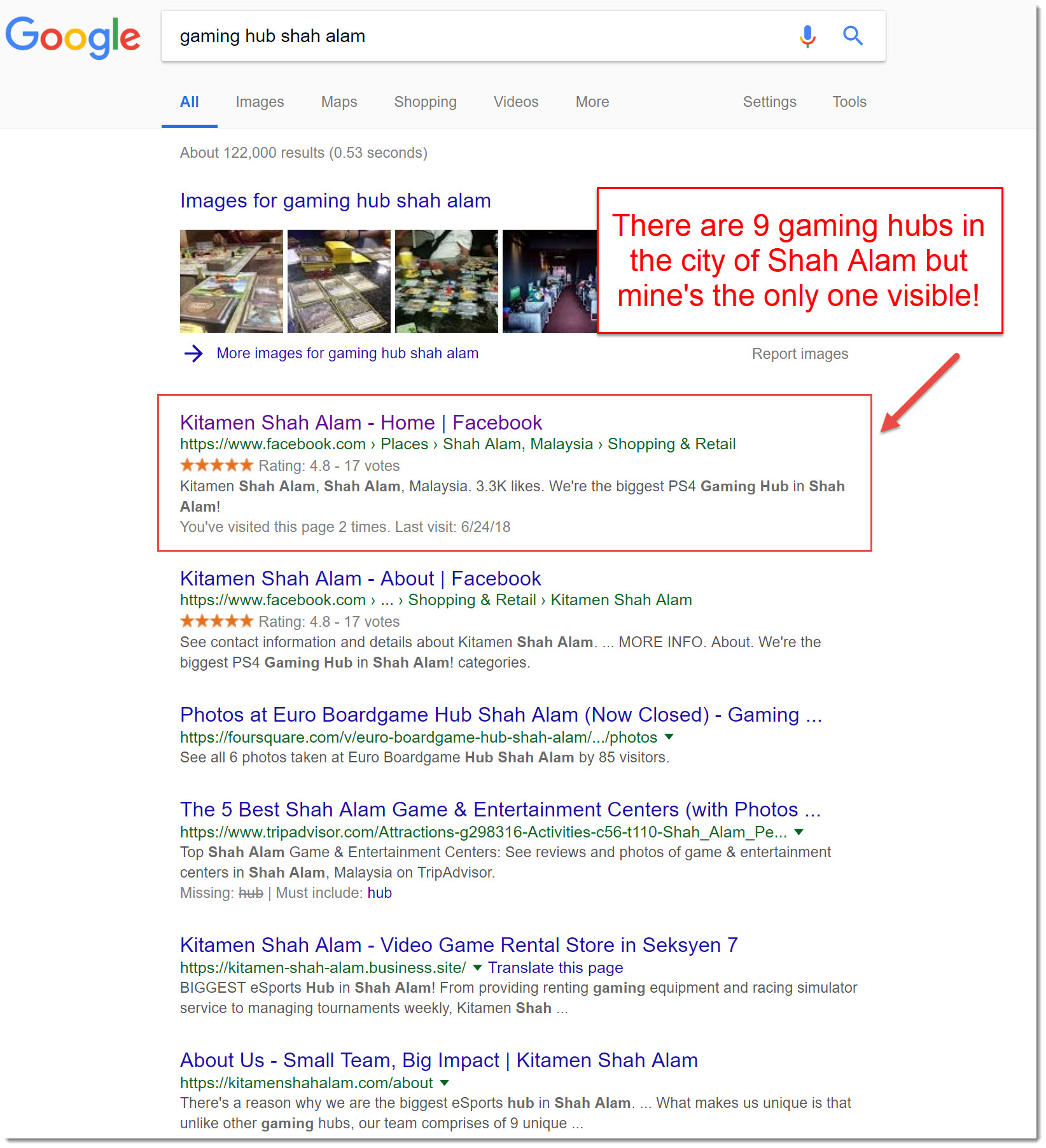 My gaming company called Kitamen Shah Alam is located in the city of Shah Alam but if you were to type it out on Google, my company name is the only one appearing and not others.
There are in total 9 gaming hubs here – All of them are just as good but I was able to cut their line in terms of visibility solely through my online presence and I have Wealthy Affiliate to thank for because without those lessons, I wouldn't be able to make it this far.
As for my event startup KAMIRA Event Management, it's also doing just as well in terms of online rankings…
Surprisingly, unlike a full-on blog like My Internet Quest, startups have a higher chance of succeeding when you have an online presence.
This is mainly because in the brick and mortar world, not many would like to invest on content creation as they are quite expensive and salary for content creators can go from RM2,000 to RM3,000 a month.
How I overcame that is by creating and managing the content part myself while having my other partners help me out in terms of operations.
Once I'm stable enough, my goal is to automate everything and focus solely on blogging.
Interesting Things That Got Me Going
As usual, there are always some things that kept me occupied enough to deviate me from my work…
1) Malaysia Independence Day 
On August 31st, there were events everywhere celebrating the Independence Day for Malaysia.
The one I was posted at was Gegaria which is one of the biggest lifestyle festivals in our country and they host it almost every month.
We were handling the eSports booth and it was also the first of the Gegaria series where we did a Mobile Legends tournament with 8 top teams personally invited to compete.
2) Esports event in Perak
I was also occupied outstation in the sleepy state of Perak for another event.
And if you're wondering, yes. It's also in Malaysia.
My local businesses don't really bring me that far overseas. Yet.
The event was also an eSports event where I managed to convince Malaysia's largest university UiTM to host their first and very own inter-campus eSports tournament.
Every year they have a sports fest, so we simply added eSports to their list and of course, management of the event was made by yours truly.
It was a new experience for me because the place itself was located deep in the sleepy town of Tapah where internet line was scarce and there weren't even any malls or attractions there.
Luckily we brought twelve PlayStation 4 consoles where we can play and chill at night after the event.
3) KL Youth Esports
It's always nice seeing iron-willed students pulling of wonders.
We were approached by students from a university called Polytech Mara in KL to help guide them on their first eSports event which actually turned out to be a big one.
At first, I wanted to look away but when I saw the amount of effort they put in as well as the media they brought in including involvements with Malaysia's Youth Ministry themselves, I was hooked.
I ended up hosting the event with them and spent my whole entire weekend covering the event.
Final Word
---
Though having multiple ventures sounds enticing, there isn't a day when don't I think about focusing on one job only.
Despite having to have split myself into three, I'm slowly adjusting to the workload and seeing how my efforts are slowly rewarding me, I can't wait to finally automate the others for a passive income and start focusing solely on my growing my blog.
That's it! August 2018 report updated! Time to focus on reaching my mark next month 🙂