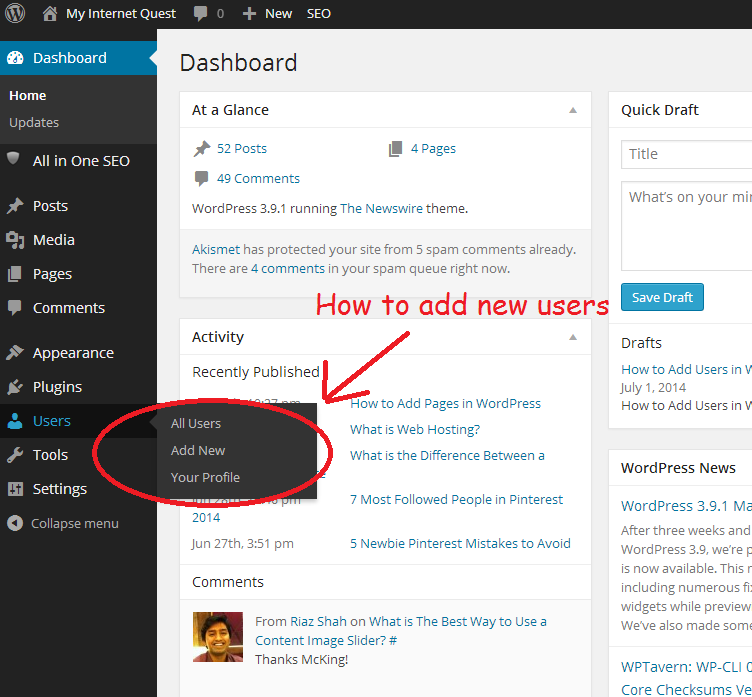 Creating new users are not only important to add variety to your website users, but also to promote an interactive environment on your site.
When you create new users, you can use your real name or either a pen name (Nickname) where people know you better.
Either way, it gives more personal touch rather than using the name "Admin".
To make a user account:
1)     Go to your WordPress Dashboard
2)     Click on Users
3)     Click on Add New
4)     Fill in the details. Bear in mind that the Username and Password will only be used when logging in.
5)     Voilà! You're done!
But but but!
If you have logged in, you might have noticed that your account doesn't appear to have a picture.
To add this, you need to have a Gravatar account and from there, add in your email with your picture.
While in Gravatar, you will notice that you can make many accounts with different emails.
This is because you can actually put different pictures on different emails so whenever you comment on a website or make your own post, your picture will be there.
To some people, they don't really want their picture to be showed but in my personal experience, adding your photo there will create a friendly environment and people will really trust you more because you are not hiding behind a computer.
For more information on creating websites with WordPress, check out my review of Wealthy Affiliate here.
Riaz Shah