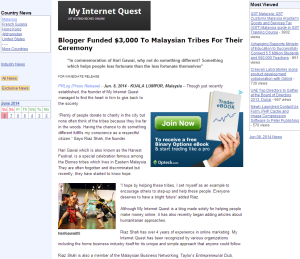 Press releases are fun to do and are supposed to be attractive for readers to read.
So, how long should they be then?
According KAMIRA Event Management as well as my personal opinions combined, the length of a press release depends on the thrill and level of excitingness of the topic.
Just imagine, if the news is about the release of a long-awaited Final Fantasy game or even the discovery of how robots can marry, people WANT to read more.
Admit it, you would want to read that too wouldn't you?
It will be almost a crime if your press release is just a few paragraphs short.
However if your news is about stocks or charity donations, then you should make it short.
Take a look at my Press Release that I posted above (It's actually my 3rd release for this blog). The link is here -> http://bit.ly/1nsAajD
It's about a charity donation that I made to help Malaysian tribes celebrate their Harvest Festival.
Noticed how short the length is? And why is this so?
It's because EVERYONE can make donations.
In fact, huge companies often make Press Releases about who they donate to get recognition and escape tax.
BUT, that doesn't mean it doesn't work for us small timers anymore.
People STILL want to read that, it just comes down to how attractive your title is.
Think about it, if you read about how the Human Rights Association donate to charity, would you still want to read the whole lengthy paragraph that you'd probably already know the story to?
Now compare that to an acid manufacturing company who donates to the Forest Reserve funds.
Which one would you probably want to read more?
The general idea behind this is to actually just aim on giving a short announcement for publicity instead of sharing the whole thing.
You'd surely be surprised with the return you'll be getting from that.
It's these little bits of pieces that makes your company stand out from the rest and it's wise to do this at least once in two weeks.
For more information on how to bring you traffic generation to another level, check out my review of Wealthy Affiliate here.
Riaz Shah