Did you know that 91% of people all over the world check their emails daily?
This is a great fact to know because from there, we can see just how powerful email marketing really is and that there is a HUGE opportunity for us to learn and leverage.
Believe it or not, Internet Marketers already started taking advantage of the power of emails through a technique called solo ad and many of them are so pro at it that their profits even surpassed their spending.
Mind boggling? Great!
Without further ado, let's dig in deeper and learn about…
What is a Solo Ad?
Simply put, a solo ad is an email crafted in a way to promote a product to someone else's email subscriber list.
You know that certain websites have newsletter opt-ins where you can submit your email to get daily tips from that website?
Well solo ads are usually sent to the owners of those websites!
Meaning that the list of subscribers are of high quality so you can bet my Granma's fake teeth that those website owners (Also known as solo ad vendors) will charge you a certain fee for each solo ad that you send.
The price ranking for solo ads are normally around $30-$110 per 100 clicks which is why you have to make your solo ads count and not simply write uninteresting emails.
You might wonder why the name "solo"?
I'm glad you asked! That's because usually those emails that you sent will only be allowed once per vendor because with every email that you send, the list owner risks losing his own subscribers too.
All the more reason to make it count, eh?
Do Solo Ads Work? –Learn the How to Make it Count [Case Study]
Solo ads do work.
Take a look at that this change in preference study made by Exact Target…
Now tell me that leveraging email marketing isn't a powerful opportunity for business.
It IS, isn't it?
Why some people are not doing well with solo ads is because of the very emails that they sent which are VERY uninteresting and bland.
Here's what you need to bear in mind when writing your solo ad…
You need to make it VERY interesting to read.
Make it look personalized, as in how you would send an email to your friend.
NOT making it too salesy because although you ARE trying to sell something, the idea is to make in indirect.
Create desire by touching on the issue – If you are targeting the diet niche, you could talk about emotional eating. If you're in the money making niche, you could talk about finding another stream of income.
Giving something for FREE! – Like a free report or a newsletter subscription opportunity to lure that person into giving YOU his email ethically.
What do Solo Ads Look Like? [Case Study]
A lot of Internet Marketers fail their solo ads for something that they should have paid a closer eye on.
If you're wondering as to HOW anyone can even fail a solo ad, it is actually possible by recognizing how low your open rates are or whether or not you even have conversions to begin with.
Let's get to know some solo ads shall we?
Here's a few samples of them that I received in my Hotmail which we will be studying first-hand…
Case Study 1 – Is tricking a person wise?
Here's an example of a terrible solo ad I received from a person named Liam…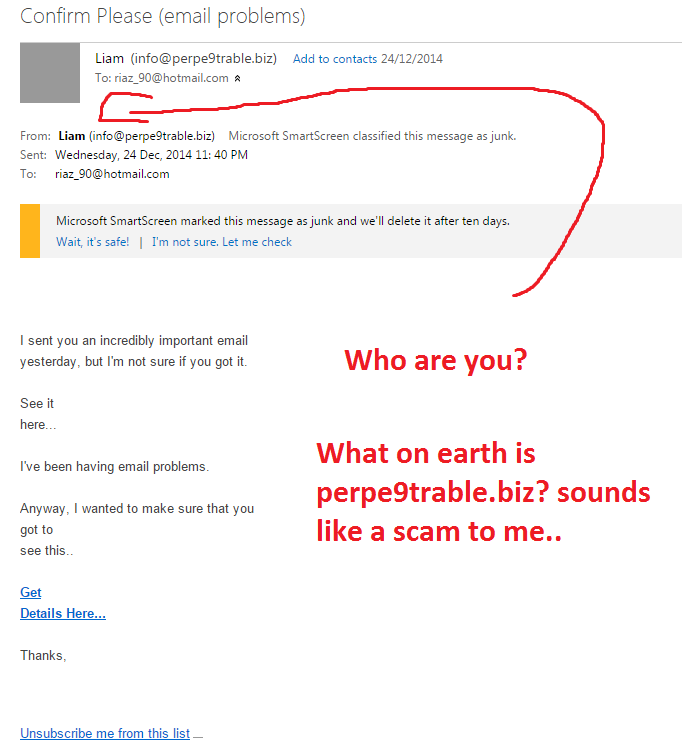 I would GLADLY unsubscribe you!
If you received that very email, would you even bother to click and see what's inside?
Liam who I didn't even know did not only forget to introduce himself, he actually went across the line and did something really unethical which is trying to TRICK you into opening!
How would you feel if someone were to trick you?
This is a complete disgrace to solo ad writers because his aim to is take advantage of innocent people who are NOT internet-savvy.
Imagine someone you care about like your grandma who opens this email, thinking that someone nice sent her a notice, wouldn't you be upset as well?
NEVER send a solo ad aimed at tricking someone because not only is that unethical, it is not very effective at that.
Case Study 2 – How important is it to test your solo ads before sending?
Here's another solo ad that I received from a person called Ron Silver…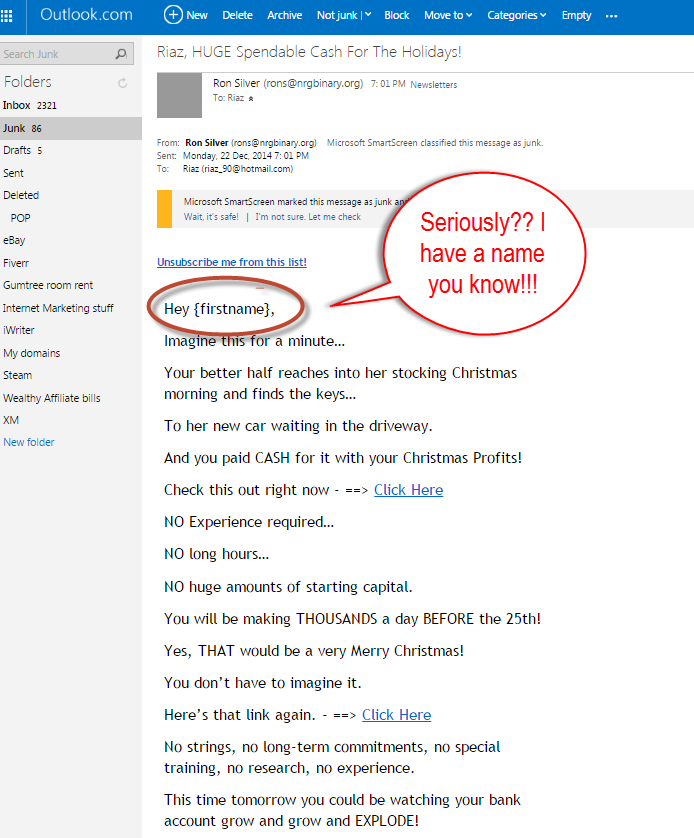 Could you kindly point out what seems to be the problem with this one?
Here's a clue… he DIDN'T even check if the auto-first name thingy works!
But actually, this solo ad can do quite well if you minus the name problem because not only is it simple and short, that email is very readable.
The writing style is pleasing and the links are also well placed!
However, it can be made better by simply writing the original link URL instead of masking it into a "Click here" link because remember -the more you show honesty, the more willing people will be to buy what you are offering.
Case Study 3 – Do Writing Fonts Affect a Solo Ad?
Take a quick look at this random solo ad I received from the same person named Ron Silver (He really does write terrible solo ads, doesn't he?)…
Can you see just how annoying the font size is?
The solo ad is SO short that Ron didn't know what else to write and so he tried to cover that by making the size bigger which is an ever worse move to do.
Not only is it hurtful for the eyes, it will also increase the chances of a person unsubscribing because although the intentions are clear, it is a lazy work of selling.
Always remember that people LIKE sales pitches, they just want us to do in the proper way.
How a Proper Solo Ad Looks like
I'm going to cut this short and show you an email by Ben Settle who is a professional copy-writer which has taught many Internet Marketers on how to write a powerful solo ad…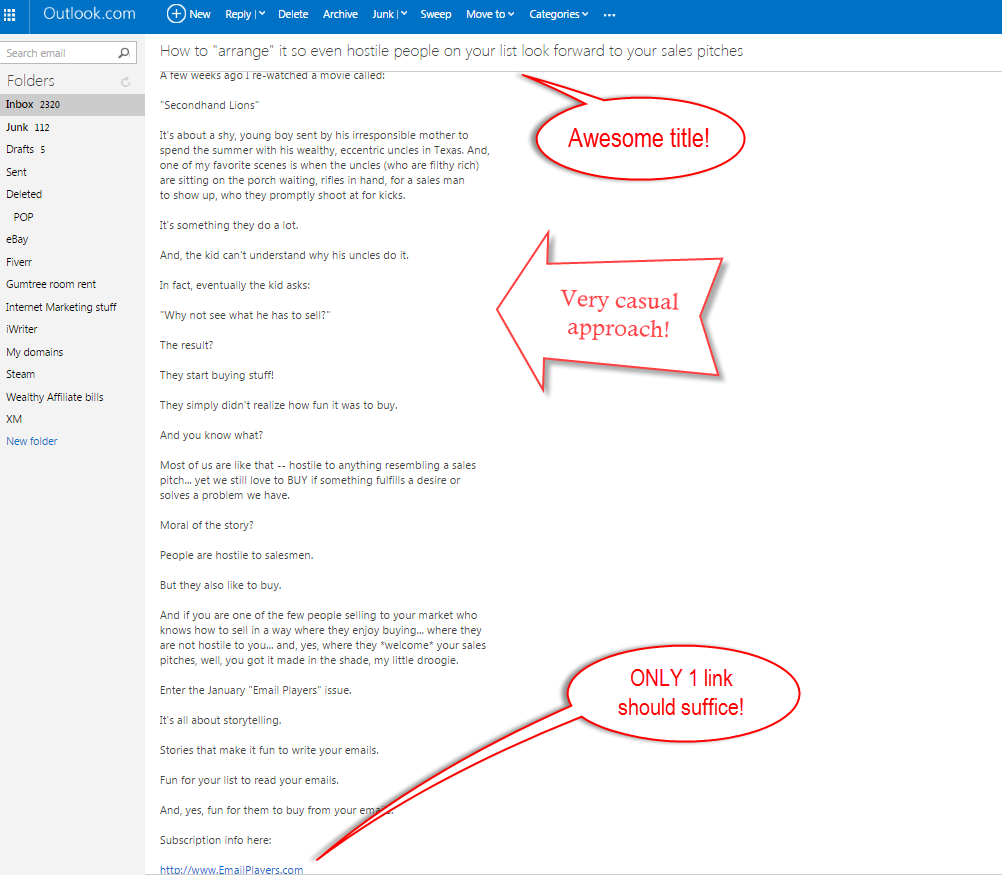 Sorry for minimizing the font size, I was trying to capture the whole write-up of the email.
Do you see how well-written this solo ad looks like compared to the previous 3 that I've showed you previously?
Ben's opening rates are among the highest ever recorded for solo ads which are around 60-75% as opposed to the normal 30-50% and here's why they are so impactful:
The title is casual yet highly desirable to click on.
The body is SO nice to read that you wouldn't even know that it's a solo ad! Why you ask? Well it's because…
The story-telling just is simply awesome!
Confidence in your solo ad -If you look closely at the bottom, Ben only adds ONE link! Most Internet Marketers are scared that reader will forget to click on their links so they end up stuffing more links than necessary!
Make the link-clicking as a choice instead of forcing the reader to do it.
Ben's tactic in getting more subscribers is cleverly put – he made his solo ad write up SO good that you will just feel like clicking on that link!
Instead of saying "Click here to check out my offer", he gave a free choice of giving the reader the opportunity to read more of his story which is something every solo ad writer should bear in mind.
Conclusion
---
I cannot stress enough as to how powerful an impact a proper solo ad can be.
As long as you write your solos casually, think of a convincing headline that does NOT sound like a scam and try to not think of selling for once, I'm sure you'll ramp up your conversion rate and click-through like a boss.
For more information on creating a viable business online, do check out my #1 recommended program here.
Thanks for reading, don't hesitate to drop your thoughts below as I'll be more than happy to hear them out 🙂 .