Product Name: Real Translator Jobs
Website: www.RealTranslatorJobs.com
Type of business: Freelance translation work
Price: $34 + upsells
Owners: Unknown
Overall rank: 0 out of 5
[Update] Real Translator Jobs has finally shut down their platform so you won't be able to access their page.
As a student of French (I take French classes every week), I get very interested in opportunities to further test my French language and improve my command of the French language.
One day while reading news online, I stumbled upon this ad called Real Translator Jobs which made me curious enough to click as I thought that maybe it's a chance for me to utilize my languages that I've learned.
Once I'm on the home page, it was even more surprising to know that my country's flag (Malaysia) was shown which further sparked my interest in trying it out.
Soon after, I regretted joining because like any other scams I've encountered, problems will start coming after you once you're inside.
Do continue reading to know how much of a scam Real Translator Jobs really is.
What is Real Translator Job All About?
As the name implies, it is a platform that helps you make money by translating.
Of course this will only be attractive to bilinguals instead of one-language speakers which means countries outside the UK and USA like the Philippines, Singapore, Indonesia, Spain, Germany and even Malaysia are their target audience.
A lot of businesses are banned in China so don't be surprised if you don't see many Chinese translators online.
Real Translator Jobs however, is ONLY a 3rd party medium because you actually need to find those jobs yourself so in other words, it is exactly like Elance and Fiverr which you could otherwise join for free.
The works that you'll be doing are all translation-based works and some common ones are:
Translate some books
Translate sales letter for some companies
Translate a video
Translate some boring paperwork
And you actually need to pay more before accepting a job too which is a ridiculous policy and shows that it is a clear scam.
Pros and Cons
Pros
You can see a list of companies who are interested in translation work.
You can see confidential company documents when translating.
When you translate, you have the power to either translate properly or not because that company won't understand it anyway (Evil sneer)
Cons
You have to pay in order to find work.
Once you find the work you need, you will need to further pay for their upsells, making it 2 times' worth of payment before you even actually made any work.
You need experience to actually find work because companies don't trust you so it's very difficult to find jobs.
A Money-back guarantee is a lie.
Zero support.
No direction whatsoever on how to start.
Using countries as bait to lure innocent people into joining (unethical).
Fake discounts (those are the real prices anyway).
Upsells galore.
Companies won't hire you as a permanent staff as there are only so many things to translate after all.
Most companies would prefer to send their documents to the National Language Centre instead because it is more established, more recognized and its part of the government body which means safe payment.
Red Flags – Is it Worth the Risks?
There are many red flags this company practices that are really annoying and unethical which I have listed below:
Red Flag #1 – You Actually Need Experience to Start.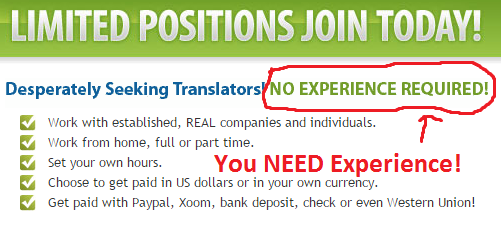 As it states on its website, "No Experience Required" is the first and foremost lie that this scam will tell you.
I too, was scammed thinking that I can get work easily because who doesn't want to feel privileged just by being able to speak 2 languages?
But as soon as you're inside the member's area, you will slowly learn that companies only want those who already have experience at least for 3 years and in some cases, they want to see the certificates that identify you as a real translator.
I tried looking for a job and nobody wants a Malay translation as they want countries that are more developed and recognized like Brazil and Argentina.
Talk about being cheated, eh?
I also have many Phillipino friends who are also having trouble finding translator jobs in their language because in Asia, translator jobs that companies look for are only from South Korea, Japan and China as those countries are considered more developed.
At least my French-speaking skills are more in demand!
Red Flag #2 – They Use Your Country of Origin to Clickbait You.
This doesn't apply for the USA and the UK because face it, everything you see on the TV are American shows right down to the ads (the UK shows too but a bit lesser).
So for people who are from less popular countries (Like me), we will feel very proud and happy when our countries' name appears out of the blue!
We will go like "Oh my god, the Americans love us! I must buy this"
That feeling we have, is just like how everyone feels when suddenly a celebrity that you really like (Such as Ed Sheeran or Taylors Swift) says something to you.
Or maybe if supposing Rihanna sends you an email saying "Hey you, I really like your attitude and personality so if you want to buy my dress, I'll give you a discount"
Wouldn't you feel touched as well?
Real Translator Jobs did a very good job at scamming other countries because they will repeatedly use words like "We need more Malay translators" or "Philippine speakers are sought after this year"
After making you feel excited and overwhelmed with pride, they will then use one final (and evil) tactic by using your country of origin to include in the discounted-price of $34 which is not even true because that is in fact the real price!
Red Flag #3 – Not Honoring Their Money-Back-Guarantee Claim.

The most depressing lie a scam could do is to overprice and NOT giving back your money as promised.
The money-back-guarantee for Real Translator Jobs is written there 60 days however like any scam companies, they won't even bother to reply to you after you've joined because they already got what they wanted.
However if you pretend to be a new customer interested in buying, they will reply to your emails quicker than you could say "Granny Flash!"
These kinds of sick scams are aplenty on the internet and its things like these that got me interested in making my honest reviews so that other people won't fall into the same trap as I did.
My neighbor wanted to join this scam to give hope to his children that he actually got a job online.
That really moved my heart but as sad as I feel to break it up to him about the truth of Real Translator Jobs, it's better if I help him save some money rather than throwing it down the drain.
Always bear in mind that real online business opportunities allow you to join for free because that shows honesty as they truly have nothing to hide.
Do You Get Any Support?
None whatsoever.
You will only get it when you intend to join because they are more interested in making money from you.
However once you're inside, they will not even reply to you because they already got your money which is a one-time payment.
If you're paying monthly fees, they will at least have a reason to reply because if they don't, you will no doubt leave and make them lose money.
Worse still, you'll be all alone in there without any members or communities you can talk to whenever you need some advice because when you join, you will feel totally lost as there are no clear directions on what you need to do.
It is really competitive and those who do make money are usually veterans or specialists who already have experience and not the little people like you and me.
An Alternative Way to Make Money Online.
When it comes to making money online, I like to keep my options open.
Apart from being a freelancer, I also love to dabble in the arts of Affiliate marketing and for that, there's a specific platform that I can recommend called Wealthy Affiliate.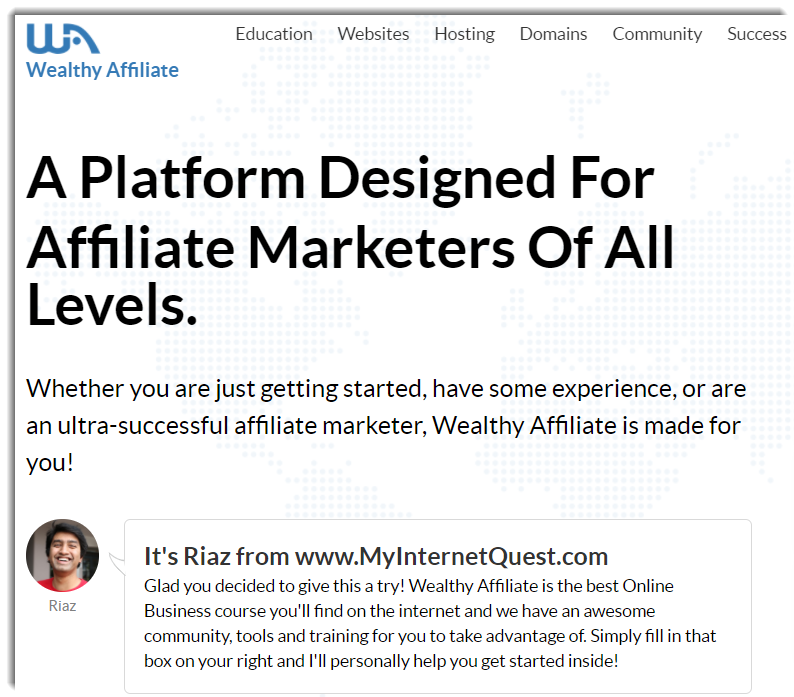 It's an Online Business platform that teaches you how to build a fully functioning website and from there, monetize it using the various ways being taught in the immersive course.
I really love the fact that not only is it a full-featured platform which means that everything we need to start and propeller business can be found there, but there are also endless opportunities where we can monetize from as any niche is possible to venture on.
If you love cooking, we can monetize from there.
If you love learning, guess what's it's possible to make money from that too.
And if you learn languages, we can even recommend good learning programs so that you can earn through Affiliate marketing.
And as you might have guessed, the reason I tried Real Translator Jobs is that I wanted to find a good opportunity for my readers to try out a language platform to make money from but unfortunately, it's doesn't turn out to be a good program but who knows, it might have been glorious during its early days.
Still, there are endless ways of making money online and with WA, you can choose to either build a new income stream online or boost an existing one that you have as the courses do work and I found them very effective too.
To help give you an overview, here's a wee table…
Conclusion.
There are many ways to make money from home, even for being a simple translator but you know now that Real Translator Jobs is certainly not the solution.
Due to the difficulty in finding a job, due to the misuse of a country's name to attract innocent people, the immense lies that it implements to trick you, and also the fact that it's exactly the same as Fiverr or eLance which you could otherwise join for free, Real Translator Jobs is definitely a scam and I wouldn't recommend you to pay as there are many risks to it which might not be a decent platform for you to commit your time on energy on.
If you're interested in building a viable business online, I would suggest you check out my #1 Recommendation here instead.
Thanks for reading, do share with me your experiences with below, I would very much like to know.