Business Name: My Work For Life
Website: www.MyWorkForLife.com
Type of business: Referral Program
Price: Free
Owner: Unknown
My rating: 0 out of 5 (Scam)
There are many Make Money Online programs but seldom are they free.
Like you, I was curious about My Work For Life's trustworthiness because it seems too good to be true since there are no fees at all on getting started and it somehow looks a bit lucrative seeing that we can make a few dollars doing nothing but clicking stuff and we don't even have to read anything since it's not a survey site.
I was definitely attracted and so I decided to give it a try.
There aren't any directions on what to do, nor are there any communities to help us out on how to get started, but I persevered to see if there may be a light at the end of the tunnel, to maybe get a glimpse of hope that this whole program works and that it may be a good venture that I can share to everyone to help more people.
There wasn't.
Which made me wonder, what was it that made many people hate this program so much even when it's free? We don't have to pay anything, we don't have to even qualify to do any hard tasks, nor do we even have to meet other people.
If you're curious to know how it all unfolds, read on my full My Work For Life review to know the actual story…
Pros and Cons
Pros
Free to get started
No pressure on how you go about promoting your link.
Cons
They duplicate 6 websites with the same design and words!
Difficulty in withdrawing income.
No details about the owner.
No reported case of people getting paid yet.
Loads of complaints all over the internet.
You'll feel like arriving at a dead-end the moment you start as the login page has nothing except your link.
No banners or images to help you promote your link.
No tutorials or guidelines on how to get started rather than just sharing a link.
The program looks cheap as people are promoting it all over Facebook which shouts desperation.
No potential to go far.
Facebook page not even updated.
1 click and you get $5 to $10 which doesn't make sense.
Zero support and plus, they use a fake email so you can't contact them.
Golly, that's a lot of cons! Better check out my #1 recommended program here!
What is My Work For Life About? -Refer and Get Paid.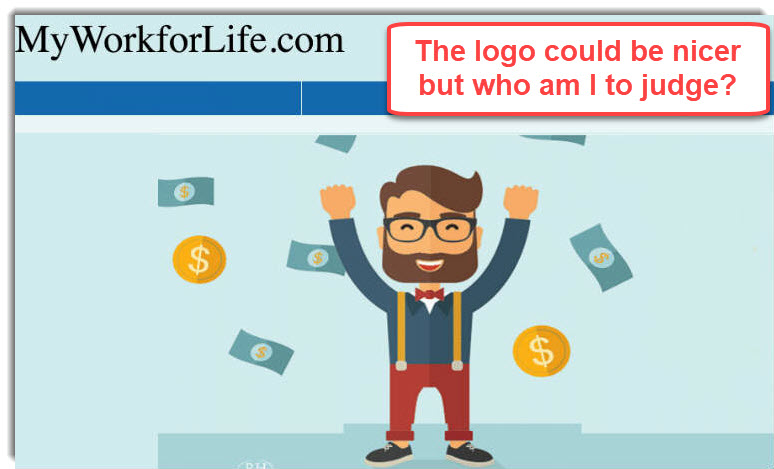 If you like sharing good news and earn, this might be for you.
My Work For Life basically is a referral program that gives you an affiliate link, and rewards you anywhere between $5 to $10 whenever someone clicks on it.
It's a platform that helps you make money online by doing clicking tasks which you can collect cash from just as easy as you can do it wherever you are all with a click of a button and it doesn't use much internet too.
From their website, they made it sound so easy as there are only 4 steps you need to take…
Setup account
Instant approve
Work little
Get Paid
I have to admit, the website does look simple but it was recently made in 2018, the year where there are many cool themes for website home pages and free nonetheless which we can get online but who am I to judge in other people's taste.
It's free to join and with that high commission rate, it's easy to get people to join you… but is it really?
Despite looking like an easy way to make money online, it does come with a wee list of risks which you might want to ponder on before deciding to join…
Red Flags – Are the Risks Worth it?
I know the program looks really interesting but nothing's perfect and every program has its flaws.
If you're like me, constantly thinking of whether or not is My Work For Life legit or a risky venture, bear with me while I lay out some of my findings, starting from…
Red Flag #1 – Duplicated Website With Different Names!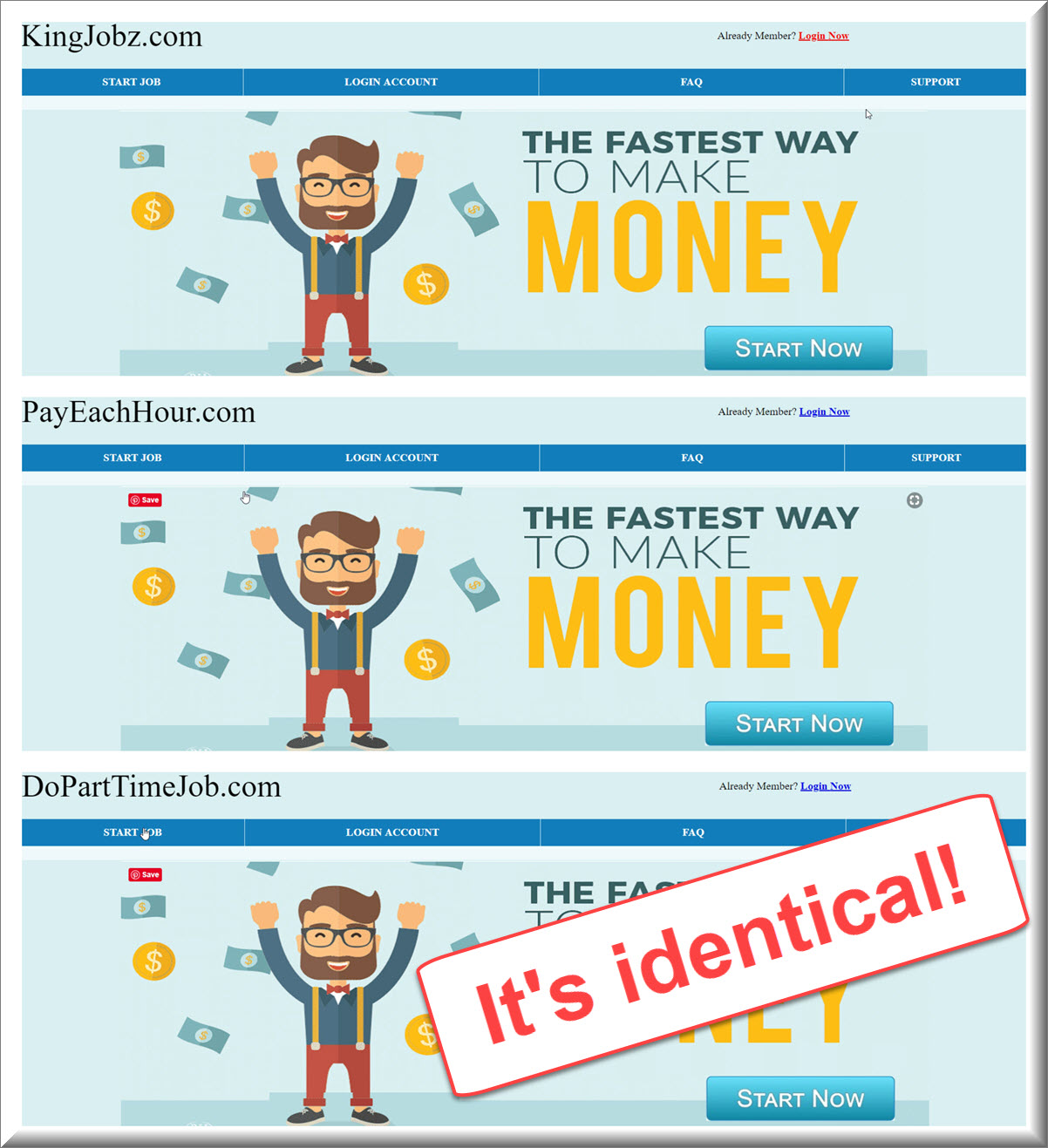 What purpose would anyone have to create multiple duplicated websites?
Answer: No purpose.
That is, unless you know that your program is a flop and you know people would report on you which is why you need to scam as many people as you can with the same designs.
Before doing any reviews, I usually weigh in the programs based on the number of requests I get and boy, was I surprised to find out about these websites…
KingJobz.com
BestDailyJob.com
WeeklyDouble.com
DoPartTimeJob.com
MyHourlyPay.com (Changed to PayEachHour.com)
DoWeeklyWork.com (Changed to PayEachMonth.com)
There were a lot more but slowly, one by one those websites close down and got replaced with new ones and the reason for that is solely because the owner wanted to continue with his scam but he's putting close to zero effort into making this program look authentic.
The least they could do is change the website design theme a bit so that no one would notice but I guess they're too lazy for even that.
And speaking of laziness, the provided…
Red Flag #2 – No Banners or Images to Help you Promote.
If you go to My Work For Life's member's dashboard, there's nothing there.
Except, for an affiliate link they give you.
That affiliate link is the only thing you'll ever get from them and you're expected to promote it as though your life depends on it but how are you going to promote if they don't give you any images to help you out, to begin with?
Are you expected to just spam the link?
Take a look at this…
That is an example of banners provided by another Online Business program which I currently am in.
The purpose of that is to make your life easier if you want to share it with your friends and perhaps get some income from them when they join.
The same goes to any reliable programs out there on the internet including Amazon and even Wallmart could you believe that.
So you can see that without any images to help you get started, you'll basically end up spamming the link that they gave you because that's the only thing you have from them and spamming is never good, especially on the internet.
My Work For Life expects you to promote on forums and Facebook which will never work.
Facebook has an anti-spamming update which will stop your affiliate link and as for forums, I got banned from Yahoo Answers because of link spamming.
So you might be asking then, "If spamming is never an option, how do they expect me to promote?"
Glad you asked!
There are many ways on how to do that but for me to explain it here will take forever and usually, companies will give you guidelines on how to do that.
Oh, wait…
Red Flag #3 – No Tutorials on How to Get Started.
No way! Yes way.
As I mentioned, My Work For Life's member's area has only one link and that's that.
When you come in, you'll have no clue on what to do and you'll end up pondering on what your first move should be.
Or the one after that, and after that, and so on.
That's what I went through and for a program to not guide you after putting the effort to referring you, obviously something fishy is going on there.
If you're new to Affiliate Marketing, a good program should have this…
The screenshot above is an example of how a top program should be providing training for its members.
It's how I learned how to get started and how I learned to build up this blog you're on and with any luck, this very review that you're reading might be on the first page.
That's how you promote a program you love and there are many more methods on scalability such as through ads, indirect promotions, and many more.
Anything like it or anything similar is good enough but nothing at all, that's completely unacceptable.
Without the knowledge on how to promote, you just know that there is…
Red Flag #4 – No Potential to Go Far
What makes someone stick with a program for a very long time?
Good commission plan, a good community, and most importantly, the fact that you can see yourself doing this for a very long time.
Can you see yourself doing My Work For Life for a very long time or how they would put it, for life?
When someone commits to a program that they love, they not only commit their time and money, but rather their whole lives which is why I take this very seriously and is why I think you should not be wasting your time with My Work For life.
There's basically nothing there that could sustain you nor are there any pathways that they provide you with to reach towards to and achieve success in the long run.
Red Flag #5 – No Useful Statistics to Help Track Your Promos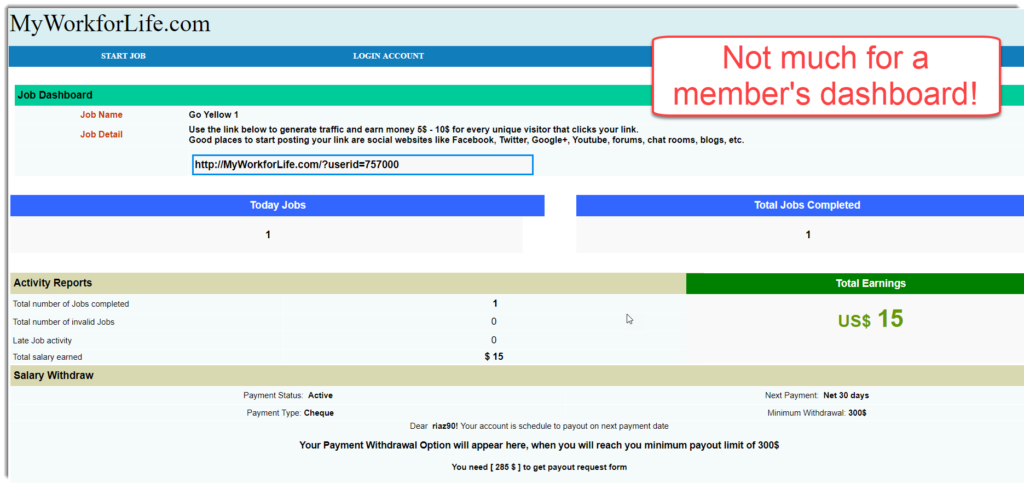 You would think that they would at least give you some good stats checker, but no.
If you check my screenshot above, the only report they'll give you is the supposed "Total number of jobs completed" which is basically useless because they don't even track that.
I tried using it on my own computer and click on the same link using Incognito and I got $15 in less than a second.
Ignore the other two reports for "Total number of invalid jobs" and "Late jobs", they'll forever remain empty, it's there only for show.
Having statistic reports is important in the long run because when you start promoting, you'd want to know which channels are actually working so that you can save up more time and focus more on the campaign that gives you a better conversion.
That's just the statistics, don't even get me started on the…
Red Flag #6 – High Threshold to Withdraw
$300 might not seem a lot but for starting, it actually is.
If you've been in the online industry for a while, you'll see that a lot of companies offer a minimum of $50 for you to withdraw because usually, it will take a few days to withdraw and for most legitimate programs, they only let you withdraw end of the month as they would like to do it one shot.
Facebook does that too when they pay you if you are a streamer, and so does YouTube.
A well-known program for Affiliate Marketing called Wealthy Affiliate which I've reviewed here also does that and has been doing so for the past 30 years.
Imagine if you are an owner of a company and you have millions of users – If you release payment every day or worse every hour, your accounts would be pretty messy, and it would be hard for you to track everything.
Not only that, it's actually quite rare for a program to be paying you so much for a simple click as…
Red Flag #7 – $10 for Every Click Does Not Make Sense.
Think about it, you can be a millionaire in an hour.
You could gang up with your friends and do some rapid clicking to get a thousand bucks in 10 seconds, even better, you can hire more people to click more and earn more.
There is a lot of room for flaws and believe me when I say, one click does not equate to $5 or even $10.
Nowhere on earth would anyone make that much money with a single click on the spot – The reason they make you believe that is because they want you to join so that they can gather your information and sell it themselves since it's free to join.
There is a thing called solo ads in the Internet Marketing world and what that is, is basically organic clicks that people buy and even for that, people would pay $50 for a list of 100 email lists and clicks.
They cost that much and even for that, all of those databases are regulated with each list being very active buyers so believe me when I say that My Work For Life paying you $10 for a simple click is not true.
But don't take my word for it, check out how…
Red Flag #8 – Many People Are Not Getting Paid.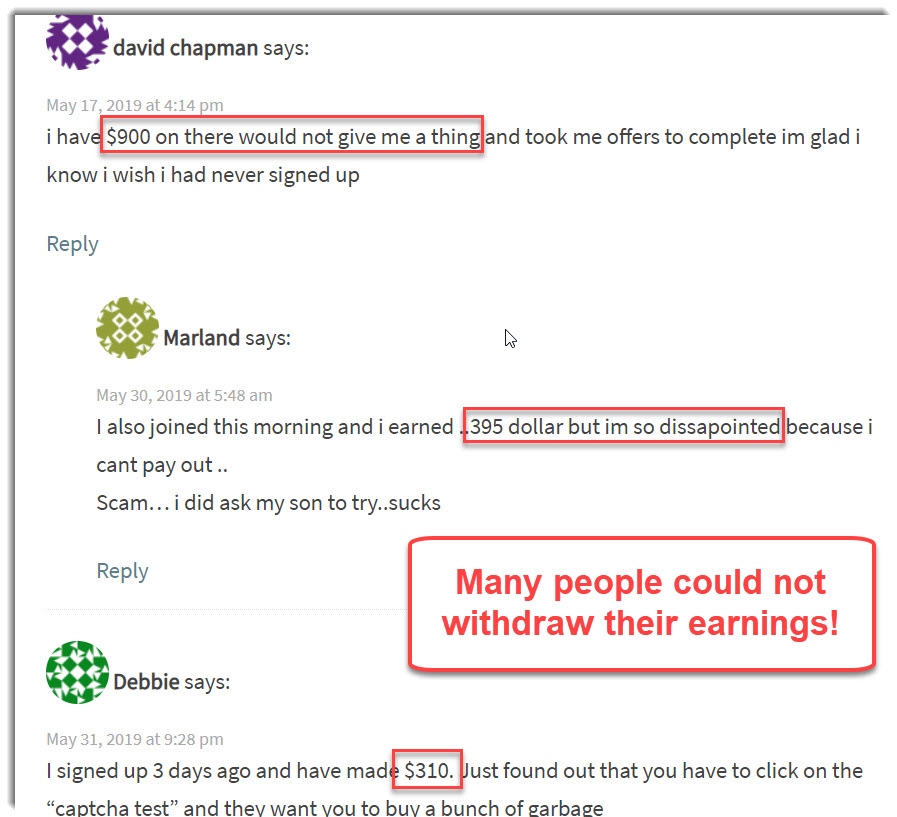 There's plenty more where that came from.
I thought I was the only one who couldn't withdraw my money, so I figured I did a little research to find out how do I get paid.
As I was searching, I came across so many comments all over the internet especially on Facebook and other websites too and all of them were saying the same thing – That they too, could not withdraw.
It's either they were given links and forms or are asked to buy something in order to proceed which definitely wasn't mentioned before we joined the program.
You just know that something's not right when there are complications when cashing out regardless of the program as money is always a sensitive issue and when we've put out time and effort into it, being cheated on is a devastating feeling.
Some were desperate enough to buy the promos but, in the end, nothing.
This further confirms my suspicion that the owner never really got paid $10 from you whenever you click on anything but instead, he must have used that data collected from us users to sell and make money from it which makes sense as there are a lot of buyers out there who are looking for emails for them to send their promotions to like phone companies.
Red Flag #9 – No Details About the Owner.
This is always a red flag anywhere.
Especially, in Make Money Online programs because we all know that it is the one single niche that has the highest number of scammers on the internet.
Of all the programs that I have reviewed, almost all the scam programs have unknown owners (Some even go to the extent of creating a fake name) and for good reason too.
It's because the owner knows that eventually, someone would notice their scheme and would try to expose them.
They're not confident that their program would go far so because of that, they prey on beginners who are new to the whole Internet Marketing thing as they are more gullible.
If the owners themselves are hiding their own identity, you can bet that there will be…
Red Flag #10 – Zero Support (Their Email is Fake Too!).
Supports are important anywhere, but what if that too, is a lie?
After having a wee bit of difficulty in trying to contact the owners, I decided to contact them the old fashion way – through their support email.
Surely good programs have a way to contact them, right?
Yes, but not My Work For Life because even their email is not a real one.
If you take a closer look at my email screenshot, you'll see that I've tried reaching them but to no avail.
I wanted to withdraw my not-so-hard-earned revenue, but I was curious as there are so many complaints all over the internet about people not being able to withdraw which is why I decided to contact them.
After 10 minutes of emailing them, I was excited when I got a reply from them.
I put my hopes up and said to myself, "Hey! Maybe they're not that bad after all"
Well, I was wrong.
The email didn't even exist which is terrible, they could at least put some effort and create an email, and even if they don't reply, we would have forgotten about it but seeing that they didn't even have an email created shows that they didn't even care.
I wasn't about to give up hope though, so I turned to somewhere more social only to find out that…
Red Flag #11 – Even Their Facebook Page is Dead.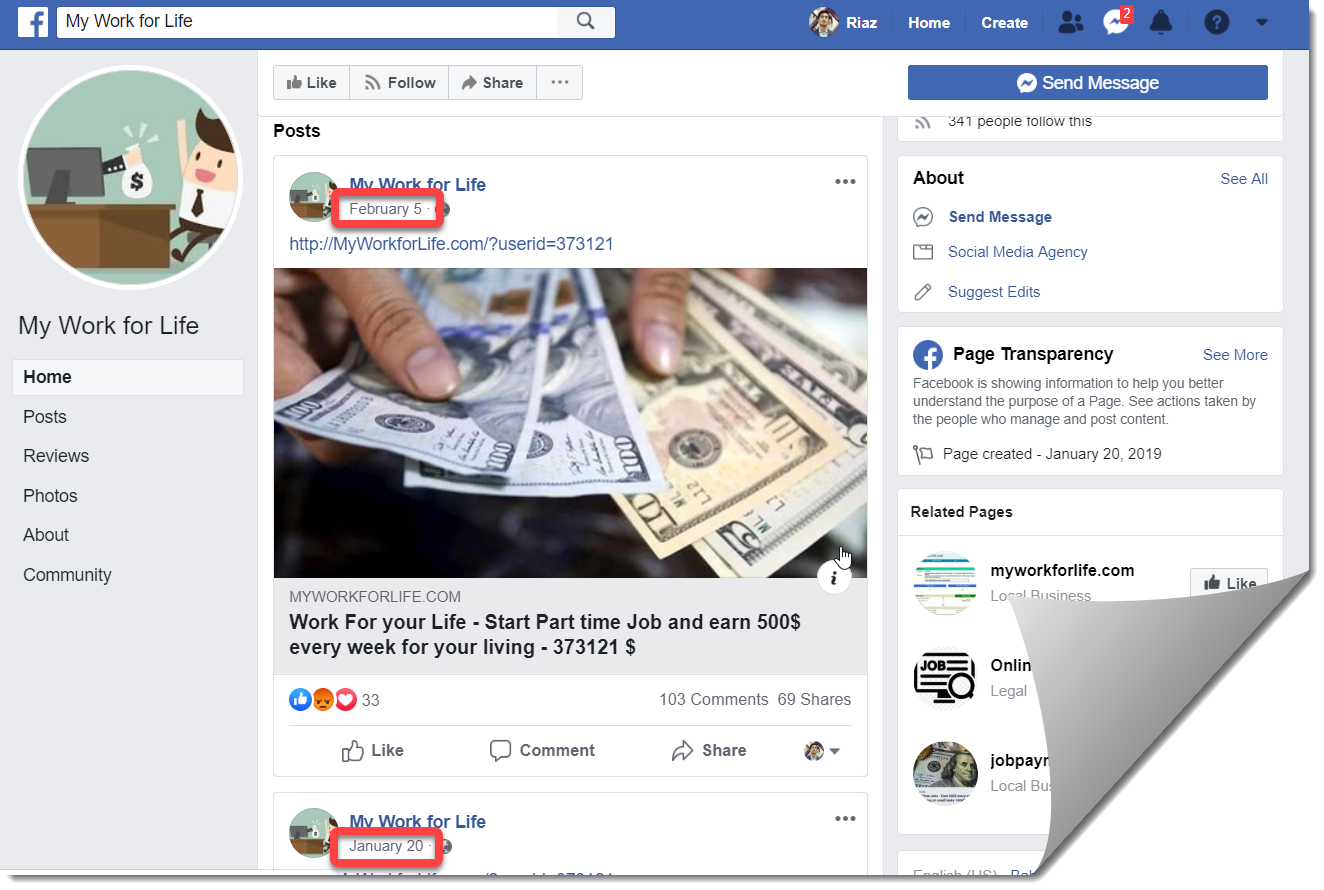 You can always turn to Facebook to check on updates.
To my surprise, there were no updates.
Not because they slowly stopped or anything, it's because they never were active to begin with.
And for an Online Business program trying to teach you how to succeed online by being active on Facebook, it sure looks like they're doing the exact opposite.
Free business opportunities always have a community because they attract a lot of people as they're free to begin with but that doesn't seem to be the case for My Work For Life as there's no trace of people anywhere except for a few complaint threads here and there which is something we need to be wary of.
I wanted to reach out but after seeing how they only shared one post on January 2019 and another the next month, I didn't bother because it's clear that they themselves do not care much about it.
Do I recommend My Work For Life? 
Absolutely not.
I would usually give the slightest hope for a program but seeing how the owner himself seems to have disappeared or abandoned the program himself, it's not worth pursuing as we know that there won't be any updates or development in the future.
My Work For Life does sound interesting especially for beginners as you can earn without spending a dime on anything but for seasoned Internet Marketers, it does not sound too promising.
Even if we manage to rake a thousand bucks worth of revenue, the chances of us withdrawing our hard-earned money are close to zero.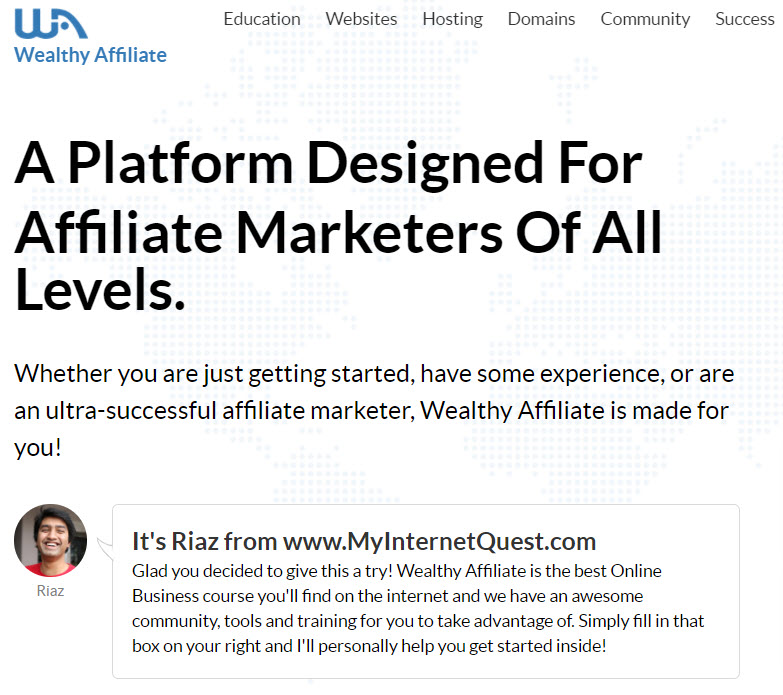 However, there is a way to make it work.
There is a program that teaches you everything you need to know about making money online by promoting things that you love and it's called Wealthy Affiliate.
It's similar to My Work For Life, only that it's a million times better as it has lessons that teach you how to create content and monetize any passion that you have which can give you great growth on your income.
Wealthy Affiliate is an Online Business platform that provides you with everything you need to succeed online.
Besides the evergreen lessons that I mentioned earlier, there's also a free website builder to help you kick off your brand, an Affiliate Program searcher to help you find things you like to make money off, and most importantly, a warm community of people from various backgrounds that you can turn to whenever you need help.
It's how I got started and how you came across this site too, I created it solely from the knowledge I learned there.
Basically, how you earn money is by Affiliate Marketing and how you get people to come to you in the first place, is by writing content that will rank and even for that, you can easily achieve through the keyword tool that they provide you inside.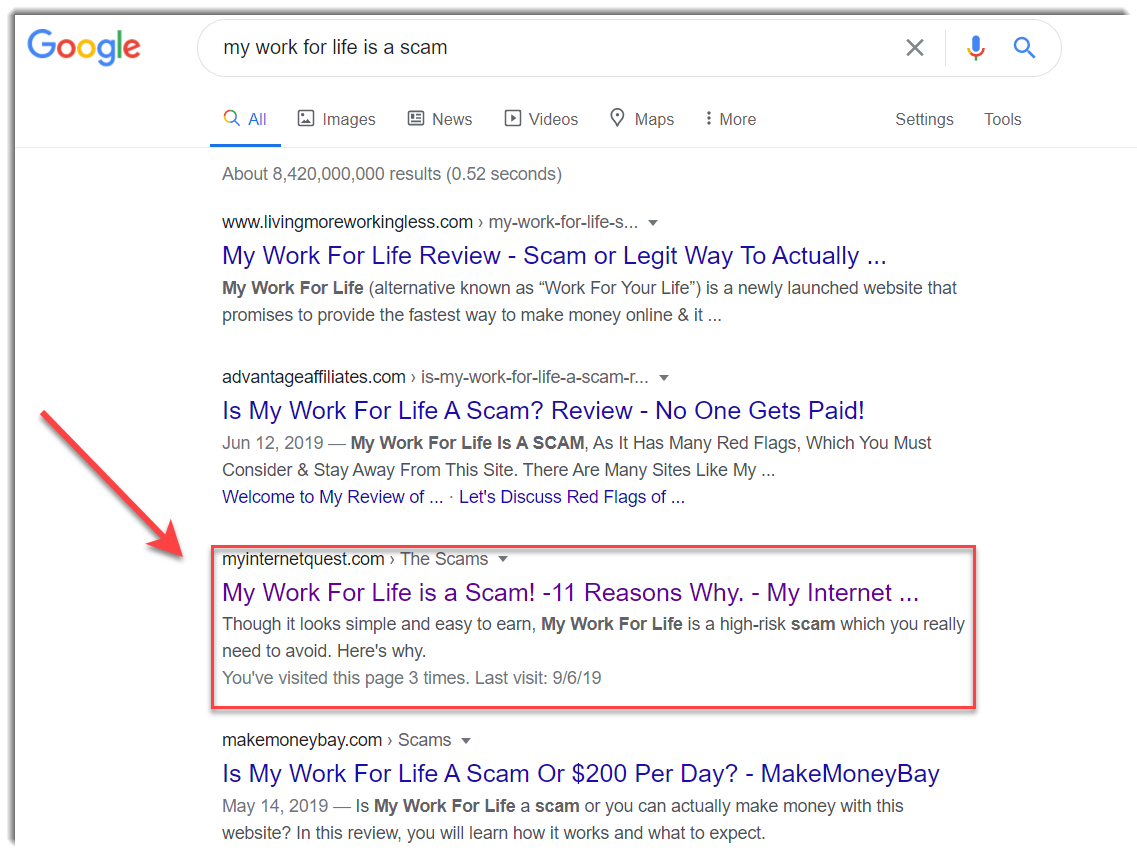 Take this review for example.
If you have come across this page, chances are you might have stumbled upon it Google.
And for very good reasons too, it's because Google is a very trusted search engine with very strict procedures on which websites can rank and which doesn't so you just know that a majority of sites that rank, are trustworthy ones.
Getting your page on Google is great because you'll get endless traffic for as long as your website exists, it is the very definition of passive traffic and from there, you can choose to convert that traffic into income in whatever method you choose.
This is why an Internet Marketing course and a good community can go a long way to helping you succeed online because there is absolutely no room for you to fail if you put effort and work hard into getting it.
I started doing it part-time and now, I'm earning full-time online and with the knowledge I have, I've ventured out doing other niches that I love such as gaming.
Affiliate Marketing is the way to go and to help you understand better what you're missing out on, here's a comparison between these programs…
Final Word
---
Though it looks neat, there are barely any good points for me to mention in this program.
Not only do they duplicate websites on different domains, My Work For Life does not have any guidelines to help you get started properly let alone paying you your hard-earned money which is why it is definitely a scam and I wouldn't recommend it to anyone.
If you'd like a similar program with better features, I suggest you check out my #1 recommended program here.
Thanks for reading, do share any experiences you may have down below and I'll be more than happy to reply.