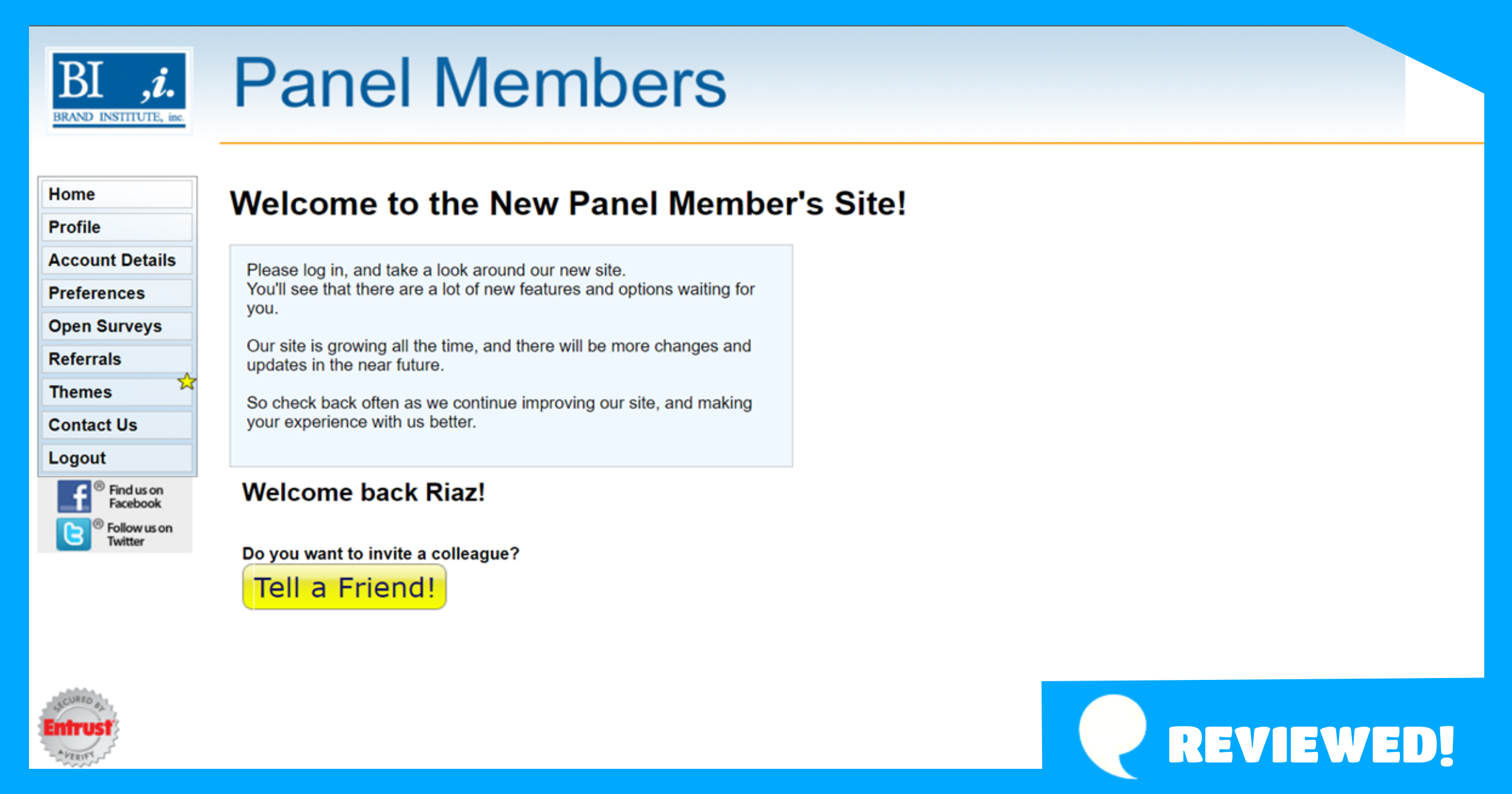 Program Name: Brand Institute Surveys
Website: brandpoll.brandinstitute.com
Type of Business: Online Survey
Price: Free
Owner: James L. Dettore
Overall Rank: 3 out of 5 ⭐️⭐️⭐️
[URL] This just came in, I guess Brand Institute Surveys has finally closed their survey platform so you won't be able to access their link. Sad to see you go!
I came across Brand Institute Surveys from Shark Tank.
Well not directly from Shark Tank though, it was on YouTube where I came across a video where Mr. Wonderful was really impressed by Brand Institute so I thought that it must be a really cool opportunity to learn, which then lead me to decide on checking it out further where I also found out that the company is giving earning opportunities through surveys.
Pretty neat right? How I discovered a survey site through a random YouTube video about a company which I did not know of but turns out to be a very established site.
It's not their main business though, more of a side project to help their main business while giving more to the community which I find very noble.
But is their survey program really worth your time? Is their pay compensation good, or more importantly, can anyone join and make money from it?
If you're just as curious as me, read on as I unveil the details on my full Brand Institute Surveys review.
Pros & Cons
Pros
Established since 1997, wow!
No minimum cash out threshold.
It's under their mother company Brand Institute which is a very respectable institution.
Their website is mobile-friendly.
They own the Drug Safety Institute, which the surveys are created to help improve their services.
Great opportunities for those in the medical field.
You earn cash instead of reward points like other surveys usually do.
No fluff, you just do surveys, you earn cash.
Payment is through PayPal.
Cons
Lack of surveys.
You'd have to become a member for 6 months before becoming a VIP in order to get more tasks.
If you're not a VIP, you will have to wait to get email invitation for surveys.
It's not for everyone as a priority for tasks are given for those in the medical field.
If you're not in the medical field, surveys pay less.
No affiliate commissions for you to earn more.
It's not accredited with the Better Business Bureau.
They don't have a mobile App for you to download so you'll need to use PC.
The theme is old and non-responsive when browsed through a phone.
Golly, that's a lot of cons! Better check out my #1 recommended program here instead!
What is Brand Institute Surveys About?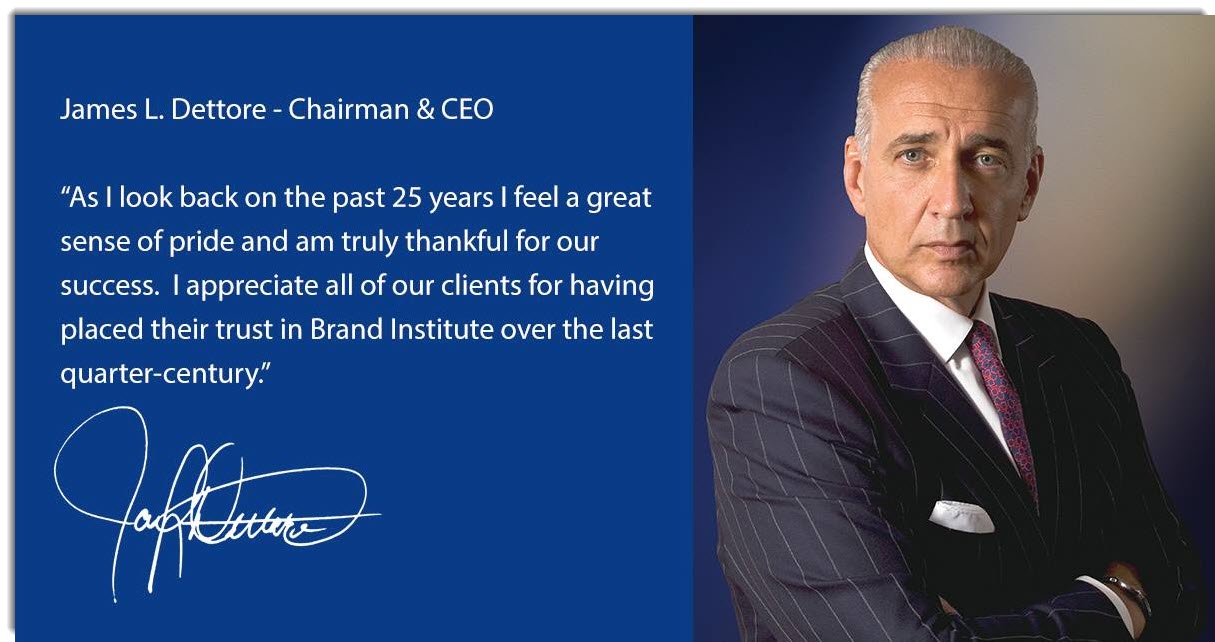 Founded in 1993 by James L Detorre, Brand Institute is a branding agency based in Miami focusing on creating brands that echo internationally.
There are established in several different countries, with over 18 offices in total worldwide.
It is not a 100% survey company as you might have guessed, but rather a corporate company with surveys being a side business utilized by the company to give them better insights which help them connect with the community (people like us), to help them make the right choices in branding which is their main business.
What I like about the company is that it has strong roots in advertisements especially when the CEO James himself prior to starting Brand Institute, has worked with huge brands namely Pepsi, Hilton, even Ralph Lauren, my favorite brand.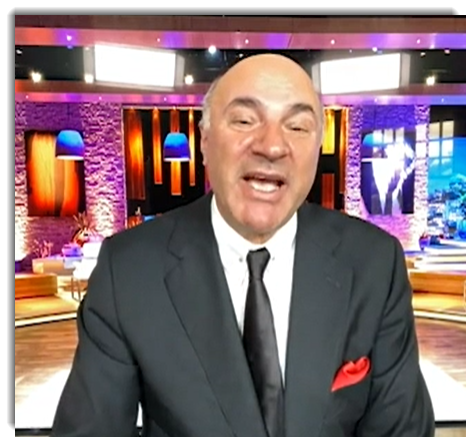 Perhaps the most impressive feat Brand Institute has is not only the fact that they have been in operation for almost two decades, but their role in being the goliath of brand naming in the pharmaceutical industry as the majority of vaccines in the world are named by them.
In fact, they even got an applaud from Mr. Wonderful from Shark Tank which is a very popular entrepreneurship show for grants, amazing!
With 75% of pharmaceutical brands being named by them, I wouldn't be surprised if they'd even get the job of naming the world's first covid-19 vaccine, wouldn't you agree? I bet they do!
Brand Institute's focus in the Pharmaceutical industry is further enhanced with its subsidiary company, Drug Safety Institute which has a role in labeling, analysis, and risk management strategies.
Which also explains how they are operating their surveys in a controlled environment.
Overall I'd say Brand Institute is a reputable company with a good track record, healthy progress, and good potential.
How do You Earn? -Getting to the Surveys Part.
Depending on surveys, the pay is good.
You could earn an average of $4 for a 20 to 40 minutes survey, and this is for the normal ones.
There are also medical surveys which are meant for those from the health industry and of course, pays higher up to $15-30 per survey which is pretty cool but perhaps the one thing I like most is that we can earn directly through cash rather than reward points like most surveys sites do which is the real deal.
Basically, you can think of Brand Institute as a special survey commission opportunity for doctors, physicians, biochemists, biologists and other similar professions within the health industry which I find great and unique as there aren't many opportunities for our front-liners who work hard to protect the people, especially during this pandemic season.
People who are not from the specified medical backgrounds might miss out a lot though but worry not, there are surveys everyone can join though not as numerous as the medical surveys bt if you have friends or relatives who are, you can help them earn more by sharing this survey opportunity with them.
And as for the survey choices part, we don't simply find ones that we like to join from a pool of surveys like most survey websites do but instead, you will receive an invitation for it through email.
The downside to relying on emails only is not just the part where we might overlook emails as sometimes they end up in spam, but that the fact that there is always a chance that you won't be qualified even with the invitation being sent so there's always a risk that we might not get the full payment besides a wee compensation.
Once you've reached 6 months of joining, you can go the extra mile by joining as a VIP which is much better.
It's free to join and basically, it'll give you more access to surveys to do as you can choose from the website itself instead of constantly waiting for surveys through email which every non-VIP members have to do.
You'd have to fill in an application for that and not all will be accepted though as their team will filter out according to those that fit their criteria.
If you're wondering how to use Brand Institute Surveys, you can start registering at brandpoll.brandinstitute.com which is an extension URL site for the company's survey-related stuff.
Their main website is meant for their main business though so if you don't use that specific link, you might not find the survey section.
Red Flags – Are the Risks Worth Taking?
Now that we've got all the good parts down, here are some of the negative parts that I figure I'd let you know to help you make the final decision.
Red Flag #1 – Lack of Surveys.
Take that problem and multiply it by ten times.
It's no surprise that the lack of surveys is the main problem for any online survey platform but it's a heck tougher to find a survey for Brand Institute because you will have to wait for it through email.
Once they have a survey coming up, their team will inform you through email and you'd have to be on standby to click on it.
It's not as easy as it sounds though, because there are millions of people dying to click on the survey as fast as they can since Brand Institute's surveys are one of the few legitimate ones which pay directly by cash instead of reward points like other survey companies.
By the time we've clicked on a survey that we can do, it's already closed as people are competing to do these surveys as fast as possible so if you're slow to click and finish, you might not get the chance to complete it and earn.
Because of that, people are competing to even get a chance to join those surveys and don't get me started on the VIP appliers.
As mentioned earlier, survey subscribers who have been a member for 6 months will be upgraded to the VIP status which gives them a priority for survey tasks.
Good for them of course, but bad for you.
Red Flag #2 – Hard to Qualify.
Good things are hard to come by.
And in the online survey world, it's those good survey opportunities that are difficult for us to get a good hold on.
The moment we find a good company like Brand Institute Surveys, with one of the most honest payment methods direct cash with no fluff, turns out we don't even qualify for it.
But it's for a valid reason though if you look at it, because since Brand Institute's main business revolves around the pharmaceutical world, it only makes sense to give priority to those within that field.
Success rates for those who qualify are higher for patients and professionals within the health world and that's for good reasons too, so that the future labeling and risk management strategizing efforts will be affected by people who are already related to the industry.
Although everyone can join the surveys, not everyone can get qualified and even after spending a lot of time doing their surveys as there is a risk you can do the survey but being rejected afterward as they don't deem you as qualified.
Red Flag #3 – VIP Surveys are Waste of Time.
Members who have been online for 6 months will have the chance to be upgraded to VIP.
However not all will be qualified to be a VIP though because even after waiting and dedicating 6 months of your life, you can still get rejected as you'll need to go through a preliminary test in order to get that privilege.
The privilege of a VIP member is not so much on the payment but rather on the choice of getting to know the surveys before the non-VIP members but what good are those if you do not have that many surveys to go around with to begin with?
Non-VIP members would have to wait for them to get informed by email on any upcoming surveys.
VIP members on the other hand, can just regularly check the system and see for themselves the tasks available but personally, it's still not worth waiting 6 months for unless there's plenty of tasks to do for everyone.
Red Flag #4 – There's No Mobile App.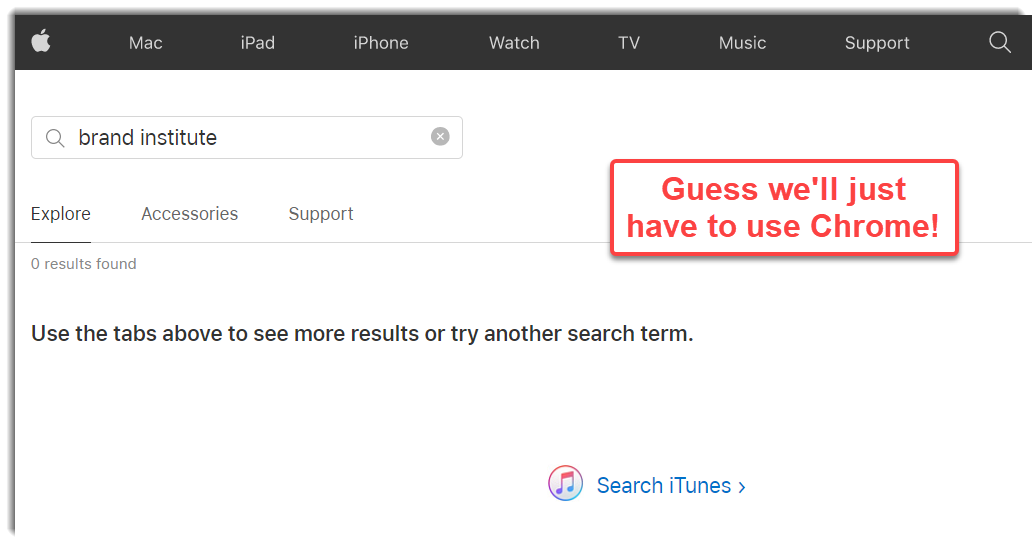 There's a reason why we use the word "religiously".
Especially for surveys, it is a very repetitious thing that we'll be doing therefore most people would not consider online surveys a full-time job, but more of a side income where they can focus on a specific point of the day before or after their main job.
You know, like when you're on a one-hour train ride to work, or the commute back home, or even both.
Why waste all that time not making any money right?
Because of that, survey companies like Swagbucks or Toluna for example, would adapt to the growing amount of users to making it accessible on their phones as a mobile app easily accessible from the app store or google play so that they can use it anytime as they go with ease.
I was surprised that Brand Institute Surveys doesn't have one though it has been operating for two decades.
Red Flag #5 – It's Not Built for Mobile Phones.
Not having a mobile app is bearable, but at least make it easier to view from phones.
Websites all over the world have their themes updated to adjust to the mobile version as soon as mobile search statistics were overtaking their PC user counterparts.
This is because if a website doesn't have an adjustable theme, the view will not be flexible when viewed through a mobile phone, making it not only unbearable for normal phone users to view, but also will also make Google rank your website lower as you don't seem to want to update your business enough to care.
Oh and just so that we're both on the same page, mobile responsive means that when you open that specific website on a mobile phone, the site fits nicely instead of you having to manually stretch it or zoom in.
If you look at the screenshot I just shared or even if you don't, you might have noticed that the screen on your phone does not look complete and that you'd have to keep stretching here and there right?
That means that their theme is not responsive as it does not fit in nicely to your phone screen and having a non-responsive theme is troublesome because then you'd have to manually adjust stretch the screen just to continue reading.
In other words, mobile responsive refers the flexibility of the website to adjust to the user's phone view.
Being a two-decade-year-old business, of course Brand Institute cares, right? Right.
Except that they only updated their main business website, which is brandinstitute.com instead of their survey site which is brandpoll.brandinstitute.com.
I don't know about you but that gives me signs that maybe they've abandoned their survey program for a while now.
Red Flag #6 – Not BBB Accredited.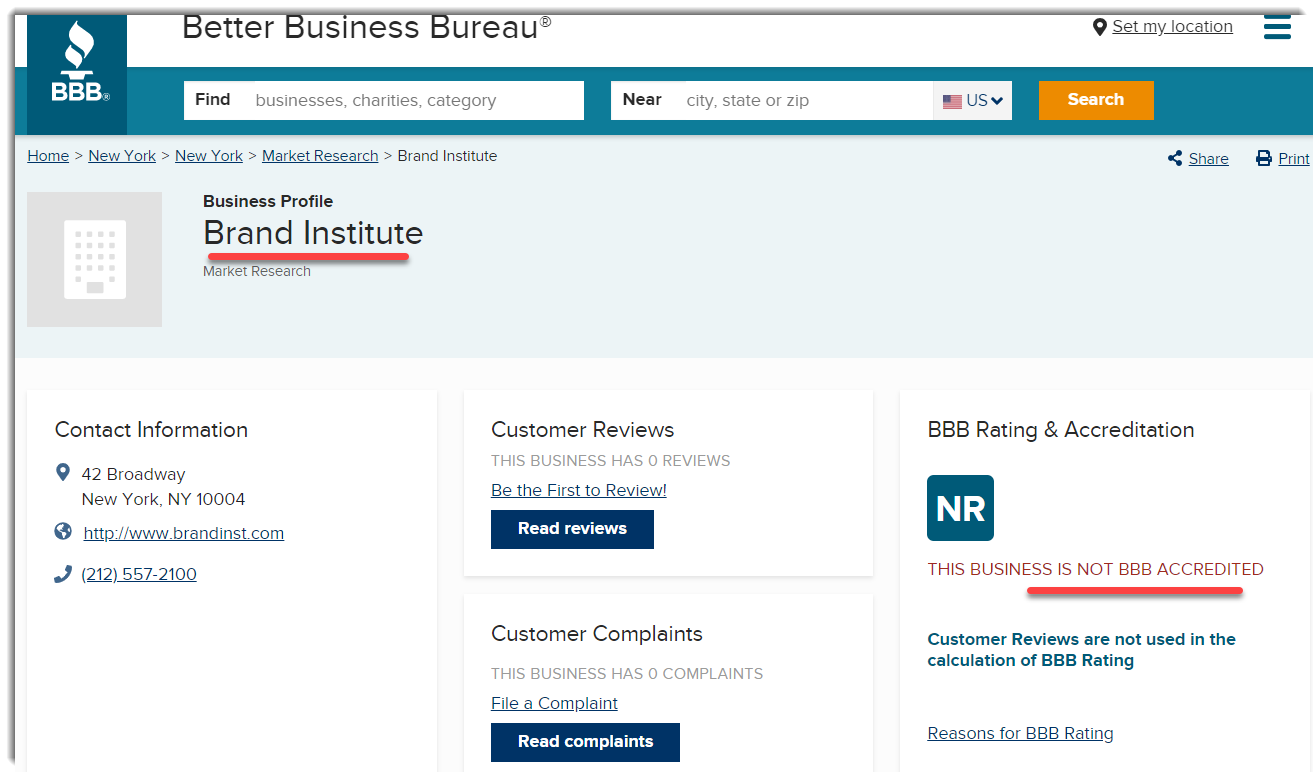 Intriguing.
For a company that has been around for over two decades and is headquartered in Miami, it strikes me as odd to not have any accreditations with the Better Business Bureau.
If you've never heard of the BBB before, it is a site that rates a business's legitimacy particularly in the US so that consumers like me and you go to can refer to the programs there to know that it is safe.
They are huge and cover internationally to the minute of details on a company to make sure whether they follow the FTC guidelines or not which makes me wonder even more how and why Brand Institute is not accredited within their system.
Maybe they have been around for too long without having the need to market themselves as their clients are mostly ones that know them out of reputation or connections and that they have no need for public knowledge since they focus on the Business-to-Business model.
Still that's for their main business and not the survey part which is something to note.
Red Flag #7 – No More Referrals Commission.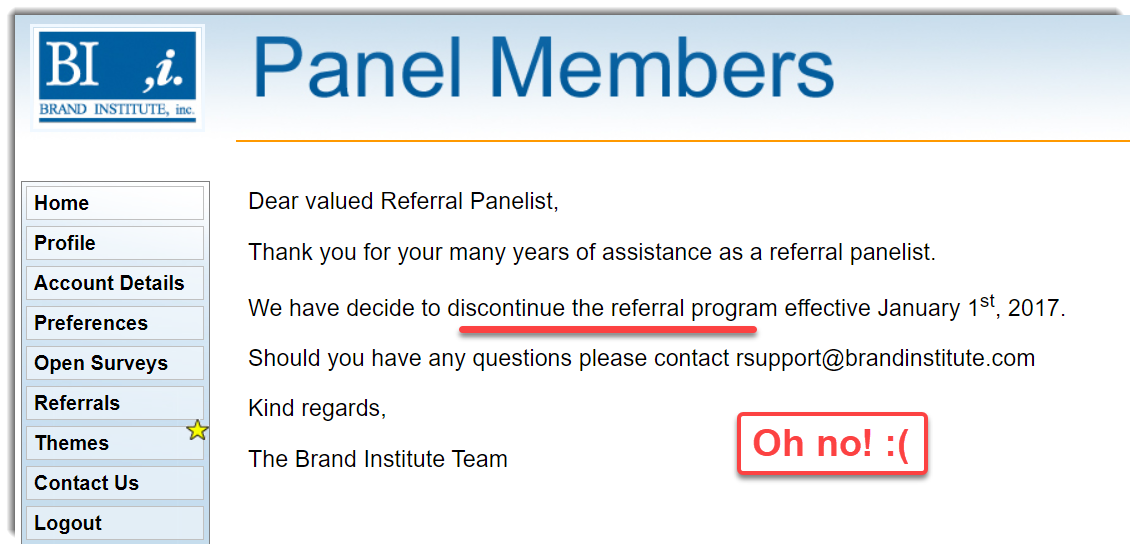 Online survey companies usually give out referral commissions to attract more people.
Not Brand Institute.
well, at least they did for one period of time, all the way until 2017 when they decided to end the referral program.
Not only does this restrict the members from earning more by further giving exposure to the company, it somehow shows that Brand Institute is slowly trying to bring down the whole little survey thing that they got going on wouldn't you agree?
Maybe it's a way for them to slowly tell their members to back away from them by making them lose interest for the end of their survey site is nigh.
We got quite a number of things that showed bad signs but none like this one…
Red Flag #8 – Their Stats are Gradually Declining.
Is Brand Institute okay?
I can't help but notice several signs that the company's survey site might not be faring well like the lack of surveys and the outdated website theme so I decided to check out that overall site traffic.
It turns out that globally from a particularly good position of #188,532 worldwide, they've fallen from grace all the way to number #280,786.
Their website traffic is gradually falling apart and not at all like how it was initially during their early glory days which makes me wonder even more if the company is really doing well or are they too affected by the pandemic.
Knowing this, I'd think it'll really be a risky business to jump on their survey site and spend all our time there as we'll never know when they'll put a stop to their platform, or whether or not we'll get our money back once they do.
Do I Recommend Brand Institute Surveys?
If you're in the medical field, yes.
If you're not, then don't bother as you won't make much as surveys are getting scarce to begin with.
Getting at least one job will take months and don't forget, priority will always be for those who are in the medical industry and don't get me started on the VIP members, as they will always be the first to know when a survey comes out.
Which leaves newcomers next to zero percent of getting accepted.
The senior members will always get the big chunk, leaving the new members with barely any crumbs for us to fight with so it's not worth our time as there are many other programs which we can focus our time on.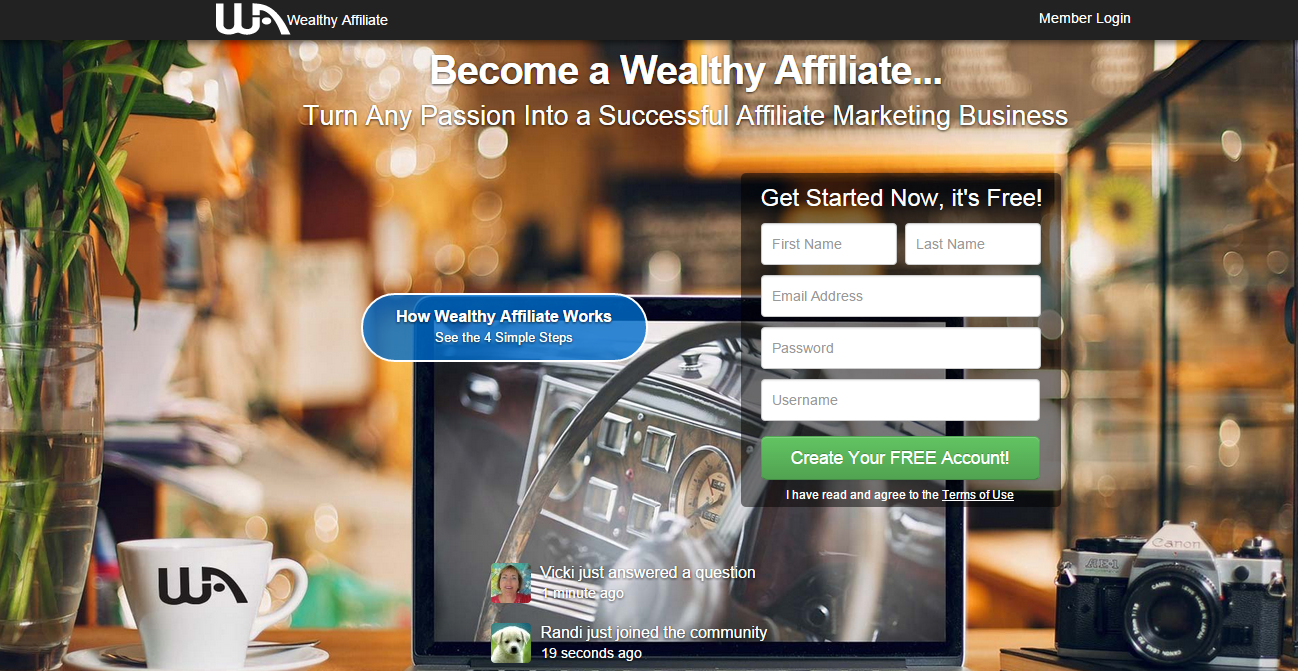 One in particular which I can suggest, is Wealthy Affiliate.
It is an Online Business platform that aims at helping you make money online through Affiliate Marketing which is very interesting to do since we basically just focus on creating content that we love, from any niche that we like.
If you love cooking, you can learn how to blog and earn from Amazon.
If you love eBooks, we can earn as an affiliate through ClickBank.
And many more options on how to earn selling other people's products fully online without having the need to have assets.
Earnings are more scalable and what I like most about it is that the more effort we put in, the more we earn, way better than being at the whims of bosses or companies who do not appreciate our efforts and time spent.
It'll be an achievement owning an authority website of your own that is able to monetize from a variety of choices as it is something that you own.
I started off when I was broke and was doing surveys so I had no experience but the community from Wealthy Affiliate helped me get back up and guided me through the website process until I was able to monetize myself and now, I'm sharing with you.
I know it's not fair to compare an Online Business platform to a survey site as they have different methods but to help you see an overview of what it comprises, here's a wee table…
Final Words
---
Brand Institute is not a scam and in fact, belongs to a very renowned company.
However it might not be worth it if you're just looking for surveys to do as more priority will be given to those from the medical field and coupled with the lack of surveys to do, you almost won't have a chance when competing for surveys against the VIP members and their preferred medical professionals.
That is of course, if you are in the medical field as the survey program is crafted specifically for them.
Think of it as an opportunity for front liners of the health industry.
They work hard with long hours and barely any pay for overtime so having the opportunity to do some surveys for some quick cash would help them a lot.
If you're not from the health industry and you're just looking for a way to earn some cash online, do check out my top-rated program here.
Everyone's welcome regardless of who you are.