Every website or blog could use some boosting for all the hard work you've put in and the sharing is caring plugin, is one of them.
As a blogger myself, I write regularly about 4 articles a week and although this is a good practice to get your site on the first page of Google, I've always wondered if there's something that I did wrong because it always seems to me like something is missing from my website – There has to be something that needs to be added.
After several months of searching (And forgetting about the whole thing countless times), I suddenly found what I was looking for and that is – The Sharing is Caring plugin.
The great thing about this widget is that not only does it give you the social media sharing buttons on your site, it also gives you a huge plump Pinterest button on all your images and the "related articles" section at the bottom of your site which adds a nice touch to it but before I get to the installation part, let's have a closer look at…
What is a Plugin and Why do We Need it?
Plugins are extra things we could put on our website or blog (Practically the same thing) to make it function better or attract people better.
According to Wikipedia, plugins are applications that enables users to access functions so it's basically the same thing.
To make things simpler to understand, they are basically extras that you could put on your blog because once you get your blog initially, you can't do much but to update your content, right?
And only slowly will your blog starts to grow before you'll get confident enough to add in the Akismet anti-spam plugin, the All-in-One SEO plugin, or even the Shareholic plugin for Sharing is Caring.
Benefits of Plugins – How Do They Boost Your Site?
Besides making your site look awesome, plugins have many important benefits that could do well for your site which you should know of…
Ease of installation – Most plugins only need you to install and activate which would take less than a minute.
Making your site livelier – Depending on the type of plugins you use, your website can have cool features for visitors to click on such as the Sharing is Caring social shares.
Increasing the time spent on your site – We know that when there are more features, people will tend to stay at your site longer, but did you know that Google is also going to rank you better for that? The period of time signifies how important your site is to readers which is further a great plus to take note of.
They are automatically updated – Plugins are made by users to help the community and they are updated regularly for free which is pretty cool.
Help you keep track of your work – one of the best features of plugins is that many of them actually gives you statistics of how many times visitors clicked on that which greatly helps you in deciding on the effectiveness of your campaigns.
Plugins vs Widgets
The sharing is Caring plugin is different than a widget but many people still get confused between these two marvels and plus, this is one of the most common questions I usually get too so let me touch base with you and help clear the confusion.
Plugins are something that effect your website indirectly whereas Widgets do it directly (Wait, what?).
Take a look at this…
As you can see widgets are those that you can see from your menu which are those things you see at the sidebar, things like – banner ads, categories, search bars, and even the recent comments section.
Believe it or not, some even put social media share there but basically, widgets are simply things you can put on your home page to make it look nicer.
Plugins on the other hand, are software that helps your website indirectly.
Great examples are things like Anti-spams, All-in-one SEO and even automatic backups.
Bear in mind though, some of these 'software' can make cool things to appear on your site which is like the Sharing is Caring plugin on all pages, or even Pinterest buttons.
Get the idea?
Don't worry, take it slow and you'll get used to it eventually.
How to Get the Sharing is Caring Plugin for WordPress?
Now for the grand finale – The installation of the Sharing is Caring widget!
A little note that I want to add is that when installing the Sharing is Caring widget, you will not only get the social sharing widget that you have been dreaming of, you will also get the Related Contents section as well along with the shareable Pinterest button which is definitely a 3-in-one package.
Here's a video I've made to help you get started…
Do take note that the video is inside Wealthy Affiliate though, because I'm using it as part of the trainings I'm sharing with my students on how to develop their WordPress blogs even further.
But here are the written steps just in case…
Step #1 – Install the Shareholic plugin

The plugin for Sharing is Caring is called Shareholic so you bet your sweet bippy that's the first step you'll need to do.
From your WordPress dashboard, simply go to plugins and type in "Shareholic"
There will be 2 results made by Shareholic but you can choose either one it is made by the same person.
Once installed, simply activate and it will appear on the bottom of your WordPress dashboard.
Hover your mouse over and click on App Manager.
Step #2 – Click on "Edit Share Buttons Settings"
Once you're inside the App Manager, you will have 3 features where you can control which are "Related and promoted content", "Share buttons" and "Monetization".
Don't be overwhelmed (I was more overwhelmed than you!) because you need only to concern yourself with the Edit Share button settings because the other features are already set automatically for you.
After clicking on Edit Share Buttons Settings, you will be brought to the last page you will ever need to concern yourself with!
Step #3 – Finish up your sharing settings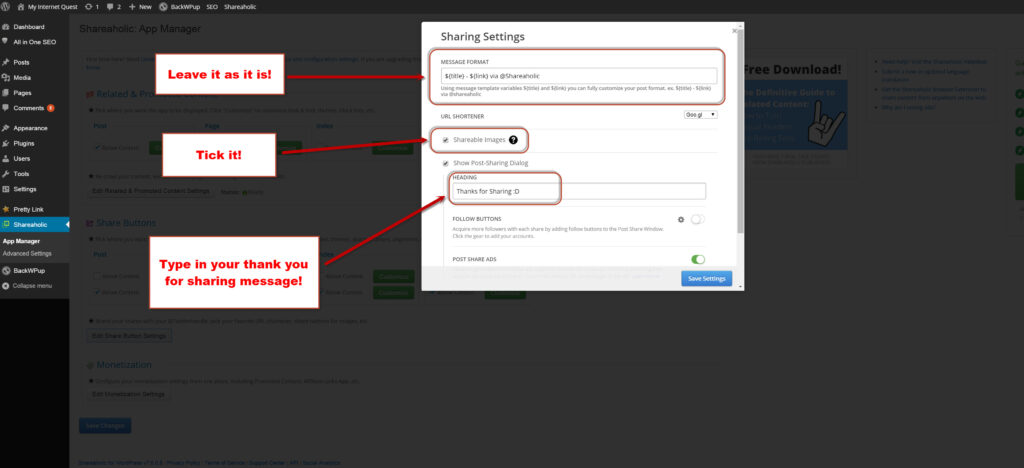 I hope you're still with me on this because this is the last step you will need to understand as after this, I promise you there will be no more technicalities (I too, hate these technical stuff!)
After clicking on Edit Share Buttons Settings, you will be brought to a small box where you will need to fill in some things.
For the message format, simply leave it as it is because all of those are in coding format which is perfect as it is.
Click on the "Shareable images" box because that will allow you to add the cool Pinterest button on your images.
Last but not least, is the heading section which is the message that you would want to give to whomever shares your post which is something not many websites have and is the reason why this plugin is so cool.
And you're done! Here's how it would look like…
It isn't that hard is it?
Learn How to Make Money From Your WordPress Site!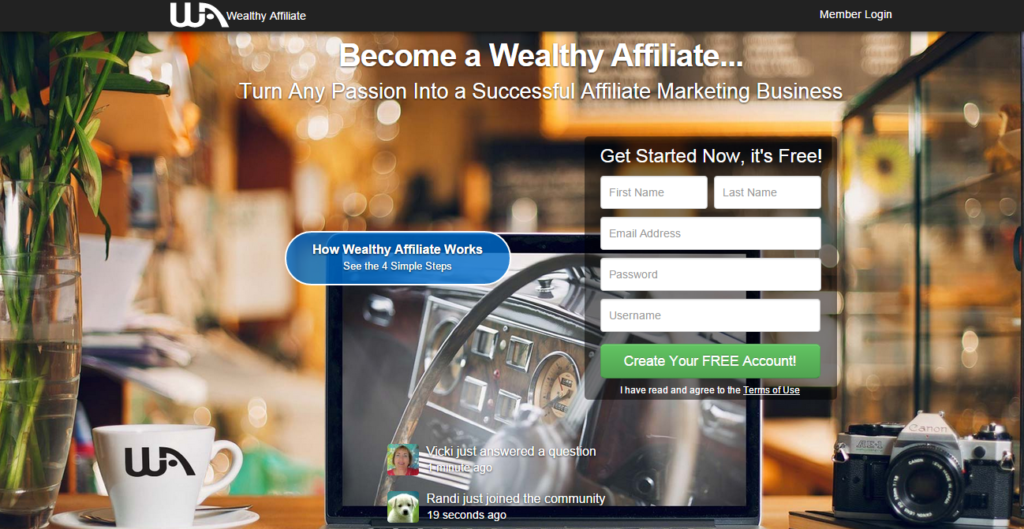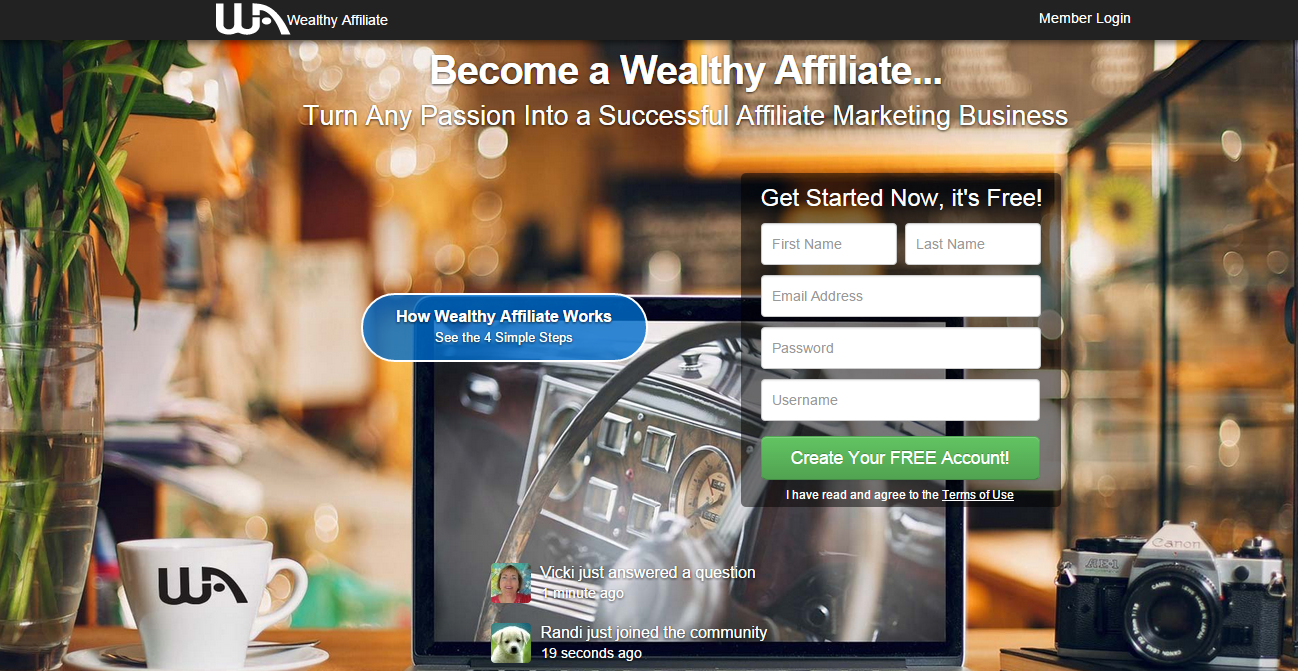 This step is optional but I highly recommend you to check out because one of the biggest challenges of creating an online business is having a website.
Because of that, I have to help people build a WordPress site from scratch before I can teach them anything but since you have your own blog already, why not make some money out of it, eh?
The best way monetize your WordPress blog is by doing it right which is through Affiliate Marketing and that is exactly what Wealthy Affiliate teaches you.
In Wealthy Affiliate, you will learn how to monetize your WordPress blog out of any niche or passion you have by learning how to find Amazon products to promote which is why it is so powerful.
After that, this is what you will be doing…
How you make sales from your website is by making your blog more visible which is by getting it on the first page of Google and this is how I managed to make money from my website.
Getting your website on the first page of Google will not only get you more traffic, it will actually do your blog some good by increasing your reputation which is something every website owner wants.
You can get started with your $0 starter account here.
Conclusion
---
I've been looking for the Sharing is Caring plugin for years and if you're just recently starting out in the blogging world, you're in a way better position than I was 10 years ago so do make use of this opportunity.
However, you still need to regularly produce fresh content because only by doing so will people have a reason to share your articles, no?
If you're interested in learning more tips on how to make full use of WordPress, check out my #1 recommended program here.
Thanks for reading and do share your thoughts below as I'll be more than happy to reply.