Hi there! My name is Riaz and I'm from Malaysia.
I have a degree in Hospitality Management, I worked in London as a hotelier and now that I'm back, I started my own local company as well as this blog very blog that you're reading.
A lot of people have the perception that if you want to succeed online, you need to know complicated coding and computer stuff.
I was one of them too, and that is why I created My Internet Quest.
The purpose of this website is so that I can show people that making it online doesn't require any prior skills, that anyone even a newbie can learn how to make money online while avoiding shiny object pitfalls that most of us have come across at least once on the internet.
The best and the safest way anyone could achieve that is by making a website of their own and learning how to monetize it because that way, you will be in charge of your own business as you control what goes in, and what goes out as well as how much work you want to put in to get more returns.
But, it's important to note that making a website is never an overnight process as there's a whole growth period before you reach the passive income stage that you have to go through and this is something no other companies will want to reveal to you.
I share tips and tricks on how to boost your website in many ways such as in terms of traffic generation, website optimization, blogging secrets, and much more! All so that you can get an edge in the competition and be at the top of your game.
Here are some of the interesting features I touch base on…
Tips for driving traffic to your website
Review of internet marketing products
Tips on Social Media optimization
Tips on Search Engine Optimization (SEO)
Tips on email marketing and solo ads
Tips on using WordPress (The only CMS that I specialize in)
Tips on increasing your conversion rate
Tips on blogging
and much more to come!
My Journey
I started learning about internet marketing in 2010 but my journey wasn't an easy one. It was full of obstacles and I almost gave up a few times down the road.
Like most people, I got hooked into the whole make money online thing but at that time, many scams run rampant and as a fresh teenager who knows nothing about the internet, I was scammed numerous times.
Unlike today, the internet was still fairly new back in 2010 and Google was not that strong yet in terms of rules and regulations so a lot of people took advantage of that and manipulate scam programs for their own gain.
My first experience of being scammed was by this push-button software guru which claims that you can make money by just clicking on a button.
Sounds too good to be true, no? It actually worked.
And not just me, on a lot of people as I managed to make about $1,050 from that but after that, there came a surprise that nobody expected.
Google took control and updated so many things over the internet that many people stopped making money online, even me, and even those gurus.
I remember I was so depressed at that time, I almost gave up but I kept holding on to the belief that I can make passive income over the internet, I just didn't know how yet.
I was trying products after products after that but still to no avail, I wasted more money in the end which made me even more disappointed with myself, and as soon as I was ready to throw in the towel, I came across a website that literally changed my life.
I came across a certain Online Business platform called Wealthy Affiliate (WA) which literally changed my life and unlike other make-money-online products that I've tried before, WA doesn't even promote its own program – No ads, no videos, just a couple of good reviews on the internet.
I wasn't even attracted to it in the first place because it didn't sound fancy but I decided to try it out as a last resort and little did I know, that it is the place I needed to be.
It's a community where everyone is helping out each other succeed online with their businesses and how they earn money online, is through a website.
I was surprised because the thought of monetizing a website hadn't come to me. I was still skeptical about Wealthy Affiliate but after a few hours, the founder himself Kyle welcomed me!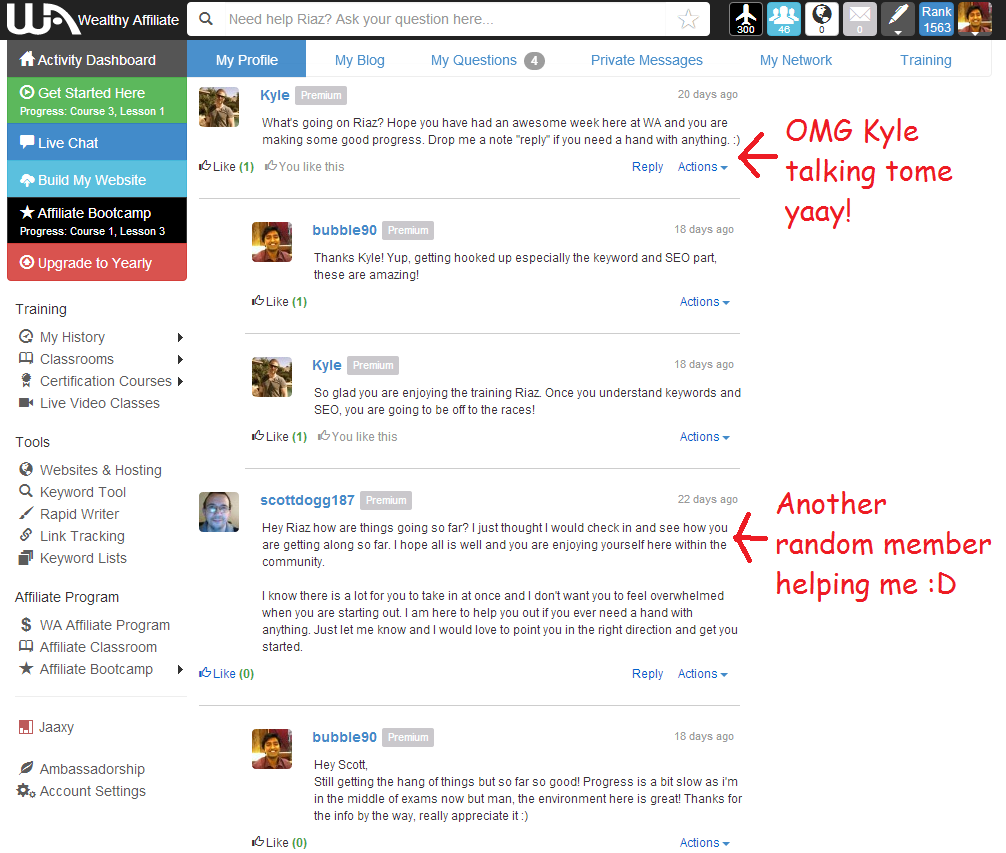 All my life trying out home business products, I was never even greeted by owners let alone have the chance to talk to them. At that point, all my hope was replenished like that in a video game and I finally had a mentor to teach me and get me out of my problems.
I was so grateful to have found Wealthy Affiliate that I made a whole review about it here.
I also plan to make reviews of other home business products that I have tried before so that others who were unfortunate like me can also join WA as it's free to start and it has an unlimited period starter account too so you can test it out yourself without having those any time constraints we keep coming across.
After all, the internet can be a very scary place as you won't even know who to trust.
After a while, I started thinking to myself "Why isn't WA promoting its own course?" It doesn't even have an attention-grabbing video as every program does but then I realized, it doesn't have to because there are no products to sell.
They don't bombard you with offers after offers like the rest of the other home business products. There is only a membership fee if anyone decided to get more benefits.
And so I decided to start building this very blog you're at to help people succeed over the internet. I achieve this by providing tips daily and making reviews of products so others can get away from scams as well.
With the skills I've learned from Wealthy Affiliate, I even managed to boost my own local event startup here in Malaysia – We have an office now, a fully-functional website created by yours truly (Saved myself a few thousand from hiring a web designer), and a healthy Google presence that landed me lots of calls from clients every day.
So that's my life in a nutshell 🙂
But with all my busy schedules, I'm still just a normal everyday Joe who's addicted to online games especially Elder Scrolls Online and Apex Legends.
Thank you for spending time reading my story, I appreciate it and If you have any questions whatsoever do drop some comments below, I do take the time to read and reply. If you're in Wealthy Affiliate, do let me know on my profile here.
Your friend,