If you're wondering on how build a website, then you must have heard about WordPress.
Lucky you!
WordPress is a platform for anyone whether you're a beginner or a veteran, to build a fully functional website with ease.
So if you're looking for ways to start building your own website or blog like a pro, then it's a good thing you found out about WordPress because it is the leading website platform in the world.
What is WordPress?
WordPress is actually a Content Management System (CMS) which is just basically a website system that helps organize everything.
For example, when you first choose a website name (Also known as domain), do you know what you should do next?
Like what should you do? Or how do you save files? Or better yet, how exactly do you start building your website and make it look like a pro and not just empty?
THAT'S why you need a CMS!
And the best CMS in the world is WordPress which is why we are covering that today.
Why Should You Use WordPress?
Did you know that 7.46 million websites around the world use WordPress?
Aha! That got your attention!
WordPress is the best CMS in the world and the rate of people publishing contents is astonishing.
Here's some cool facts about WordPress that you should know of:
WordPress-Related Keywords Score 37 Million Searches Per Month! (If you don't know what keywords are, here is my blog post on that!)
Extremely easy to navigate.
Gets More Unique Visitors Than Amazon (Us)
WordPress is the most popular site online entrepreneurs use as it goes well with Google.
Many huge companies like CNN, TED, and TechCrunch use WordPress!
Did You Know That WordPress Can Help Make You Money?
Many online entrepreneurs choose WordPress to make money from their website.
Those who use WordPress shows seriousness and determination on going far so their website will never cease to grow which is why it attracts many visitors every day.
With that many visitors, all you need left is to learn to monetize and here's some of the few methods used by successful internet marketers:
Selling advertising space for advertisers to rent (Like renting your shop lot).
Promoting your own products to sell.
Don't have a product? You can always do affiliate marketing!
Doing your own webinars (More like a seminar but online)
Or even SELL your website when you've worked hard to build (A lot of money if your site is promising enough)
Which WordPress to Choose?
Before we start on building a WordPress website, bear in mind that there are 2 versions of WordPress – WordPress.com and WordPress.org.
WordPress.com is a paid service whereby you need to pay yearly (Used to be monthly) and the price starts at $99.
The paid version of WordPress has the whole WP team covering the technicalities so that means you only need to write your content and submit.
But I wouldn't recommend you on joining WordPress.com because not only is it pricey, you don't have full control over your site and it is also difficult to get support unless you pay for the most expensive package ($299) which includes a live chat service.
The other version of WP that you should really consider on using, is WordPress.org.
Not only is this version free, you will also have full access to your website meaning that you can do anything with it, even the web hosting.
The setback?
Is that you have to handle all the technicalities yourself but really, it is so simple that any beginner can start a website just like that!
I mean look at me, I'm actually studying hotel management so I don't have any background on computer science but I managed to create this awesome website that you're looking at (Yes, that's mine 😉 ) with just a few clicks.
So now you must be wondering to yourself…
How to Start Using WordPress.org For Free?
I thought you'd never ask!
WordPress.org does sound promising but one setback that is has is that it is difficult to install.
You need to have a web host and install WordPress from there.
Still, a lot of people get it wrong because it can be a bit confusing as you need to really delve into the technicalities.
But worry not because there is actually an online community called Wealthy Affiliate which teaches you and guide you on how to have a fully functional WordPress.org website within less than 30 seconds.
Here's a video on that…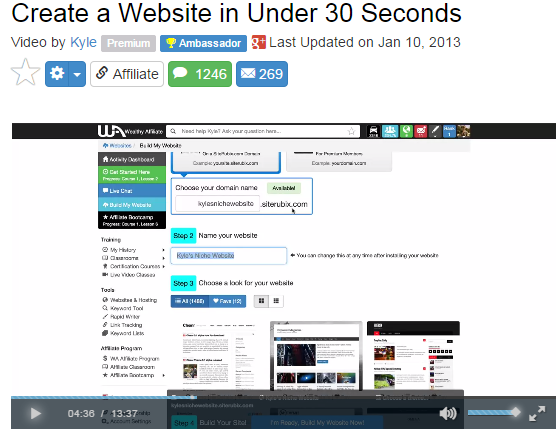 Wealthy Affiliate also has a great community where you can get help and directions on what to do so don't hesitate to ask anything!
Conclusion
---
Building a website may seem scary at first but once you get used to it, it can be really fun!
As long as you dare to try, join an online community and keep learning, you will not only be able to build a successful website, you won't be paying a single cent too!
If you're interested in learning more about building an authority website, check out my #1 recommended program here.