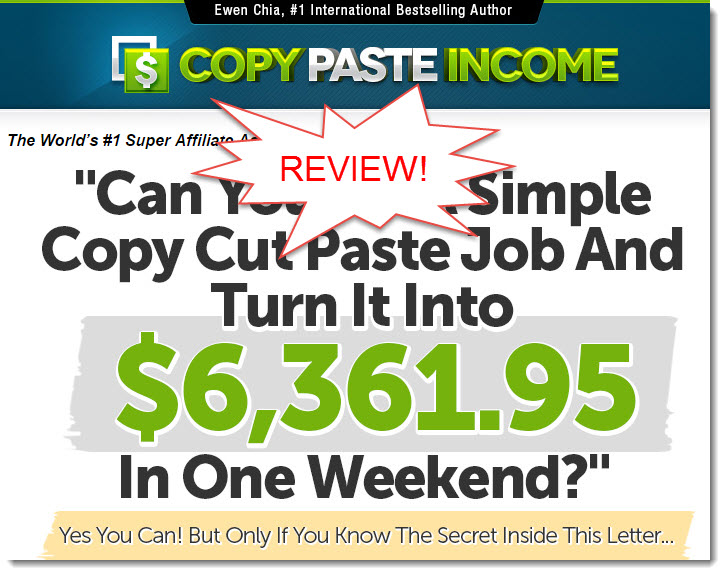 Product name: Copy Paste Income.
Website: Copypasteincome.com
Type of business: eBook Affiliate Marketing.
Price: $37 + 10 more outrageous upsells.
Owner: Ewen Chia.
My rating:  3 out of 100 (Total SCAM)
Ewen Chia is a name I am very familiar with, especially with my review of his previous product Autopilot Profits which was made 10 years ago back in 2005.
I have a bad feeling whenever I look at his name because whatever business that he does, only profits himself as he drains more money from you than you can ever make with his program.
However I felt like it's my calling to personally try out this program and expose Ewen's plans because due to my recent review of his previous program, I have more knowledge on whether or not this new stuff of his will make a difference to the little people like me and you.
So if you're considering to buy, it's a good thing you came to my blog because you are going to read the most detailed Copy Paste Income Review ever to walk the internet…
Pros and Cons
Pros
Nice visuals (Better resolution compared to his previous product).
its a ClickBank product so it's easy for you to get a refund.
Cons
ANYONE can access the member's area!
EXACTLY the same as his previous programme!!!
Use of blackhat tactics.
The whole entire course is all about Affiliate marketing!
Not telling you up straight what you will be doing.
Giving you the impression that it is simple when it's definitely not.
Too many upsells!!
Upsells are unskippable (Very Unethical)
Those upsells are also in the members area!
Connected to the MOBE pyramid scheme where he will try to suck you in too.
Jeepers, that's a lot of Cons! Better check out my #1 recommended program here instead!
What is Copy Paste Income About?
The Copy Paste Income System is an Internet marketing course created by Ewen Chia which is one of the pioneers in the Internet Marketing world and… One of the best scam gurus around.
Here's a video I made to help you get a clearer view on things…
[Update] If you can't see the video, that's becauseEwen Chia made a copyright claim on me as he was scared that I was revealing the true nature of his program. More on this below.
Ewen is from Singapore but his program is mainly targeted for the US, UK, Autralia, Canada or any other western countries because his prices are way too expensive for those living in other countries especially with the huge currency change.
So I'm sure you must be wondering, what will I learn?
As much as Ewen wants to cloak his method and call it a 'Copy and Paste System', personally I think that it is just plain old Affiliate Marketing because what you will be doing inside, is to actually use eBooks which of course contains your affiliate link, and promote this very program in exchange for commission.
The eBooks are actually Ewen's products which he paid some freelancers to create and they contain all the promotional ads on Copy Paste Income so that whenever random people read it, they would want to check what the program is about hence your customers.
Do you see why he calls it "Copy Paste" now?
eBooks are a great way to get leads but only if promoted right and only if it has great value which are both not provided by Ewen.
In the Copy Paste System, Ewen teaches you how to promote eBooks through social media such as SlideShare and Facebook but personally, I find that these methods are not as effective compared to when you do that with a website because when you constantly promote random products especially those which involves the "making money" topics, people often see that as spamming.
How would react if you see someone promoting those kind of eBooks again and again on your timeline even though the eBooks are of different titles?
You would probably unfriend that person or block him.
Promoting products is the general idea of any Online Business but if you don't have a website, you will only risk making yourself look like a spammer which is one the many reasons as to why Copy Paste Income will never come close to my top ranked program.
What I Don't like About Copy Paste Income
I usually write in more detail on things that I like as well as the part that that I don't like when reviewing a particular product or programme as I don't want to be one-sided but in the case of Ewen Chia's Copy Paste Income, there are SO many red flags that I have come across and very little up sides that I can talk about.
Which is why I believe it is better if I expose more on what this product is about so that you can have a clearer view to avoid this scam better.
Red Flag #1 – NOT Telling You What You Will Be Doing Inside
This is a very typical sales tactic used by scam gurus – create expectations but not telling you what you'll be doing inside!
It may sound a bit dramatic but the reason these gurus do NOT want to tell you what you'll be doing inside is because they know that you will leave once you get inside so in order to hook innocent victims, scam gurus are masters at creating curiosities.
It explains why this program has…
Red Flag #2 – Too many upsells!
WAIT! I have a special offer for you this one time!
Sounds familiar?
Apparently, Copy Paste Income has 10 of them and I find it extremely annoying.
I agree that upsells are important for companies to make extra income but I do not agree if you have more than 2 and I'm sure nobody likes it one bit if those upsells are hidden!
Imagine you having just the adequate amount of $37 to join a certain program you've been eyeing on but the moment you made that payment, you have to go through ten more upsells which were hidden and they ask you for MORE money, how would you feel?
Even worse, those upsells tell you that you need to buy them in order to continue so being an innocent bystander not having enough money to pay, you opt for the easiest solution you can think of – leaving.
THIS is why many people do not succeed online even if they have the potential to go far and it's all because scam gurus are so greedy to drain money with hidden upsells which is which why many people have better chances to succeed at my top ranked program instead.
Red Flag #3 – Unskippable Upsells (Really unethical!)
What's even worse than being bombarded with tons of upsells?
Being bombarded with tons of upsells with NO way to avoid them!!!!
This is probably the most annoying part of Copy Paste Income because once you've made the payment, it is only right for us to get our hands on the product, yes?
Instead, Ewen made it even more difficult for people to skip his upsell pages because he completely removed the skip options which means that you either leave or you buy the product in order to get to the member's area.
What kind of mentality is that?
This is the first case of hiding the 'skip' button I've seen any scam gurus make by far which made me despise Ewen Chia even more.
Red Flag #4 – Tries to Upsell you into MOBE
Two scams is definitely isn't a good thing and while Ewen Chia is promoting countless upsells to you like as though you're loaded with money, the last upsell which you are definitely going to get is actually not his product at all.
Which is why he cleverly wrote that as his 'secret' page because that last upsell, is actually Ewen's way of getting you to join another programme called MOBE!
Imagine that!
He bombarded you with 8 of his upsells and in the end, he promoted you another programme instead. Where's the value in that??
If his programme can really make you that much money, why is he asking you to join something else other than his own hard work instead?
I'll tell you why – Because MOBE is actually an MLM scheme which means that if you join, you are going to be losing more money than you could earn because not only will you have to buy the product, you will also need to pay monthly for the MOBE membership!
Red Flag #5 – Anyone can access the members' area!
It's true! Just type in copypasteincome.com/access.htm and you're in!
Although this may be a good news for many of those who wants to see how the program is like inside, this further shows how low quality Copy Paste Income actually is as it has very low security.
It is totally not fair for those who have already paid to be a member because why should we pay if everyone else can get in for free?
This isn't the only thing that makes this program look cheap though because…
Red Flag #6 – Copy Paste Income is EXACTLY the same as AutoPilot Profits!
This is a screenshot of the previous Autopilot Profits created by Ewen Chia which I did a review on back then…
And this is a screenshot of how the current Copy Paste Income looks like inside…
See the similarity?
Although the title and the lessons might be a wee bit different, you can see that they both look almost the same whereby the sidebar is MOSTLY full of upsells and the real training is only the first three links.
Talk about value for money. Seriously, who does this?
Copy Paste Income is definitely a rehashed version of Ewen's previous program which was launched in 2005, 10 years and he didn't even bother to change the interface a little!
At least George Brown (Also a scam guru) puts in effort to make everything about Google Sniper 2.0 and Google Sniper 3.0 different!
Red Flag # 7 – Ewen Asks you to Promote the Same Products!
By now you may have noticed that almost three quarter of the program are all about upsells right?
That is because you will actually be spending more time on Ewen Chia's countless upsells rather than the actual training itself as there are only 3 lessons you'll ever learn!
In Copy Paste Profits, Ewen teaches how to earn money by promoting his eBooks which he will create with multiple topics for you to download and put your affiliate link in.
One setback though – Won't everyone be promoting the same eBooks then?
Ewen's method will eventually end you with a banned account because everyone today is knowledgeable enough to know how to detect and report a spammer when they see one.
Red Flag #8 – Ewen Attacks Videos that Tells the Truth!
When I make reviews, I tend to make videos to show you guys how the program looks from the inside as a member so that you can decide better on whether or not the program is suitable for you before you ever spend your money.
I have been doing this for a little over a year now and companies do not mind on this because in a way, they get more product visibility on my videos so some of them do make more sales.
Because I really show the product or program from the inside, some flaws can be seen so Ewen Chia did not like this one bit and he was panicking as he knows his program has a lot of evil schemes to trick you into buying so he took the initiative on making a copyright claim on my video and not just one them in fact, he did on two!
Autopilot Profits is the previous version for Copy Paste Income which has the same amount of upsells, same types upsells (He promotes his previous programs could you believe that?) and the same tricks so its an obvious scam so you can bet I did a video on that too which is why Ewen targeted that video too.
What About the Community?
Ewen Chia is a world renowned Internet Marketer and if you Google his name, you'd probably see him on interviews and in even the newspaper.
With all that fame and followers, surely he can easily build a community with no problem at all right?
Wrong!
He doesn't even have a proper Facebook page let alone a community and I have searched for it everywhere but all I get is that empty Facebook page which I took a screenshot of it above.
I wanted to see if there are any communities whatsoever because I was curious to know how the people there are reacting and whether or not they know that they are being scammed because if you want to evaluate how strong or legitimate the company is, having a community plays a very strong role in that.
When you have a community of people interacting like how we interact daily, that only shows that those people trusts that particular programme and Copy Paste Income, is totally the opposite.
To top it all off, Ewen will also try to upsell you his social media traffic product called Automated Social Cash which he claims have brought him many sales and followers.
If that is all true, why doesn't he have an active social media page for his business?
This further shows that Ewen Chia is a hypocrite and obviously a scam guru because whatever he said in his sales page are all but a lie as he himself isn't actually implementing it.
Pricing Strategy
I'm very familiar with Ewen Chia's slimy pricing tactics which he uses to maximize sales for only himself which is why I'm happy to talk about his secretes and expose it to the world.
There are many upsells, downsells and sidesells which will really confuse you but worry not, I actually went through all that and recorded all his moves here…
Copy Paste Income – $37 but will become $27 if you try to click away.
Upsell #1 – Copy paste traffic ($67). Will discount to $47 if you click away.
Upsell #2 – Automated Social Cash ($197)
Upsell #3 – Instant Websites ($197)
Upsell #4 – Free Traffic Software ($297)
Upsell #5 – Complete Business Set Up ($297)
Upsell #6 – Super Affiliate Millionaire ($297)
Upsell #7 – Traffic Millionaire ($19.97 per month)
Upsell #8 – Cash Biz ($29.97)
Upsell #9 – MOBE ($49 + complicated upsells and monthlies)
Upsell #10 – Monthly Viral eBooks ($27 per month)
I have a question for Ewen, why not put all these together in one price?
I'll tell you why – Because if you add up everything here, you will actually be paying at least $1477.94 and that doesn't include all the monthlies yet!
Seriously, if you really want to help people make money, why charge so expensive?
If there is any way for me to convince you on avoiding Copy Paste Income, this is probably my best bet because by the looks of it, you will be losing more money than you will ever make.
Do I recommend Copy Paste Income?
Absolutely not.
Although the method of using eBook is well-known and legitimate, it can still be considered a scam if you do that with low quality eBooks which are full of ads instead of good content just for the sake of getting people to click on your offer and that is exactly what Copy Paste Income is all about.
Furthermore, Ewen Chia will only teach you how to promote his affiliate eBooks through social media which isn't a very effective method because eventually, you will be blacklisted as a spammer because you don't have your own brand so how do you solve this issue?
By starting your journey on the right foot of course, and that means by starting your own website and the best program for that, is Wealthy Affiliate.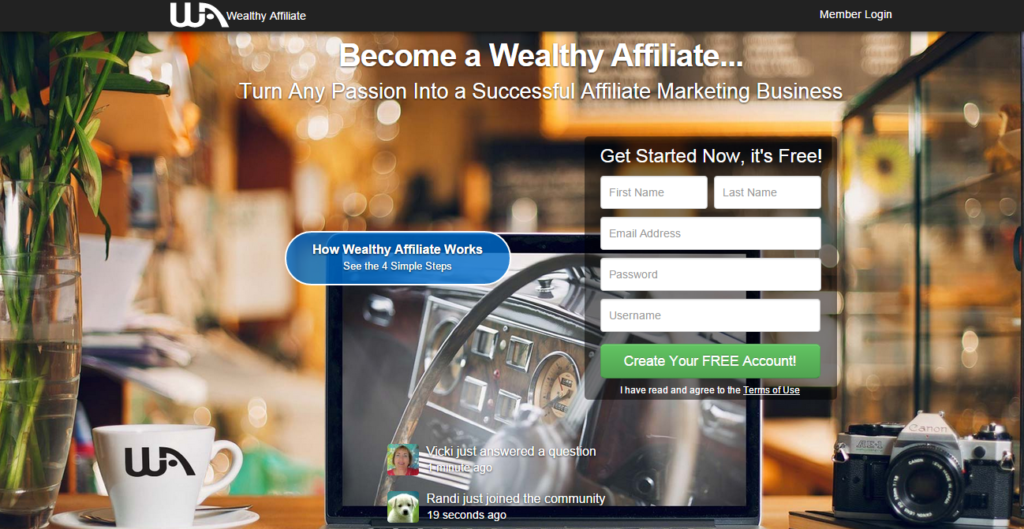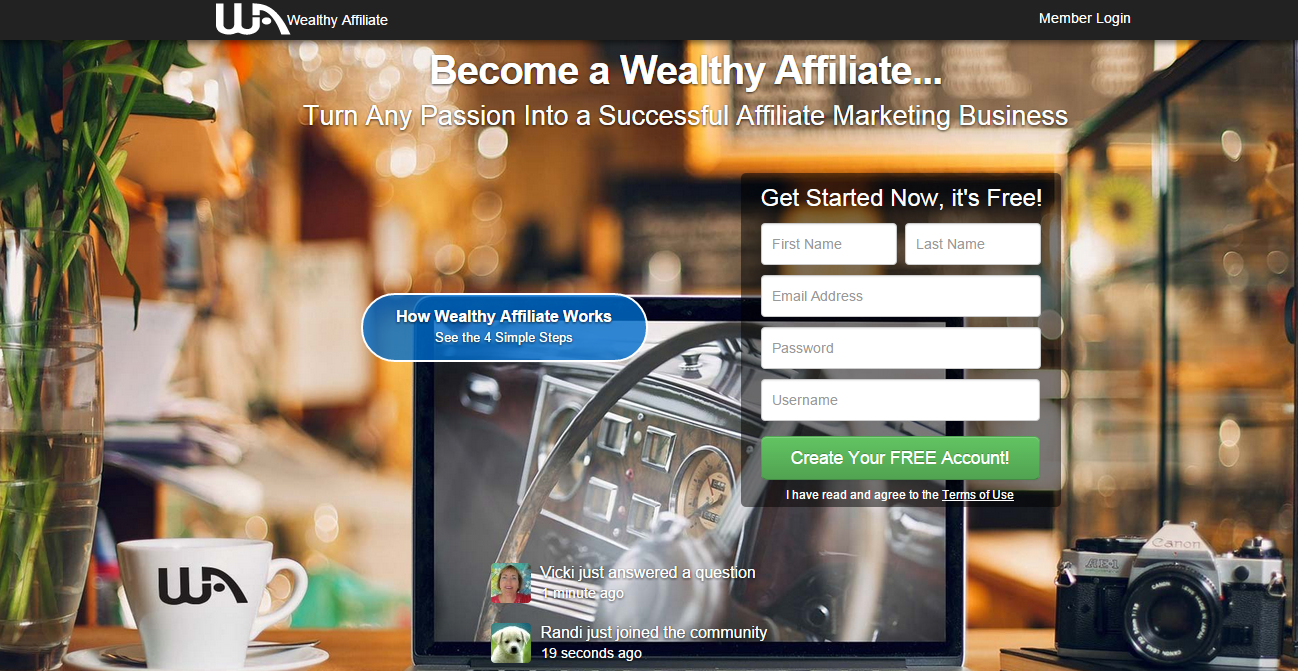 Wealthy Affiliate is an Online Business course which teaches you how to build a website and monetize it according to any niche you want at all and currently, it is my #1 recommendation.
There is a strong community to make you feel at home, classroom-based lessons to help you keep track easier, tools to help you build websites in less than an hour and of course, no hidden upsells to suck your money dry!
With a website, you can have the potential to grow your business even further by getting more clicks to any offer you are doing because as part of the lessons at Wealthy Affiliate, you'll learn how to rank your website on the first page of Google like this…
Although not all my pages are on the first page yet, many are slowly rising and it is a very exciting process too because when you manage to get your page up there, you'll get loads of clicks coming to your offer for free!
What Ewen Chia is trying to make you do in his program is actually through a well-known method of monetizing called Affiliate Marketing and compared to Wealthy Affiliate, you will have a much better choice at scaling your earnings while saving more money as the features you get is way more…
Conclusion
---
As you can see from the features I've just laid out above, it is definitely a huge risk to take knowing that you'll be spending a huge deal of money without knowing if you'll ever make any sales with this program or not.
Therefore due to its super expensive hidden costs, the lack of value, as well as the tons of annoying upsells you cannot avoid which will waste an hour of your time to just get to the darn member's area, it is really obvious that Copy Paste Income is a SCAM and receives my rating of only 3 out of 100.
If you're interested in learning more on the proper way to build an Online Business, check out my #1 recommended program here.
Thanks for reading this lengthy review, do share your thoughts down below as I'll be more than happy to reply 🙂 .
Sincerely,
Your friend Riaz.