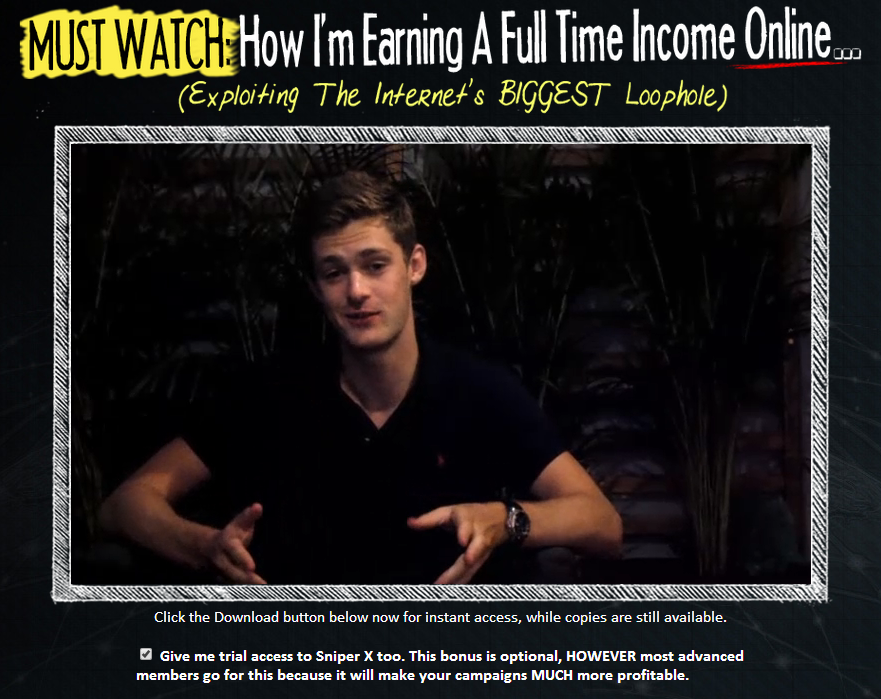 Name: Google Sniper 2.0
Website: www.gsniper.com
Type of business: Black hat website building
Price: Complicated and unethical pricing plan
Owner: George Brown
My rating: 14 out of 100 (Scam Alert!)
One thing you have to bear in mind when it comes to buying products online is to look for the trial.
Why? Because products who are confident that their content is legit and meaningful doesn't mind giving the customers a sneak peek preview.
But scam products DON'T usually give trials because they know their content sucks and if customers manage to get a preview and see how bad it is, they won't probably buy, would they?
When I first laid eyes on Google Sniper 2.0, my Spider Sense was tingling due to the fact that there wasn't any trials.
But I braved through and bought it anyway so that I can write a thorough review of the program.
So is it a scam then? YES I totally fell for it and here's my review.
Update: There is another version of this program called Google Sniper 3.0 which I have of course, made a review about it as well here.
So what Google Sniper 2.0 all about?
It's an Internet Marketing program made by George Brown who claimed that he can help you make thousands of dollars with ease by leveraging a loophole he found on Google.
Based on the product, I discovered that basically, the whole training is about making money online through websites that you need to make and by implementing his system, your website can gain high Google ranking in a blink of an eye (Or so he says!).
If you're new to internet marketing, getting your website on the first page of Google actually takes up a LOT of time and effort.
Meaning you CAN'T actually get your website on the first page of Google and make millions in a jiffy as he claims.
See how he scams newbies?
Bear in mind though, that Google Sniper 2.0 has NO connections whatsoever with the Google team which that Google can actually sue them if they want for misusing their name!
However this review can be considered outdated because George had just recently launched the newer version of this program called Google Sniper 3.0 (You can read my review here).
Why is it a scam?
Reason #1: Google Sniper 2.0 is Outdated
You might have noticed that he wrote there "Bulletproof for 2014" .
DON'T fall for this!!!
Google Sniper 2.0 has been around since 2007 and although you might think that it shows that the company is stable, it is only so because of the money it took from innocent people like you and me.
Why do I say so?
Because after the recent Google Panda and Penguin updates, it is now harder to get rankings in Google search compared to last time. Take a look at these comparisons.
George claims that your website can gain rank in Google in a blink of an eye and proved this by making a blank website called "vintageelectricguitar.com" which got 4th rank in Google search.
BUT if you take a closer look, the year was in 2008.
Which means that George's trick was before Google updated. Let's see how his website fares now in 2014…
As you can see from my screenshot above, George's website is NOWHERE to be found. This shows that Google Sniper 2.0 is very outdated and does not work today anymore.
Reason #2: No trials
Nowadays, scams are on the rise and every day there's products online.
People are already cautious in the offline world, what more of online?
To ensure that your product is trustworthy, online marketers often have money back guarantee policies on their products such as Dot Com Secrets X, Wealthy Affiliate, even Coffee Shop Millionaire.
Reason being is that they are confident with their products enough to let their customers try beforehand before buying. Google Sniper 2.0 on the other hand, does NOT have trial which is a clear sign of no.
Reason #3: Many many lies
One thing I hate the most about these sellers is that sometimes they tend to hype you up but NEVER delivers.
There are many lies George implements in his Google Sniper 2.0 and I'm sure you're very familiar with the first one – Google rankings.
George claims that his product can bring your website rankings up in Google but as we've seen before, it doesn't work in 2014 anymore.
He also uses the name "Google" on his product to create an impression that his product is approved by Google even though it isn't (I would love to see Google suing him).
George quoted in his video "I don't know of a single product that has been running for anywhere near that long and is still being searched for as much as Google Sniper throughout the entire internet marketing space."
This is another big lie because there are many products that have stood the test out time and still manage to deliver honest results compared to Google Sniper.
After discovering how scammy Google Sniper 2.0 is, I bet the testimonials are fake as well wouldn't you agree?
Reason #4: Unethical pricing trick
There are 3 pricing tricks that George implements on every visitor who are unfortunate enough to stumble upon his website.
Pricing trick 1: $47/month for those who buy immediately.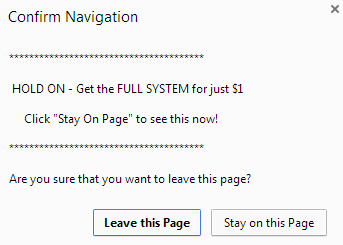 Pricing trick 2: $1 trial for 5 days, then a one-time payment of #67. You will only get this choice if you're planning to exit but a pop-up blocks (see picture).
Pricing trick 3: $47/month for those who tried exiting the website twice but decided to come back and try it out. These people are penalized therefore they can't have the $1 trial that they were offered initially.
The pricing trick implemented by Google Sniper 2.0 is enough to sicken me.
People are desperate to make money from home due to the rising costs of living and George takes advantage of these poor people!
I will not stand idly by while I watch people get scammed for being innocent and I hope my review of this product is enough to steer as many people as I can away from getting robbed.
Now having seen the unethical pricing techniques implemented by Google Sniper 2.0, would you even have the thought of buying it anymore?
Reason #5: Back links are destined to fall
One of the biggest tricks used by George in Google Sniper 2.0 is using back links for your website. Here's what the "Real" Google have to say about that. As you can see from the video, Google is slowly taking down the power of back links fro websites so it won't be beneficial in the long run. Just in case if you didn't now Matt Cutts, he is the Head of Google's Webspam team and it is very wise to heed his words.
Comparison between Google Sniper 2.0 and DotComSecrets X
Compared to Google Sniper 2.0, there is a program that I've reviewed which does way better and helping you build your website, boost your SEO rankings, monetizing it as well as saving you more money (It's actually free) and that is called Wealthy Affiliate.
Here's a quick table comparison of how these 2 programs differ:
My final verdict
---
With so many evil tricks implemented by Google Sniper 2.0, I believe you do not need me to tell you to stay away for this product.
George Brown will probably try and make another version of Google Sniper and name it with a 3.0 (Update: He already HAS! Click here to check out my review of Google Sniper 3.0) or 4.0 or even 5.0 and you'll probably be tempted to try too so do remain vigilant. Once a scammer, always a scammer.
As Laurel Lance from Arrow would say, "One you let the darkness inside, it never comes out". If you have any personal comments or thoughts about George Brown or Google Sniper 2.0, do share with us below!