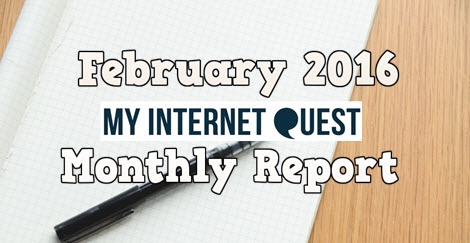 February was an extremely busy month for me as I had my sister's wedding reception to take care of, a business trip as well as new ventures to open up.
I didn't spend much time on my blog but I did manage to pop up once a week to maintain my blog's growth.
Though I didn't achieve most of my blog goals, I was happy that the stats didn't go down but whether it increased or not, all will be revealed as you read below.
Time for Some Stats!
As usual, I love to start my monthly reports with some good ole statistics to show you my website progress…
Compared to last month's traffic, I had a decrease of only 87 visitors which is actually isn't half bad since I'm actually maintaining my blog consistency.
It didn't increase, but it didn't drop down either as how it did on my previous months.
Just like January, I wrote the same number of posts for the whole month which were only three articles…
Posting one post a week is good for consistency but in order for your website (And mine) to grow, at least 2-3 article should be posted every week instead of just one.
As you can see, I started to change the way I write reviews starting from the title and this of course has reasons behind them.
There are so many reviews out there claiming to be legit but they are short, they lack information, and they all do not tell you the pros and cons of a certain program before putting their affiliate link which shows how biased they are.
Every time I look up for reviews on things I want to buy, I have to end up searching for 4 or 5 more reviews to get information that I couldn't find on those reviews which is very tedious.
So I took another approach and the result? Fabulous.
Take a look at this…
I start my reviews with defining what the program is about, followed by the pros and cons to get my readers to see from both sides, and then details about the product.
After that, I throw in the thing that they should be ready for – The red flags and facts on why it is worth or not worth spending their money on.
If the product is good, I will recommend it and if it doesn't, I will recommend another product or program which is in a similar niche but has better value.
By doing this, I was able to secure a lot of comments and I have people from other reviews coming on to my site as well.
This is definitely a great way to write reviews and I will definitely be writing more reviews on March to sharpen my skills and gain more traffic.
As for my social media accounts, here goes nothing…
Judging from my social media stats, I definitely didn't have much growth as compared to previous month but I did manage to maintain the numbers if not increase some.
I was surprised that people are following my Instagram account and it's something that I am not very active in when it comes to business as I mostly share my personal stories there instead of any of my blog posts.
Quite interesting indeed, I definitely need to leverage this and learn more on how to grow it further.
The website world is very competitive and Google wants to see us churning up content which is why the more effort you put in, the faster your site grows.
March is going to be a very busy month but I'm going to start writing at least 6 articles if I ever want to get used to writing multiple posts a week.
It's a good start and I hope I can reach that goal so that I can show you how far my blog will grow and just how many sales I can achieve.
Speaking of which…
How Does my Sales Fare You Ask?
I earned in total $157.50 for the month of February 2016.
Compared to last month which I only earned $152, it does make me feel glad in a way knowing that I managed to maintain even my sales though I did not put in much time growing my blog.
Its actually very exhilarating to know this to be honest, because it inspires me to write more next month to see how far I can push myself.
Now to the matter at hand, where did the money come from?
My top ranked program which I recommend to all my readers is called Wealthy Affiliate and from that alone, I managed to get $133.50.
Wealthy Affiliate is an Online Business platform which teaches you how to build an Online Business from scratch, or grow and existing one.
I've been a member for over a year now and compared to all other programs that I've tried, I've never seen a better program.
Inside, you'll have everything you need in order to succeed online – immersing lessons, domain registrar, keyword tool, a warm community, even a free website builder.
And they even give you complimentary dedicated web hosting – all for one price and no upsells which is why I love this program so much.
If you haven't already, do check my review of it here – I'll personally help you out along the way.
As for the remaining $24, here's where it came from…
Jaaxy my second program that I'm promoting on my blog.
As you already know, I recommend only the best for people who are serious in building a business online and Jaaxy is one of them.
Every blogger, online entrepreneur and SEO strategist needs a keyword tool and Jaaxy is the best one to date.
Its fast, its efficient, its accurate, and most importantly – It doesn't a cost a bundle.
Many keyword tools out there cost hundreds but Jaaxy on the other hand, costs $19 a month and a free trial too if you want to test it out which is pretty cool.
The amount of competitors you can avoid and the number of high traffic keywords you can uncover is well worth more than what it costs as you can rank your articles much easier that way.
What is Up in February 2016?
I was held back from my blog for very good reason though, and those are…
My sister's wedding reception.
On January 30th, my sister had her wedding and the reception was done on her side which I mentioned on my previous month.
February on the other hand, is the reception on the groom's side, which is at my brother-in-law's place and because of that, I was occupied planning that as well.
My brother-in-law is of Chinese-Malay heritage so the theme is a mixture of both cultures hence the colour and the outfit.
Being of mix blood origin myself, I love it when there's an interracial marriage going on as somehow, it made me feel like I blend in lol.
After the wedding, it was time for…
My not-so business trip to Sabah.
Sabah is located on the Borneo continent which is located on the eastern peninsular of Malaysia.
I went on a business trip for 5 days and the reason for that was because I have a friend who is interested in growing his business in Sabah.
He owns a restaurant called Restoran Sri Rahmat which serves Malay food and he wishes to expand his business by creating an event to bring in people to Sabah from the western part of Malaysia.
We were planning on creating a B2B event whereby companies can showcase their products and supplies in a convention to bring up Sabah's name as that way we can get support from the tourism ministry.
Still, it was just a discussion and no plans have been made.
I had to return back to KL and create an event proposal based on what we discussed before further plans can be made and to do that, I need about a month to gather all the necessary data and research in order to make my papers compelling.
I wasn't able to take a photo with him at his restaurant but we did go out that night to hang out…
Sabah is beautiful and the ocean breeze makes it very relaxing – I needed to get away from the city so the trip was exactly what I needed.
Besides that, I also visited the islands which were very nearby and got some time off…
The trip felt really short and I wished that I had spent there longer.
Even though the trip was for 5 days, I only had half a day to catch my friend for a business talk as he was much occupied with his restaurant.
I would need to re-schedule another trip there once I've finalized my paperwork.
Last but not least, its time I share with you…
My new business-venture-to-be.
I'm opening up a new food outlet with my family, expected to open in mid-June 2016.
We have an outlet ready in the city of Shah Alam, and we have about one month to find RM500, 000.
We're working hard to secure investors for our restaurant as we speak.
The reason for one month was because the shop owner was about to rent out his shop lot to another company if we couldn't get the funds to start the business hence the pressure.
I've been attending various business talks on operating food outlets in Malaysia, attending networking events to find investors, and advertising my company on various local channels in order to reach my goal.
I couldn't say for sure that the project will happen but I do hope it does because this is too good an opportunity to pass out on so wish me luck guys, I'm definitely going to need it.
My Final Word
A lot of things were happening in February but I was satisfied that my blog growth didn't go down – It remained consistent both in traffic and in sales.
March would be no different as I have to focus on building my local business but of course, I am targeting to increase my blog growth as well by writing 6 blog posts to see how much it would affect my blog and I have a good feeling about it too.
That's it for this month, thanks again for reading thus far and do subscribe if you wish to know more on my journey to success.
Until next month's report, hope you guys are having also going all out on your businesses as well!