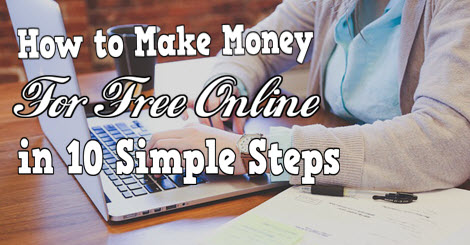 Want to know how to make money online for free?
You've come to the right place! There are many websites around which tells you that in order to make money online, you need to spend money.
This is true in a way because in business, there is no such thing as zero capital because eventually you will want to spend on better assets to boost your productivity and increase your sales.
However believe it or not, you can actually start your business online with zero capital and make money before deciding to ever spend on more assets and that is exactly what I'll be teaching you today.
What is the Best Way to Make Money Online?
There many ways how anyone can make money online.
You can answer surveys, you can gamble, you can work as a freelance designer, freelance writer, or even do the infamous Forex which is highly risky.
But really, the best way to make money on the internet is by starting your own website because that way, you are in control of your business and the amount of money you make, depends on the amount of effort you put in to grow your business.
But now you must be dying to know, how do you make money off a website in the first place? Surely, money cannot come automatically, can it?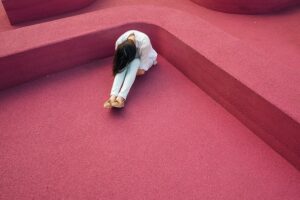 On the contrary, it actually can make you money automatically even when you're not on your computer and even when you're in bed because all your visitors need to do, is simply click on buy and voilà, instant sale!
Easy, no?
There are 2 ways on how to monetize a website and that is either by creating your own product, or selling someone else's which we Internet Marketers know as Affiliate Marketing.
Creating your own product makes you the most money because you take the full payment for yourself as opposed to affiliate marketing which only gives you a percentage of each sale.
However I would only advise you to create your own product only after you have sufficient experience because the process is very tedious – You need to research and write, you need to build your reputation, and you need to do proofreading sessions to make sure it's perfect… All of which can take several months and don't even get me started on the amount of money you will be wasting.
With Affiliate Marketing on the other hand, you'll get all the time in the world as the product that you will promote will already have its own reputation and marketing to help you make sales easily.
10 Simple Steps to Making Money Online Without Spending a Single Cent
You may have burning questions in your head right now – Isn't building a website costly? What kind of web host will I be getting? Will my website be a quality one?
Well building websites aren't costly at all really, but there is a way to go around this and make money using free services which is what I'm about to show you real quick.
As someone famous used to say, trying something is better than regretting so are you ready for the 10 steps that will probably change your lives and the way you look at things? Here we go…
Step #1 – Know Thy Interest and Thy Title
To create a website, you need to know what niche you want your website to targeting around – Is it the gardening niche? Blogging niche like my website right here? Gaming?
Regardless, I would advise you to choose something you're good at or something you're passionate about because this will be something that you will be handling for a very long time.
If you're dying to learn something and master it, you can also choose that niche.
For example, I wasn't very social back when I was in school and I had no girlfriend so I started a blog called Relationshipable.com because although it might be conflicting with my skills, I wanted to keep learning about the subject because I wanted to have better chances with women everywhere anytime.
It worked though, because as my blog grew, my skills grew too and I had a hard time trying to manage studies and work with a serious relationship so I ended up leaving the blog on its own without even updating it for a while now.
I'm learning French currently because I'm planning to continue my master's next year in Toulouse so after I reached a certain level of understanding, I'm planning to create my own blog in French to continue practicing although I know that it can be a drag.
To help you choose your niche easier, I've written a blog post on the top 10 niches for Affiliate Marketing here.
Now that you have your niche chosen, all you need to do now is to think of a name for your new website and off to the next step we go!
Step #2 – Building Your Free Website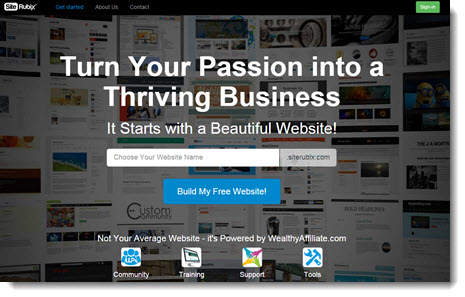 Now, to the part you've been dying to know of – How to create a free website which is also of high quality?
There are many free website providers out there such as Webs and Weebly or even Wix (All of those start with a "W") but one that I highly recommend is SiteRubix which is created by Wealthy Affiliate.
You can have a go at your website name here…
A website name is known as a domain but like any other free website, you should know that you can never get the dot com only name because in order for you to get that, you would need to buy that domain from a provider.
They usually cost around $11- $15 and renewal is only once a year which is pretty cool but for the purpose of this lesson, it is better if we use a free subdomain that will have the extension at the end.
For example if you're using Site Rubix, your domain name will have the name at the end which will be like something.siterubix.com.
This goes the same for any other free website providers out there such as Weebly being something.weebly.com or something.webs.com if you're choosing Webs.
Don't worry much about these extensions though, because you can always change it when you're ready to have a dot com domain of your own.
If you have no idea how to build your Site Rubix website, here's a quick video on how to set it up in less than 30 minutes…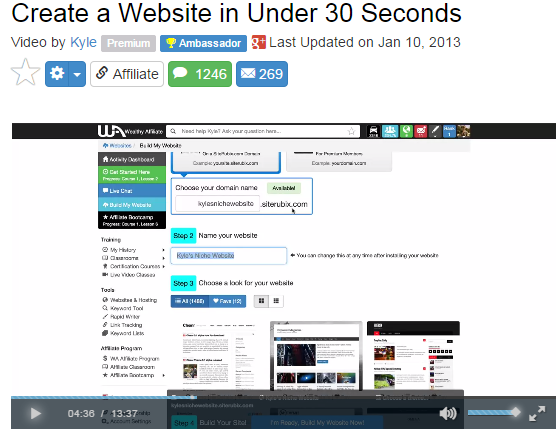 The reason why I recommend using Site Rubix is that it is specialized for Affiliate Marketing and business so you can bet that your website will have a fast loading speed.
Not only that, you will also have a website health checker which no other website providers have and you don't need to know any coding at all as the complex part had been taking away – All that for free!
Hard to believe, no? Not many people know this.
Now that you have your site set up, you're all set to…
Step #3 – Finding your Affiliate Products (Or programs)
Without things to sell, you'll have no means of making money in the first place… unless you want to put those annoying Google ads which beg people to click on.
To find affiliate products in the first place, you need to go to a huge online network where you can choose any products you wish to promote but I'll save you your time and list down the top 3…
Amazon – Great for physical products.
Clickbank – Great for digital products and programs.
Walmart – Good Company with a good reputation.
Amazon has a low percentage of commission but what I love most about it is that you can get extra commissions if your guest bought something else after buying from your link, and you know just how many things people tend to buy online – They don't just stop at one product, they will tend to buy more and more.
Oh and if you're wondering about the link thing, you will get your own affiliate link which is unique only to you for you to promote because if someone buys from that specific link of yours, the company will pay you according to your link which suffices to say – Your affiliate link, your identity.
To understand how to get your Amazon link, here's a quick video tutorial on that…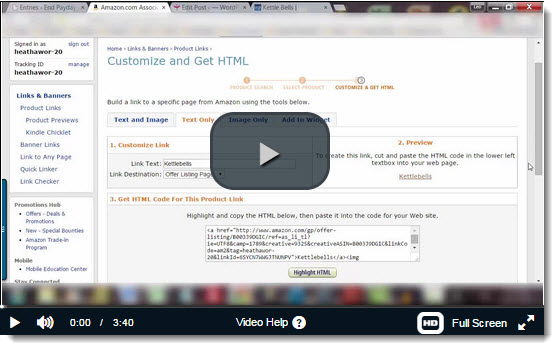 ClickBank on the other hand, is great for digital products such as eBooks as well as programs that have memberships as well.
EBooks are a common thing and they sell pretty well too not to mention Clickbank has the highest commission of all ranging from 25-75% however be warned that some of those Ebooks are either outdated or downright scams.
I have reviewed several programs from ClickBank such as Copy Paste Income and Google Sniper 3.0 which are both scams so here's a video to help you choose the right ones for your site…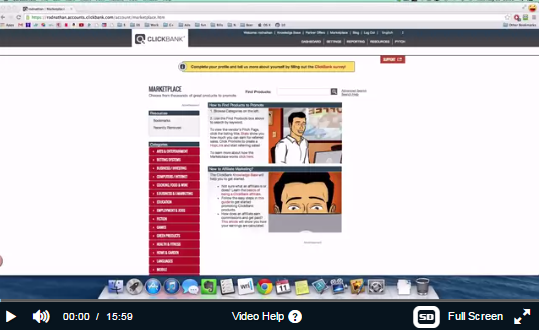 With 2 videos showing you how to get affiliate links, I guess I don't need to share the video here as the steps are pretty much the same.
Be sure to choose a product that is related to your niche because next stop…
Step #4 – Writing Your First Review!
Reviews are a great way to persuade your readers into buyers.
After Google's recent update, simply spamming your affiliate links everywhere is not an option you would want to consider because your website may get penalized for over-promotion.
Google believes that by doing that, you drop your content quality which is true so why not create great content which we can use to lead our readers instead?
This is a great way to build trust with your readers because they can get to know your opinions on the product as a consumer which will enhance their decision to buy.
You don't necessarily have to follow any format though but here's a template I always use to write my own reviews…
Intro
Pros and cons.
What it is about?
Tools and Training.
Any Red Flags?
Any good things I can show with examples?
Final verdict
Conclusion
Of course, there are things unique to that specific product alone like how tools and training are related to online courses like in my Niche Revealer Review or even my MOBE review. In fact, I have a whole list of them here.
Reviews are powerful in giving you conversions like mad as they are like your sales page which you should lead your readers to whenever you think it's relatable and over time, they will tend to rank on the first page…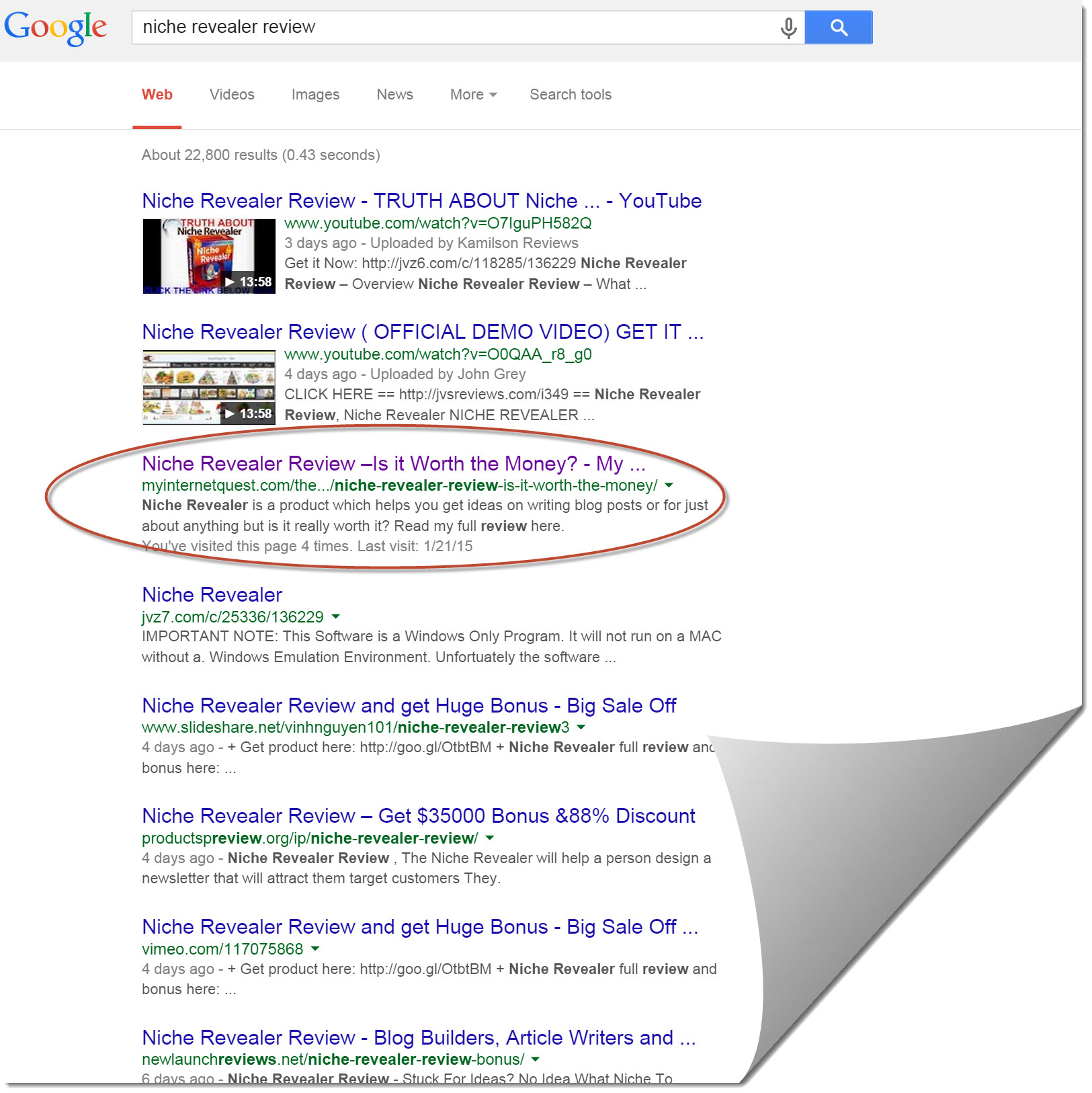 After writing a review on your recommended product or program, a great trick you can do is to find similar products that are within the same niche which are no match for your current product and write reviews on them, telling your readers which one would you recommend.
Step #5 – Getting Your Pages Right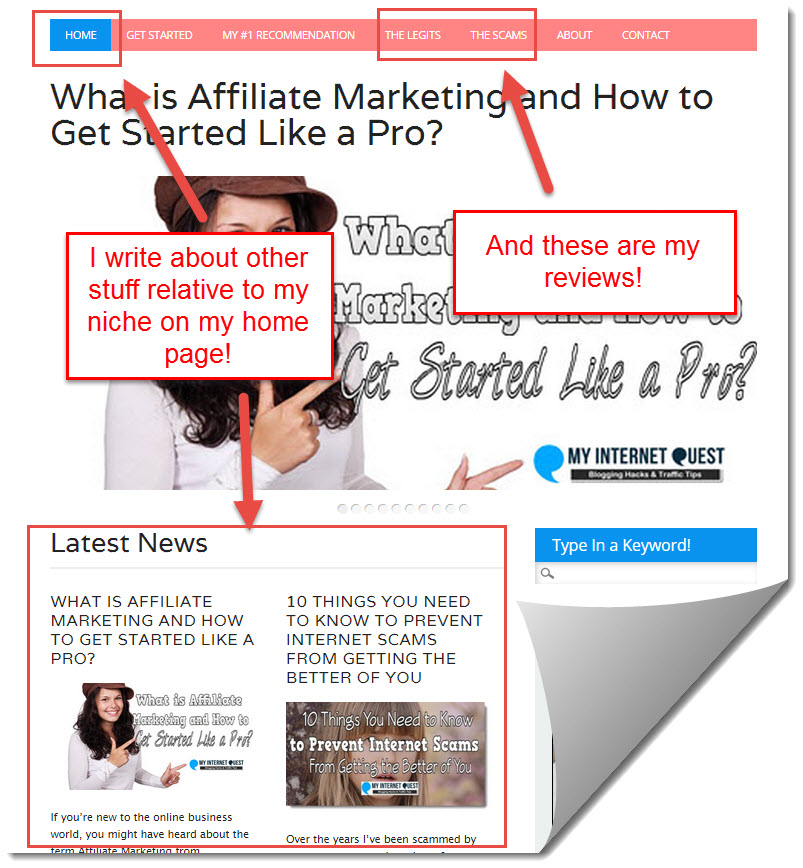 Writing content is important but ensuring a great user experience is just as beneficial.
Your website needs to look lively and organized at the same time because you will want your readers to stay longer at your page because that is also a way how Google ranks your page – The length of time your readers stay on your page.
This means that it's time you create some important pages for your site! Here are what I have on my website menu tab…
Home
Get Started
#1 recommendation
The Legits
The Scams
About
Contact
Of course you don't need to follow me, you can use your own creativity to create what sort of pages your site needs.
Try to put yourself in your readers' shoes – What would they want to read on?
The best thing about Affiliate Marketing is that you don't have to go through all those sales promotion tactics, just be as personal as you can because your greatest weapon is that they see you as one of them.
Step #6 – How to Sell Through Interest Marketing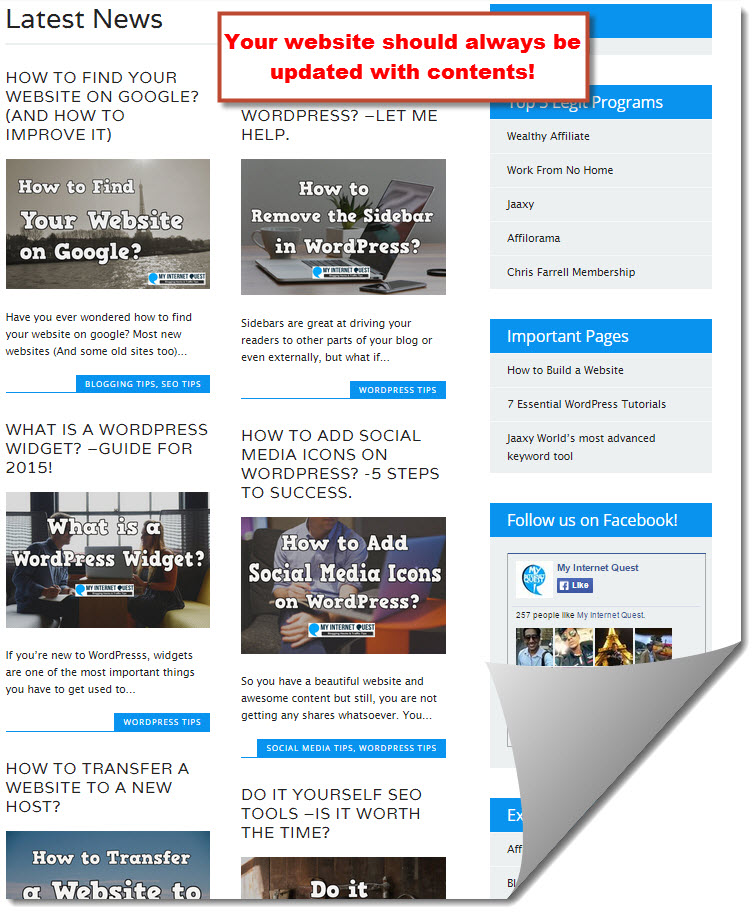 Reviews are great and all, but that is highly commercial and having too many of those are boring.
You need to mix your articles between commercial content and interest content to add some color to your blog and attract a wider audience scale.
Commercial contents are contents which you talk about the business such as your reviews because your intent is to make them buy and although this may be good business, too much of a good thing is a bad thing as your readers will get bored if that's all you talk about.
Interest contents on the other hand, are contents in which you talk about things of interest.
Like the top 10 games of 2015, surprising things that can boost your memory or even guides on how to solve problems.
In other words, you are blogging away interesting topics so this is going to be the fun part of handling a website because you can literally write about anything and still get people to come to your site!
But do make sure your posts are all related to your niche though, because if you have a gardening website but you write about video games, people are not going to understand what you're trying to do.
Step #7 – Generate Endless Ideas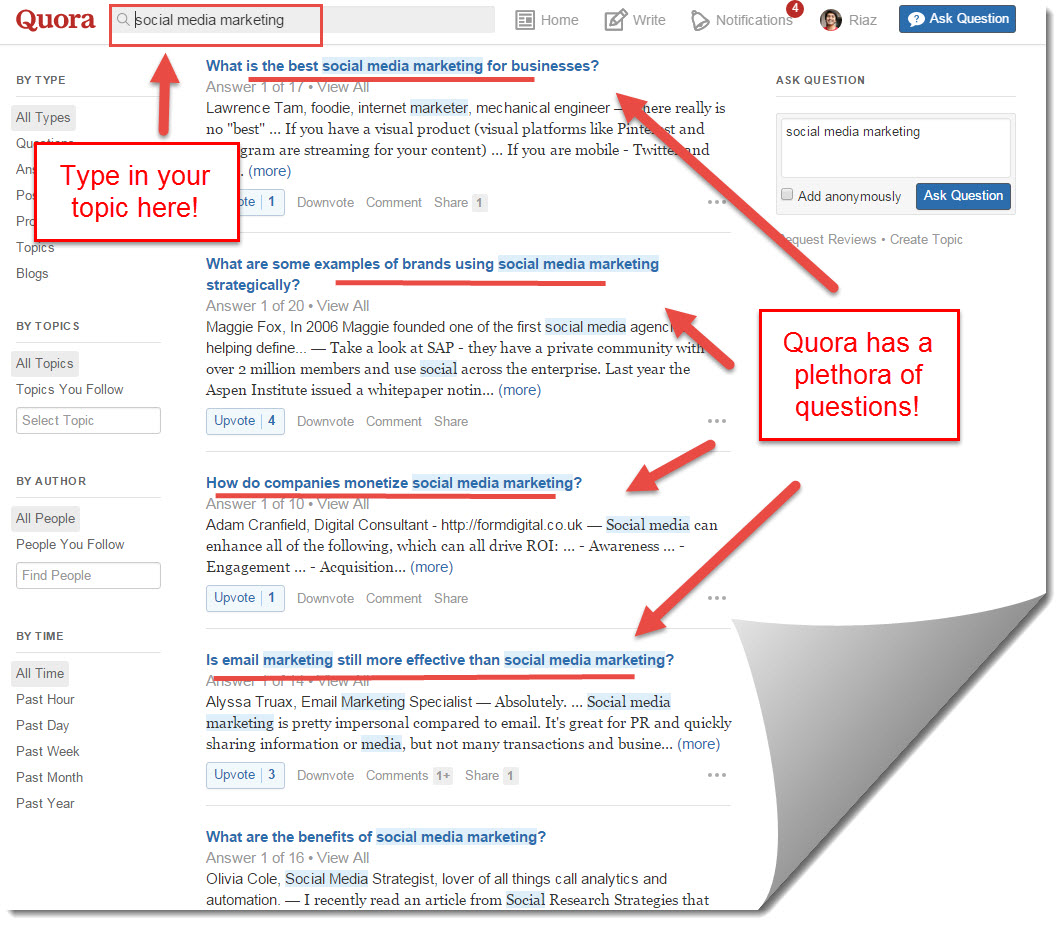 It may be overwhelmingly awesome to get a blog started and you'll have plenty of ideas to go around in the beginning but if you want to maintain your business for a long time to come, you need to think of a way to constantly generate ideas lest you'll have a writer's block.
To constantly find ideas is very simple, just write about solutions for problems that people are having!
The best place to go for that is of course forums so here's a few which I personally use…
Quora
Yahoo Answers
Wiki Answers
Warrior Plus (For the Internet Marketing niche)
IGN (Gaming niche)
Besides relying on forums (Which is already enough), you can also make use of questions that people comment on a particular post to write your own blog post.
Step #8 – Rinse and Repeat!
That's it! All you need to know about growing your website for now.
Of course there are many things you can learn but most of them comes with experience as you write because you will learn better if you come across those little obstacles.
Content is really important for your Online Business to grow and remember, don't over-promote your affiliate products, lest your readers will steer away.
There are too many overly-promotional websites already as it is and if you continue producing fresh content regularly, you have nowhere to go but up.
It's important to also be realistic that since this is a business, it needs time to grow and you probably wouldn't even reach your first $1,000 within your first month or the second because Google will usually take a few months to evaluate your website to see if you're serious or not.
But after a few months, your website will shoot up especially after you just passed the other 50% of website owners who gave up halfway.
A good frequency of publishing content would be 3-4 times a week but at the very least if you're strapped for time, 1-2 posts per week should suffice to still maintain the growth although at a slower rate.
Step #9 – Be on the Front Line! Look for Ways to Improve Your Affiliate Marketing Skills
The online world is constantly changing and as a website owner, you need to keep finding ways on how to better yourself and be in the know.
You need to know how to rank your website on the first page of Google, you need to know how to find keywords with very low competition, and you need a community to help keep you motivated especially when you're stuck on a certain dilemma because trust me, a website can get a bit confusing.
I started out with no background in website development whatsoever but luckily for you, I have just the program to recommend, a one-stop center for all.
A lot of courses out there will want you to pay a ridiculous amount of fee even up to hundreds before you even make money but there is a program that does otherwise to help beginners succeed in their Online Business particularly in Affiliate Marketing which I highly advise you to check out – Wealthy Affiliate.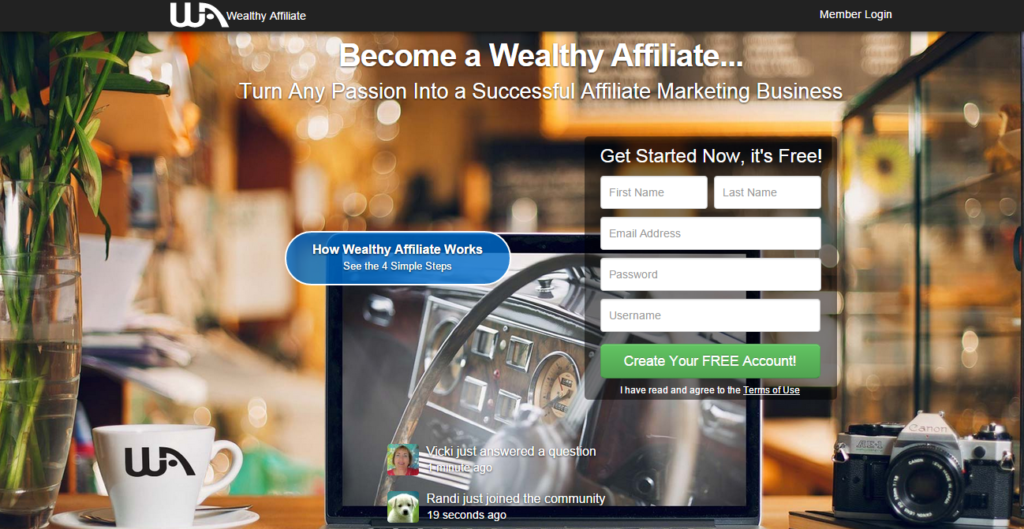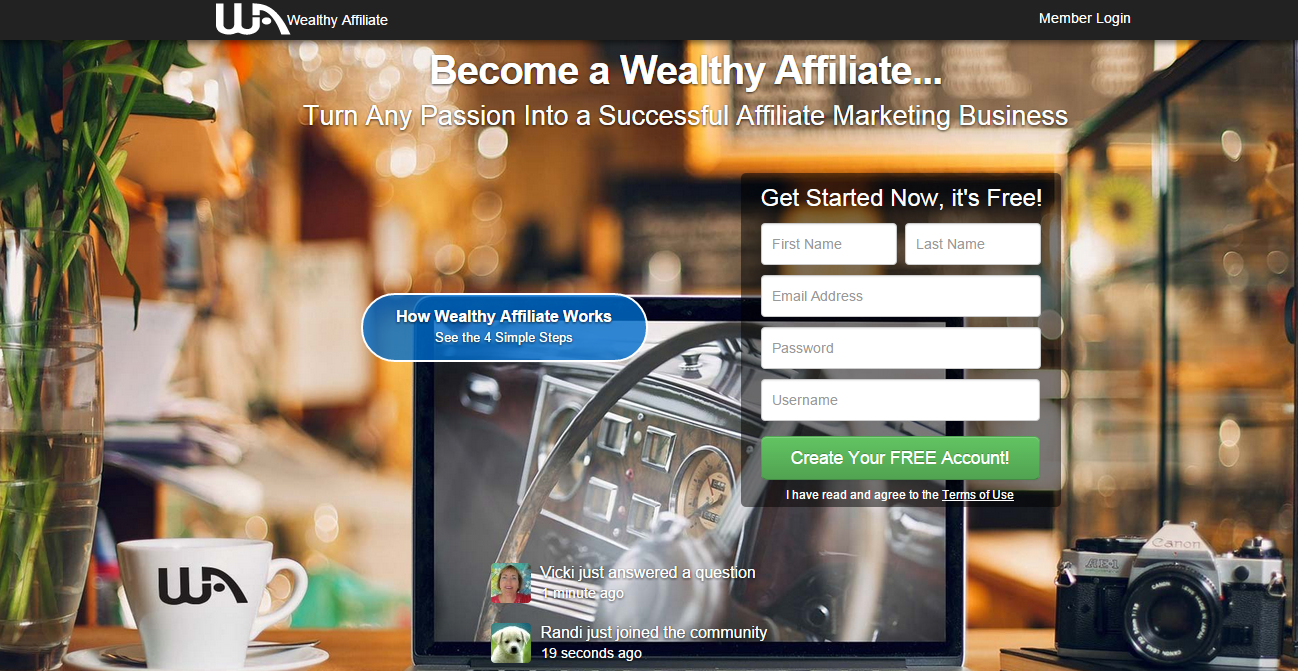 I know I know, "Riaz, I thought this is free?"
Before you say anything, you will always need to pay for quality but what makes Wealthy Affiliate different than the other online courses out there is that they actually want you to try the program out for free and make money with it first before going for premium.
Even with the free Site Rubix subdomain website that you currently have, Wealthy Affiliate will provide you with the service to 'move' your domain to any other dot com domain that you buy if you ever want to change your domain – A service which no other courses out there are doing.
This way, you'll become more motivated to learn and when you've made enough sales, you can apply for premium already to access the other features such as premium training and live video webinars.
There are a lot of cool tricks you can learn to boost your Affiliate Marketing business even further and this has helped me a lot on my website too…
I managed to rank most of my pages on the first page of Google easily (A bit more work for the high competition keywords) and although there are still pages that aren't ranking well, I'm seeing progress as some are slowly rising up the ranks too.
I'm quite grateful to have found Wealthy Affiliate as my final destination because back when I first started online, I was jumping from scam to scam so if you ever decide to give this course a try, you'll have my personal support!
Step #10 – Never Give Up!
Have you heard of the curse of the blogger whereby if you stop producing fresh content for your website, you will go down?
Okay I admit I made that up but it's actually quite true – You need to regularly produce fresh content on your website at least 2 posts a week because that way, you'll ensure your site's steady growth.
I know that at times, you are going to be frustrated and just stop doing altogether especially with the slow growth in new websites but oftentimes, the moment you are going to quit is the moment when things start picking up speed.
For example, last month my website was growing slowly and I was very depressed so I wanted to quit but when I looked at my stats, here's how it looked like…
It shot up really high towards the end!
I couldn't believe my eyes and it was a revelation to me because last month was the month where I had the least amount of time for my blog.
Not only that, I only managed to write 3 posts for the whole entire month which isn't good progress but surprisingly, I still make some sales…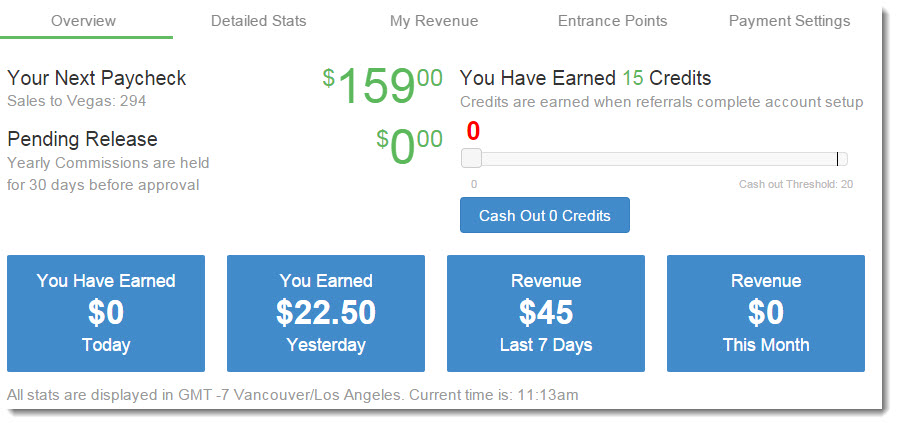 That made me feel bad for slacking off and I wanted to face-palm myself (And I did) because if I had put in more effort to focus on my blog, I would have made more sales for the month which is why you should never give up hope and keep fighting the good fight.
Conclusion
---
Even though it is possible to make money online, there is no such thing as becoming a millionaire overnight.
Like any other businesses, an Online Business requires you to put in effort in order for it to grow exponentially but look at the bright side – If you are a person who works hard and believes that effort comes with its own rewards, then you'll have no problem in making money online.
If you're interested in learning how to become a Pro Affiliate Marketer, check out my #1 recommended program here.
Thanks for reading, do share your thoughts below and if you have any other suggestions on making money online, I would love to hear them out!